Imagine being the founder of a successful coffee shop, noted for its quality taste, reputable standards, and contribution to the charm of its community. If you dream of opening your own coffee shop, but not sure where to start, this article is definitely for you. Establishing any new business comes with uncertainty, risk, doubt or fear; a coffee shop being no exception to the rule. Nonetheless, the dream of owning a coffee shop can become a lucrative reality by utilizing the necessary steps and tools in order to succeed. Research and planning are absolutely essential for any business. The following list gives insight, order, and direction on how to start a coffee shop in 20 steps.
A coffee shop can be accomplished with the following 20 steps. The quality of time spent on each step will determine the overall quality of your coffee shop's foundation. Stay grounded and take your time.
1. Visualize the perfect coffee shop
Visualizing your perfect coffee shop is the absolute most important step when you decide to officially start a coffee shop. To a skeptic of this strategy, this may seem to be a waste of precious time. Further investigation, will prove that visualization is necessary.
2. Write your business plan
Writing a business plan is just as important as following a roadmap for directions. If you don't know where you are and where you're trying to go, how are you going to get there, as well as bypass all the obstacles on the way? A business plan has the answers.
3. Find the perfect location
The location of a coffee shop is another crucial element that can determine the overall success of your coffee shop. Conduct some local market research, in addition to exploring ideas for carts and kiosks, or renting space with another reputable business.
4. Hire an accountant
As a coffee shop owner, your duties are going to consume most of your extra time and attention, you won't have extra time to spare wearing other hats pertinent to running a business. Hire the experts to do their job to save yourself any extra stress or mistakes.
5. Get necessary paperwork, licensing, and permits
Once you've reached this step, it's time to put it all into official writing. Check with your city/state for specific rules and a regulations pertaining to the required licensing and sellers permit for you to conduct business. This can also include a food handler's permit.
6. Research coffee industry
While a coffee shop has a reputation of bringing peace, relaxation, and a place to casually conduct business, the coffee industry is serious business and should be revered in its excellence by learning dosing, distributions and calibrations for industry standards.
7. Set high standards
Understanding the coffee industry standards will give insight into setting your own standards for how you run your coffee shop. Maintaining this standard is established by setting the example while training your employees to create a unified brand standard.
8. Find best suppliers
Finding the best suppliers particularly for your coffee shop will take some time and consideration. Do you want to source your products locally or reach out to suppliers internationally? Find a source willing comply with your company mission and budget.
9. Source commercial equipment
At this point, it's time to find the right source to buy, lease or rent your commercial equipment. You don't need to invest in the latest technology with all the bells and whistles, however you do need a reliable commercial grade quality you can depend on.
10. Shop around for everything
An important step to be aware of when looking for different suppliers is to shop around. Shopping around allows you to learn more information about each aspect of the coffee shop industry, not to mention find the top quality products with the best prices.
11. Create floor plan
Creating a cohesive floor plan is vital to the flow and organization of your customer's experience. You want to invest quality time considering the order of their transaction and every detail that goes into the purchase, and preparation of each customer's order.
12. Design inner/outer aspects
This step allows you to "espresso" the uniqueness you bring to the coffee shop industry. Designing the inner and outer aspects of your shop provides your customer an aesthetic message of who you are as a coffee brand, the quality and standard they can depend on.
13. Get local help for funding
No matter how small or simple a coffee shop, cart or kiosk you want to open, you're still going to accrue startup cost. Reaching out to the community is a great way to get others involved in the development of your brand creating allies and a support team.
14. Save money for your expenses
In determining the total cost to start a coffee shop, paying employees and other expenses, it's important not to forget to save money for your own personal living expenses. It may be some time in the beginning before you can earn a decent profit.
15. Create menu
It's finally time to whip the frozen espresso fusions! Create a menu that is exclusive to your coffee shop, but also consistent with the coffee industry pricing and standards. Include traditional coffee beverages in addition to creating exclusive variety blends.
16. Start marketing before open
You're almost set to open your coffee shop there are just a few more important details to cover, such as letting people know you're about to open up shop! It's absolutely crucial to your opening day sales that you begin marketing before your opening day.
17. Network
Networking is one of the greatest resources a new business has at their fingertips. Attending events, happy hours, meet n' greets, and even simply telling everyone you meet about your amazing new coffee shop and the day it opens is well worth your time.
18. Hire slowly
The hiring process is one that should be taken very slowly and seriously. Your staff will represent an extension of you and the brand you're building. It's imperative to take your time hiring friendly people skilled, consistent, and willing to meet your coffee standards.
19. Positive attitude
To guarantee your coffee shop has a positive atmosphere you must set the example. Owning a business is no easy task; the ebb and flow is inevitable. What's necessary is for you to push past obstacles and challenges that arise by maintaining a positive attitude.
20. Open your coffee shop
Once you're at this point, it's time to celebrate your victories! Treasure the accomplishment of taking your vision and bringing it to fruition. If each step is followed with diligence, your opening day will be a huge success… and it's only the beginning.
To simplify the process, these 20 steps can be broken down into four levels, or phases of progression, on how to start a coffee shop.
Basic entrepreneurial stage – The first five steps are essential for laying a business foundation, no matter what industry an entrepreneur chooses to go in. This level requires a lot of time and consideration simply thinking about a coffee shop concept and the realities it will consist of. More than daydreams, this level demands serious contemplation. It involves heavy researching and even a bit of soul searching. During this stage be sure to:
Consider all factors applied to business. Reflect on the risk involved, the time, money, and energy it consumes. Consult all the people in your life that starting a coffee shop will impact. This includes family, loved ones, friends, and even your pets. Be realistic when visualizing the possibilities of your dream.
Be practical when writing a business plan. While it's encouraged to dream big and extravagant, it's also in the interest of your success to remain grounded as you write your business plan, adhering to your financial budget, researching the market, threats, opportunities, and asking questions when you feel uncertain.
Take care of all legalities and paperwork. To make your coffee shop official, get your permits, license, and hire experts to make sure all your bases are covered. Running a business is hard work. Building a business as efficient as possible will relieve burdens you can run into later down the road. 
During the basic entrepreneurial stage, a lot of people get discouraged and talked out of going through with their dream of owning their own business, or in your case, a coffee shop. The world is full of naysayers, and it could simply be from the bitterness of drinking bad coffee. If you haven't been scared away from the possibility of creating your own coffee shop within the first five business steps, the success of fulfilling this dream may be in store for you!
The Business of Coffee – At this point, we know you mean business, but do you mean coffee business? The majority of people who are walking the planet claim that they love coffee, but that doesn't qualify them to go into business owning a coffee shop. Being of an entrepreneurial mindset is one thing; being a professional in the coffee industry is another. Do your research into the history, development, and science of coffee, so you can ensure your coffee shop represents the industry with integrity and clout. Keep in mind at this point:
It's okay to have high standards. Engraining high standards in your business will establish a quality of integrity any coffee lover will smell right away. Constructing your coffee shop so that it meets the industry standards will earn the respect and loyalty of your customer, and respect of other coffee brands, too.
Be sure to choose quality. Unless you're going to learn to roast your own coffee beans, research options for a quality supplier. It's highly suggested to form a bond with your suppliers. Perhaps you can partner up with a local roaster, who can educate you on the science behind the perfect flavor, or rent out equipment.
Take your time to shop around. Whether it's suppliers of napkins and utensils, or purchasing commercial quality coffee grinders, be sure to shop around. Don't settle on the first thing that comes your way. Do your research. Read customer reviews, deals, and alternative options. Eliminate any unnecessary start-up cost.
As a professional in the industry, it would be disrespectful not to learn as much as you can about the industry. Learning as much as you an about the coffee industry will allow you to make more educated decisions regarding the shaping and molding of your own coffee shop. Earning the loyalty and respect of a customer is important, but earning the respect of other coffee professionals is next-level success. Build the brand other brands can be proud of.
Coffee Shop Development – Now that you've done all your research, signed your papers and made everything official, it's time to put your knowledge into action. This is the stage where your coffee shop comes to life with it's own unique conception. Designing your logo, color schemes, floor layout, inner and outer décor aspects, and creating your menu are some of the most exciting parts of the coffee business creation. Be intentional and practical during this stage to guarantee the efficiency and clarity of your brand. Key elements to remember:
Efficiency is vital to your success. When designing the layout of your coffee shop, along with the arrangements of furniture and space outside, you want to utilize your real estate as efficiently as possible. Create a flowing layout for your customer's experience. Also, be sure your shop sign can be seen and read clearly.
Get your community to help support you. People like the idea of supporting local businesses. Getting the community involved can help ease some of your burden of the startup costs. Preparing your shop, purchasing equipment, supplies, and goods, not to mention your own personal expenses will start to add up quick.
Create your menu with care. A coffee menu is particular in that you want to add some unique variety while keeping the tradition of some classic coffee options. Switch out seasonal flavors or specialties, and be sure to include non-coffee alternatives. Extra tip: Align your pricing with coffee industry standards!
Developing your coffee shop is an exciting time, where you get to really make your brand come to life. Consider every aspect of this stage from multiple perspectives that include your finances, a customer's viewpoint, as well as overall best interest to your coffee shop's success. Pay attention to detail, but keep your eyes on the big picture. Keep your mission statement and business plan handy to help keep your goals on track and your coffee ambition alive.
Countdown For Takeoff – You've come to the last lap around the mile. You're a quarter away from your finish line. At this point, you've basically established a business, created your coffee brand, secured a location and set up shop. Now, it's time to get people involved. This is the time of your life where networking will be your best friend. From hiring a top of the line staff, to simply letting people know you exist and plan to open soon, this is the stage in starting your coffee shop where you need to prepare for take-off. Some tips for success:
Start your marketing strategy as soon as possible. It's really never too soon to start marketing your coffee shop. In fact, the biggest mistake you can make is to not market soon enough. You want to tell everyone you know, and don't, about your coffee shop, giving major incentives to customers on opening day.
Choose your staff slowly and wisely. It's okay to take your time hiring a permanent team in your coffee shop. From talented baristas to friendly cashiers, you want to hire people who can meet your company standards as well as add to the brand dynamic. If someone doesn't fit your mold, it's okay to let people go.
No matter what, remain optimistic. While it's important to be realistic and practical when starting a business, it's just as important, if not more so, to remain optimistic. Choosing to believe that you can accomplish this dream is half the battle. A positive mindset will reveal the solutions to any problems.
Once you check these final steps off your list, these are the moments that dreams are made of… moments when you can sit back and start to smell the coffee roasting. Take this time to network and promote your coffee shop, as much as you can, so people in the community know about it. Observe your staff to be sure you've hired the right people to represent your brand; you are responsible for creating a positive working environment. This plan has been brewing for some time now and if followed correctly, along with a powerful marketing strategy, these 20 steps can bring you to the successful opening of your own coffee shop.
Launching a marketing plan that captures the attention of potential coffee shop patrons is easier now than ever before, in the history of starting a business. With multiple platforms to advertise your coffee shop, you should easily be able to find a strategy that fits your budget, scheduling, and capabilities, while reaching your desired target market. Advertising a business online, with the advancement of technology and social media, is the biggest advantage we have today. Utilizing these tools effectively is a powerful way to gain a loyal customer base. A few things to keep in mind when building a marketing strategy online are:
• Keep your brand uniform across social platforms – Building your brand identity online requires clean design and uniformity, so your coffee brand is easily recognizable. Create a seamless aesthetic with consistent use of brand-specific colors, fonts, and logos. Know your message and always stay consistent for effective delivery to your customer.
• Integrate video into your marketing strategy – Creating a compelling video campaign can be as simple as going live on Facebook from behind the scenes of your building your coffee shop. Video has been proven to be a remarkable tool, capturing the attention of customers and bringing transparency to your brand generating loyalty and a strong following.
• Let the professionals do what they do best – Advertising is a crucial element of success; so if at any point of your business journey you don't feel confident about knowing the best approach for marketing your coffee shop, consult the experts. Investing in a dynamic marketing strategy can be well worth your investment, and help make back your startup cost.
The dream of owning a coffee shop can become your reality. With some quality time, dedication, research, planning, and proper execution you can take your dream from an idea to an established business. It's been done more than thousands of times before, so you needn't reinvent the wheel. Simply do your diligence to follow these 20 steps thoroughly, launch a powerful marketing campaign, and infuse your passion for coffee to brew your own unique flavor of coffee shop success. There's a whole community of coffee lovers waiting for you to open, so, take a deep breath and let the journey of caffeinated fun begin!
Frequently Asked Questions
Do I need a food permit to sell coffee?
As a general rule, a cafe owner needs licenses or permits to conduct business. If you're using a refrigerator and handling anything perishable and non-packaged, or serving people with reusable dishes, a food service certificate and food handler's permit for your staff.
How do I open a coffee shop bakery?
Opening a coffee shop bakery is similar to the above 20 steps. The only additions are scheduling the local health department to arrange for a food service license and inspection, and finding a location with a large enough kitchen space to handle ovens and baked goods. Get our top tips for opening a bakery of your own here.
To learn more on how to start your own coffee shop checkout my startup documents here
Please note: This blog post is for educational purposes only and does not constitute legal advice. Please consult a legal expert to address your specific needs.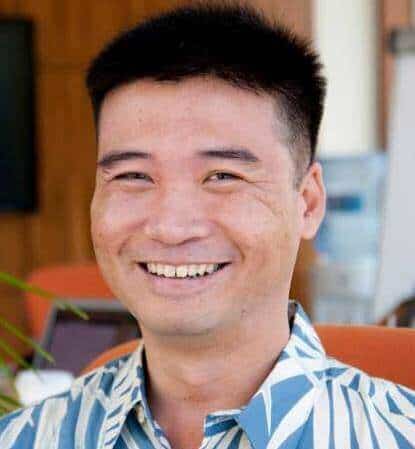 Hi! I'm Shawn Chun
My adventure in coffee began when I first launched my first coffee shop back in the early 2000s. I had to figure out so many things on my own and to make it worse within 2 years of opening two large corporate coffee chains moved in just blocks away from me!
As I saw smaller and even some larger coffee shops in the neighborhood slowly lose customers to these giant coffee chains and slowly close up shop, I knew that I had to start getting creative…or go out of business.
I (like you may be) knew the coffee industry well. I could make the best latte art around and the foam on my caps was the fluffiest you have ever seen. I even had the best state-of-the-art 2 group digital Nuova Simonelli machine money could buy. But I knew that these things alone would not be enough to lure customers away from the name brand established coffee shops.
Eventually, through lots of trial and error as well as perseverance and creativity I did find a way to not only survive but also thrive in the coffee/espresso industry even while those corporate coffee chains stayed put. During those years I learned to adapt and always faced new challenges. It was not always easy, however, in the end, I was the sole survivor independent coffee shop within a 10-mile radius of my location. Just two corporate coffee chains and I were left after that year. All told the corporate coffee chains took down over 15 small independent coffee shops and kiosks and I was the last one standing and thriving.
Along the years I meet others with the same passion for coffee and I quickly learned that it is not only "how good a barista is" that makes a coffee shop successful, but the business side of coffee as well.
Hence why I started this website you are on now. To provide the tools and resources for up and coming coffee shop owners to gain that vital insight and knowledge on how to start a coffee shop successfully.
Stick around, browse through my helpful blog and resources and enjoy your stay! With lots of LATTE LOVE!
Shawn