The coffee shop counter serves as the focal point of any café, where baristas showcase their craft and customers gather to savor their favorite brews. Designing the best coffee shop counter requires careful consideration of various elements to ensure functionality, efficiency, aesthetics, and customer engagement.
When designing the perfect coffee shop counter, key elements to consider include functionality, efficiency, ergonomics, space optimization, aesthetic appeal, durability, and customer engagement.
In this article, I will delve into the key factors that contribute to the creation of an exceptional coffee shop counter.
1. Functionality and Workflow
At the core of every great coffee shop counter design is the emphasis on functionality. Functionality is what ensures a smooth workflow for baristas, enabling them to serve customers efficiently and create delightful coffee experiences. To achieve optimal functionality, several factors need to be considered.
One crucial aspect is the arrangement of equipment. Placing the coffee machine, grinders, and other tools strategically on the counter can significantly impact the efficiency of the baristas. By positioning these items logically and ergonomically, baristas can easily navigate the counter, reducing unnecessary movements and minimizing the time it takes to prepare each order.
Accessibility of supplies is another key consideration. Baristas should have easy access to ingredients, utensils, and additional necessities required during the coffee-making process. Proper storage solutions, such as well-organized shelves or compartments, can help ensure everything is within reach, saving valuable time and effort.
Moreover, the flow of workstations plays a vital role in optimizing functionality. Baristas should be able to move seamlessly between different stations, such as the brewing area, the milk preparation section, and the serving counter.
A well-planned layout, with clear pathways and ample space between workstations, helps prevent congestion and allows baristas to complete their tasks efficiently.
2. Ergonomics and Comfort
Baristas are the heart and soul of a coffee shop, spending long hours behind the counter to meticulously craft each cup of coffee. Recognizing the physical demands of their work, designing an ergonomic counter is crucial to ensure their well-being and optimize their performance.
One essential aspect of the ergonomic counter design is the counter height. It should be set at a comfortable level that accommodates baristas of different heights. Providing an adjustable counter height option allows each barista to find their optimal working position, reducing strain on their back, shoulders, and arms. By eliminating the discomfort caused by a poorly designed counter height, baristas can focus their energy on creating exceptional coffee.
In addition to counter height, it is essential to provide adequate legroom. Baristas should have enough space to move their legs freely and comfortably beneath the counter. Incorporating footrests can further alleviate fatigue and improve blood circulation, allowing baristas to maintain their energy and concentration throughout their shifts.
To mitigate the impact of standing for extended periods, anti-fatigue mats can be placed behind the counter. These mats provide cushioning and support, reducing pressure on the feet and joints. By minimizing discomfort and fatigue, baristas can sustain their performance and attention to detail, ensuring the consistent quality of the coffee they prepare.
Considering ergonomic factors in counter design not only enhances the baristas' experience but also has a direct impact on the quality of the coffee. When baristas are comfortable and free from physical strain, they can maintain their focus, precision, and creativity while brewing. Ultimately, an ergonomic counter design contributes to a positive work environment, fostering baristas' well-being and enabling them to deliver exceptional coffee experiences to customers.
3. Space Optimization
In the realm of coffee shop counter design, space optimization holds great significance, particularly in small or bustling establishments. It is essential to evaluate the available space meticulously and capitalize on every square inch to create an efficient and visually appealing counter.
To optimize space, clever storage solutions become key. Keeping supplies within easy reach is crucial for baristas' workflow and efficiency. Consider incorporating shelves, cabinets, or drawers beneath the counter to store ingredients, utensils, and other necessities. By having designated storage areas, the counter can remain organized and clutter-free, allowing baristas to work smoothly without unnecessary disruptions.
Multi-functional elements are another valuable approach to maximizing space utilization. Hidden compartments or collapsible sections offer versatility and adaptability. For instance, a counter may feature a sliding panel that reveals additional storage or a fold-out section that serves as an extended workspace during peak hours.
Such innovative design elements allow the counter to seamlessly adapt to varying needs, making the most of limited space without compromising functionality.
Furthermore, vertical space should not be overlooked. Utilize the height of the room by incorporating shelves or hanging racks above the counter. This provides storage for cups, mugs, and other items that baristas frequently use.
Additionally, consider wall-mounted equipment, such as coffee grinders or brewing accessories, to free up valuable counter space while keeping everything easily accessible.
When optimizing space, it is crucial to maintain a balance between functionality and aesthetics. While maximizing storage capacity is essential, it is equally important to create an inviting and visually pleasing counter. Choose materials, colors, and finishes that complement the overall café design. Utilize lighting strategically to enhance the ambiance and highlight critical elements of the counter.
Efficient use of space not only improves workflow and productivity but also enhances the overall customer experience by providing an inviting and uncluttered environment.
Read more about Brew Your Iced Coffee Delight: A Step-by-Step Guide to the Perfect Cup
4. Aesthetic Appeal
Aesthetics hold immense power in shaping a memorable coffee shop experience. The design of the counter should harmoniously align with the overall theme and atmosphere of the café, reflecting its unique brand identity.
By carefully selecting materials, colors, and finishes, the counter can seamlessly blend into the café's interior design while evoking the desired ambiance.
When choosing materials, consider both functionality and visual appeal. Opt for materials that are durable and suitable for the coffee shop environment while adding an element of elegance. For instance, sleek and polished surfaces like quartz or stainless steel can exude a modern and sophisticated vibe, while reclaimed wood can bring warmth and rustic charm.
Color selection is crucial in setting the desired mood and creating a cohesive visual experience. Consider the café's color palette and choose complementary shades for the counter.
Whether it's bold and vibrant hues to energize the space or soothing and earthy tones to create a relaxing ambiance, the color scheme should harmonize with the café's overall aesthetic.
Finishes and textures also contribute to the counter's visual impact. Matte finishes can create a contemporary and understated look, while glossy surfaces can add a touch of glamour. Incorporating textures like brushed metal or natural stone can introduce tactile elements and visual interest.
To make the counter a captivating focal point, consider incorporating visually appealing elements. Decorative tiles can add intricate patterns or vibrant colors, instantly drawing attention.
Wood accents can bring a sense of warmth and authenticity. Eye-catching signage, such as neon lights or custom lettering, can contribute to the café's branding and create an inviting atmosphere.
By ensuring that the counter design aligns with the café's theme and reflects its brand identity, customers will feel a sense of cohesiveness and connection when they enter the space.
The visually pleasing counter becomes more than just a functional surface; it becomes a work of art that enhances the overall coffee shop experience, making it memorable and enticing for customers.
5. Durability and Maintenance
Coffee shop counters bear the brunt of constant use, spills, and the bustling activity of a busy environment. Thus, durability becomes a critical factor when designing the counter. To ensure longevity and functionality, it is essential to choose materials that can withstand the demands of a high-traffic café.
Opt for sturdy materials that can withstand the wear and tear of daily operations. Consider surfaces such as quartz, stainless steel, or laminate, which offer excellent durability and resistance to scratches, dents, and other physical impacts. These materials can withstand the occasional accidental knocks and bumps that occur in a bustling coffee shop.
Furthermore, select materials that are resistant to stains. Coffee spills and splashes are inevitable, so it is crucial to have a counter that is easy to clean and maintain. Non-porous surfaces like quartz or stainless steel can be wiped clean effortlessly, preventing stains from setting in and ensuring a pristine appearance.
Heat resistance is another important aspect to consider. Coffee shops deal with hot equipment and beverages, so the counter should be able to withstand heat without warping or becoming damaged. Heat-resistant materials like quartz or granite are ideal choices that can handle the high temperatures commonly encountered in a coffee shop environment.
Additionally, prioritize easy maintenance and cleanliness. Select surfaces that are easy to clean and sanitize, promoting a hygienic working environment. Smooth, non-porous materials make it easier to wipe away spills and maintain a sanitary workspace, ensuring the health and safety of both baristas and customers.
6. Customer Engagement
A well-designed coffee shop counter goes beyond its functional role; it becomes a catalyst for customer engagement and interaction. By incorporating elements that spark conversations and create memorable experiences, the counter can become a focal point that fosters a sense of connection and loyalty to the café.
One way to engage customers is by providing a display of coffee beans or educational materials. Showcasing different varieties and origins of coffee beans can pique curiosity and serve as a conversation starter.
Educational materials that delve into the roasting process, flavor profiles, or brewing techniques can enhance customers' understanding and appreciation of coffee. This not only adds an interactive element to the counter but also elevates the coffee shop experience by creating a sense of discovery.
Introducing unique and interactive features, such as a manual brew station, can further engage customers at the counter. Allowing customers to interact with baristas and witness the art of coffee brewing firsthand adds a personal touch to the experience.
Baristas can showcase different brewing methods, share their expertise, and engage in meaningful conversations about coffee. This interactive element creates a memorable experience that customers are likely to remember and share with others.
Engaging customers at the counter fosters a sense of connection and builds loyalty to the café. When customers feel involved and valued, they develop a stronger bond with the coffee shop and are more likely to become regular patrons. The counter becomes a gathering place where customers can interact with both baristas and fellow coffee enthusiasts, creating a vibrant and welcoming atmosphere.
Summary
Designing the best coffee shop counter involves a thoughtful blend of functionality, aesthetics, and customer-centric elements. By considering the factors discussed in this article—functionality, workflow, ergonomics, space optimization, aesthetic appeal, durability, and customer engagement—you can create a counter that not only serves as a practical workspace but also enhances the overall coffee shop experience.
 Remember, the counter is more than just a surface; it is the heart of the café, where baristas showcase their skills and customers indulge in the magic of coffee. So, let your creativity flow and design a coffee shop counter that leaves a lasting impression on both baristas and coffee enthusiasts alike.
Frequently Asked Questions
1. What is the importance of functionality in coffee shop counter design?
Functionality is crucial in coffee shop counter design as it ensures smooth workflow and efficient service.
2. How can I optimize space when designing a coffee shop counter?
To optimize space, consider utilizing clever storage solutions, such as hidden compartments or collapsible sections.
3. Why is customer engagement an important factor in coffee shop counter design?
Customer engagement at the counter enhances the overall coffee shop experience. Incorporating elements like educational displays, interactive features, or manual brew stations create opportunities for interaction, knowledge sharing, and building customer loyalty.
To learn more on how to start your own coffee shop checkout my startup documents here
Please note: This blog post is for educational purposes only and does not constitute legal advice. Please consult a legal expert to address your specific needs.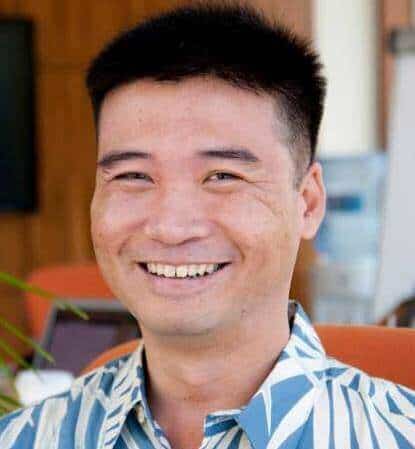 Hi! I'm Shawn Chun
My adventure in coffee began when I first launched my first coffee shop back in the early 2000s. I had to figure out so many things on my own and to make it worse within 2 years of opening two large corporate coffee chains moved in just blocks away from me!
As I saw smaller and even some larger coffee shops in the neighborhood slowly lose customers to these giant coffee chains and slowly close up shop, I knew that I had to start getting creative…or go out of business.
I (like you may be) knew the coffee industry well. I could make the best latte art around and the foam on my caps was the fluffiest you have ever seen. I even had the best state-of-the-art 2 group digital Nuova Simonelli machine money could buy. But I knew that these things alone would not be enough to lure customers away from the name brand established coffee shops.
Eventually, through lots of trial and error as well as perseverance and creativity I did find a way to not only survive but also thrive in the coffee/espresso industry even while those corporate coffee chains stayed put. During those years I learned to adapt and always faced new challenges. It was not always easy, however, in the end, I was the sole survivor independent coffee shop within a 10-mile radius of my location. Just two corporate coffee chains and I were left after that year. All told the corporate coffee chains took down over 15 small independent coffee shops and kiosks and I was the last one standing and thriving.
Along the years I meet others with the same passion for coffee and I quickly learned that it is not only "how good a barista is" that makes a coffee shop successful, but the business side of coffee as well.
Hence why I started this website you are on now. To provide the tools and resources for up and coming coffee shop owners to gain that vital insight and knowledge on how to start a coffee shop successfully.
Stick around, browse through my helpful blog and resources and enjoy your stay! With lots of LATTE LOVE!
Shawn