Many business owners have the desire of opening a coffee shop. With a growing demand for high-quality coffee and a cozy atmosphere to enjoy, it's no wonder that coffee shops are becoming increasingly popular. However, opening a coffee shop requires careful planning, research, and a solid business plan.
A business plan about coffee shop should include an executive summary, company description, market analysis, products and services you offer, marketing and sales strategies, and operations and financial plans. You should also add where to get your funds.
This article will give you some of the essential elements of a business plan about a coffee shop.
Executive Summary
The executive summary is a crucial component of your coffee shop business plan. It serves as the first impression for potential investors and stakeholders, providing a concise overview of your business's critical aspects. To make it effective, you need to ensure that it is SEO optimized and written in a human-friendly tone.
It's crucial to include your mission statement, which outlines the goals and core principles of your coffee shop, in your executive summary. This will help your readers understand the principles and goals of your company.
Your executive summary should also clearly explain your target market's demographics and preferences. You can demonstrate to potential investors that you have a thorough understanding of your market and are well-equipped to suit their needs by emphasizing your consumer demography.
Furthermore, your summary should also briefly describe your coffee shop's products and services, along with your unique selling proposition. This will help differentiate your business from competitors and demonstrate your value proposition to investors.
Lastly, your executive summary should highlight the potential for growth in your coffee shop business. This can be achieved by including projected revenue and profit figures, as well as outlining your expansion plans.
Read more about: Drive-thru Coffee Shop Business Plan: Paving the Path to Entrepreneurial Growth
Company Description
The detailed information section of your coffee shop business plan is where you will provide an in-depth overview of your business. This section is crucial in demonstrating to potential investors that you have a solid understanding of your coffee shop's operations and are well-prepared for an effective business.
In this section, you should begin by outlining your legal structure, such as whether you plan to operate as a sole proprietorship, partnership, or corporation. This will help investors understand how your business is organized and the implications it has for taxation and liability.
Next, you should provide details about your coffee shop's location, including factors such as foot traffic, accessibility, and proximity to other businesses. You should also discuss the facilities and equipment you will need to run your coffee shop effectively, including details on lease agreements, utilities, and maintenance.
Another important aspect to include is information about your management team and their experience in the coffee shop industry. This can include their backgrounds, education, and previous work experience. Highlighting your team's expertise and qualifications will demonstrate to investors that you have the necessary skills and knowledge to succeed in the competitive coffee shop industry.
The detailed information section of your coffee shop business plan is a critical component that requires careful consideration and planning. By providing detailed information on your legal structure, location, facilities, equipment, and management team, you can demonstrate to investors that you have a solid understanding of your business operations and are well-prepared in the long run.
Market Analysis
The market analysis section of your coffee shop business plan is a crucial part of demonstrating your understanding of the industry and your potential to grow. In this section, you should provide a detailed analysis of the coffee shop industry, including trends, customer preferences, and competition.
You should first decide who your target market is and then provide information on their demographics, needs, and purchasing patterns. You may use this information to customize your goods and services to fit the particular requirements of your clients and set your coffee shop apart from other businesses.
Additionally, it's crucial to do an extensive study on the coffee shop sector, covering current trends and cutting-edge technologies. This will assist you in staying one step ahead of the competition and relevant in a market that is constantly evolving.
Another key component of the market analysis section is the SWOT analysis. This involves identifying the strengths, weaknesses, opportunities, and threats of your business. By conducting a thorough SWOT analysis, you can develop strategies to capitalize on your strengths, address your weaknesses, take advantage of opportunities, and mitigate threats.
Products and Services
Your coffee shop business plan's products and services section is where you highlight your distinctive offers and distinguish your company from the competition. You should give a thorough breakdown of the goods and services your coffee business will offer in this part.
Outline your coffee menu to begin with, indicating the varieties of coffee, espresso, and specialty beverages you intend to serve. As a crucial element that might distinguish your company from competitors, you should also discuss the quality and sourcing of your coffee beans.
In addition to coffee, you may also offer food items such as pastries, sandwiches, or other snacks. Be sure to describe your food offerings and any unique selling points, such as locally-sourced ingredients or specialty items.
If your coffee shop offers additional services such as catering or event hosting, be sure to include those details as well. These services can be a valuable revenue stream and can help you attract a broader customer base.
Read more about: Drive Thru Coffee Business Plan: Turning Drive Time into Coffee Time
Marketing and Sales
In the marketing and sales portion of your coffee shop business plan, you should describe your plans for gaining new clients, keeping existing ones, and increasing revenues. You should give a thorough summary of your marketing strategy in this section, outlining your pricing approach, your planned promotions, and any partnerships or collaborations you intend to form.
Determine your target market and the major elements affecting their purchasing decisions to start. This will enable you to create a marketing plan that focuses on their wants and preferences. Also include a description of your price strategy, including your pricing model and any planned discounts or promotions.
Next, outline your promotional activities, including advertising, social media, and other marketing channels. Be sure to describe how you plan to use each channel to reach your target market and increase awareness of your coffee shop.
Finally, consider any partnerships or collaborations that could help you grow your sales. For example, you may consider partnering with local businesses or organizations to offer discounts or special promotions to their employees or members.
Operations
The operations section of your coffee shop business plan is where you provide a detailed overview of how your coffee shop will operate on a day-to-day basis. In this section, you should describe your staffing needs, including the number of employees you will need to hire and the roles and responsibilities of each position.
You should also outline your training requirements, including any certifications or specialized training your employees will need to complete before starting work. This will help ensure that your team is well-prepared to deliver high-quality products and services to your customers.
In addition, you should describe your daily routines, including opening and closing procedures, customer service protocols, and other operational procedures. This will help you establish a consistent and efficient workflow that minimizes errors and ensures a positive customer experience.
Inventory management is another important aspect of your coffee shop operations. You should describe your process for ordering and receiving inventory and your system for tracking and managing your inventory levels. This will help you avoid stockouts and ensure that you always have the products and supplies you need to meet customer demand.
Finally, you should include details on equipment maintenance and quality control. This should include a schedule for routine maintenance and cleaning of your equipment, as well as any quality control measures you have in place to ensure that your products meet your high standards.
Financial Projections
The financial projections section is a critical part of your coffee shop business plan. It provides a detailed analysis of your financial performance and helps you identify potential risks and opportunities. This section should include income statements, balance sheets, and cash flow statements for the first few years of operation. You should also include projections for revenue, expenses, and profit margins.
In your financial projections, you should consider all the expenses associated with operating your coffee shop, including rent, utilities, staffing, equipment, and supplies. You should also factor in any potential revenue streams, such as catering or event hosting, and estimate their contribution to your overall revenue.
Creating accurate financial projections can be challenging, but it is crucial for the growth of your coffee shop. You should consider working with a financial advisor or accountant to help you create realistic projections and identify potential areas for improvement. By developing a solid financial plan, you can ensure that your coffee shop is sustainable in the long run.
Read more about: Drive Through Coffee Shop Business Plan: Accelerating Your Coffee Empire
Funding Requirements
When it comes to starting a coffee shop business, funding is often a crucial aspect. In this section of your business plan, you'll need to provide detailed information on your funding requirements. This should include the amount of funding you need, how you plan to use it, and the expected return on investment for your investors.
It's important to be as specific as possible in this section, as potential investors will want to know exactly how their money will be used. You may want to include information on how much of the funding will be used for equipment, renovations, or other expenses.
You may want to include information about the kind of money you're looking for and explain your funding needs. For instance, are you searching for an investment from private individuals or venture capitalists, or a loan from a bank or other financial institution?
You'll be in a better position to obtain the capital you require to launch your coffee shop business if you present a transparent and thorough fundraising plan.
Summary
Creating a comprehensive business plan about a coffee shop requires careful planning and attention to detail. Keep in mind the elements I mentioned above so you can create a solid business plan that will help you attract customers and investors. Remember to focus on your unique selling proposition, target market, and financial projections to ensure that your coffee shop business will be in the long run.
Frequently Asked Questions
Question: What is a business plan, and why do I need one for my coffee shop business?
Answer: A business plan is a written document that describes the goals, plans, and budget for your company. It is essential for securing funding and attracting customers.
Question: How do I identify my target market for my coffee shop business?
Answer: You can identify your target market by analyzing customer demographics, preferences, and behaviors. This can be done through market research, surveys, and focus groups. Once you have identified your target market, you can tailor your products, marketing, and sales strategies to meet their needs and preferences.
Question: How can I differentiate my coffee shop from the competition?
Answer: You can differentiate your coffee shop by offering high-quality products, a unique atmosphere, and excellent customer service. You can also focus on a specific niche or customer segment, such as eco-conscious consumers, to set your coffee shop apart from the competition.
To learn more on how to start your own coffee shop, check out my startup documents here.
Disclaimer: The information provided by StartMyCoffeeShop.com ("The Site") is for general informational purposes only. All information on the Site is provided in good faith. However, we make no representation or warranty of any kind, express or implied, regarding the accuracy, adequacy, validity, reliability, availability, or completeness of any information on the Site. Under no circumstance shall we have any liability to you for any loss or damage of any kind incurred as a result of the use of the Site or Reliance on any information provided on the Site. Your use of the Site and reliance on any information on the Site is solely at your own risk. This blog post is for educational purposes only and does not constitute legal advice. Please consult a legal expert to address your specific needs. Terms and Conditions. (https://startmycoffeeshop.com/terms-and-conditions/)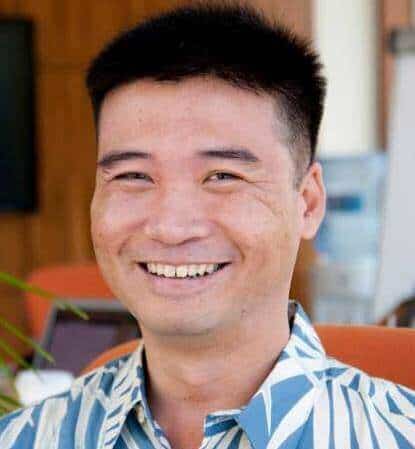 Hi! I'm Shawn Chun
My adventure in coffee began when I first launched my first coffee shop back in the early 2000s. I had to figure out so many things on my own and to make it worse within 2 years of opening two large corporate coffee chains moved in just blocks away from me!
As I saw smaller and even some larger coffee shops in the neighborhood slowly lose customers to these giant coffee chains and slowly close up shop, I knew that I had to start getting creative…or go out of business.
I (like you may be) knew the coffee industry well. I could make the best latte art around and the foam on my caps was the fluffiest you have ever seen. I even had the best state-of-the-art 2 group digital Nuova Simonelli machine money could buy. But I knew that these things alone would not be enough to lure customers away from the name brand established coffee shops.
Eventually, through lots of trial and error as well as perseverance and creativity I did find a way to not only survive but also thrive in the coffee/espresso industry even while those corporate coffee chains stayed put. During those years I learned to adapt and always faced new challenges. It was not always easy, however, in the end, I was the sole survivor independent coffee shop within a 10-mile radius of my location. Just two corporate coffee chains and I were left after that year. All told the corporate coffee chains took down over 15 small independent coffee shops and kiosks and I was the last one standing and thriving.
Along the years I meet others with the same passion for coffee and I quickly learned that it is not only "how good a barista is" that makes a coffee shop successful, but the business side of coffee as well.
Hence why I started this website you are on now. To provide the tools and resources for up and coming coffee shop owners to gain that vital insight and knowledge on how to start a coffee shop successfully.
Stick around, browse through my helpful blog and resources and enjoy your stay! With lots of LATTE LOVE!
Shawn