Are you thinking of opening an internet cafe coffee shop? If the answer is yes, you've found the proper place. This article will help you understand what a business plan for your internet cafe coffee shop must have to stand out. With the rise of remote work and online education, internet cafes have become popular places for people to work, study, and socialize.
A business plan for internet cafe coffee shop must have an executive summary, market and competitive analyses, and hiring and marketing strategy. It also needs to have some information about your products, equipment, location, and financial projections.
Opening an internet cafe coffee shop can be an exciting business venture. With careful planning and preparation, you can create a business plan that will stand out from the competition.
What is a Business Plan for Internet Cafe Coffee Shop
A business plan is a detailed document that outlines the strategy and objectives of a business. It is a blueprint that guides the operations and decision-making processes of a company, ensuring that all stakeholders are working towards the same goals.
In essence, a business plan is like a roadmap for your company, providing a clear direction on where you want to go and how you plan to get there. It includes information on the market, competition, financial projections, and marketing strategies, among other things.
Read more about: Business Plan For a Coffee Franchise: Brewing a Bright Future
Business Plan for Internet Cafe Coffee Shop
Creating a business plan is the first step towards opening a great internet cafe coffee shop. As mentioned, your business plan should outline your goals, strategies, and financial projections. It should also include a market analysis, competitive analysis, and target audience.
Let's break down the key elements of a business plan for an internet cafe coffee shop.
Executive Summary
The executive summary is a critical part of your internet cafe coffee shop business plan. It provides an overview of the entire plan and summarizes its key points in a concise and compelling way. The goal of the executive summary is to grab the reader's attention and convince them to read on.
Your executive summary should start with a brief description of your internet cafe coffee shop, including its mission statement and goals. This section should provide a clear idea of what your business is all about and what sets it apart from the competition.
The next section should focus on your market analysis, which outlines your target audience and competitors. This section should provide a clear understanding of the demand for your services and how you plan to differentiate yourself from your competitors.
Market Analysis
Any business plan for an internet cafe or coffee shop must include a market analysis. It gives you a thorough insight into the local coffee shop market, including market trends and consumer statistics. Determine the economic viability of your business by identifying opportunities and potential obstacles with the help of the market study.
To begin a market analysis, you must first determine the size of the local coffee shop market. Data on the number of coffee shops, their sales, and their revenue should be gathered. You can use this information to better evaluate the market's size and potential for expansion.
After that, examine the market trends for coffee shops. Changes in customer preferences, emerging technologies, and developing businesses are all included in this.
You should also analyze the demand for internet cafes in your area. This includes identifying the target audience for your business and understanding their needs and preferences. You should also identify any gaps in the market and determine how your internet cafe coffee shop can fill them.
In addition to studying the market, you want to compile information about your rivals. This entails determining their advantages and disadvantages, examining their pricing plans, and figuring out how to set your company apart from theirs.
Competitive Analysis
Any effective business plan for an internet cafe or coffee shop must include a competition study. You can discover your rivals and learn about their advantages and disadvantages with the aid of this investigation. You may create a strategy to set your company apart from the competition by performing a competitive analysis.
Finding your competitors is the first step in a competitive analysis. You should research alternative coffee shops and internet cafes in your neighborhood. You can use this information to better understand your area's market and competition.
The weaknesses and strengths of your competition should then be analyzed. This covers their menu selections, costs, level of customer care, and marketing tactics. To find out what clients like and hate about a company, you could also read online reviews.
You can devise a plan to set your internet cafe coffee shop apart from the competition once you've determined the strengths and weaknesses of your rivals. This could involve coming up with a special menu, giving great customer service, or employing cutting-edge marketing techniques to reach your target demographic.
It's critical to remember that your rivals are studying your company as well. To stay on top of the game, it is essential to periodically update your competitive analyses. You may improve your chances of staying in the fiercely competitive coffee shop sector by knowing your rivals and creating a solid plan.
Target Audience
One of the most crucial aspects of writing an efficient internet cafe coffee shop business plan is identifying your target market. Your menu, pricing, and marketing methods can all be based on your understanding of your target market.
Age, gender, income, and interests should all be used to identify your target audience. You can modify your café to match the wants and tastes of your clients by being aware of these elements. For instance, if college students are your primary target market, you may offer reasonable costs and an ideal atmosphere for studying.
When developing your menu, consider the tastes and preferences of your target audience. You may want to conduct market research or surveys to determine which types of drinks and snacks are most popular among your target audience. This information can help you create a menu that appeals to your customers and sets you apart from the competition.
Pricing is another important factor to consider when targeting your audience. You should set prices that are competitive in your local market while also providing value to your customers. For example, you might offer discounts or loyalty programs to attract and retain customers.
Marketing strategies should also be tailored to your target audience. You should use marketing channels that are most likely to reach your customers, such as social media, local events, or targeted advertising.
Read more about: Business Plan for a Coffee Shop Showing Investment: Building A Bean Empire
Location
Your location should have a lot of foot traffic and be easily accessible to your target demographic. You should also take local competition into account and select a place where there is a market gap.
When choosing a place, cost should also be taken into account. You should pick a place that won't reduce your profits and fits inside your budget. Take into account the price of rent and utilities, as well as any other expenses like equipment or repairs.
You should consider the convenience of your location for customers. Is there ample parking nearby? Is it easily accessible by public transportation? These factors can impact the convenience and accessibility of your internet cafe coffee shop, and ultimately influence the performance of your business.
Equipment
Equipping your internet cafe coffee shop with the right tools and equipment is essential to delivering quality service to your customers. The equipment you'll need will largely depend on the services you offer. At a minimum, you'll need computers, printers, scanners, and high-speed internet access. These are the core tools of your business, and investing in high-quality equipment will ensure smooth operations and customer satisfaction.
In addition to technology, you'll also need equipment for your coffee shop. This may include a coffee machine, refrigerators, and a microwave. You should carefully consider the cost of equipment and factor it into your financial projections. This will help you understand the investment required to get your internet cafe coffee shop up and running.
When buying equipment, it's crucial to deal with credible suppliers and pick dependable, long-lasting items. As a result, you won't need to spend as much money on repairs or replacements down the road. You can make sure that your internet cafe coffee shop runs smoothly and provides top-notch service to your customers by making an investment in high-quality tools and equipment.
Staffing
When planning to open an internet cafe coffee shop, it's important to determine your staffing needs. The size of your shop and the services you offer will play a crucial role in determining the number and types of employees you need. Depending on the size of your shop, you may need a manager, baristas, and computer technicians.
Employing people with both industrial experience in the coffee business and computer technology skills is crucial. While computer specialists should be able to handle technical difficulties and maintain the equipment, baristas should be informed about coffee brewing methods and customer care.
When developing your financial projections, consider the cost of salaries and benefits. Offering competitive salaries and benefits is important for attracting and retaining top talent. In addition, providing training opportunities for your staff can help improve their skills and increase job satisfaction.
Marketing Strategy
To attract customers to your internet cafe coffee shop, you need to develop a marketing strategy that effectively communicates your brand and offerings. Your marketing efforts should aim to reach your target audience, which you defined in your market analysis. To do so, you should use both online and offline marketing channels.
Consider using social media sites like Facebook, Twitter, and Instagram for online channels to interact with potential customers and raise brand exposure. Additionally, you may utilize email marketing to distribute newsletters, updates, and promotions to subscribers. Another powerful online marketing strategy that can increase your website's visibility on search engines like Google is search engine optimization (SEO).
For offline channels, consider using print advertisements, such as flyers and brochures, to distribute in your local area. You can also use signage to promote your business and attract customers passing by. Your marketing strategy should focus on differentiating your internet cafe coffee shop from the competition and communicating the unique value proposition you offer to your customers.
Financial Projections
When creating a business plan for your internet cafe coffee shop, it's crucial to include financial projections. This section should include a budget, income statement, and cash flow statement. You'll need to estimate your startup costs, operating expenses, and revenue projections. Don't forget to consider factors such as taxes, insurance, and loan repayments.
To create realistic financial projections, you should conduct market research and analyze industry trends. This will help you estimate your potential revenue and expenses accurately. Your projections should be based on realistic assumptions, and you should be prepared to adjust them as your business grows and evolves.
Frequently Asked Questions (FAQs)
Question #1 What are the common marketing channels for an internet cafe coffee shop?
Answer: The common marketing channels for an internet cafe coffee shop include social media, email marketing, search engine optimization, print advertisements, flyers, and signage.
Question #2 What are the typical startup costs for an internet cafe coffee shop?
Answer: The total startup costs may vary depending on the location, size, and services offered, and in general, it can cost from $80,000 to $250,000.
Question #3 How do I differentiate my internet cafe coffee shop from the competition?
Answer: You can differentiate your internet cafe coffee shop from the competition by offering unique menu items, providing exceptional customer service, and creating a welcoming atmosphere. You can also differentiate yourself by using creative marketing strategies that appeal to your target audience.
To learn more on how to start your own coffee shop, check out my startup documents here.
Disclaimer: The information provided by StartMyCoffeeShop.com ("The Site") is for general informational purposes only. All information on the Site is provided in good faith. However, we make no representation or warranty of any kind, express or implied, regarding the accuracy, adequacy, validity, reliability, availability, or completeness of any information on the Site. Under no circumstance shall we have any liability to you for any loss or damage of any kind incurred as a result of the use of the Site or Reliance on any information provided on the Site. Your use of the Site and reliance on any information on the Site is solely at your own risk. This blog post is for educational purposes only and does not constitute legal advice. Please consult a legal expert to address your specific needs. Terms and Conditions. (https://startmycoffeeshop.com/terms-and-conditions/)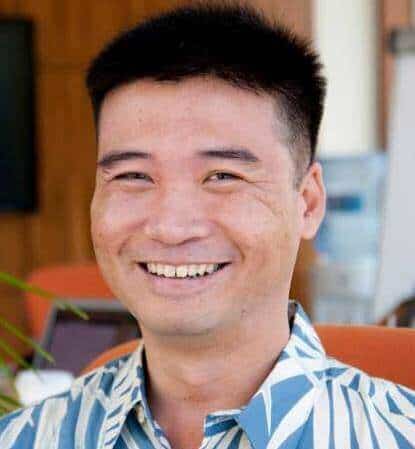 Hi! I'm Shawn Chun
My adventure in coffee began when I first launched my first coffee shop back in the early 2000s. I had to figure out so many things on my own and to make it worse within 2 years of opening two large corporate coffee chains moved in just blocks away from me!
As I saw smaller and even some larger coffee shops in the neighborhood slowly lose customers to these giant coffee chains and slowly close up shop, I knew that I had to start getting creative…or go out of business.
I (like you may be) knew the coffee industry well. I could make the best latte art around and the foam on my caps was the fluffiest you have ever seen. I even had the best state-of-the-art 2 group digital Nuova Simonelli machine money could buy. But I knew that these things alone would not be enough to lure customers away from the name brand established coffee shops.
Eventually, through lots of trial and error as well as perseverance and creativity I did find a way to not only survive but also thrive in the coffee/espresso industry even while those corporate coffee chains stayed put. During those years I learned to adapt and always faced new challenges. It was not always easy, however, in the end, I was the sole survivor independent coffee shop within a 10-mile radius of my location. Just two corporate coffee chains and I were left after that year. All told the corporate coffee chains took down over 15 small independent coffee shops and kiosks and I was the last one standing and thriving.
Along the years I meet others with the same passion for coffee and I quickly learned that it is not only "how good a barista is" that makes a coffee shop successful, but the business side of coffee as well.
Hence why I started this website you are on now. To provide the tools and resources for up and coming coffee shop owners to gain that vital insight and knowledge on how to start a coffee shop successfully.
Stick around, browse through my helpful blog and resources and enjoy your stay! With lots of LATTE LOVE!
Shawn