Numerous opportunities exist in the expanding coffee sector. If you love coffee and are a business-minded individual, opening your own coffee shop can be the appropriate achievement for you.
Some of the coffee business ideas are owning a coffee shop or subscription service, coffee roasting, equipment sales, coffee blogging, and catering. With a solid business plan, unique offerings, and targeted marketing strategies, you can turn your passion for coffee into a business venture.
I listed below some of the coffee business ideas you can consider when you open your coffee shop business.
Coffee Shop
A coffee shop is a classic and popular coffee business idea that has stood the test of time. People may gather there to have a cup of coffee, conduct remote work, or visit with friends. Some of the factors you need to consider are finding a location with high foot traffic and creating a cozy, inviting atmosphere.
Investing in high-quality coffee beans, equipment, and furniture is also essential to ensure a premium coffee experience for your customers. Your coffee shop should offer a relaxing ambiance with comfortable seating, good lighting, and a welcoming vibe. Your coffee shop can attract local coffee enthusiasts by offering a top-notch coffee experience and a welcoming environment.
Mobile Coffee Cart
A mobile coffee cart is a great coffee business idea for entrepreneurs who want to start small. It is a low-cost option that allows you to bring your coffee to different locations such as parks, events, and festivals. A mobile coffee cart is also a great way to test the market and see if your coffee is popular.
To start a mobile coffee cart business, you need a good-quality coffee machine, a cart, and some basic supplies such as cups, lids, and stirrers. You can also invest in a logo and branding to make your cart stand out from the competition.
Read more about: Business Plan Introduction About a Coffee Shop: Fueling Your Entrepreneurship Spirit
Coffee Roasting
Coffee roasting is an exciting and challenging coffee business idea that requires technical knowledge and expertise. It involves the process of roasting green coffee beans to create the distinct coffee flavors and aromas that we all love. Small-scale coffee roasting can be done at home or on a bigger scale for commercial use.
Starting a coffee roasting business requires investment in a roaster, green coffee beans, packaging materials, and labeling. It also requires an in-depth knowledge of the many coffee bean varieties and how to roast them to provide the ideal flavor profile. To stand out in the cutthroat coffee business, you will also need to spend money on branding and marketing.
To roast coffee beans, you need to start with quality green coffee beans, which can be sourced from coffee importers or direct trade relationships with coffee farmers. The roasting process requires careful attention to temperature, time, and airflow, to bring out the unique flavors and aromas of each coffee bean. Roasting can be done using different methods, such as drum roasting, air roasting, or fluid bed roasting, each with its advantages and disadvantages.
Coffee roasting presents an opportunity to produce unique and high-quality coffee that can distinguish you from competitors. With a passion for coffee and a commitment to quality, you can create a loyal customer base and contribute to the growth of the specialty coffee industry. Coffee roasting can also be a fulfilling and creative business idea for those interested in the art and science of coffee.
Coffee Subscription Service
A coffee subscription service is an innovative coffee business idea that has taken the coffee industry by storm. With people's busy lifestyles, the convenience of having fresh coffee delivered straight to their door on a regular basis is a major selling point. The subscription service allows customers to try different types of coffee beans from different regions and discover new flavors.
You need a trustworthy coffee bean provider that can give you high-quality beans that can be delivered freshly to your consumers if you want to launch a coffee subscription service. You will need to spend money on an online ordering, payment processing, and customer data management system. You will also need a reliable delivery service that can transport the coffee beans safely to your customers.
Marketing and branding are also important aspects of a remarkable coffee subscription service. You need to develop a brand identity and create a strong online presence to attract potential customers. Social media is an excellent platform to promote your business and interact with customers. Another successful marketing tactic to get people to test your business is to give discounts or special offers to new consumers.
Coffee Catering
Coffee catering is a coffee business idea that caters to events such as weddings, corporate events, and conferences. It is a great way to provide a unique and memorable experience for your clients and their guests.
To start a coffee catering business, you need to invest in a good-quality coffee machine, supplies such as cups, lids, and stirrers, and a portable setup that can be easily transported to different locations. You also need to have good customer service skills and the ability to work in a fast-paced environment.
Read more about: Business Plan in Coffee Shop: The Barista's Blueprint
Coffee Blogging
Coffee blogging is an excellent coffee business idea for those who love writing and want to share their passion for coffee with others. As a coffee blogger, you can create various types of content such as articles, reviews, recipes, and videos that can help you establish a loyal audience. Advertising, sponsored content, and affiliate marketing are just a few of the ways you may make money from your blog.
You must have a thorough knowledge of the coffee industry's most recent trends in order to launch a successful coffee blogging venture. Strong writing abilities and the capacity to produce captivating, visually appealing content are also required. Additionally, you must include pertinent keywords and adhere to the best SEO techniques in order to optimize your blog material for search engines.
To attract readers and grow your audience, you should also promote your blog on social media platforms and engage with your followers. You may become recognized as an expert in the coffee sector and turn your love of the beverage into a great business by producing informative content and developing a strong internet presence.
Coffee Education
Coffee education is a fascinating and innovative coffee business idea that involves sharing your knowledge and passion for coffee with others. This business includes teaching people about coffee through courses on coffee brewing, cupping, and roasting, as well as workshops and seminars.
You need to have a lot of knowledge and expertise in the coffee business, as well as the capacity to educate and explain clearly, in order to launch a business in the field of coffee education. You also need to invest in a suitable space and equipment for classes, such as brewing equipment, coffee cups, and tasting spoons.
Marketing is crucial to attract potential customers and create awareness of your classes. Offering unique and informative courses and workshops can help you stand out from competitors and create a loyal customer base. Coffee education can also include corporate training sessions, which can be an excellent source of revenue.
By providing quality coffee education, you can help people appreciate the art and science of coffee and become more knowledgeable coffee enthusiasts. Coffee education can be a fulfilling business opportunity for those passionate about coffee and teaching.
Coffee Farming
Coffee farming is a fulfilling and sustainable coffee business idea for those interested in agriculture and sustainability. This business involves growing coffee plants and selling the beans to coffee roasters or brokers, either on a small or large scale.
To start a coffee farming business, you need suitable land and the ability to invest in the necessary equipment and resources. You also need knowledge of coffee farming practices, such as planting, pruning, and harvesting, and the ability to manage the farm effectively. Coffee farming involves perseverance, diligence, and commitment, but it may also be a source of money and a way to stay connected to the natural world.
With the increasing demand for specialty coffee, coffee farming presents an opportunity to produce high-quality beans and establish a sustainable business. By adopting environmentally friendly farming practices and investing in the latest technology, coffee farmers can produce premium beans and contribute to a more sustainable coffee industry.
Read more about: Business Plan for Startup Coffee Shop: Coffee, Caffeine, and Cashflow
Specialty Coffee Shop
Specialty coffee shops are a growing trend among coffee enthusiasts, seeking a unique coffee experience. These coffee shops are known for offering high-quality coffee made from single-origin beans, and artisanal brewing methods such as pour-over, AeroPress, or French press. The baristas are highly skilled and knowledgeable about coffee, creating a personalized coffee experience for customers.
Starting a specialty coffee shop requires investment in high-quality coffee beans, equipment, and training for staff. The environment should be cozy, friendly, and welcoming for customers, encouraging them to relax and enjoy their coffee. Creating a unique atmosphere, with comfortable seating, and an aesthetically pleasing interior, can also help attract customers.
Marketing is crucial to the success of a specialty coffee shop. You need to connect with local coffee lovers via social media, community gatherings, or word of mouth. Bringing attention to your coffee shop's distinctive features, such as the place where your beans come from or how you make your coffee, will help you stand out from competing establishments in the neighborhood.
Coffee Equipment Sales
Coffee equipment sales is a coffee business idea that involves selling coffee equipment such as coffee machines, grinders, and accessories. Either an online business or a physical store are options for doing this.
To start a coffee equipment sales business, you need to have a good understanding of coffee equipment and the ability to provide customer support and technical assistance. You also need to invest in marketing and branding to attract potential customers.
Conclusion
These are some of the coffee business ideas that can help you start your own business in the coffee industry. Whether you choose to start a coffee shop, a mobile coffee cart, a coffee roasting business, a coffee subscription service, or any other coffee-related business, it is important to have a passion for coffee and a good understanding of the industry. You can turn your coffee business idea into a fulfilling and satisfying venture with hard work, dedication, and creativity.
Frequently Asked Questions
Question: How much does it cost to start a coffee shop?
Answer: The cost to start a coffee shop can vary greatly depending on the location, size, and equipment needed. It typically costs between $80,000 and $250,000.
Question: What kind of training is needed to start a coffee business?
Answer: If you want to start a coffee shop, you may need barista training or experience in food service. If you want to start a coffee roasting business, you may need training in roasting techniques and coffee cupping. The training depends on the business idea you will start.
Question: What are some common challenges in the coffee industry?
Answer: Some common challenges in the coffee industry include sourcing high-quality coffee beans, managing inventory and supply chains, staying up-to-date with industry trends and regulations, and competing with larger coffee chains.
To learn more on how to start your own coffee shop, check out my startup documents here.
Disclaimer: The information provided by StartMyCoffeeShop.com ("The Site") is for general informational purposes only. All information on the Site is provided in good faith. However, we make no representation or warranty of any kind, express or implied, regarding the accuracy, adequacy, validity, reliability, availability, or completeness of any information on the Site. Under no circumstance shall we have any liability to you for any loss or damage of any kind incurred as a result of the use of the Site or Reliance on any information provided on the Site. Your use of the Site and reliance on any information on the Site is solely at your own risk. This blog post is for educational purposes only and does not constitute legal advice. Please consult a legal expert to address your specific needs. Terms and Conditions. (https://startmycoffeeshop.com/terms-and-conditions/)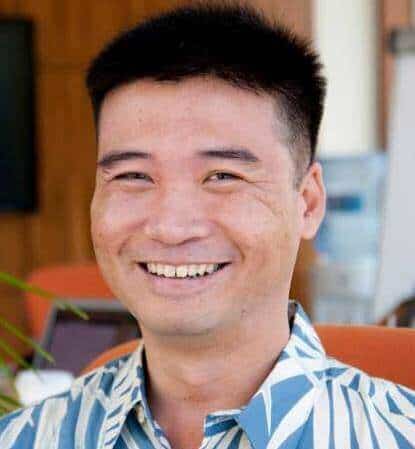 Hi! I'm Shawn Chun
My adventure in coffee began when I first launched my first coffee shop back in the early 2000s. I had to figure out so many things on my own and to make it worse within 2 years of opening two large corporate coffee chains moved in just blocks away from me!
As I saw smaller and even some larger coffee shops in the neighborhood slowly lose customers to these giant coffee chains and slowly close up shop, I knew that I had to start getting creative…or go out of business.
I (like you may be) knew the coffee industry well. I could make the best latte art around and the foam on my caps was the fluffiest you have ever seen. I even had the best state-of-the-art 2 group digital Nuova Simonelli machine money could buy. But I knew that these things alone would not be enough to lure customers away from the name brand established coffee shops.
Eventually, through lots of trial and error as well as perseverance and creativity I did find a way to not only survive but also thrive in the coffee/espresso industry even while those corporate coffee chains stayed put. During those years I learned to adapt and always faced new challenges. It was not always easy, however, in the end, I was the sole survivor independent coffee shop within a 10-mile radius of my location. Just two corporate coffee chains and I were left after that year. All told the corporate coffee chains took down over 15 small independent coffee shops and kiosks and I was the last one standing and thriving.
Along the years I meet others with the same passion for coffee and I quickly learned that it is not only "how good a barista is" that makes a coffee shop successful, but the business side of coffee as well.
Hence why I started this website you are on now. To provide the tools and resources for up and coming coffee shop owners to gain that vital insight and knowledge on how to start a coffee shop successfully.
Stick around, browse through my helpful blog and resources and enjoy your stay! With lots of LATTE LOVE!
Shawn