In the bustling world of coffee shops, where aroma and ambiance are as crucial as the quality of the brew, a well-crafted marketing strategy can make all the difference. As you develop your coffee shop business plan, it's crucial to outline a comprehensive marketing strategy that will not only attract coffee enthusiasts but also create a loyal customer base.
Crafting an effective coffee shop business plan marketing strategy includes the following elements:
Identify Your Target Audience
Develop a Unique Brand Identity
Build An Online Presence
Leverage Local Partnerships
Engage in Influencer Marketing
Harness the Power of Content Marketing
Embrace Loyalty Programs and Referral Incentives
Create Memorable In-Store Experiences
In this article, I will explore key elements to consider when formulating your coffee shop's marketing strategy.
Identify Your Target Audience
To craft a great marketing strategy for your coffee shop, it's essential to understand your target audience. This involves delving into their demographics, preferences, and lifestyle choices. Take a moment to consider who your ideal customers are. Are you targeting busy professionals who crave a quick caffeine fix to fuel their hectic days? Or perhaps you're catering to aspiring creatives who seek a cozy work environment paired with their favorite cup of joe.
By gaining a clear picture of your target audience, you can effectively tailor your marketing efforts to align with their desires and needs. For instance, if your coffee shop caters to professionals, you may focus on highlighting your convenient location, quick service, and the availability of on-the-go options. On the other hand, if your target audience consists of creatives, you might emphasize the cozy atmosphere, comfortable seating, and the availability of free Wi-Fi for their work and relaxation needs.
Understanding your target audience allows you to speak directly to their preferences, making your marketing messages more impactful. By aligning your offerings with their desires, you can attract their attention, build brand loyalty, and establish a solid customer base for your coffee shop.
Read more about: Business Plan Presentation Coffee Shop: Pitch Perfect
Develop a Unique Brand Identity
Once you have defined your brand's identity, it should be reflected consistently across all aspects of your business. Start with your logo, which serves as the visual representation of your brand. Design a logo that captures the essence of your coffee shop's identity and creates a memorable impression. Consider how your store's design aligns with your brand identity – from the colors, furniture, and layout to the overall ambiance. Every element should work harmoniously to create a cohesive brand experience.
Packaging is another touchpoint where your brand identity can shine. Whether it's coffee beans, takeaway cups, or merchandise, ensure that your packaging reflects your brand's personality and values. This attention to detail adds an extra layer of professionalism and enhances the overall customer experience.
Your brand identity should be consistently conveyed through your messaging, social media presence, and customer interactions. From your website to your social media profiles, create content that aligns with your brand's tone and values. Delivering a consistent experience across all touchpoints builds recognition and fosters loyalty among your target audience.
A strong brand identity is more than just a visual presence; it encompasses the emotions and perceptions associated with your coffee shop. By defining your brand's identity and consistently integrating it into all aspects of your business, you create a lasting impression that distinguishes your coffee shop from competitors, attracts customers who resonate with your values, and fosters a sense of loyalty among your target audience.
Build an Online Presence
In the digital landscape of today's age, a robust online presence is no longer a luxury but a necessity for any business, including coffee shops. Start by creating a user-friendly website that serves as a digital storefront, showcasing the uniqueness of your coffee shop, displaying your menu offerings, and capturing the ambiance that sets you apart. Optimize your website for search engines by incorporating relevant keywords, and meta tags, and ensuring fast loading times, which will enhance your online visibility and attract organic traffic.
Engaging with your audience on social media platforms is equally important. Utilize platforms such as Instagram, Facebook, and Twitter to connect with coffee enthusiasts and potential customers. Share captivating visuals of your beautifully crafted coffee, behind-the-scenes glimpses of your baristas in action, and coffee-related content that educates and entertains your followers. By building a sense of community and fostering engagement, you create a virtual space where coffee lovers can connect, share their experiences, and develop a relationship with your brand.
Leverage social media platforms to promote special offers, discounts, or events taking place at your coffee shop. Encourage customers to share their experiences and reviews, as positive user-generated content can significantly impact your online reputation and attract new visitors.
Leverage Local Partnerships
Collaborating with local businesses and organizations presents an excellent opportunity to strengthen the marketing strategy for your coffee shop. By forming partnerships with nearby gyms, bookstores, or co-working spaces, you can create mutually beneficial relationships. Consider offering exclusive discounts or joint promotions, such as a free cup of coffee with a gym membership or a discounted coffee voucher with a purchase from a local bookstore. This way, you can tap into their customer base and attract new visitors to your coffee shop.
In addition to individual collaborations, consider sponsoring community events or participating in local festivals. By associating your coffee shop with these events, you not only raise awareness about your brand but also foster a sense of connection with potential customers. Showcase your coffee offerings and engage with attendees, allowing them to experience the quality and atmosphere of your coffee shop firsthand.
By engaging in local partnerships, you expand your reach within the community while enhancing your coffee shop's reputation as an active and supportive member. This community-centric approach can create a positive image, build trust, and encourage customer loyalty. Furthermore, word-of-mouth referrals from local businesses and community members can significantly contribute to the growth of your customer base.
Effective collaborations are based on mutual value and shared goals. Seek out businesses and organizations that align with your coffee shop's values and target audience. By working together, you can leverage each other's networks and resources to create a win-win situation that benefits all parties involved.
Read more about: Business Plan Outline for Coffee Shop: A Caffeinated Business
Engage in Influencer Marketing
Influencer marketing has emerged as a powerful tool in the realm of coffee shop marketing. Identifying influential individuals or local coffee enthusiasts with a significant online following can be instrumental in promoting your coffee shop to a wider audience. By partnering with these influencers, you can tap into their established community and leverage their credibility to create buzz around your brand.
Engaging in sponsored posts, reviews, or giveaways with influencers allows their followers to discover and experience what your coffee shop has to offer. This form of collaboration presents an opportunity to showcase your unique offerings, highlight your coffee's quality, and create a sense of excitement and curiosity among potential customers. Authentic partnerships with influencers, where they genuinely align with your brand and values, can enhance the perceived authenticity of your coffee shop and foster trust among their followers.
Remember to choose influencers whose content and audience align with your target market. Look for individuals who have a genuine passion for coffee and share it with their followers. This ensures that their endorsement of your coffee shop feels organic and resonates with their audience.
Harness the Power of Content Marketing
Content marketing is a valuable strategy to position your coffee shop as a credible and knowledgeable source within the industry. Creating a blog on your website provides a platform to share coffee-related tips, recipes, and stories that resonate with your target audience. Dive into topics like brewing techniques, the origins of different coffee beans, or the art of latte art. This valuable content not only educates and entertains your readers but also establishes your coffee shop as an authority in the coffee world.
In addition to written content, consider developing engaging video content. Showcase brewing techniques, take viewers on virtual tours of coffee farms, or conduct interviews with local coffee experts. Video content has a high engagement potential and allows you to visually demonstrate your expertise and passion for coffee.
By consistently providing valuable and entertaining content, you build trust and loyalty with your audience. They will see your coffee shop as more than just a place to get a great cup of coffee but also as a reliable source of information and inspiration. This association fosters a deeper connection with your brand and encourages customers to choose your coffee shop over competitors.
Embrace Loyalty Programs and Referral Incentives
One effective approach is to implement a customer loyalty program that offers exclusive perks to repeat customers. Consider providing discounts, freebies, or early access to new menu items as rewards for their continued support. By acknowledging and appreciating their loyalty, you create a sense of exclusivity and strengthen the bond between your coffee shop and its customers.
Furthermore, encourage your satisfied customers to refer their friends and family to your coffee shop by providing referral incentives. This not only motivates your customers to spread the word about your coffee shop but also adds an element of excitement and reward for both the referrer and the referred.
By implementing these loyalty and referral programs, you not only nurture customer loyalty but also transform your satisfied customers into enthusiastic brand advocates. Word-of-mouth recommendations from trusted individuals carry immense influence and can drive new customers to your coffee shop. Additionally, these programs create a sense of community and belonging among your customers, as they feel appreciated and valued by your business.
Read more about: Business Plan on Coffee Shop: Coffee, Community, and Commerce
Create Memorable In-Store Experiences
Train your staff to deliver exceptional customer service by providing them with the necessary skills and knowledge to engage with customers in a friendly and helpful manner. Encourage them to go the extra mile by offering personalized recommendations based on individual preferences and providing a warm and welcoming atmosphere.
In addition to outstanding service, consider hosting special events to attract and engage customers. Organize coffee tastings where customers can sample different brews and learn about their unique characteristics. Offer workshops where participants can discover the art of brewing coffee or learn latte art techniques. Consider hosting live music events or inviting local artists to display their work, creating a vibrant and inviting ambiance for your customers to enjoy.
Remember, the in-store experience is an opportunity to connect with your customers on a personal level. Creating a warm and inviting atmosphere and hosting events that align with your brand values and customer interests can set your coffee shop apart from competitors. It's about creating a space where people can gather, enjoy quality coffee, and create lasting memories.
Summary
Crafting an effective marketing strategy is an essential component of your coffee shop business plan. By identifying your target audience, developing a unique brand identity, leveraging digital platforms, and embracing local partnerships, you can create a buzz around your coffee shop and attract a loyal customer base. Remember to adapt your strategy over time, keeping up with industry trends and customer preferences.
Frequently Asked Questions
Q: How can I identify my target audience for my coffee shop?
A: Start by analyzing the demographics, preferences, and lifestyle choices of potential customers. Consider factors such as age, location, interests, and buying habits to define your target audience.
Q: What are the benefits of building an online presence for my coffee shop?
A: An online presence helps increase visibility, attract new customers, and engage with your audience. It allows you to showcase your coffee shop's uniqueness, menu, and ambiance, and build a sense of community through social media interactions.
Q: How can I effectively leverage local partnerships for my coffee shop's marketing?
A: Collaborate with nearby businesses and organizations, such as gyms or co-working spaces, to offer joint promotions or exclusive discounts. Participate in community events or sponsor local festivals to increase brand awareness and connect with potential customers.
To learn more on how to start your own coffee shop, check out my startup documents here.
Disclaimer: The information provided by StartMyCoffeeShop.com ("The Site") is for general informational purposes only. All information on the Site is provided in good faith. However, we make no representation or warranty of any kind, express or implied, regarding the accuracy, adequacy, validity, reliability, availability, or completeness of any information on the Site. Under no circumstance shall we have any liability to you for any loss or damage of any kind incurred as a result of the use of the Site or Reliance on any information provided on the Site. Your use of the Site and reliance on any information on the Site is solely at your own risk. This blog post is for educational purposes only and does not constitute legal advice. Please consult a legal expert to address your specific needs. Terms and Conditions. (https://startmycoffeeshop.com/terms-and-conditions/)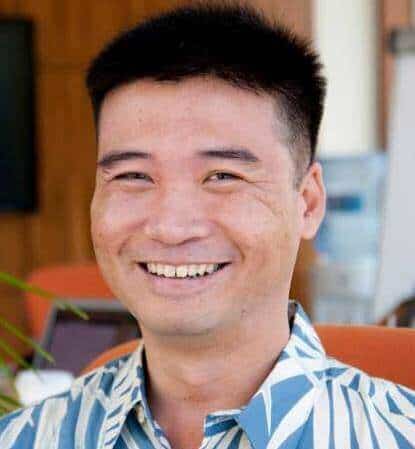 Hi! I'm Shawn Chun
My adventure in coffee began when I first launched my first coffee shop back in the early 2000s. I had to figure out so many things on my own and to make it worse within 2 years of opening two large corporate coffee chains moved in just blocks away from me!
As I saw smaller and even some larger coffee shops in the neighborhood slowly lose customers to these giant coffee chains and slowly close up shop, I knew that I had to start getting creative…or go out of business.
I (like you may be) knew the coffee industry well. I could make the best latte art around and the foam on my caps was the fluffiest you have ever seen. I even had the best state-of-the-art 2 group digital Nuova Simonelli machine money could buy. But I knew that these things alone would not be enough to lure customers away from the name brand established coffee shops.
Eventually, through lots of trial and error as well as perseverance and creativity I did find a way to not only survive but also thrive in the coffee/espresso industry even while those corporate coffee chains stayed put. During those years I learned to adapt and always faced new challenges. It was not always easy, however, in the end, I was the sole survivor independent coffee shop within a 10-mile radius of my location. Just two corporate coffee chains and I were left after that year. All told the corporate coffee chains took down over 15 small independent coffee shops and kiosks and I was the last one standing and thriving.
Along the years I meet others with the same passion for coffee and I quickly learned that it is not only "how good a barista is" that makes a coffee shop successful, but the business side of coffee as well.
Hence why I started this website you are on now. To provide the tools and resources for up and coming coffee shop owners to gain that vital insight and knowledge on how to start a coffee shop successfully.
Stick around, browse through my helpful blog and resources and enjoy your stay! With lots of LATTE LOVE!
Shawn