Starting a coffee shop is an exciting endeavor, but it requires careful planning and budgeting. One of the crucial factors to consider is the cost of coffee shop equipment. From espresso machines and grinders to brewing equipment and refrigeration units, the right equipment plays a vital role in ensuring the improvement of your coffee shop.
Coffee shop equipment costs can vary widely. From espresso machines and grinders to refrigeration units and POS systems, prices range from hundreds to thousands of dollars. Careful budgeting and research are essential to make informed decisions and setting up an effective coffee shop.
In this article, I will go into the various types of equipment required and provide insights into their costs, helping you make informed decisions as you embark on your coffee shop journey.
Espresso Machines and Grinders
Espresso machines hold a special place in the heart of every coffee shop owner, as they are the key to crafting delicious espresso-based beverages. These machines come in various types, each offering different features, brands, and production capacities.
When it comes to cost, entry-level espresso machines generally fall in the range of $1,000 to $3,000, while commercial-grade machines can soar well beyond $20,000.
The price of an espresso machine depends on several factors. One significant factor is brand reputation, as renowned brands often come with a higher price tag due to their reliability and performance. Another crucial aspect is the number of group heads the machine has.
Group heads are the brewing units where espresso shots are extracted, and having multiple group heads allows for higher production capacity. Machines with more group heads tend to be more expensive.
Boiler capacity is another factor that influences the cost. Larger boilers can handle a higher volume of espresso production, ensuring consistent temperature and pressure for optimal extraction.
Additionally, programmability features, such as pre-infusion and shot timers, can enhance the machine's functionality and convenience, but they also contribute to the overall cost.
Equally essential for achieving the perfect espresso is a high-quality grinder. Grinders ensure that coffee beans are ground to the right consistency, allowing for precise extraction and flavor profiles.
The price of coffee grinders can range from $300 to $1,500, depending on factors such as build quality, grind size adjustment options, and motor power. Investing in a top-notch grinder can significantly impact the taste and overall experience you offer your customers, making it a worthwhile investment for any coffee shop.
While there are more affordable options available, it's important to remember that the quality and consistency of your espresso are directly affected by the equipment you choose.
Investing in reliable and durable espresso machines and grinders is essential for delivering a superior coffee experience to your customers and building a reputation for excellence.
Read more about: Coffee Shop Business Plan Summary: Happiness In A Cup
Brewing Equipment
In addition to espresso machines and grinders, coffee shops often utilize a variety of brewing methods to cater to different tastes and preferences. Drip coffee brewers, pour-over setups, French press brewers, and specialty brewing equipment all play a significant role in expanding the range of coffee offerings and creating unique flavor profiles.
Drip coffee brewers are a staple in many coffee shops, offering a convenient and efficient way to brew larger volumes of coffee. The cost of drip brewers can vary from $100 to $500, depending on factors such as the brand, brewing capacity, and additional features like programmability and thermal carafes. Higher-end models may offer more precise temperature control and advanced brewing options.
Pour-over setups have gained popularity due to their ability to bring out the nuances of different coffee beans. These setups typically include kettles, scales for precise measurements, and drippers. The cost of pour-over equipment can range from $50 to $200, depending on the quality and brand. Investing in a high-quality kettle and dripper allows baristas to have greater control over variables such as water flow rate and extraction time, resulting in a more customized and flavorful cup of coffee.
French press brewers, known for their full-bodied and robust brews, are a more affordable option with prices ranging from $20 to $50. These simple yet effective brewing devices consist of a glass or stainless-steel beaker, a plunger, and a mesh filter. French press brewing allows for a more hands-on approach, where users can control the brewing time and strength of the coffee.
For coffee shops looking to offer a unique brewing experience, specialty brewing equipment like siphon brewers and AeroPress can be great additions. Siphon brewers, known for their theatrical brewing process, can range from $30 to $100. AeroPress, a portable and versatile brewing device, typically costs between $30 and $40. These methods offer different brewing techniques and can produce distinct flavors that cater to the curiosity of coffee enthusiasts.
Investing in a range of brewing equipment allows coffee shops to offer a diverse menu and cater to different customer preferences. By exploring various brewing methods, coffee shop owners can expand their offerings, provide an exciting coffee experience, and attract a broader customer base.
Refrigeration and Storage
In any coffee shop, refrigeration units play a crucial role in storing perishable items such as milk, cream, syrups, and fresh ingredients. Commercial-grade refrigerators with multiple compartments are typically the go-to choice for coffee shops.
The cost of these refrigerators can range from $1,500 to $5,000, depending on factors such as size, brand reputation, and specific features like adjustable shelving, temperature control, and energy efficiency. Investing in a reliable and durable commercial refrigerator ensures that your perishable items are stored at the appropriate temperature, maintaining freshness and quality.
For smaller coffee shops or those with limited space, under-counter refrigerators provide a compact solution. These refrigerators fit underneath countertops and can range in price from $500 to $1,500.
While their capacity may be smaller compared to commercial-grade refrigerators, they still offer efficient storage for essential items. It's important to assess your storage needs and consider the volume of ingredients you typically use to determine the appropriate size and capacity for your refrigeration units.
In addition to refrigeration units, coffee shops require storage cabinets, shelves, and display cases to organize supplies and showcase products. The cost of these storage solutions can vary based on factors such as size, material quality, and design aesthetic.
Basic storage cabinets and shelves may range from $200 to $500, providing practical storage options for coffee shop essentials. If you're looking for more aesthetically pleasing and customizable display cases, the cost can increase up to $1,500 or more. These display cases often feature glass panels and lighting to enhance product visibility and create an enticing presentation for customers.
Water Filtration and Purification Systems
The quality of water used in coffee preparation plays a significant role in the taste and flavor of the final brew. Investing in a water filtration and purification system is crucial for ensuring consistency and high-quality coffee in your shop.
These systems are designed to remove impurities, such as chlorine, sediments, and minerals, that can affect the taste and aroma of your coffee. The cost of water filtration and purification systems for coffee shops can range from $500 to $2,000, depending on the size of your operation and the level of filtration required.
Larger coffee shops with higher water consumption may require more sophisticated systems with greater capacity and filtration capabilities, resulting in a higher cost. It's essential to consider factors such as water source quality, local water conditions, and customer expectations when choosing a water filtration system.
In addition to the initial cost of the system, it's important to factor in ongoing maintenance and filter replacements. Regular maintenance ensures the system continues to function effectively, providing clean and purified water for your coffee.
Filter replacements are necessary to maintain optimal filtration performance and should be budgeted for accordingly. The frequency of filter replacements will depend on the system and the water quality in your area.
Read more about: Coffee Shop Business Plan Step-by-Step: The A-Z Guide For Beginners
Point of Sale (POS) System
A coffee shop POS system typically ranges in price from $1,000 to $5,000. The cost may be influenced by factors such as the number of terminals or stations required, the complexity of the software, and additional features offered. It's important to choose a POS system that suits the specific needs and size of your coffee shop. A more extensive operation with multiple stations and complex order management requirements may warrant a higher investment.
When selecting a POS system, consider features that are beneficial for coffee shops. Order management functionality is crucial for accurately tracking orders, customizing options, and ensuring timely delivery or pickup.
Inventory tracking is also vital to monitor stock levels, automate reordering, and prevent product shortages. A robust customer database allows you to track customer preferences, offer personalized experiences, and facilitate loyalty programs.
Integration with payment processors is another important feature to consider. A POS system that seamlessly integrates with various payment options, such as credit cards, mobile payments, and digital wallets, enhances the checkout process and improves customer convenience.
It's advisable to consult with POS system providers that specialize in coffee shop solutions. They can offer guidance on the most suitable system for your specific requirements, ensuring that you make an informed decision and maximize the benefits of your investment.
Smallwares and Accessories
To ensure a top-notch customer experience, your coffee shop needs a variety of small wares and accessories. This includes essential barista tools like tampers, scales, thermometers, and steam pitchers.
Prices for these tools can vary from $50 to $500, depending on the brand and quality you choose. It's crucial to invest in reliable and well-crafted barista tools to maintain consistency and precision in coffee preparation.
Equally important are the serving ware and accessories that enhance the presentation of your beverages. Cups, saucers, and other serving ware play a significant role in creating an appealing and professional image for your coffee shop.
The cost of these items typically ranges from $200 to $1,000, depending on your specific inventory needs and style preferences.
Remember to consider your budget, needs, and preferences when selecting small wares and accessories for your coffee shop. Finding the right balance between quality and cost ensures that you create an exceptional customer experience while staying within your financial means.
Furniture and Decor
Creating a welcoming ambiance is a key factor in attracting and keeping customers in your coffee shop. The cost of furniture and decor will vary based on the size and style of your establishment.
For basic chairs and tables, prices can range from $50 to $200 each. If you prefer more comfortable seating options such as sofas and lounge chairs, you can expect to pay between $200 and $500 per piece.
Adding decorative elements like artwork, lighting fixtures, and plants can contribute to the overall atmosphere and may cost anywhere from $500 to $2,000, depending on the specific aesthetic you desire. It's important to consider your target audience and the image you want to project when selecting furniture and decor for your coffee shop.
Read more about: Coffee Shop Business Plan Pricing: Setting the Right Price
Summary
Opening a coffee shop requires careful consideration of the equipment costs involved. From espresso machines and grinders to brewing equipment and refrigeration units, each component contributes to the overall experience you offer your customers. While the prices provided in this article are approximate, they should serve as a starting point to help you budget and make informed decisions.
Frequently Asked Questions
1. How much does an espresso machine for a coffee shop cost?
The cost of an espresso machine for a coffee shop can range from $1,000 to over $20,000, depending on the brand, features, and capacity.
2. What is the average cost of a commercial coffee grinder?
Commercial coffee grinders typically range from $300 to $1,500, depending on the quality, brand, and features you're looking for.
3. How much should I budget for refrigeration equipment in my coffee shop?
The cost of refrigeration equipment for a coffee shop can vary, with commercial-grade refrigerators ranging from $1,500 to $5,000, while under-counter units may cost between $500 and $1,500.
To learn more on how to start your own coffee shop, check out my startup documents here.
Disclaimer: The information provided by StartMyCoffeeShop.com ("The Site") is for general informational purposes only. All information on the Site is provided in good faith. However, we make no representation or warranty of any kind, express or implied, regarding the accuracy, adequacy, validity, reliability, availability, or completeness of any information on the Site. Under no circumstance shall we have any liability to you for any loss or damage of any kind incurred as a result of the use of the Site or Reliance on any information provided on the Site. Your use of the Site and reliance on any information on the Site is solely at your own risk. This blog post is for educational purposes only and does not constitute legal advice. Please consult a legal expert to address your specific needs. Terms and Conditions. (https://startmycoffeeshop.com/terms-and-conditions/)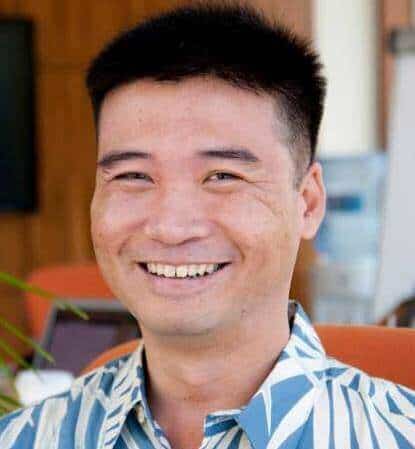 Hi! I'm Shawn Chun
My adventure in coffee began when I first launched my first coffee shop back in the early 2000s. I had to figure out so many things on my own and to make it worse within 2 years of opening two large corporate coffee chains moved in just blocks away from me!
As I saw smaller and even some larger coffee shops in the neighborhood slowly lose customers to these giant coffee chains and slowly close up shop, I knew that I had to start getting creative…or go out of business.
I (like you may be) knew the coffee industry well. I could make the best latte art around and the foam on my caps was the fluffiest you have ever seen. I even had the best state-of-the-art 2 group digital Nuova Simonelli machine money could buy. But I knew that these things alone would not be enough to lure customers away from the name brand established coffee shops.
Eventually, through lots of trial and error as well as perseverance and creativity I did find a way to not only survive but also thrive in the coffee/espresso industry even while those corporate coffee chains stayed put. During those years I learned to adapt and always faced new challenges. It was not always easy, however, in the end, I was the sole survivor independent coffee shop within a 10-mile radius of my location. Just two corporate coffee chains and I were left after that year. All told the corporate coffee chains took down over 15 small independent coffee shops and kiosks and I was the last one standing and thriving.
Along the years I meet others with the same passion for coffee and I quickly learned that it is not only "how good a barista is" that makes a coffee shop successful, but the business side of coffee as well.
Hence why I started this website you are on now. To provide the tools and resources for up and coming coffee shop owners to gain that vital insight and knowledge on how to start a coffee shop successfully.
Stick around, browse through my helpful blog and resources and enjoy your stay! With lots of LATTE LOVE!
Shawn