Opening a coffee shop can be a dream come true for many aspiring entrepreneurs. It's a chance to create a cozy and inviting space where people can gather, enjoy a cup of their favorite brew, and build a sense of community. However, before embarking on this exciting venture, it's crucial to understand the financial aspects involved.
The cost of opening a coffee shop can vary depending on factors such as location, size, equipment, and permits. And on average, you can expect to spend anything from $80,000 to $300,000 or more. It's important to budget wisely your money!
In this article, I will go into the various costs associated with opening a coffee shop and provide an overview to help you plan your budget effectively.
Location and Rent
When embarking on the journey of opening a coffee shop, one of the first and most significant expenses to consider is securing the right location. The cost of rent for your coffee shop will be influenced by several factors, including the city, neighborhood, and size of the space you choose.
Prime locations in busy and popular areas often come with higher rental prices due to the increased demand and foot traffic they offer. These locations can provide excellent visibility and exposure for your coffee shop, potentially attracting a larger customer base. However, the higher rent associated with such locations must be carefully weighed against the potential profitability they offer.
On the other hand, quieter neighborhoods may present more affordable rental options. While these areas may not provide the same level of bustling activity, they can still be attractive to certain target markets, such as residents seeking a cozy and peaceful atmosphere. It's important to consider your target market and the potential foot traffic in the chosen neighborhood when evaluating the rent expense.
Conducting thorough research on the local real estate market is crucial. Explore different areas, compare rental prices, and assess the overall business potential each location presents. Take into account factors like nearby businesses, accessibility, parking availability, and demographic considerations.
Read more about: Cost to Open a Small Coffee Shop: The Road to Rich Aroma
Licensing and Permits
When it comes to running a coffee shop, obtaining the necessary licenses and permits is an essential step. These include health permits, food service licenses, and business permits, among others. However, the cost of these permits can vary depending on the jurisdiction in which your coffee shop is located.
To ensure compliance with regulations, it is crucial to consult with local authorities and thoroughly understand the specific requirements and associated costs. Each jurisdiction may have its own set of guidelines and fees for obtaining these permits. It is important to familiarize yourself with the local laws and regulations about food service establishments.
Contact the relevant departments or agencies responsible for issuing these permits and licenses. They can provide you with detailed information about the requirements, application procedures, and associated costs. By understanding these requirements and costs upfront, you can budget accordingly and ensure that you meet all legal obligations before opening your coffee shop.
The cost of permits and licenses should be factored into your overall budget for opening a coffee shop. Failing to obtain the necessary permits can lead to penalties, fines, or even closure of your business. Therefore, it is essential to prioritize compliance with regulations and get the required permits to operate your coffee shop legally and safely.
Equipment and Furnishings
Creating a welcoming coffee shop experience requires investing in high-quality equipment and furnishings. These essential items include coffee machines, grinders, blenders, refrigerators, seating arrangements, tables, chairs, and decorative elements that add charm and character to your space. The cost of this equipment can vary significantly based on factors such as brand reputation, quality, and capacity.
When considering equipment for your coffee shop, it's important to strike a balance between cost and quality. While it may be tempting to opt for the cheapest options, investing in reliable and durable equipment can save you money in the long run by minimizing maintenance and replacement costs. Research reputable brands are known for their quality and longevity in the industry.
Another cost-saving option is to consider purchasing used equipment. Many coffee shops upgrade their equipment periodically, which means you can find well-maintained machines and furnishings at a fraction of the original price. However, be cautious and ensure the used equipment is in good working condition before making a purchase.
Additionally, consider the specific needs and capacity requirements of your coffee shop. Choose equipment that aligns with your menu offerings and expected customer volume. It's better to invest in equipment that can handle your anticipated demand to avoid bottlenecks or limitations on the quality and speed of service.
Remember to account for the costs of installation, warranties, and any necessary accessories or supplies associated with the equipment. By carefully researching and budgeting for the right equipment and furnishings, you can create a coffee shop that not only serves delicious beverages but also provides a comfortable and inviting ambiance for your customers to enjoy.
Staffing
Fair compensation is essential to attract and retain talented individuals who can contribute to the improvement of your coffee shop. Offering competitive wages not only helps you attract skilled baristas with experience and expertise but also motivates them to provide exceptional service to your customers. Remember, well-trained and satisfied employees can create a positive and inviting atmosphere that keeps customers coming back.
In addition to salaries and wages, it's important to consider employee benefits such as health insurance, paid time off, retirement plans, and any other perks that can enhance job satisfaction and employee loyalty. Prioritizing the well-being and job satisfaction of your staff will not only contribute to a positive work environment but also reduce turnover and the associated costs of hiring and training new employees.
Investing in training programs and ongoing professional development opportunities for your staff can also contribute to their growth and job satisfaction. By providing them with the tools and knowledge they need to excel, you can foster a team of skilled and passionate individuals who are dedicated to delivering top-notch customer service.
Read more about: Cost to Open a Drive-Thru Coffee Shop: Drive-Thru Delights
Inventory and Supplies
When running a coffee shop, the cost of inventory and supplies represents a significant portion of the ongoing expenses. It's essential to research local suppliers and estimate the quantity and cost of the items needed to meet customer demand.
Coffee beans, the heart, and soul of any coffee shop should be sourced from reputable suppliers who offer quality beans at competitive prices. Consider factors such as the origin, roast profiles, and flavor profiles that align with your brand and target audience. Additionally, account for the volume of coffee consumed daily to ensure you have adequate stock.
Other consumables like milk, syrups, cups, lids, and napkins should be carefully estimated based on your projected sales volume. Research local suppliers who offer competitive pricing and reliable delivery services. Consider the durability and sustainability of the cups and lids you choose, as these can impact your expenses and environmental footprint.
In addition to perishable items, don't forget to factor in the cost of regularly restocking non-perishable items like cleaning supplies, utensils, and paper products. These are essential for maintaining cleanliness and providing a pleasant customer experience.
Establishing good relationships with suppliers and considering bulk purchasing or negotiating favorable terms can help manage inventory costs. Regularly reviewing and adjusting your inventory levels based on sales trends and customer preferences can also optimize your expenses and minimize waste.
Marketing and Promotion
To attract customers and generate awareness for your coffee shop, it is essential to allocate a budget for marketing and promotion. This allocation may involve various strategies aimed at creating a strong brand presence and reaching your target audience effectively.
Investing in a well-designed and user-friendly website is crucial in today's digital landscape. Allocate funds to create an informative website that showcases your coffee shop's unique offerings, location, and contact details. Additionally, consider investing in professional logo design and eye-catching signage that reflects your brand identity and captures the attention of passersby.
Harness the power of social media platforms by allocating resources for advertising and promotion. Craft engaging content, run targeted ad campaigns and interact with potential customers to build an online community around your coffee shop. Utilize platforms like Facebook, Instagram, and Twitter to showcase your products, share updates, and respond to customer inquiries.
Running promotions and special offers can entice new customers and encourage repeat business. Allocate a portion of your marketing budget to develop enticing deals, loyalty programs, or partnerships with local businesses to attract attention and drive foot traffic to your coffee shop.
Participating in local community events provides an opportunity to connect with the community and create brand awareness. Allocate funds for sponsorships, booth rentals, or participation in local festivals, farmers' markets, or charity events to showcase your coffee shop and engage with potential customers.
Utilities and Miscellaneous Expenses
When planning the budget for your coffee shop, it's important not to overlook the costs of utilities and miscellaneous expenses. These include electricity, water, internet, and phone services, which are essential for the smooth operation of your business.
Utilities such as electricity and water are necessary for brewing coffee, running equipment, and maintaining a comfortable environment for your customers. Consider the average monthly usage and the rates in your area to estimate these costs accurately.
Internet and phone services are vital for communication, online ordering systems, and managing your online presence. Allocate funds for reliable internet service and a business phone line to ensure seamless operations and efficient customer service.
In addition to utilities, consider expenses like insurance coverage to protect your business from unforeseen circumstances. Invest in accounting software to manage your finances effectively and point-of-sale systems to process transactions smoothly.
Maintenance and repairs are another aspects to factor into your budget. Coffee machines, refrigerators, and other equipment may require regular maintenance or occasional repairs. Setting aside funds for these costs will help you handle any unexpected issues without disrupting your business.
Read more about: Cost to Open a Coffee Stand: A Coffee Capital
Summary
Opening a coffee shop involves a range of costs that should be carefully considered and budgeted for. From securing the right location to investing in equipment, hiring staff, and promoting your business, each expense contributes to the overall achievement of your venture.
By conducting thorough research, seeking professional advice, and creating a comprehensive budget, you can navigate the financial aspects and turn your dream of owning a coffee shop into a reality. Remember, while costs may vary, a well-planned budget is key to setting the stage for a thriving coffee shop that delights customers and brings joy to your entrepreneurial journey.
Frequently Asked Questions
Q: What are the ongoing expenses of running a coffee shop?
A: Ongoing expenses typically include rent, utilities, staffing, inventory, marketing, maintenance, and insurance. These costs should be factored into your budget to ensure smooth operations.
Q: How can I find an affordable location for my coffee shop?
A: Researching different neighborhoods, considering less trendy areas, and negotiating rent terms with landlords can help you find an affordable location that suits your budget.
Q: Do I need any specific permits or licenses to open a coffee shop?
A: Yes, you will likely need permits and licenses such as health permits, food service licenses, and business permits. Contact your local authorities to understand the specific requirements for your area.
To learn more on how to start your own coffee shop, check out my startup documents here.
Disclaimer: The information provided by StartMyCoffeeShop.com ("The Site") is for general informational purposes only. All information on the Site is provided in good faith. However, we make no representation or warranty of any kind, express or implied, regarding the accuracy, adequacy, validity, reliability, availability, or completeness of any information on the Site. Under no circumstance shall we have any liability to you for any loss or damage of any kind incurred as a result of the use of the Site or Reliance on any information provided on the Site. Your use of the Site and reliance on any information on the Site is solely at your own risk. This blog post is for educational purposes only and does not constitute legal advice. Please consult a legal expert to address your specific needs. Terms and Conditions. (https://startmycoffeeshop.com/terms-and-conditions/)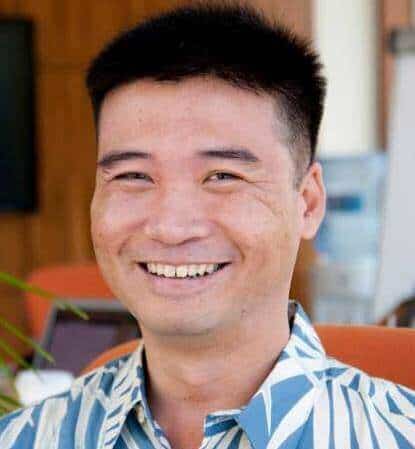 Hi! I'm Shawn Chun
My adventure in coffee began when I first launched my first coffee shop back in the early 2000s. I had to figure out so many things on my own and to make it worse within 2 years of opening two large corporate coffee chains moved in just blocks away from me!
As I saw smaller and even some larger coffee shops in the neighborhood slowly lose customers to these giant coffee chains and slowly close up shop, I knew that I had to start getting creative…or go out of business.
I (like you may be) knew the coffee industry well. I could make the best latte art around and the foam on my caps was the fluffiest you have ever seen. I even had the best state-of-the-art 2 group digital Nuova Simonelli machine money could buy. But I knew that these things alone would not be enough to lure customers away from the name brand established coffee shops.
Eventually, through lots of trial and error as well as perseverance and creativity I did find a way to not only survive but also thrive in the coffee/espresso industry even while those corporate coffee chains stayed put. During those years I learned to adapt and always faced new challenges. It was not always easy, however, in the end, I was the sole survivor independent coffee shop within a 10-mile radius of my location. Just two corporate coffee chains and I were left after that year. All told the corporate coffee chains took down over 15 small independent coffee shops and kiosks and I was the last one standing and thriving.
Along the years I meet others with the same passion for coffee and I quickly learned that it is not only "how good a barista is" that makes a coffee shop successful, but the business side of coffee as well.
Hence why I started this website you are on now. To provide the tools and resources for up and coming coffee shop owners to gain that vital insight and knowledge on how to start a coffee shop successfully.
Stick around, browse through my helpful blog and resources and enjoy your stay! With lots of LATTE LOVE!
Shawn