A new coffee shop can be a thrilling idea. It's a business venture that requires great passion, perseverance, and meticulous planning. While it may seem like a simple undertaking, starting a coffee shop requires careful consideration of various factors.
Opening your own coffee shop involves numerous factors, such as selecting the right location, developing a menu, procuring high-quality equipment, and hiring and training competent staff. It is also crucial to develop effective marketing strategies to promote your business and attract customers.
This article will give you enough information to turn your passion for coffee into an effective coffee shop of yours. Keep reading to figure out more about how to open your own coffee shop.
Research
Before launching your own coffee shop, it's crucial to conduct thorough research. This includes analyzing the local competition, examining their offerings, identifying your target customer base, and determining their preferences and needs. This information will assist you in deciding what type of coffee shop to establish and what kind of menu to provide.
By researching the competition, you can gain valuable insights into the local market and identify gaps that you can fill. You may also discover innovative ideas that you can incorporate into your own coffee shop, such as unique flavors or brewing methods. Understanding your customer base is equally important, as it allows you to tailor your menu and services to their preferences and expectations.
Market research can assist you in identifying potential obstacles and opportunities that you might encounter as a brand-new owner of a coffee shop. Early recognition of these elements paves the way for the creation of strategies that successfully navigate challenges and take advantage of market trends. So, before opening your coffee business, spend the time to thoroughly study your market.
Read more about: How Much Does it Cost to Open a Coffee House: Examining the Price Point
Create a Business Plan
Developing a business plan is an integral part of launching a successful coffee shop. A well-crafted business plan will outline your vision for the coffee shop, including the menu, location, target market, and financial projections. This plan will serve as a roadmap for your business and help you stay on track toward achieving your goals.
A clear picture of your ideal coffee shop, as well as what makes it stand out from the competitors, should serve as the foundation of your business plan. This may include your distinctive coffee blends, your dedication to sustainability, or your inviting environment. It's also essential to analyze the local market thoroughly and determine who your target market is.
The company strategy also needs to include forecasts of your finances. This will comprise forecasts for expenses, cash flow, and revenue. These forecasts will assist you in deciding how much financing you'll require and when you might anticipate breaking even and beginning to make money.
Overall, any owner of a coffee shop who wants to compete in the cutthroat coffee sector must have a solid business plan. You may put yourself in a successful position and realize your entrepreneurial aspirations by having a well-thought-out plan and a thorough understanding of your target market.
Location
Location is essential when it comes to operating a coffee shop. Choosing the correct location for your business is crucial. Ideally, you want to choose a location that is easily accessible and has high foot traffic. This could mean a busy street corner or a popular shopping center.
It's important to assess the local competition and identify any gaps in the market that your coffee shop can fill. For example, if there are already several coffee shops in the area, you may want to consider offering a unique coffee blend or specialty drinks that aren't currently available.
Are there many young professionals or students looking for a comfortable environment to work from home? Or does the region have a reputation for drawing travelers who could be seeking a quick caffeine fix?
It's crucial to take local demographics into account while evaluating possible venues. You can choose a location that will optimize the potential for the achievement for your coffee business by paying close attention to these factors.
Menu
When it comes to opening a successful coffee shop, creating a menu that appeals to your potential customers is key. You'll want to consider the local competition and see what they're offering, as well as the tastes and preferences of your target demographic. This will help you develop a menu that stands out and attracts customers.
To make your menu stand out, you may want to try out various coffee beverages and snack products. It's also crucial to strike a balance between providing a wide range of options and still keeping the menu manageable and simple to use.
When planning your food, don't forget to take dietary preferences and constraints into account. To draw in a wider clientele, consider providing vegan or gluten-free options. You can design a menu that differentiates your coffee shop from the competition and entices consumers to return by carefully taking into account these elements.
Read more about: What Licenses Do You Need To Open A Coffee Shop: Knowing Your Legal Obligations
Equipment and Supplies
It's critical to make investments in top-notch supplies and equipment if you want your coffee business to succeed. Depending on the size and design of your coffee shop, different supplies and equipment will be required. Basic supplies including an espresso maker, a coffee maker, a grinder, and cups are a must.
To differentiate yourself from your rivals, though, think about making supplemental purchases like a milk frother, a professional blender, and premium beans. Quality supplies and equipment will boost customer satisfaction, which will encourage return business and favorable reviews in addition to improving the flavor of your coffee.
Hiring Employees
For your coffee shop to be successful, you must hire the appropriate personnel. You should give priority to candidates that are passionate about coffee and customer service when hiring staff.
To promote your employees' development and success in their positions, it's also critical to offer proper training and continuing assistance. Consider creating a training curriculum that includes topics like customer service skills and brewing methods.
Moreover, offering fair pay and benefits to your staff might assist you in luring and keeping top personnel. You can give your clients a warm and excellent coffee shop experience by assembling a solid team of committed and talented staff.
Marketing and Promotion
Think about utilizing different marketing methods, like social media, email marketing, and online advertising, to draw in new clients. Sharing coffee-related images on social media sites like Instagram, Facebook, and Twitter is a terrific way to advertise your shop's distinct atmosphere.
Providing discounts and promotions can also assist draw in new clients and promote repeat business. Think about forming alliances with neighborhood companies and groups to promote your coffee shop and raise brand recognition.
Track your marketing activities to determine what is effective and ineffective, then modify your plan as necessary. You may expand your audience and develop a devoted client base for your coffee shop by using effective marketing strategies.
Customer Service
Creating a positive customer experience is crucial to gain more loyal customers. Your staff should be approachable, knowledgeable, and mindful of the demands of the clients. It is critical to establish a warm and inviting ambiance that will entice visitors to remain and return.
Keep your area organized and spotless, and think about including features like free Wi-Fi or cozy chairs. Don't forget to get client input, and then use it to enhance your offerings. You may develop a devoted customer base and distinguish your coffee shop from rivals by putting a high priority on customer service.
Read more about: What is the Start-up Cost for a Coffee Shop: A Penny for Your Brew
Financial Management
It is critical to monitor your costs and income. You can also manage your money well by hiring a seasoned accountant or financial advisor. You can make sure your coffee shop maintains its financial stability by making a budget, projecting spending, and keeping an eye on cash flow.
You will be able to decide wisely about purchases of tools, materials, and marketing initiatives thanks to this as well.
Continuous Improvement
You should constantly aim for continual development if you want your coffee business to have a long life. One method to achieve this is to periodically examine your menu and add exciting new products to it.
You should concentrate on giving great customer service by paying attention to what your clients have to say and swiftly responding to any issues or complaints. You should also frequently assess your operations to find areas where you can make improvements, like streamlining your procedures or improving your equipment.
Customers' and workers' comments might offer insightful information on areas that want development. You can keep your coffee business relevant, competitive, and retaining the patrons' loyalty by consistently working to make improvements.
Here are some additional tips to help you open your own coffee shop:
Offer Unique and High-Quality Products
To stand out from the competition, offer unique and high-quality coffee and food products. Consider sourcing your coffee from local roasters and offering specialty drinks that are not available elsewhere. Additionally, consider offering high-quality food options such as pastries, sandwiches, and salads.
Create a Cozy and Inviting Atmosphere
The ambiance of your coffee shop can make a big difference in attracting and retaining customers. Create a cozy and inviting atmosphere with comfortable seating, warm lighting, and appealing decor. You can also play music and offer free Wi-Fi to make your coffee shop a comfortable and enjoyable place for customers to relax and socialize.
Offer Excellent Customer Service
Your customers are the lifeblood of your coffee shop, so it is essential to provide them with excellent customer service. Train your employees to be friendly, attentive, and knowledgeable about your products. Encourage them to engage with customers and create a welcoming environment that encourages repeat visits and word-of-mouth referrals.
Use Social Media and Other Marketing Tools
Social media is a powerful tool for promoting your coffee shop and connecting with customers. Use platforms like Instagram, Facebook, and Twitter to share photos of your products, engage with customers, and offer promotions and discounts. You can also use email marketing, flyers, and other traditional marketing methods to attract new customers and build brand awareness.
Read more about: What Does it Cost to Start a Coffee Shop: Navigating the Financial Terrain
Stay Competitive
The coffee industry is highly competitive, so it is important to stay up-to-date with industry trends and adapt your business accordingly. Attend industry events and conferences, network with other coffee shop owners, and stay informed about the latest technology and equipment. By staying competitive, you can ensure that your coffee shop stays relevant and successful for years to come.
Summary
Opening a coffee shop can be a challenging but rewarding experience. With the right research, planning, and execution, you can create a successful coffee shop that provides a unique and enjoyable experience for your customers.
Remember to focus on the details, provide excellent customer service, and always look for ways to improve. With hard work and dedication, your coffee shop can become a beloved part of your community.
Frequently Asked Questions
Question: How do I train my employees to make high-quality coffee?
Answer: Provide your employees with thorough training in the art of coffee making, including proper espresso extraction, milk frothing, and latte art. Consider hiring a professional barista trainer to ensure that your staff is well-equipped to make high-quality coffee.
Question: What are some effective marketing strategies for promoting my coffee shop?
Answer: Utilize social media, email marketing, and other digital marketing tools to promote your coffee shop. You can also offer promotions and discounts, host events, and partner with local businesses to increase brand awareness.
Question: How do I create a cozy and inviting atmosphere in my coffee shop?
Answer: Use warm lighting, comfortable seating, and appealing decor to create a cozy and inviting atmosphere. Play music and offer free Wi-Fi to make your coffee shop a comfortable and enjoyable place for customers to relax and socialize.
To learn more on how to start your own coffee shop, check out my startup documents here.
Disclaimer: The information provided by StartMyCoffeeShop.com ("The Site") is for general informational purposes only. All information on the Site is provided in good faith. However, we make no representation or warranty of any kind, express or implied, regarding the accuracy, adequacy, validity, reliability, availability, or completeness of any information on the Site. Under no circumstance shall we have any liability to you for any loss or damage of any kind incurred as a result of the use of the Site or Reliance on any information provided on the Site. Your use of the Site and reliance on any information on the Site is solely at your own risk. This blog post is for educational purposes only and does not constitute legal advice. Please consult a legal expert to address your specific needs. Terms and Conditions. (https://startmycoffeeshop.com/terms-and-conditions/)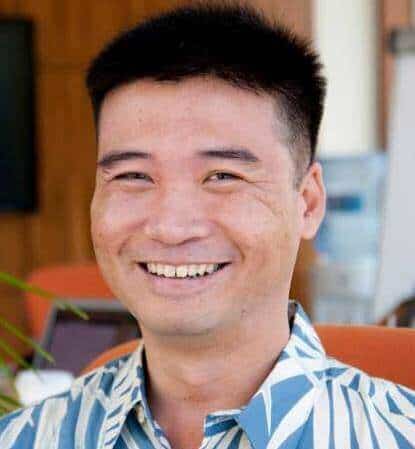 Hi! I'm Shawn Chun
My adventure in coffee began when I first launched my first coffee shop back in the early 2000s. I had to figure out so many things on my own and to make it worse within 2 years of opening two large corporate coffee chains moved in just blocks away from me!
As I saw smaller and even some larger coffee shops in the neighborhood slowly lose customers to these giant coffee chains and slowly close up shop, I knew that I had to start getting creative…or go out of business.
I (like you may be) knew the coffee industry well. I could make the best latte art around and the foam on my caps was the fluffiest you have ever seen. I even had the best state-of-the-art 2 group digital Nuova Simonelli machine money could buy. But I knew that these things alone would not be enough to lure customers away from the name brand established coffee shops.
Eventually, through lots of trial and error as well as perseverance and creativity I did find a way to not only survive but also thrive in the coffee/espresso industry even while those corporate coffee chains stayed put. During those years I learned to adapt and always faced new challenges. It was not always easy, however, in the end, I was the sole survivor independent coffee shop within a 10-mile radius of my location. Just two corporate coffee chains and I were left after that year. All told the corporate coffee chains took down over 15 small independent coffee shops and kiosks and I was the last one standing and thriving.
Along the years I meet others with the same passion for coffee and I quickly learned that it is not only "how good a barista is" that makes a coffee shop successful, but the business side of coffee as well.
Hence why I started this website you are on now. To provide the tools and resources for up and coming coffee shop owners to gain that vital insight and knowledge on how to start a coffee shop successfully.
Stick around, browse through my helpful blog and resources and enjoy your stay! With lots of LATTE LOVE!
Shawn