Are you interested in starting a coffee shop, or perhaps you already own one but want to improve your business? Running a coffee shop can be an exciting and sustainable venture, but it requires careful planning, hard work, and attention to detail.
Running a coffee shop requires a passion for coffee, attention to detail, and a willingness to adapt to changing customer needs. Also, by offering high-quality products, exceptional customer service, and promoting your unique brand, you can attract and retain loyal customers.
It can be thrilling and rewarding to run a coffee business. In addition to providing clients with delectable food and beverages, you also get to establish a warm and inviting environment that encourages repeat business. I'll provide you with helpful advice on running a coffee shop in this post, covering everything from developing a distinctive brand to upholding quality and excellent customer service.
What is a Coffee Shop?
Before we jump into our tips, it's important to understand what a coffee shop actually is. Essentially, it's a place that serves a variety of hot and cold beverages, as well as light meals and snacks. Coffee shops can range from small, independent stores to larger chain establishments.
Regardless of size or style, they all share the common goal of creating a comfortable and inviting atmosphere for customers to enjoy their products. By focusing on high-quality offerings and exceptional customer service, coffee shop owners can create a loyal following and stand out in a competitive market.
Read more about: Mobile Coffee Van Business Plan: Rolling Coffee Delights
Creating a Unique Brand
In the highly competitive world of coffee shops, having a unique and memorable brand is crucial to success. Your brand should not only reflect your values and personality but also resonate with your target audience. By defining your brand, you can create a cohesive message that speaks to your customers and sets you apart from other coffee shops in your area.
This can include everything from your logo and website design to the interior decor and ambiance of your shop. Consistency is key, as customers should feel the same level of quality and experience across all touchpoints with your brand. By investing time and resources into building a strong brand, you can create a loyal following and attract new customers who align with your values and offerings.
Define Your Vision and Mission
Opening a coffee shop is an exciting but challenging endeavor. To give your business the best chance of success, it's important to have a clear vision and mission. What kind of coffee shop do you want to create? What values do you want to embody? Who is your target audience? These are all essential questions to answer before opening your doors.
By taking the time to define your brand, you can create a clear and compelling message that resonates with your customers. In a competitive market, this will help you stand out and gain a devoted following. By staying true to your vision and mission, you can create a coffee shop that truly reflects your passion and values.
Choose a Memorable Name and Logo
Choosing the right name and logo for your coffee shop is essential to creating a memorable and recognizable brand. Your name and logo are the first things customers will see, so they should accurately reflect your brand and be easy to remember. Your name should be catchy and unique, while your logo should be visually appealing and recognizable.
Consider using colors and graphics that align with your brand values and target audience. It's important to also ensure that your name and logo are easily searchable online and on social media. This will help customers find and recognize your brand both in-person and online. By investing in a strong name and logo, you can create a memorable brand that stands out in a competitive market and attracts loyal customers.
Develop a Unique Menu and Atmosphere
In addition to your name and logo, your menu and atmosphere are key components of your coffee shop's brand. Your menu should be tailored to your target audience and showcase your unique offerings, such as signature drinks and snacks. By developing a menu that reflects your brand values and personality, you can create a memorable experience for your customers.
Similarly, your atmosphere should also be warm and welcoming, making customers feel at home. This can include everything from the interior design and furniture to the lighting and music. By creating a cozy and inviting space, you can encourage customers to stay longer and return for future visits. Overall, investing in a well-crafted menu and atmosphere is essential to building a strong brand and attracting loyal customers.
Location and Layout
The location and layout of your coffee shop are crucial factors in its success. Selecting the right spot and optimizing the space can help drive foot traffic and create a welcoming atmosphere for your customers. Here are some tips to consider:
Choose a Convenient Location
Selecting the right location for your coffee shop is critical to its success. It should be easily accessible and convenient for your target audience, with ample parking and proximity to public transportation. High foot traffic areas can also attract more customers. By carefully considering these factors, you can ensure your coffee shop is situated in a prime location to drive traffic and maximize its potential for success.
Read more about: Mobile Coffee Truck Business Plan: Rolling The Coffee Beans Aroma
Optimize Your Layout
Designing an efficient and inviting layout for your coffee shop is crucial for providing an exceptional customer experience. Consider the flow of traffic, seating options, and menu visibility to optimize the layout. Creating a welcoming atmosphere with comfortable seating, an organized flow, and clear menu displays can encourage customers to stay longer and return for future visits. By prioritizing the layout of your coffee shop, you can create a space that is both functional and enjoyable for your customers.
Quality and Customer Service
Aside from branding and location, providing high-quality products and exceptional customer service are critical components for the success of your coffee shop. Serving fresh, high-quality coffee and using top-notch equipment can elevate the experience for customers and keep them coming back.
Additionally, friendly and knowledgeable staff who provide excellent customer service can create a welcoming and positive atmosphere for customers. By prioritizing quality and service, your coffee shop can stand out in a competitive market and build a loyal customer base.
Serve High-Quality Coffee and Food
The success of your coffee business depends on serving high-quality food and coffee. Customers demand items that are flavorful and fresh, so it's crucial to select premium ingredients and make sure they are cooked and served appropriately.
To help the local economy and give your cuisine a distinctive flair, think about obtaining items that are farmed and produced nearby. Customer satisfaction can also be greatly improved by teaching your personnel how to prepare and serve the products with care and attention to detail. Your coffee shop may stand out from the competition and draw repeat business by putting an emphasis on quality and freshness.
Offer Exceptional Customer Service
It's crucial to offer top-notch customer service when operating a coffee shop. Your personnel ought to be courteous, amiable, and informed about your goods. Additionally, it's crucial to react promptly and favorably to consumer comments and complaints. Customers are more likely to return and suggest your store to others when they feel acknowledged and respected.
In order to reward loyal customers and promote repeat business, think about providing loyalty programs or other rewards. You may build a devoted customer base and distinguish your coffee shop from the competition by concentrating on high-quality goods and first-rate service.
Marketing and Promotion
Marketing and promotion are crucial for any business, including a coffee shop. You can use various marketing tactics to attract and retain customers, such as social media advertising, email marketing, and influencer collaborations.
Build a Strong Online Presence
Build a good internet presence for your coffee shop if you want to boost its visibility and draw in more consumers. Make a quality website in the beginning that features your food, location, and distinctive brand. Use social media sites like Facebook, Twitter, and Instagram to interact with your audience, promote deals, and publish images of your products.
If you want to improve the exposure of your coffee shop in local search results, think about listing it on well-known online directories like Yelp and Google My Business. Use SEO strategies like keyword research, content production, and link building to enhance your online presence. This will raise your website's search engine rankings and bring in more natural traffic. You can expand your customer base and raise brand awareness for your coffee shop by having a strong internet presence.
Read more about: Mobile Coffee Trailer Business Plan: Your Mobile Java Journey
Email Marketing
Email marketing is a powerful tool for reaching out to your customers and keeping them engaged with your coffee shop. By collecting email addresses through your website or in-store promotions, you can send out newsletters, promotions, and updates on new menu items or events.
Make sure your emails are visually appealing, easy to read, and provide value to your subscribers. Consider segmenting your email list based on customer preferences or behaviors to personalize your messages. And always include a clear call-to-action to encourage customers to visit your coffee shop or make a purchase online.
Partner with Local Businesses and Events
Partnering with local businesses and events is a great way to expand your coffee shop's reach and build a strong brand presence in the community. Consider sponsoring local events or collaborating with neighboring businesses to offer package deals or joint promotions. This can help attract new customers and encourage repeat business.
Offering deals during happy hour or loyalty programs, as well as other discounts and promotions, will help you draw customers into your store. To enhance visibility and interaction, make sure to advertise these deals on your website and social media accounts. You may generate awareness about your coffee shop and build a following of regular customers by collaborating with neighborhood companies and events and offering alluring promos.
Summary
Running a coffee shop requires a combination of factors, from creating a unique brand to offering high-quality products and exceptional customer service. By following the tips and insights we've provided, you can create a coffee shop that stands out from the competition and attracts loyal customers.
Frequently Asked Questions
Do I need prior experience to run a coffee shop?
No, prior experience is not necessary, but it can be helpful. It's important to have a passion for coffee and a willingness to learn and adapt to the industry.
How much does it cost to open a coffee shop?
The cost of opening a coffee shop can vary depending on factors such as location, equipment, and staffing. It's important to create a detailed business plan and budget to determine your startup costs.
How can I attract customers to my coffee shop?
Marketing and promotion are essential for attracting customers. Build a strong online presence, partner with local businesses and events, and offer discounts and promotions.
To learn more on how to start your own coffee shop, check out my startup documents here.
Disclaimer: The information provided by StartMyCoffeeShop.com ("The Site") is for general informational purposes only. All information on the Site is provided in good faith. However, we make no representation or warranty of any kind, express or implied, regarding the accuracy, adequacy, validity, reliability, availability, or completeness of any information on the Site. Under no circumstance shall we have any liability to you for any loss or damage of any kind incurred as a result of the use of the Site or Reliance on any information provided on the Site. Your use of the Site and reliance on any information on the Site is solely at your own risk. This blog post is for educational purposes only and does not constitute legal advice. Please consult a legal expert to address your specific needs. Terms and Conditions. (https://startmycoffeeshop.com/terms-and-conditions/)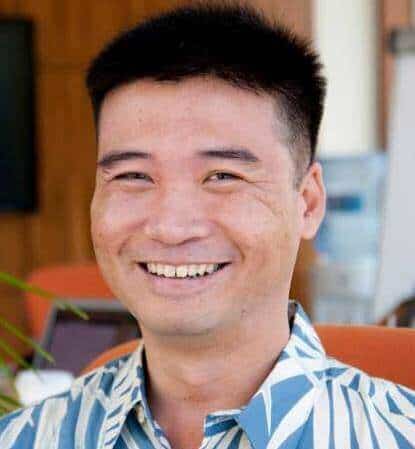 Hi! I'm Shawn Chun
My adventure in coffee began when I first launched my first coffee shop back in the early 2000s. I had to figure out so many things on my own and to make it worse within 2 years of opening two large corporate coffee chains moved in just blocks away from me!
As I saw smaller and even some larger coffee shops in the neighborhood slowly lose customers to these giant coffee chains and slowly close up shop, I knew that I had to start getting creative…or go out of business.
I (like you may be) knew the coffee industry well. I could make the best latte art around and the foam on my caps was the fluffiest you have ever seen. I even had the best state-of-the-art 2 group digital Nuova Simonelli machine money could buy. But I knew that these things alone would not be enough to lure customers away from the name brand established coffee shops.
Eventually, through lots of trial and error as well as perseverance and creativity I did find a way to not only survive but also thrive in the coffee/espresso industry even while those corporate coffee chains stayed put. During those years I learned to adapt and always faced new challenges. It was not always easy, however, in the end, I was the sole survivor independent coffee shop within a 10-mile radius of my location. Just two corporate coffee chains and I were left after that year. All told the corporate coffee chains took down over 15 small independent coffee shops and kiosks and I was the last one standing and thriving.
Along the years I meet others with the same passion for coffee and I quickly learned that it is not only "how good a barista is" that makes a coffee shop successful, but the business side of coffee as well.
Hence why I started this website you are on now. To provide the tools and resources for up and coming coffee shop owners to gain that vital insight and knowledge on how to start a coffee shop successfully.
Stick around, browse through my helpful blog and resources and enjoy your stay! With lots of LATTE LOVE!
Shawn