Do you enjoy coffee and have a strong desire to start your own business? Starting a coffee shop could be the perfect venture for you. In this article, I will guide you through the concept of starting a coffee shop, from choosing a location to marketing your brand.
Starting a coffee shop has many crucial factors you need to consider like selecting the right location and equipment to develop a strong brand and menu. Offering excellent customer service, hosting events, and listening to customer feedback are also critical for building a loyal customer base.
Coffee shops have become a normal part of people's daily routines, providing a welcoming environment for socializing and working. However, before starting a coffee shop, several essential things must be considered, such as finding the perfect location, securing necessary permits, and designing an efficient layout.
You will also need to invest in quality equipment and products, develop a strong brand and menu, and create unique promotions and events to attract and retain customers. Below are the things you need to consider when you decide to start your own coffee shop.
Research and Planning
Understanding the Coffee Shop Industry – The coffee shop industry is experiencing consistent growth, with a projected market size of $47.5 billion by 2025. However, the market is also highly competitive, with new coffee shops popping up regularly. Therefore, it is crucial to understand the industry's trends, competition, and customer behavior before starting your own coffee shop.
You should research the existing coffee shops in your area, their offerings, and pricing strategies. Identify their strengths and weaknesses and determine how you can differentiate your coffee shop from theirs.
Identifying Your Target Market – Your coffee shop's success largely depends on identifying and understanding your target market. Creating a customer persona, based on factors like age, income, lifestyle, and preferences, can guide your branding, menu, and marketing strategies.
Read more about: Open a Coffee Shop Business Plan: From Startup to Caffeine Oasis
Understanding consumer behavior is also significant. Analyze the demographics, tastes, and purchase patterns of your target market. Develop your menu and promotions based on the kinds of goods and experiences that people are seeking.
Studying your target market will help you create a brand and marketing plan that appeals to them and gives them the experience they desire. As a result, the coffee business may see an increase in client loyalty and greater success.
Creating a Business Plan – A comprehensive business plan is necessary to secure funding for your coffee shop and establish objectives. It should contain information on your company's organizational structure, financial forecasts, marketing plans, and operational procedures.
Your business plan will serve as a road map, laying out your objectives and the actions you must take to meet them. Furthermore, it will assist you in identifying potential risks and difficulties so you can create backup plans.
A well-written business plan may be a priceless tool for attracting lenders, partners, and investors to your coffee shop. It can also act as a source of information for your staff as you develop and build your company.
Finding a Location
Location Criteria – Your coffee shop's success relies on its location. Think about things like foot traffic, accessibility, parking, and surrounding competitors while choosing a location. You can find the ideal site for your coffee business by looking at the local demographic and economic trends.
A desirable location can help your firm stand out from the competition, draw in more clients, and improve exposure. A bad location, on the other hand, can obstruct your progress and result in little foot traffic and revenue. Before settling on a location, take the time to carefully consider your options because the success of your coffee shop can greatly depend on it.
Lease Negotiations – Lease negotiations can be challenging, but it's essential to ensure a fair and reasonable lease agreement. Hire a lawyer or consultant to review the lease and negotiate terms that benefit your business.
Permits and Licenses – Before opening your coffee shop, it is essential to obtain the necessary permits and licenses. Depending on your business's location and type, requirements change.
It's crucial to research and apply for all the required permits and licenses to operate your coffee shop legally. Failing to do so can result in fines and legal issues that can negatively impact your business. Take the time to understand and comply with all the legal requirements to ensure a smooth and successful launch of your coffee shop.
Designing Your Coffee Shop
Interior Design – The ambiance and interior design of your coffee shop play a significant role in creating a welcoming and comfortable atmosphere for customers. Elements such as lighting, seating, and decor should be carefully considered.
Read more about: Online Coffee Shop Business Plan: The Virtual Barista's Playbook
Create a unique and attractive design that aligns with your brand image and customer preferences. A well-designed coffee shop can help attract and retain customers while also setting your business apart from the competition.
Equipment and Supplies – Investing in high-quality equipment and supplies is crucial for brewing excellent coffee and keeping your coffee shop running smoothly. Research and purchase essential equipment such as espresso machines, grinders, brewers, and dishes.
Quality equipment will not only improve the taste and quality of your coffee but also help your business operate more efficiently. Additionally, investing in durable and reliable equipment can save you money in the long run by reducing the need for frequent replacements and repairs.
Staffing – Hiring and training qualified staff is one of the most essential things a coffee shop owner needs to consider. Start by creating a detailed job description that outlines the necessary skills and responsibilities.
Conduct thorough interviews to find the best candidates and ensure they receive proper training on your coffee shop's procedures and policies. You can provide excellent customer service and efficiently manage your coffee shop with a well-trained team.
Creating Your Menu
Coffee Selection – To ensure customer satisfaction, it's essential to have a diverse and appealing menu. Offering a variety of high-quality coffee blends and flavors is the heart of your coffee shop's menu. Along with coffee, consider adding food and snack options that complement your drinks, such as pastries, sandwiches, salads, and desserts.
It's also important to accommodate dietary restrictions and preferences by providing gluten-free and vegan options. By catering to different customer needs, you can create a loyal and satisfied customer base that will keep coming back for more.
Pricing Strategy -Pricing your coffee shop's menu items can be a challenging task as you need to strike a balance between profitability and customer satisfaction. To set competitive prices, research your competitors' pricing and adjust your prices accordingly.
You can also consider offering loyalty programs and discounts to attract and retain customers. Additionally, periodically reviewing your prices to ensure they align with market trends and costs can help you maintain a profitable business while keeping your customers happy.
Marketing Your Brand
Branding and Logo Design – Establishing a clear brand identity is essential for creating a memorable and recognizable coffee shop brand. A unique and memorable brand name, logo, and color scheme that relates with your target market can help differentiate your business from competitors.
Read more about: Online Coffee Business Plan: Brewing The Digital Blend
Consider factors such as age, lifestyle, and preferences when creating your brand identity. Use your brand consistently across all marketing and communication channels to build brand awareness and loyalty. By creating a strong brand identity, you can attract new customers and build a lasting connection with your existing ones.
Online Presence – It is important to think about having a strong online presence if you want to sell your product efficiently and reach more people. For the purpose of engaging with clients and promoting your goods and services, create a website, social media profiles, and email campaigns.
Your brand's distinct personality and ideals should be reflected in your web presence, which should also offer useful details about your coffee shop.
Social Media Marketing – Social media can be a powerful tool for promoting your coffee shop and engaging with customers. By regularly posting updates, sharing photos, and offering promotions, you can attract and retain customers while building a strong online presence.
Be sure to interact with your followers, respond to their comments and messages, and use social media insights to analyze your performance and adjust your strategies accordingly.
Launching Your Coffee Shop
Grand Opening Event – Hosting a grand opening event can generate excitement and attract customers to your coffee shop. Plan an event that offers promotions, giveaways, and live music or entertainment. This can create a buzz around your shop and help to build brand awareness.
Customer Service – Delivering exceptional customer service is vital to retaining customers and building brand loyalty. Train your staff to put customer satisfaction first and handle any concerns quickly and professionally.
Encourage your team to greet customers with a friendly smile, personalize orders, and go the extra mile to ensure a positive experience. By creating a warm and welcoming atmosphere and providing top-notch service, you can turn customers into loyal advocates for your coffee shop.
Feedback and Improvement – Receiving feedback and suggestions from customers can help you to continuously improve your coffee shop's products and services. You can offer feedback forms and surveys to gather valuable insights from your customers and implement changes accordingly.
Taking action on customer feedback shows that you value their opinions and are committed to providing excellent service. By continuously improving and adapting to your customer's needs, you can build a loyal customer base and increase your chances of success.
Summary
Opening a coffee shop is a big project that needs to be well-planned and carried out. However, you can create a successful coffee shop by comprehending the industry, identifying your target market, selecting the ideal location, designing your space, investing in high-quality equipment, and offering top-notch customer service.
It is also essential to have a thorough business plan, secure all required permits and licenses, employ and train qualified people, and effectively advertise your brand. You may establish a successful coffee shop business with commitment, perseverance, a passion for entrepreneurship, and a love of coffee.
Frequently Asked Questions
Q: How much does it cost to start a coffee shop?
A: The cost of starting a coffee shop varies depending on several factors, such as the location of the establishment, equipment used, supplies, and manpower required. Generally, the average startup cost falls between $80,000 to $250,000, depending on the extent of the establishment's needs.
Q: How do I attract customers to my coffee shop?
A: Coffee shop owners must provide high-quality products, excellent customer service, and unique promotions and events to attract and retain customers. Starting to use online marketing and social media can help you reach a larger audience in a highly competitive field.
Q: How do I choose the right location for my coffee shop?
A: Consider factors like foot traffic, accessibility, parking, and nearby competition when choosing a location for your coffee shop. Research the demographic and economic trends in the area to ensure a profitable location.
To learn more on how to start your own coffee shop, check out my startup documents here.
Disclaimer: The information provided by StartMyCoffeeShop.com ("The Site") is for general informational purposes only. All information on the Site is provided in good faith. However, we make no representation or warranty of any kind, express or implied, regarding the accuracy, adequacy, validity, reliability, availability, or completeness of any information on the Site. Under no circumstance shall we have any liability to you for any loss or damage of any kind incurred as a result of the use of the Site or Reliance on any information provided on the Site. Your use of the Site and reliance on any information on the Site is solely at your own risk. This blog post is for educational purposes only and does not constitute legal advice. Please consult a legal expert to address your specific needs. Terms and Conditions. (https://startmycoffeeshop.com/terms-and-conditions/)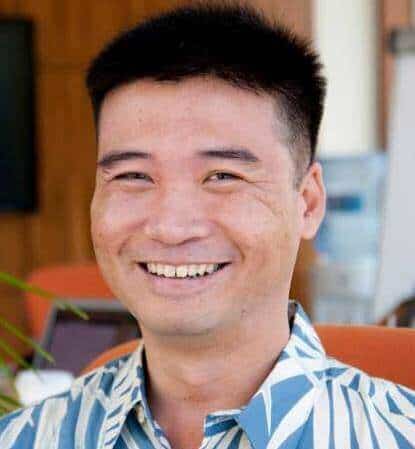 Hi! I'm Shawn Chun
My adventure in coffee began when I first launched my first coffee shop back in the early 2000s. I had to figure out so many things on my own and to make it worse within 2 years of opening two large corporate coffee chains moved in just blocks away from me!
As I saw smaller and even some larger coffee shops in the neighborhood slowly lose customers to these giant coffee chains and slowly close up shop, I knew that I had to start getting creative…or go out of business.
I (like you may be) knew the coffee industry well. I could make the best latte art around and the foam on my caps was the fluffiest you have ever seen. I even had the best state-of-the-art 2 group digital Nuova Simonelli machine money could buy. But I knew that these things alone would not be enough to lure customers away from the name brand established coffee shops.
Eventually, through lots of trial and error as well as perseverance and creativity I did find a way to not only survive but also thrive in the coffee/espresso industry even while those corporate coffee chains stayed put. During those years I learned to adapt and always faced new challenges. It was not always easy, however, in the end, I was the sole survivor independent coffee shop within a 10-mile radius of my location. Just two corporate coffee chains and I were left after that year. All told the corporate coffee chains took down over 15 small independent coffee shops and kiosks and I was the last one standing and thriving.
Along the years I meet others with the same passion for coffee and I quickly learned that it is not only "how good a barista is" that makes a coffee shop successful, but the business side of coffee as well.
Hence why I started this website you are on now. To provide the tools and resources for up and coming coffee shop owners to gain that vital insight and knowledge on how to start a coffee shop successfully.
Stick around, browse through my helpful blog and resources and enjoy your stay! With lots of LATTE LOVE!
Shawn