You are well on your way to opening up your cafe. But opening a cafe is more than just hiring employees, finding a storefront, and perfecting your coffee brewing techniques and pastry recipes. You must also apply for the required licenses to be able to operate your cafe in your state.
Follow these 5 steps to get your cafe license.
Register your cafe business.
Apply for the required licenses and permits.
Get you and your employees food safety certified for your cafe business.
Follow up on your cafe license applications.
Renew cafe license(s) as needed.
As long as you have the required licenses and keep them current, you can continue to operate your cafe without interruption from the Department of Health regulations representatives.
Register Your Cafe Business
Every cafe business needs a business license filed with their local county clerk to open their doors. Usually, you pay a fee to get your license for the first time, and then you have a fee to renew your license every year.
Follow these steps to get your business registered before you file for a general business license.
Apply for an Employer Identification Number (EIN) at irs.gov. This is for tax purposes.

Input your personal information.

Input information about your cafe.

You will be assigned an EIN immediately.

Register your cafe business with your Secretary of State.

Conduct a Google search "register my business in (insert state name)" to find out the special process on how to do it for the state you wish to operate your business.

Fill out the registration application.

Wait for the Secretary of State to approve the said application.
Apply for the Required Cafe
Licenses and Permits
Once your cafe business has been registered, you can file for a general business license to legally operate in your state. Being licensed to do business as a cafe makes you more credible as a community entity.
File for these licenses to operate your cafe legally.
Certificate of an occupancy permit.
Foodservice license.
General business license.
Resale license.
Certificate of Occupancy Permit
Once you have found a vacant building to turn into your cafe, you will have to undergo building inspections to be sure that your building is safe for the customers visiting your restaurant. They must be sure that the building is properly constructed to meet safety standards.
A certificate of occupancy fee usually costs about $100 depending on the city in which you are operating your business. Once you receive your certificate, you will also learn how many people you can have in your cafe at once based on local zoning requirements.
If you usually have more customers than the maximum occupancy allows, try outdoor seating for when the weather is nice or encourage customers. You can suggest customers try the to-go option to keep their occupancy rate at bay if it's getting too close to the limit during a meal rush.
Food Service License
The food service license is the most important of all licenses that you need to operate your cafe. This license is usually distributed by your city or county health department, so do your research to find out who will be visiting your facility for food safety and health checks.
These representatives will be looking to see if you are:
Storing your perishable foods at the proper temperature.
Serving your coffee and pastries within the proper time limits.
Discarding old food to make new food and drinks if past the time limit.
Being sure that your cooking equipment is cleaned and sanitized properly in between uses.
And more! (check with your local facility to see more of what they are looking for during an inspection)
Once you pass your initial inspection, you will have to maintain these standards to be ready for surprise visits from the local health department. If they find at any time that you are not operating within food and health safety standards, you could have your food service license revoked which will shut down your cafe.
General Business License
Look up on Google how to file for a general business license for your specific state to find the details on how to get it done. If your cafe is going to sell alcoholic products (even spiked drinks), you will have to file for a federal and state business license. As long as your cafe will not serve alcohol products, you will just have to file for a general business license.
Resale License
A resale license is needed for you to charge sales tax on customer purchases. Pastries and coffee are usually taxable since they are considered prepared foods that fall in the convenience bracket.
As long as you continue to submit your annual tax returns, you will keep your resale license current. You will not have to renew it annually like other licenses. The only way you can lose your resale license is if you fail to submit your tax returns on a regular yearly basis.
Get You and Your Employees Food Safety Certified for Your Cafe Business
Going back to the foodservice license, you should also have you and your employees get food safety certified. This is to ensure that everyone knows the food safety regulations to operate your cafe healthfully for everyone in the business, especially for the customers consuming your pastries and coffee.
Having everyone become ServSafe certified will increase the credibility of your cafe to the local health department and your consumers. Find out how to get started on your ServSafe certification for everyone at your cafe by visiting this link.
https://www.servsafe.com/ServSafe-Manager/Get-Certified
Find out the mandates for your state to be sure you are getting all the

ServSafe credentials that you need to operate your cafe.

Find classes that fit your schedule using the "Find a Class" tool.

Sign up for the class(es) and attend.

Purchase any course materials your instructor tells you that you need to complete the class.

Take the course in its entirety.

Take the course exam and pass it.

Be awarded your certificate. Download it from the ServSafe website upon receipt.
Learn how to create an employee handbook HERE!
Follow Up on Your Cafe License Applications
The entities tied to your license applications will usually give you a time frame in which they will get back to you about the status of your application. If you do not hear back about the status of one of your license applications within the proposed time frame, considering calling the entity and/or emailing a representative for a follow-up.
You want to expedite your applications as quickly as possible to be able to start your cafe business operations faster. If one of your license applications is being held up, you cannot hold your grand opening day. Stay on top of following up with the applications as you continue to prepare for opening day.
Renew Cafe License(s) as Needed
Some licenses require to be renewed every so often as others do not. Be sure to follow the renewal regulations to not have any interruption in your business operations. Keep a physical calendar at your office desk and even a Google Calendar to keep track of renewal dates.
Licenses that require yearly renewal include:
General business license
Food safety certification (renewal times vary. ServSafe Alcohol certification expires every 3 years).
The licenses that do not require renewal are:
The resale license (as long as you pay your taxes yearly, you keep your resale license current).
Certificate of occupancy (it is valid as long as you pass the pre-inspection and post-inspection; someone may follow up to be sure the building is still being maintained).
File for Your Cafe License Today!
Apply for your business license today, so that you can begin your entrepreneurial journey as a cafe owner! When grand opening day happens and you open the doors for the first time to support small business customers, it will all be worth the trouble you have gone through to register, license, and prep your business for operations.
Frequently Asked Questions
Why can't only my employees get ServSafe certified? Why do I (as the owner) need to be ServSafe certified?
You should also become ServSafe certified alongside your employees just in case there is an employee that does not show up for work for whatever reason one day, and you do not have an additional employee to cover their place.

As a small business owner, there will be times that you will have to perform employee duties if you are short-staffed or something unexpected happens that causes one or more of your employees to be able to come into work.
How else can I prepare for my cafe's opening day while I am waiting on my licenses to be approved?
Prepare for opening day by:

Purchasing and setting up commercial coffee brewers and pastry ovens. Get at least 3 or more coffee brewers and 2-3 ovens to do mass baking of your pastries and toast sandwiches.
Get a commercial fridge (or two) big enough to store your perishable ingredients.
Market your cafe on social media and throughout your community to gather supporters before opening day.
Train your staff on how to brew different coffees, cappuccinos, and espressos.
To learn more on how to start your own coffee shop checkout my startup documents here
Please note: This blog post is for educational purposes only and does not constitute legal advice. Please consult a legal expert to address your specific needs.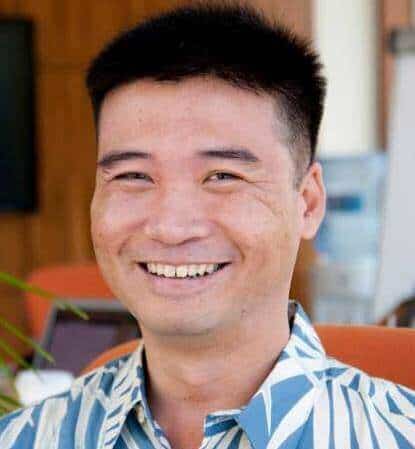 Hi! I'm Shawn Chun
My adventure in coffee began when I first launched my first coffee shop back in the early 2000s. I had to figure out so many things on my own and to make it worse within 2 years of opening two large corporate coffee chains moved in just blocks away from me!
As I saw smaller and even some larger coffee shops in the neighborhood slowly lose customers to these giant coffee chains and slowly close up shop, I knew that I had to start getting creative…or go out of business.
I (like you may be) knew the coffee industry well. I could make the best latte art around and the foam on my caps was the fluffiest you have ever seen. I even had the best state-of-the-art 2 group digital Nuova Simonelli machine money could buy. But I knew that these things alone would not be enough to lure customers away from the name brand established coffee shops.
Eventually, through lots of trial and error as well as perseverance and creativity I did find a way to not only survive but also thrive in the coffee/espresso industry even while those corporate coffee chains stayed put. During those years I learned to adapt and always faced new challenges. It was not always easy, however, in the end, I was the sole survivor independent coffee shop within a 10-mile radius of my location. Just two corporate coffee chains and I were left after that year. All told the corporate coffee chains took down over 15 small independent coffee shops and kiosks and I was the last one standing and thriving.
Along the years I meet others with the same passion for coffee and I quickly learned that it is not only "how good a barista is" that makes a coffee shop successful, but the business side of coffee as well.
Hence why I started this website you are on now. To provide the tools and resources for up and coming coffee shop owners to gain that vital insight and knowledge on how to start a coffee shop successfully.
Stick around, browse through my helpful blog and resources and enjoy your stay! With lots of LATTE LOVE!
Shawn