Are you thinking about starting your own coffee house but don't know where to start? A business plan is essential to help you map out the steps you need to take to make your dream a reality.
A business plan about a coffee house starts by conducting thorough market research, developing a strong brand identity, and creating accurate financial projections. With a solid business plan in hand, you'll be ready to make your dream of owning a coffee house a reality.
Are you looking to start a coffee house but don't know where to start? Read this article to learn how to create a business plan for a coffee house, including market research, financial projections, and more.
What comes to mind when you envision the ideal coffee shop? It might be a welcoming area with soft chairs and a helpful barista who is familiar with your order by heart. Or maybe it's a crowded café with a broad selection of drinks and snacks and an energetic environment. Regardless of your goal, a strong business plan is a cornerstone for building a long-lasting coffee shop.
Business Plan About Coffee House
A business plan is a roadmap for your coffee house that outlines your goals, strategies, and financial projections. It's an essential tool for securing financing and attracting investors, as well as guiding your day-to-day operations.
In this section, I will cover the key components of a business plan for a coffee house.
Market Research: Understanding Your Customers
Before you can create a great coffee house, you need to understand your target market. Who are your customers, and what do they want? Conducting thorough market research is essential to answering these questions.
Identifying Your Target Market
Defining your target market is a crucial step when starting a coffee house. By identifying your ideal customer, you can tailor your offerings to meet their needs and preferences. Consider factors like age, location, income, and lifestyle to narrow down your target market. Are you catering to students, office workers, or families? Each group has different needs and preferences, and you'll want to adjust your marketing and branding accordingly.
For example, if you're targeting students, you might want to offer affordable prices and free Wi-Fi to attract them. On the other hand, if you're targeting office workers, you might want to focus on convenience and quick service. By defining your target market, you'll be better equipped to create a coffee house that appeals to your ideal customer and stands out in a crowded marketplace.
Analyzing Your Competition
Analyzing your competition is critical to creating an excellent coffee house business plan. Research other coffee shops in your area to see what they're offering and how you can differentiate yourself from the competition. Look for gaps in the market that you can fill, whether it's by offering a unique blend of coffee, a cozy atmosphere, or exceptional customer service.
Ask yourself, what sets your coffee house apart from the rest? Once you identify your unique selling proposition, make sure to highlight it in your branding and marketing efforts. For example, if your coffee shop offers organic, fair-trade coffee, emphasize that in your messaging to attract socially conscious customers. By analyzing your competition and finding ways to stand out, you'll increase your chances of achievement and build a loyal customer base.
Understanding Your Customer's Needs
Understanding your customers' needs is a critical component of any great coffee house business plan. By knowing what your customers expect from a coffee house experience, you can tailor your offerings to meet their needs and preferences. Are they looking for a quick caffeine fix on-the-go, or a cozy spot to relax and socialize? Use surveys, focus groups, and online reviews to gather insights into your customers' behaviors and preferences.
You might find that your customers are looking for healthy food options, a quiet study space, or live music events. Once you have a clear understanding of your customer's needs, you can adjust your menu, layout, and customer service to create a memorable experience. By offering what your customers want, you'll not only attract new customers but also build a loyal customer base who will return again and again.
Read more about: Average Cost of Starting a Small Coffee Shop: Costing Out Your Coffee Shop
Business Plan About Coffee House: Building Your Brand
Once you have a clear understanding of your target market, it's time to start building your brand. Your brand is how you differentiate yourself from the competition and attract customers. In this section, we'll cover how to develop your brand identity and marketing strategy.
Defining Your Brand Identity
A crucial part of any outstanding business plan for a coffee shop is developing a distinctive brand identity. Your coffee shop's distinct personality should be reflected in your brand identity, which is made up of your name, logo, colors, and general style. Additionally, it must to appeal to your intended audience.
A strong brand identity can make you stand out from the crowd and draw in new clients. Think about working with a graphic designer to develop a unified brand identity that is present in all of your marketing collateral and social media platforms. A skilled designer may assist you in developing a logo that is unique and captures the essence of your company.
Additionally, they can assist you in selecting a color scheme and design components that complement the look of your business while also being visually appealing. You'll be well on your way to creating an effective 
coffee shop that stands out in a crowded market by investing in a strong brand identity.
Developing Your Marketing Strategy
A strong marketing strategy is crucial to the development of any coffee house business plan. Your marketing plan should outline how you plan to promote your coffee house to your target market. Will you use social media, print ads, or word-of-mouth?
Consider partnering with local businesses or sponsoring community events to raise brand awareness and connect with potential customers. Social media is an effective and low-cost way to reach your target market and engage with your audience. You can also consider running paid ads on social media platforms to reach a wider audience.
In addition, print ads in local newspapers or magazines can also be effective in attracting local customers. Word-of-mouth can be a powerful marketing tool as well. Encourage your customers to share their experiences on social media and leave positive reviews online. By developing a comprehensive marketing strategy, you can increase brand awareness and drive traffic to your coffee house.
Establishing Your Online Presence
In today's digital age, having a strong online presence is essential for any coffee house business plan. Creating a website and social media accounts can help you showcase your menu, location, and hours to potential customers. Your website should be easy to navigate and mobile-friendly, with a menu and photos that showcase your unique offerings.
Social media platforms like Facebook, Instagram, and Twitter can be used to engage with customers and promote your coffee house. Post photos of your drinks and pastries, share updates about specials or events and respond to any questions or feedback you receive.
Encourage your clients to submit reviews on well-known review sites like Yelp or Google, and deal with any criticism you get in a kind and useful way. You can improve your exposure, draw in more customers, and create a devoted following for your coffee shop by creating a strong internet presence.
Business Plan About Coffee House: Financial Projections
A critical component of any business plan is financial projections. You need to forecast your revenue, expenses, and profits to determine if your coffee house will be great. In this section, we'll cover how to create financial projections for your coffee house.
Estimating Your Start-up Costs
When developing a business plan for a coffee house, it's important to estimate your start-up costs. This includes everything from leasing space, purchasing equipment, and hiring staff to marketing expenses and legal fees. It's important to be as detailed as possible and to research industry benchmarks to ensure that your estimates are accurate.
Start by creating a comprehensive list of all the items you'll need to purchase, including furniture, coffee equipment, and point-of-sale systems. You'll also need to factor in expenses like rent, utilities, and payroll. Researching industry benchmarks and speaking with other coffee house owners can help you determine what to expect in terms of expenses. Once you have a detailed estimate, you can use it to secure funding from investors or lenders or to determine when you can realistically expect to turn a profit.
Read more about: Drive-Thru Coffee Shop Business Plan: Perking Up Your Entrepreneurial Dreams
Projecting Your Revenue
After estimating your start-up costs, it's important to project your revenue based on your sales forecast. This involves determining how much you expect to sell each day, week, and month. It's important to consider seasonal fluctuations and local events that may impact your sales. Using industry benchmarks and historical data can help inform your revenue projections.
Start by analyzing the coffee market in your area and identifying any potential competition. Conduct market research to understand your target customer's preferences and behaviors, and use this data to inform your sales projections.
Additionally, consider offering promotions or loyalty programs to encourage repeat business and increase revenue. By projecting your revenue, you can determine whether your business is financially viable and create a plan to reach your financial goals.
Estimating Your Expenses
When creating a business plan about a coffee house, estimating expenses is a crucial step. Consider all possible costs, including rent, utilities, inventory, and staff salaries, and don't forget to include marketing and advertising expenses, as well as legal and accounting fees. Make sure to be as accurate as possible and use industry benchmarks to ensure your estimates are realistic. This will help you determine the minimum amount of revenue you need to generate to cover your expenses and turn a profit. Keep in mind that unexpected costs may arise, so it's always a good idea to have some cushion in your budget.
Calculating Your Profits
Once you've estimated your revenue and expenses, you can calculate your projected profits. Use a profit and loss statement to analyze your financial performance and identify areas where you can cut costs or increase revenue.
Frequently Asked Questions
1. How much does it cost to start a coffee house?
The cost of starting a coffee house can vary widely depending on factors like location, size, and equipment. On average, start-up costs can range from $80,000 to $250,000.
2. Do I need a business plan to start a coffee house?
While it's not legally required, having a business plan is essential to help you map out the steps you need to take to make your coffee house a great one.
3. How long does it take to start a coffee house?
The timeline for starting a coffee house can vary widely depending on factors like location and equipment. On average, it can take six months to a year to launch a coffee house from start to finish.
To learn more on how to start your own coffee shop, check out my startup documents here.
Disclaimer: The information provided by StartMyCoffeeShop.com ("The Site") is for general informational purposes only. All information on the Site is provided in good faith. However, we make no representation or warranty of any kind, express or implied, regarding the accuracy, adequacy, validity, reliability, availability, or completeness of any information on the Site. Under no circumstance shall we have any liability to you for any loss or damage of any kind incurred as a result of the use of the Site or Reliance on any information provided on the Site. Your use of the Site and reliance on any information on the Site is solely at your own risk. This blog post is for educational purposes only and does not constitute legal advice. Please consult a legal expert to address your specific needs. Terms and Conditions. (https://startmycoffeeshop.com/terms-and-conditions/)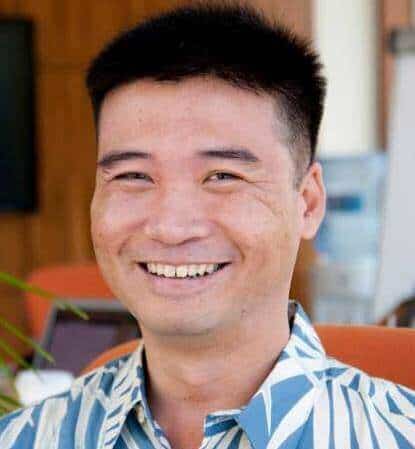 Hi! I'm Shawn Chun
My adventure in coffee began when I first launched my first coffee shop back in the early 2000s. I had to figure out so many things on my own and to make it worse within 2 years of opening two large corporate coffee chains moved in just blocks away from me!
As I saw smaller and even some larger coffee shops in the neighborhood slowly lose customers to these giant coffee chains and slowly close up shop, I knew that I had to start getting creative…or go out of business.
I (like you may be) knew the coffee industry well. I could make the best latte art around and the foam on my caps was the fluffiest you have ever seen. I even had the best state-of-the-art 2 group digital Nuova Simonelli machine money could buy. But I knew that these things alone would not be enough to lure customers away from the name brand established coffee shops.
Eventually, through lots of trial and error as well as perseverance and creativity I did find a way to not only survive but also thrive in the coffee/espresso industry even while those corporate coffee chains stayed put. During those years I learned to adapt and always faced new challenges. It was not always easy, however, in the end, I was the sole survivor independent coffee shop within a 10-mile radius of my location. Just two corporate coffee chains and I were left after that year. All told the corporate coffee chains took down over 15 small independent coffee shops and kiosks and I was the last one standing and thriving.
Along the years I meet others with the same passion for coffee and I quickly learned that it is not only "how good a barista is" that makes a coffee shop successful, but the business side of coffee as well.
Hence why I started this website you are on now. To provide the tools and resources for up and coming coffee shop owners to gain that vital insight and knowledge on how to start a coffee shop successfully.
Stick around, browse through my helpful blog and resources and enjoy your stay! With lots of LATTE LOVE!
Shawn