Starting a cafe can be quite intimidating to some people. Many of us go into business to gain a profit, and there are some who really want to contribute to their community or leave something behind for their family. Although turning a profit for your business is great that should not be your only goal, there is more you can add to your list of goals and objectives to ensure that you have a successful business.
Your café business goals and objectives should be community goals and profit objective. For your profit objective you should consider adding short term and long-term financial objectives. For your goals, community and employees are very important to run your business successfully.
If you're having a hard time trying to figure out your business goals and objectives, then this is the perfect article for you. This article will be the perfect guide for you as you write out your business plan.

Be Realistic
Before you set out to write your business goals, you need to make sure that your goals are within your control. If you are opening a business during a time when the economy is not at its best, then you cannot expect to turn a high profit. Therefore, try your best to write out goals within your control so that your company's success can be more apparent. However, do not let the need of having to set a realistic goal stop you from dreaming big for your long-term goals.
Importance of Short-Term vs Long Term
When coming up with business goals and objectives it is extremely important to not only look into the near future but also the bigger picture. This is where your short term and long terms goals will come to play, and it is important that you use both categories effectively.
Short Term Goals
For this set of goals, you want to look within the next year or two. Think about what you want to achieve in the first two years of your business. Whether it's making a $50,000 profit in your first year or hiring a full-time cafe manager. Think about how you can realistically set a goal for that time frame. Once you have that goal written down, then brainstorm how you plan on achieving that goal so that you have a guide.
Long Term Goals
This is where you'll dream big and figure out what goals you want to achieve for your business in the next ten years. Whether its opening two new locations or making a one-million-dollar profit, these goals will help shape the legacy of your coffee shop. Although these are long term goals it does not mean that you need to begin working toward the goal in the future. The day you open your coffee shop you should begin working on that ten-year business plan. This will bring you one step ahead.
Financial Goals
Setting financial goals is extremely important if you want to run a successful business. A great tip is to break down your financial goals between short term goals and long-term goals. By setting time sensitive goals and objectives it will allow for you to always have something to work towards. Below is a chart that you can follow to assist with setting these goals, by answering the questions in the chart you will have your financial objectives written out.
1 Month Goal
One Year Goal
Three Year Goal
Five Year Goal
Ten Year Goal
How much profit do you want to gain in your first month?
How much profit do you want to gain in your first year?

 

 

Do you have enough profit to begin hiring a store manager?

How much profit do you want to gain in your third year?

 

 

Is a second location a possibility?

How much profit do you want to gain in your fifth year?

 

 

Ready to invest in a second location?

How much profit do you want to gain in your ten year?

 

 

If you have two locations by now how do you want them to perform?

 

Is there a third location on the horizon?
Although the questions are quite repetitive, they will allow you to provide a fair scale for your answers. By filling out this chart you will have a set target that you want to reach in each milestone of your business. Just make sure to be realistic!
If you're looking for  information on coffee shop expenses, check out this blog acticle to read more about it!
Your Purpose
What was the purpose of setting up a coffee shop in that neighborhood? Did you just want a place for college kids to hang out between classes? Did you want people from surrounding office buildings to have their networking meetings at your coffee shop? By figuring out your purpose you will be to identify your business objectives. Check out the list below for some coffee shop objective ideas.
Objectives:
I want my coffee shop to be a hangout for college students.
I want this coffee shop to be a second office space for the digital worker.
I want this coffee shop to be the first stop of everyone's commute to work.
I want this coffee shop to have some entertainment nights to increase sales, and appeal to a more artistic crowd.
Your objectives do not need to be the same as the ones listed above, if you already have an objective in mind then write it down and work towards that. By knowing the purpose of your coffee shop, you will not only be able to figure out the concept of your coffee shop, but you will also have any idea of the clientele you wish to keep. This will bring you one step closer to targeting your market and ensuring that you do your best to keep your clients happy. Afterall happy clients always return!

Other Goals and Objectives
Now that the two most important goals and objectives are set in place it is time to begin considering additional goals to set for your business. Although these goals may seem obvious it is still extra important that you pay attention to them so that you can ensure that your goals cover every aspect of your business.
Here are few additional items to consider:
Product: What is your goal here? Do you want to sell coffee that is so good it will set you apart from the competition? When it comes to your product, keep your competition in mind. What can you offer that the rest of your competition does not?
Service: You want to ensure that you are offering a great service to your clients, use the term "think like a customer" when writing out your objective in this category. What makes the service that you have to offer more special than the service of your competitors?
Employee Satisfaction: This is another important category when it comes to your business because your employees will make or break your business. Figure out what you want to offer to your employees, whether its opportunity for promotion, or great incentives. Do your best to keep your employees happy so that they are motivated to come to work.
Community: Maybe you want to establish yourself with the community. Many successful businesses are staples to their community. How will your coffee shop give back to the community? Whether it's charity events or hiring at risk youth, a sense of love for the community will really lift your business.
These kinds of goals are often overlooked by new business owners because the first thing that always comes to mind is profit. The goals listed above can be used as milestones to help you achieve those financial goals. Think about it if you have a happy staff and are in good standing with the community, and you offer impeccable service, you are almost guaranteed to have increased sales because people will want to support it!

Final Thoughts
When it comes to writing your business goals it is easy to dream big, however being realistic is also very important. Your goals and objectives will be the foundation of your business, and it will ultimately determine if you are on the track to success.
If at some point you do not successfully meet your goals don't panic, use this as a learning experience. Ask yourself how you could have done things differently, where did you make a misstep, and how can you improve. By setting out these milestones you will be on the path to success!
Frequently Asked Questions
Should I incorporate my goals and objectives in my mission statement?
Definitely incorporate your service goals, and your purpose into your mission statement. Financial goals should be left out.
Should I have a specific number in mind for my financial goals, I feel like I am not pushing high enough?
Do what you believe is best, the goal is to be realistic but also give yourself room to push harder. For your short-term goals, it is recommended that you be very realistic since you are just starting out. As for long term, feel free to dream big.
To learn more on how to start your own coffee shop checkout my startup documents here
Please note: This blog post is for educational purposes only and does not constitute legal advice. Please consult a legal expert to address your specific needs.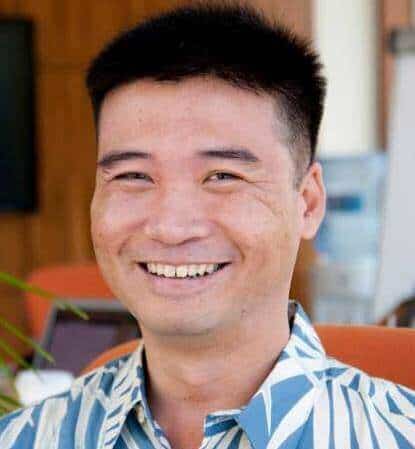 Hi! I'm Shawn Chun
My adventure in coffee began when I first launched my first coffee shop back in the early 2000s. I had to figure out so many things on my own and to make it worse within 2 years of opening two large corporate coffee chains moved in just blocks away from me!
As I saw smaller and even some larger coffee shops in the neighborhood slowly lose customers to these giant coffee chains and slowly close up shop, I knew that I had to start getting creative…or go out of business.
I (like you may be) knew the coffee industry well. I could make the best latte art around and the foam on my caps was the fluffiest you have ever seen. I even had the best state-of-the-art 2 group digital Nuova Simonelli machine money could buy. But I knew that these things alone would not be enough to lure customers away from the name brand established coffee shops.
Eventually, through lots of trial and error as well as perseverance and creativity I did find a way to not only survive but also thrive in the coffee/espresso industry even while those corporate coffee chains stayed put. During those years I learned to adapt and always faced new challenges. It was not always easy, however, in the end, I was the sole survivor independent coffee shop within a 10-mile radius of my location. Just two corporate coffee chains and I were left after that year. All told the corporate coffee chains took down over 15 small independent coffee shops and kiosks and I was the last one standing and thriving.
Along the years I meet others with the same passion for coffee and I quickly learned that it is not only "how good a barista is" that makes a coffee shop successful, but the business side of coffee as well.
Hence why I started this website you are on now. To provide the tools and resources for up and coming coffee shop owners to gain that vital insight and knowledge on how to start a coffee shop successfully.
Stick around, browse through my helpful blog and resources and enjoy your stay! With lots of LATTE LOVE!
Shawn