Coffee is a high demand beverage nationwide but has become a lifestyle beverage in the Philippines within the last few years.  According to Business Mirror, nine out of ten Filipino households regularly consume the hot coffee beverage.  Opening a coffee shop in the Philippines would be very ideal since the demand for coffee has increased.
Two options for opening a coffee shop are purchasing a franchise, or to build from the ground up.  The capital needed to purchase a franchise coffee shop in the Philippines ranges anywhere from 182,000 to 445,000 pesos.  In order to build a coffee shop from the ground up in the Philippines will range between 245,000 and 900,000 pesos.
Should you purchase a franchise coffee shop or build a coffee shop from the ground up?  Either way, you will have a few areas of opportunity, which affect the capital needed to open a coffee shop. These include customer base and advertising, recipes, choice of vendors, and coffee shop design.
If you're looking to learn more about starting a coffee shop in the Philippines, be sure to check out this blog post!
Franchise vs Ground up
There are a few different brands of franchise coffee shops.  In the Philippines, there are no Starbucks locations. However, Starbucks sister chain Seattle's Best Coffee, as well as a few others are available in the Philippines.
On the other hand building a coffee shop from the ground up will give you more freedom.  Not only will you get the maximum profits the coffee shop makes, but you will the be one calling all the shots.
There are pros and cons to both franchising and building from the ground up.  However, either way, you will need to choose a location for your targeted audience.
Customer Base and Advertising
Like any other business you decide to open, location is always a key factor.  Location is something that is determined by your targeted customer base.
Unlike building a coffee shop from the ground up, a franchise coffee shop already has a customer base created.  Customers enjoy the options and convenience that this brand of coffee offers.
When you purchase a franchise, you also get your advertising, marketing, and promotions completed for your coffee shop.  These will include any television and radio commercials, website and billboard ads, seasonal beverages, or sandwiches.
Building a coffee shop from the ground up would mean having to develop a marketing plan and staffing a marketing team who is skilled enough to get your coffee shop's name out there.
Due to budgeting, you may not be able to staff a marketing team right away.  A cost-effective solution to help you get your business advertised is to use social media.  Social media advertising has become the number one way to get the word out in the open about a new business or new product.
Today, everyone has some sort of electronic in their hand or close possession. Every time I get on social media, I constantly am seeing ads for anything that I have recently researched, or something that is related to what I have researched.
If you decide to advertise via social media, you can hire just a few people who can help manage your business's social media pages. This will get the advertising done as well as save you from having to work those long hours at night.
An important key factor to remember is that customers enjoy being part of a loyalty program.  Franchises will already have a loyalty program in place such as a free beverage on the customer's birthday; or after so many visits to the coffee shop result in a free coffee or bagel.  If you build from the ground up, you may want to consider incorporating some sort of loyalty program to help build up that client base.
Recipes
Customers want something that is going to taste good, but also something that is going to make them want to return and purchase again.  Popular items at a coffee shop you will find are obviously coffee, but also tea, frozen or iced coffee, bagels, breakfast croissants, pie, cookies, etc.
Children enjoy coffee shops as well. I can personally say that my son loves to get a honey peach tea and a cookie every time I decide I want to go get a cup of joe. Common items you will find on the menu at a coffee shop for children are smoothies, brownies, and cake pops.
There is nothing like trying something new.  When it comes to building a coffee shop from the ground up, you also get to decide what types of beverages and food you will serve in your shop, which gives you the opportunity to expand your customer base.  You are also able to experiment and invent new items for your menu.
When you open a franchise, you have access to their branded menu items.  The upside to this is that customers will immediately flock to your location because you are serving a product that is familiar to them. The downside to a franchise is that you are not allowed to invent or experiment with recipe ideas.  You must stick to their menu they have provided for you.
Choice of Vendors
So how do you get the supplies you need for your coffee shop?  Vendors are where you will get the supplies you need to successfully operate your coffee shop.
Purchasing a franchise also means that you have access to great vendors. This can be a pro and a con.  The pro would be that you would not have to worry about trying to find vendors to make sure that you have all the supplies that you need for your coffee shop.   However, the con would be that branded vendors may not be very cost-effective.
Building a coffee shop from the ground up would mean that you get to pick and choose the vendors you personally want to work alongside you.  The pro is that you can get what you need in your allotted budget.  The con is that you may not have the quality or the availability of the products you are looking for as you try to build your business.  However, as you grow, you can always change things up.
Coffee Shop Design
Interior design can very exciting and fun.  Personally, I get so much joy when I decorate or redecorate a room.  You will love it when it is time to get those colors, accessories, and tables into your coffee shop.
Building a coffee shop from the ground up means you have complete control of what you will want the atmosphere to feel like. This means everything from the color of paint to the type of floor you will have in your coffee shop. You will also be able to keep construction costs at or under budget by shopping around for building materials.
If you purchase a franchise, you have no control over the way the coffee shop's interior design.  You are not able to change anything about the design without the franchise's permission.
Additional Considerations:
Hiring a Staff
If you purchase a franchise, you will have to follow their guidelines and regulations when it comes to hiring your staff members.  Guidelines that may be included are possibly a background check or drug screening that depends on the franchise.
When you build from the ground up, you get to handle the staffing of your location.  You get to set the guidelines and determine the type of people you want to work in your coffee shop.  Keep in mind that you will have to adhere to the standards of the local labor laws when hiring your staff. However, you will get the satisfaction of knowing that you are your own boss.
Fun Fact
The Philippines once was a third world country but is now a developing nation.  With this in mind, it will make choosing a location for your coffee shop less stressful. As you will have your choice of prime locations, you will be able to serve many customers.
Economy
The economy is constantly increasing which creates a strong demand for employment opportunities. This makes opening a coffee shop in the Philippines very beneficial as you will have candidates that will be in need of employment.  Making your candidate list easier to collect.
Since the economy is steadily increasing and the demand for coffee in the Philippines has increased, opening a coffee shop will be a great business opportunity.

Frequently Asked Questions
How much is a successful coffee shop worth?
According to Crimson Cup, a successful seat down coffee shop is worth anywhere from $80,000 to $250,000 US dollars which equals 3,946,791 to 14,800,467 Philippine pesos.
How does purchasing an existing coffee shop benefit me?
If you decide, you can purchase an existing coffee shop.  This may be ideal since the location and customer base is already established for you.  Another benefit is having access to the financial history of the coffee shop.  If you negotiate with the seller, you may even be able to keep the current coffee equipment. Also, you may benefit from the stress-relieving factor that all of the major decisions have been made for you.
To learn more on how to start your own coffee shop checkout my startup documents here
Please note: This blog post is for educational purposes only and does not constitute legal advice. Please consult a legal expert to address your specific needs.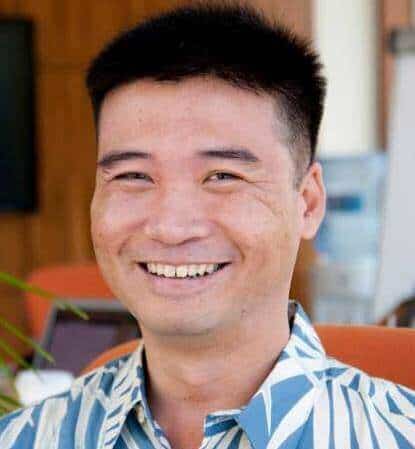 Hi! I'm Shawn Chun
My adventure in coffee began when I first launched my first coffee shop back in the early 2000s. I had to figure out so many things on my own and to make it worse within 2 years of opening two large corporate coffee chains moved in just blocks away from me!
As I saw smaller and even some larger coffee shops in the neighborhood slowly lose customers to these giant coffee chains and slowly close up shop, I knew that I had to start getting creative…or go out of business.
I (like you may be) knew the coffee industry well. I could make the best latte art around and the foam on my caps was the fluffiest you have ever seen. I even had the best state-of-the-art 2 group digital Nuova Simonelli machine money could buy. But I knew that these things alone would not be enough to lure customers away from the name brand established coffee shops.
Eventually, through lots of trial and error as well as perseverance and creativity I did find a way to not only survive but also thrive in the coffee/espresso industry even while those corporate coffee chains stayed put. During those years I learned to adapt and always faced new challenges. It was not always easy, however, in the end, I was the sole survivor independent coffee shop within a 10-mile radius of my location. Just two corporate coffee chains and I were left after that year. All told the corporate coffee chains took down over 15 small independent coffee shops and kiosks and I was the last one standing and thriving.
Along the years I meet others with the same passion for coffee and I quickly learned that it is not only "how good a barista is" that makes a coffee shop successful, but the business side of coffee as well.
Hence why I started this website you are on now. To provide the tools and resources for up and coming coffee shop owners to gain that vital insight and knowledge on how to start a coffee shop successfully.
Stick around, browse through my helpful blog and resources and enjoy your stay! With lots of LATTE LOVE!
Shawn