Inventory is stocked and your coffee is ready to brew. Customers will soon be walking through your door. But first, you need to handle some of the less exciting aspects of running a coffee shop—paying bills and managing your money. What do you need to know about a small business checking account?  
A small business checking account can help you streamline your accounting procedures and protect you from legal and tax liabilities. It is important to have a dedicated business account that will keep your business transactions separate from your personal finances. This will protect both your company and your personal assets.
There are so many banks and so many different checking account options. On that note, is a traditional bank the right choice for you? Online banks and credit unions offer similar services, and they almost always charge less in fees. For that matter, do you even really need a checking account? Everything is done online with just the touch of a button these days. So, which direction should you take?
Small Business Checking Accounts: The Good, the Bad, and the Ugly
Your café is new, and you have so much on your plate. It would be so much easier to deal with the hassle of opening a separate business account later. There is so much more that needs to be done right now. After all, you have a perfectly good personal checking account you could use if you need to.  That's good enough, isn't it?
A business checking account does have some drawbacks. For example:
Your personal checking account is free. It's very hard to find a business account without monthly fees. Every dollar counts when you are starting a new business.
Your personal checking account requires no minimum balance. But most business accounts do. What if there is an unplanned expense and you need to dip into your reserves? Will that extra fee be a big setback?
Some business accounts limit the number of transactions allowed per month. What good is an account that you may not be able to use when you need to?
So, yes. There are arguments to be had about not opening a separate business account. Are they really strong enough reasons to keep putting it off though?
You are not legally required to have a separate account for your small business. And, yes. It is tempting to focus on keeping flawless ledger sheets and use your personal account when you need to. However, the pros of having a business account far outweigh the cons. Why do accountants, tax advisors, and lawyers strongly recommend a separate business checking account? Well…
A business checking account makes record-keeping much easier. Your business transactions are separate and kept in one place. When tax time comes, you will be prepared. And, this separation of business and personal expenses will lessen your chance of that dreaded audit.
Most business accounts come with added services to help run your business more efficiently. Payroll, automatic bill payment options, and the ability to authorize additional users can ease some of your workload.
By opening your business account, not only you have established a relationship with a bank. This can be very helpful when you want a loan or a business credit card.
In the event of a lawsuit, a business account will help protect your personal assets. Without that essential separation of your personal and business assets, you can be held personally liable for any lawsuits your business may face.
Choosing Between an Online Bank or a Traditional Brick-and-Mortar Location
So much is done online these days, and banking is no different. This adds another element when choosing a checking account for your café. Which type of bank is better?
The answer to that question, like so many other questions, depends on your individual needs.
Online banks have less overhead. As a result, they offer account options with little or no fees. They usually pay higher interest on balances as well. Everything can be done easily online. But, with no physical location, what do you do with your cash?
A traditional bank is important if you have a lot of cash transactions. But, brick-and-mortar banks have additional advantages. You'll find a much larger network of ATMs. And, traditional banks generally offer many more specialized services than you can find with an online bank—loans, investment options, safe deposit boxes, etc. 
A Few Words About Credit Unions
So, what about a credit union? Is that a good option for a small business checking account?
Credit unions offer essentially the same services as banks. Unlike banks, credit unions are nonprofit and, as a result, they tend to pay higher interest rates while charging lower fees. Though not FDIC-insured, the National Credit Union Administration (NCUA) provides insurance for funds up to $250,000 and credit unions are just as safe as banks.
Credit unions, unlike banks, require membership. So, you must qualify before you can open an account. This membership does come with extra advantages, including a voice in how your credit union impacts your local community.
Credit unions have fewer brick-and-mortar locations and limited availability of ATMs. So, for a larger business, a bank may be the better choice. Banks also off a wider variety of business services that may appeal to a growing business. But, if you have a small business and no plans to expand beyond your local area, a credit union is a great option for your small business account.
Coffee Shop Promotional Ideas: Good, Better and Best
What to Look for in a Small Business Checking Account
Even after you have decided which type of banking institution you want to work with, you still have choices. There is no one-size-fits-all bank account. There are some things to look for when choosing the account that is right for you and your coffee shop.
Service fees: The bottom line for any business expense is what it will do to your company's bottom line. Business accounts come with fees—minimum balance fees, transaction fees, ATM fees, and monthly maintenance fees. Some banks offer alternatives to reduce these fees, like free debit card transactions or waived maintenance fees with a specified average daily balance.
Interest payable: You can find a business checking account that pays interest on your average daily balance. You may need to keep a higher minimum balance to earn this perk though. APR varies between banks. And, a bank may offer various interest levels with different accounts.
Added features: Does this checking account include online banking features? What about automatic bill payment options? Many banks have additional services like retirement accounts for your business, credit cards, or small business loans. These extras can help you run your business more smoothly. And, a one-stop shop for your financial needs is always a good thing!
Minimum balances and transaction limits: A new business may not have the cash on hand to avoid minimum balance fees. So, while an account may have a nice interest rate for large balances, it may be cost-prohibitive for a young company. Additionally, some banks limit the number of paper checks you can write for free in a month. Or, they may limit the amount of money you can transfer or deposit online. 
Introductory offers: Many new checking accounts come with added incentives. Some waive the monthly fees for a specified time. Others will offer a cash bonus after a certain amount of deposits. 
The bottom line is that a small business checking account will help you run your coffee shop more smoothly and efficiently. You'll save time—and stress—come tax season. Your legal liabilities will be lessened. Your café will become the independent company you dreamed it would be. And, you can turn your focus toward your customers.
Frequently Asked Questions
What is a cash management account?
A cash management account (CMA) is similar to a traditional checking account but combined with the added benefits of a savings account. CMAs are held by brokerage firms, not banks. These firms partner with banks, which means your money is still FDIC-insured. But, since brokers invest and distribute this money among the different banks, even accounts with balances higher than $250,000 are still protected.
A CMA is strictly an online banking option. And, while they may offer higher interest rates on checking accounts than a bank does, you will likely also need to maintain a higher minimum balance. A CMA is best for businesses managing large amounts of cash. So, unless you have a need to protect a balance higher than $250,000, a traditional bank or credit union is probably a better fit.
Can I just use my personal checking account if I start using it exclusively for my business?
It's best to open a new checking account dedicated strictly to your business. A business checking account protects you from personal liability due to lawsuits or audits. And, it makes accounting easier since all of your business transactions are in one place. Ultimately, though, a personal check for business purposes just doesn't look professional.
Some banks will allow you to switch your existing personal account over to a business account. However, most will require you to open a new account under the business name.
To learn more on how to start your own coffee shop checkout my startup documents here
Please note: This blog post is for educational purposes only and does not constitute legal advice. Please consult a legal expert to address your specific needs.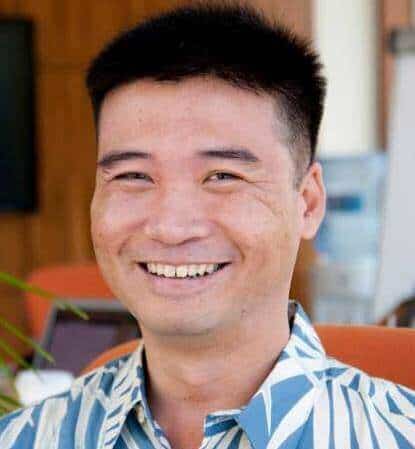 Hi! I'm Shawn Chun
My adventure in coffee began when I first launched my first coffee shop back in the early 2000s. I had to figure out so many things on my own and to make it worse within 2 years of opening two large corporate coffee chains moved in just blocks away from me!
As I saw smaller and even some larger coffee shops in the neighborhood slowly lose customers to these giant coffee chains and slowly close up shop, I knew that I had to start getting creative…or go out of business.
I (like you may be) knew the coffee industry well. I could make the best latte art around and the foam on my caps was the fluffiest you have ever seen. I even had the best state-of-the-art 2 group digital Nuova Simonelli machine money could buy. But I knew that these things alone would not be enough to lure customers away from the name brand established coffee shops.
Eventually, through lots of trial and error as well as perseverance and creativity I did find a way to not only survive but also thrive in the coffee/espresso industry even while those corporate coffee chains stayed put. During those years I learned to adapt and always faced new challenges. It was not always easy, however, in the end, I was the sole survivor independent coffee shop within a 10-mile radius of my location. Just two corporate coffee chains and I were left after that year. All told the corporate coffee chains took down over 15 small independent coffee shops and kiosks and I was the last one standing and thriving.
Along the years I meet others with the same passion for coffee and I quickly learned that it is not only "how good a barista is" that makes a coffee shop successful, but the business side of coffee as well.
Hence why I started this website you are on now. To provide the tools and resources for up and coming coffee shop owners to gain that vital insight and knowledge on how to start a coffee shop successfully.
Stick around, browse through my helpful blog and resources and enjoy your stay! With lots of LATTE LOVE!
Shawn