In a world fueled by caffeine enthusiasts, opening a coffee business has become a popular venture. To ensure your chance of winning in this competitive industry, it is essential to develop a comprehensive coffee business plan project that outlines your goals, strategies, and financial projections.
A coffee business plan should have well thorough market research, a strong branding and marketing strategy, realistic financial projections, organize workflow, and harmonious relationships with the staff. You can also consider sustainability and community involvement to attract more customers.
This article will help you craft the perfect cup, one bean at a time, by providing key insights and considerations for your coffee business plan.
Market Research and Analysis
Thorough market research must be done before starting your coffee business plan project. Spend some time determining your target audience, examining consumer preferences, and evaluating your competitors. You may tailor your offerings to meet the unique wants and preferences of your clients by comprehending the market dynamics.
You can learn a lot about consumer behavior, demographics, and shopping trends by conducting market research. You may use this information to create a compelling value proposition that distinguishes your coffee business from the competition. Additionally, it will assist you in choosing the best price strategy, product lineup, and marketing strategies to draw in and keep your target market.
Analyzing consumer preferences is key to understanding the types of coffee flavors, brewing methods, and specialty options that resonate with your potential customers. This information will guide your menu development, allowing you to curate a selection that appeals to their tastes and preferences. Whether it's single-origin beans, artisanal blends, or unique brewing techniques, aligning your offerings with consumer preferences is vital for growth.
Assessing your competition provides valuable insights into their strengths, weaknesses, and unique selling points. By studying their business models, marketing strategies, and customer feedback, you can identify gaps in the market and position your coffee business as a distinctive alternative. Differentiating yourself from the competition will give you a competitive edge and attract customers seeking something new and exciting.
Read more about: Business Plan for Starting Up a Coffee Shop: From Novice to Barista
Define Your Value Proposition
In the saturated coffee market, having a unique value proposition is essential to stand out from the competition. Take the time to determine what sets your coffee business apart from others. It could be your specialty blends, sustainable sourcing practices, a cozy and inviting atmosphere, or exceptional customer service.
Knowing what makes you stand out from the competition will help you draw in and keep customers. Incorporate these elements into your branding and marketing methods while highlighting them in your coffee business plan project. Let people know about your unique specialty blends or signature drinks. Stress your dedication to using ecologically friendly processes and beans that are sourced responsibly. Showcase your coffee business as a warm and inviting place where customers can unwind and enjoy their preferred brews. Highlight the exceptional customer service that makes your company stand out from the competition.
By highlighting your unique value proposition, you will differentiate your coffee business from the competition and appeal to a specific target audience. This will not only attract customers initially but also foster loyalty and encourage repeat visits. People are always seeking something different and memorable, and by clearly defining what makes your coffee business special, you create a compelling reason for customers to choose you over other options in the market.
Branding and Marketing Strategy
A smart coffee business must have a strong brand identification as well as a good marketing plan. Important information about your brand positioning, logo design, color palette, and general aesthetic should be included in your coffee business plan project. These components work together to build a consistent and enduring brand image.
Identify your target market before drafting your coffee business plan. Knowing who your ideal consumers are can help you customize your marketing initiatives to appeal to their tastes and interests. In order to better align your brand messaging and services with their values and lifestyle, determine their demographics.
Outline specific marketing tactics to reach and engage your target audience. Consider incorporating social media campaigns to build an online presence, connect with potential customers, and showcase your unique offerings. Loyalty programs can incentivize repeat business and foster customer loyalty. Collaborating with local businesses or organizations can expand your reach and create mutually beneficial partnerships.
Incorporating a consistent and appealing visual identity is also crucial. Choose a logo design, color scheme, and overall aesthetic that align with your brand values and resonate with your target audience. Consistency across your physical space, packaging, and digital platforms creates a cohesive brand experience that leaves a lasting impression on customers.
Location Selection
The location you choose for your coffee shop is quite important since it can have a big impact on how effective it is. Consider aspects including foot traffic, proximity to offices, colleges, and residential areas, as well as the existence of rival businesses nearby, while picking a location.
Foot traffic is a crucial factor to take into account because it might improve the likelihood that customers will come into your coffee shop. Locate yourself near commercial areas, shopping malls, or other places that people are likely to visit.
Proximity to offices and colleges can be advantageous as it provides a built-in customer base of working professionals and students seeking a convenient place for coffee breaks or study sessions.
Assessing the competition in the area is also essential. While some level of competition can indicate a viable market, too many coffee shops in close proximity may lead to diluted customer demand. Look for a location where you can carve out a unique niche or target an underserved segment of the market.
Read more about: Business Plan for Starting a Coffee Shop: Brewing Your Dream
Menu Development
For your coffee shop, creating a menu that has been thoughtfully selected is crucial since it enables you to offer a wide variety of food and drink options. While coffee will be the main attraction, it's crucial to have a variety of options to accommodate a range of tastes and dietary requirements.
In order to get fresh pastries and snacks that go well with your coffee selection, think about collaborating with regional bakers or suppliers. This enhances the value of your menu, helps local companies, and establishes a distinctive selling point. Include choices for various dietary requirements, such as vegan or gluten-free meals, to promote inclusivity and draw in a wider audience.
Additionally, experiment with specialty drinks, seasonal flavors, and creative combinations to keep your menu exciting and encourage customers to try new things. Offering limited-time promotions or showcasing featured items can further enhance the appeal of your menu and entice customers to explore your offerings beyond their usual choices.
Supplier Relationships and Bean Sourcing
Establishing strong relationships with suppliers is essential to ensure a consistent supply of quality coffee beans. Research and choose reputable coffee bean suppliers who share your values and prioritize sustainability. Highlight your commitment to fair trade practices and organic sourcing to attract environmentally-conscious customers.
Staffing and Training
Your coffee shop's performance depends on having a competent and trained crew. Create job descriptions, a hiring strategy, and a thorough training program that instructs your staff on a variety of brewing processes, customer service abilities, and product knowledge.
To maintain team morale and make sure they are up to date on the newest coffee industry trends, ongoing training is crucial. By putting money into the training of your employees, you not only give your customers a great experience, but you also create a happy workplace where the caliber of your coffee and the accomplishments of your company as a whole are reflected.
Financial Projections and Funding
A key part of any coffee business plan endeavor is developing accurate financial estimates. Outline your startup expenses first, which may include payments for equipment, a lease or rent, licenses, and first inventory. To ensure accuracy, be thorough while estimating these expenditures.
Next, estimate your operational costs every month while taking into account variables like rent, utilities, employee salaries, marketing, and continual inventory replenishment. To determine your potential revenue based on client demand, pricing tactics, and competition, conduct a market analysis.
Choose whether you will self-finance your company or look for outside money via loans or investments. Include information about your finance requirements, repayment strategies, and any available collateral when requesting cash.
Read more about: Business Plan for Small Coffee Shop: Navigating Your Coffee Shop's Blueprint
Operations and Workflow
The longevity of your coffee business depends on effective operations and simplified workflow procedures. Create a thoughtful floor layout that makes the most of available space, promotes easy traffic flow, and enables effective customer service. To design an efficient layout, take into account elements like the positioning of furniture, workstations, and seating places.
Implement a rapid ordering procedure to guarantee quick service. Depending on the size and type of your coffee business, this can entail using POS systems, mobile ordering alternatives, or self-service stations. To reduce wait times and raise customer satisfaction, streamline and automate as much of the ordering process as you can.
An inventory management system is essential for tracking supplies, managing stock levels, and reducing waste. This system will help you maintain consistency in your offerings and avoid shortages or overstocking. Regularly analyze data from your inventory management system to make informed decisions about ordering and identify opportunities for cost savings and process optimization.
Sustainability and Community Involvement
Customers that value social responsibility will be drawn to your coffee business strategy if it incorporates sustainable methods and community involvement. Reduce waste and recycle more to have a minimal influence on the environment. By purchasing ethically and sustainably produced coffee beans, you can aid local farmers.
Participate in neighborhood activities, support regional projects, and work with charitable groups to forge lasting connections and advance the neighborhood. You may draw in like-minded customers and build your brand's reputation as a socially conscious company by showcasing your dedication to sustainability and community involvement. This encourages client loyalty and develops a favorable brand that distinguishes your coffee shop from rivals.
Summary
Crafting the perfect cup of coffee requires meticulous planning and a well-thought-out coffee business plan project. By conducting thorough market research, defining your value proposition, developing a strong branding and marketing strategy, selecting the right location, curating a diverse menu, establishing supplier relationships, training your staff, creating realistic financial projections, optimizing operations and workflow, and emphasizing sustainability and community involvement, you can set your coffee business up for a better place in the coffee industry.
Frequently Asked Questions
How do I differentiate my coffee business from competitors?
Focus on developing a unique value proposition. This can include offering specialty blends, ethically sourced beans, a cozy ambiance, exceptional customer service, or a specific theme or concept. Identifying and highlighting your unique selling points will help you stand out from the competition.
What equipment do I need to start a coffee business?
The equipment required for a coffee business typically includes an espresso machine, coffee grinders, brewing equipment (such as pour-over or French press), refrigeration units for milk and other ingredients, and commercial-grade blenders.
How can I attract and retain customers for my coffee business?
Focus on creating a positive customer experience, offering high-quality products, and implementing effective marketing strategies. Utilize social media platforms to engage with your target audience, offer promotions, and showcase your unique offerings
To learn more on how to start your own coffee shop, check out my startup documents here.
Disclaimer: The information provided by StartMyCoffeeShop.com ("The Site") is for general informational purposes only. All information on the Site is provided in good faith. However, we make no representation or warranty of any kind, express or implied, regarding the accuracy, adequacy, validity, reliability, availability, or completeness of any information on the Site. Under no circumstance shall we have any liability to you for any loss or damage of any kind incurred as a result of the use of the Site or Reliance on any information provided on the Site. Your use of the Site and reliance on any information on the Site is solely at your own risk. This blog post is for educational purposes only and does not constitute legal advice. Please consult a legal expert to address your specific needs. Terms and Conditions. (https://startmycoffeeshop.com/terms-and-conditions/)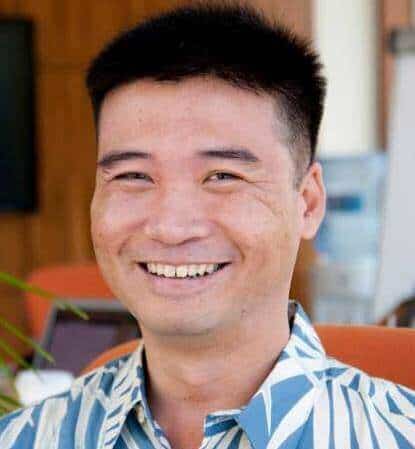 Hi! I'm Shawn Chun
My adventure in coffee began when I first launched my first coffee shop back in the early 2000s. I had to figure out so many things on my own and to make it worse within 2 years of opening two large corporate coffee chains moved in just blocks away from me!
As I saw smaller and even some larger coffee shops in the neighborhood slowly lose customers to these giant coffee chains and slowly close up shop, I knew that I had to start getting creative…or go out of business.
I (like you may be) knew the coffee industry well. I could make the best latte art around and the foam on my caps was the fluffiest you have ever seen. I even had the best state-of-the-art 2 group digital Nuova Simonelli machine money could buy. But I knew that these things alone would not be enough to lure customers away from the name brand established coffee shops.
Eventually, through lots of trial and error as well as perseverance and creativity I did find a way to not only survive but also thrive in the coffee/espresso industry even while those corporate coffee chains stayed put. During those years I learned to adapt and always faced new challenges. It was not always easy, however, in the end, I was the sole survivor independent coffee shop within a 10-mile radius of my location. Just two corporate coffee chains and I were left after that year. All told the corporate coffee chains took down over 15 small independent coffee shops and kiosks and I was the last one standing and thriving.
Along the years I meet others with the same passion for coffee and I quickly learned that it is not only "how good a barista is" that makes a coffee shop successful, but the business side of coffee as well.
Hence why I started this website you are on now. To provide the tools and resources for up and coming coffee shop owners to gain that vital insight and knowledge on how to start a coffee shop successfully.
Stick around, browse through my helpful blog and resources and enjoy your stay! With lots of LATTE LOVE!
Shawn