Are you a passionate coffee lover with a dream of starting your coffee cafe? Look no further! In this coffee cafe business plan article, I will provide the key elements to help you turn your caffeine-fueled vision into an awesome reality.
A coffee cafe business plan must have an executive summary, market analysis, location and design, marketing and operational plan. You must also consider working on the financial aspects to ensure the sustainability of your coffee cafe business plan.
Business Plan
For accomplishment, a coffee shop business strategy is essential. The market study, target audience research, menu development, branding strategies, marketing strategies, financial forecasts, and funding possibilities should all be part of it. Establishing a thorough roadmap for your coffee shop business should also include competitive analyses, personnel strategy, and sustainability practices.
Executive Summary
The executive summary is a brief yet compelling overview of your business strategy for a coffee shop. Its goal is to draw in potential partners or investors and persuade them to learn more about the proposal. Start by giving a compelling overview of your café concept, highlighting its unique selling points and intended audience.
Give an informative overview of your financial predictions and a clear definition of your objective to give readers a sense of the potential viability of your business. The executive summary is an effective tool for demonstrating the viability and potential of your coffee shop and entices readers to read more of your thorough business plan.
Market Analysis
Understanding your target market is paramount for the achievement of your coffee cafe. To effectively cater to your customers, conduct comprehensive market research. Analyze trends, demographics, and preferences of coffee consumers in your area. Consider factors such as age groups, income levels, and lifestyle choices to gain insights into their buying behaviors. Assess the local competition to identify gaps or opportunities in the market.
By acquiring this information, you may customize your offers to satisfy the particular requirements and preferences of your target market. For instance, if your research suggests that millennials in your area have a strong desire for specialty coffee, you might concentrate on locating distinctive single-origin beans and providing multiple brewing techniques to suit their preferences.
Understanding your target market will help you improve your product offerings as well as direct your marketing and branding tactics to interact with your customers effectively. In the end, this information will provide you with a competitive advantage and raise the likelihood that your coffee shop will be effective.
Read more about: Business Plan for Online Coffee Shop: Your Digital Blueprint
Cafe Concept and Branding
In a crowded market, creating a captivating cafe concept and branding plan is essential. Define the mood and environment you have in mind for your cafe, whether it be a warm and homey feel or a sleek and sophisticated one. To give your customers a seamless and memorable experience, match your branding components—such as the logo, color scheme, and interior design—with your desired concept.
The unique selling characteristics of your company should be reflected in your cafe's idea and branding, which should also appeal to your target audience. For instance, if you want to attract consumers who are concerned about their health, emphasize organic and sustainable methods in your branding and include natural components in your cafe's design.
By crafting a strong cafe concept and branding strategy, you differentiate yourself from competitors and create a distinct identity that customers can connect with. This cohesive and memorable experience will not only attract customers but also foster loyalty and word-of-mouth recommendations, ultimately contributing to the growth of your coffee cafe.
Menu and Product Offering
For businesses to draw in and keep consumers, their menu selections must be carefully considered. Offer various coffee options, such as different brews, tastes, and specialty beverages. To appeal to a wider customer base, think about extending your menu to include more drinks like tea, hot chocolate, and fresh juices. Along with your coffee options, provide a variety of pastries, sandwiches, and snacks to suit various dietary requirements.
You may accommodate your consumers' various interests and preferences by offering a well-rounded menu, resulting in a memorable and exciting experience. A thoughtfully designed menu raises customer happiness, promotes return business, and solidifies your coffee shop's standing as a top spot for premium beverages and delectable treats.
Location and Facilities
Choosing the right location for your coffee cafe is paramount. Look for areas with high foot traffic, such as busy commercial districts, college campuses, or residential neighborhoods. Ensure that your chosen location is easily accessible and has ample parking. Consider the size and layout of the space, ensuring it can accommodate your anticipated customer capacity and desired seating arrangements.
Read more about: Business Plan for Internet Cafe Coffee Shop: From Concept To Reality
Staffing and Training
Employing amiable, competent people who share your enthusiasm for coffee and customer service is essential since your crew will represent your coffee shop to the outside world. Implement thorough training programs to make sure your baristas are adept at making coffee, are familiar with a variety of brewing techniques, and can productively interact with customers.
Encourage teamwork and a culture of continual learning by creating a positive work environment. By putting money into your employees, you build a team that excels in customer service, upholds the principles of your café, and advances the achievement of your company as a whole.
Marketing and Promotion
For drawing in customers and raising brand awareness, it is essential to put effective marketing and promotion techniques into practice. Create a solid online presence by maintaining active social media accounts, a well-designed website, and interesting content. To encourage return visits and encourage consumer loyalty, take into account providing promotions, discounts, or loyalty programs.
To increase your reach and interact with the community, work with nearby influencers or companies. By utilizing these tactics, you can market your coffee shop effectively, get in front of a larger audience, and generate talk about your brand, which will ultimately increase consumer traffic and establish a strong position in the market.
Financial Projections
Realistic financial estimates must be created and must be based on comprehensive market analysis, expected costs, and revenue sources. Include anticipated revenue, costs, and profit margins for your coffee shop's first three years of operation. When creating your estimates, take into account various costs including rent, utilities, inventory, salaries, marketing costs, and equipment maintenance. As you learn more knowledge and hone your business strategy, it's crucial to remain adaptable and be ready to modify your financial estimates.
Accurate financial projections provide a roadmap for your cafe's financial growth and help you make informed decisions regarding pricing, expenses, and growth opportunities. Regularly monitor and compare your actual financial performance against your projections to assess your cafe's progress and make necessary adjustments. By continuously evaluating and refining your financial projections, you can navigate potential challenges, optimize profitability, and position your coffee cafe for long-term growth.
Funding and Investment
To get the financing you need for your coffee shop business, evaluate your financial needs and look into your options for funding. Think about possibilities like using your own money, bank loans, finding investors, or using crowdfunding websites. Make a thorough business plan that emphasizes the potential return on investment while also proving the viability and future growth possibilities of your coffee shop.
When pitching your idea to potential lenders or investors, this plan will be an invaluable tool for demonstrating your venture's profitability and long-term viability. The likelihood of obtaining the capital you require to effectively open and expand your coffee shop can be increased via careful financial preparation and excellent communication of your business vision and potential.
Read more about: Business Plan For Drive-Thru Coffee Shop: Key Elements To Include
Operations and Management
Outline the day-to-day operations of your coffee cafe, including opening and closing procedures, staffing schedules, inventory management, and quality control measures. Detail the roles and responsibilities of key team members, such as managers, baristas, and kitchen staff. Establish efficient systems and procedures to ensure smooth operations and exceptional customer service.
Sustainability and Ethical Practices
In today's consumer landscape, incorporating sustainability and ethical practices into your coffee cafe can be a differentiating factor. Take the initiative to source high-quality, ethically-sourced coffee beans from fair-trade suppliers. Implement recycling and waste reduction initiatives within your cafe to minimize environmental impact.
Embrace the use of eco-friendly packaging and utensils to reduce single-use plastic waste. Communicate your dedication to sustainability through signage, social media, and other marketing channels to resonate with environmentally-conscious customers.
By putting sustainability first, you not only advance society as a whole but also draw in an increasing number of ethical customers who actively seek out companies that share their beliefs. By showcasing your dedication to moral behavior, you may win over customers' trust, improve the reputation of your business, and distinguish yourself from rivals. Adopting sustainability is a strategy that benefits both the environment and the long-term achievement of your coffee shop.
Competitive Analysis
Analyze the local coffee market's direct and indirect rivals in great detail. Analyze their advantages, disadvantages, price plans, and target market sectors. This analysis will offer insightful information about the market environment. Emphasize your unique goods, outstanding quality, exceptional service, or specialized niche to set your coffee shop apart. Recognize your competitive advantages and create tactics to establish a strong market position.
Identify what sets your coffee cafe apart from the competition and highlight these unique selling points in your marketing efforts. It could be your specialty brews, sustainable sourcing practices, cozy atmosphere, or personalized customer experiences. By focusing on your strengths and communicating them to your target audience, you can carve out a distinct position in the market and attract customers who resonate with your offerings.
Continuous monitoring of the market and competitors will help you stay adaptable and identify opportunities to further differentiate and improve your coffee cafe's competitive edge.
Read more about:
Risk Assessment and Contingency Plans
Assess potential risks and challenges that may impact your coffee cafe business. Consider factors such as changes in consumer preferences, economic downturns, supply chain disruptions, or regulatory requirements. Create backup strategies to reduce these risks and guarantee business continuity. Identify alternative suppliers, diversify your product offerings, or establish emergency funds to navigate unforeseen circumstances.
Growth and Expansion Strategies
Outline your plans for future growth and expansion. Identify opportunities to open additional coffee cafe locations or explore franchise options. Consider partnerships with local businesses or collaborations with other coffee-related ventures. Evaluate the possibility of online sales, wholesale distribution, or catering services. Develop a roadmap that aligns with your long-term vision and goals.
Frequently Asked Questions
Q: What qualifications or experience do I need to start a coffee cafe business?
A: While there are no specific qualifications required, having a passion for coffee and some experience in the food and beverage industry can be beneficial. Knowledge of different coffee brewing methods, understanding customer preferences, and managing a team are valuable skills.
Q: How much does it cost to start a coffee cafe?
A: On average, it can range from $100,000 to $300,000 or more. This includes expenses such as the lease or purchase of the premises, renovations, equipment, furniture, licenses, initial inventory, staffing, and marketing.
Q: How can I attract customers to my coffee cafe?
A: Effective marketing and creating a unique customer experience are key to attracting customers. Utilize online platforms such as social media to promote your cafe and engage with potential customers. Offer special promotions, loyalty programs, or collaborations with local businesses to incentivize visits.
To learn more on how to start your own coffee shop, check out my startup documents here.
Disclaimer: The information provided by StartMyCoffeeShop.com ("The Site") is for general informational purposes only. All information on the Site is provided in good faith. However, we make no representation or warranty of any kind, express or implied, regarding the accuracy, adequacy, validity, reliability, availability, or completeness of any information on the Site. Under no circumstance shall we have any liability to you for any loss or damage of any kind incurred as a result of the use of the Site or Reliance on any information provided on the Site. Your use of the Site and reliance on any information on the Site is solely at your own risk. This blog post is for educational purposes only and does not constitute legal advice. Please consult a legal expert to address your specific needs. Terms and Conditions. (https://startmycoffeeshop.com/terms-and-conditions/)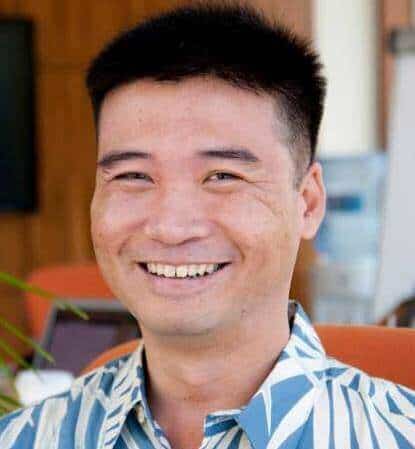 Hi! I'm Shawn Chun
My adventure in coffee began when I first launched my first coffee shop back in the early 2000s. I had to figure out so many things on my own and to make it worse within 2 years of opening two large corporate coffee chains moved in just blocks away from me!
As I saw smaller and even some larger coffee shops in the neighborhood slowly lose customers to these giant coffee chains and slowly close up shop, I knew that I had to start getting creative…or go out of business.
I (like you may be) knew the coffee industry well. I could make the best latte art around and the foam on my caps was the fluffiest you have ever seen. I even had the best state-of-the-art 2 group digital Nuova Simonelli machine money could buy. But I knew that these things alone would not be enough to lure customers away from the name brand established coffee shops.
Eventually, through lots of trial and error as well as perseverance and creativity I did find a way to not only survive but also thrive in the coffee/espresso industry even while those corporate coffee chains stayed put. During those years I learned to adapt and always faced new challenges. It was not always easy, however, in the end, I was the sole survivor independent coffee shop within a 10-mile radius of my location. Just two corporate coffee chains and I were left after that year. All told the corporate coffee chains took down over 15 small independent coffee shops and kiosks and I was the last one standing and thriving.
Along the years I meet others with the same passion for coffee and I quickly learned that it is not only "how good a barista is" that makes a coffee shop successful, but the business side of coffee as well.
Hence why I started this website you are on now. To provide the tools and resources for up and coming coffee shop owners to gain that vital insight and knowledge on how to start a coffee shop successfully.
Stick around, browse through my helpful blog and resources and enjoy your stay! With lots of LATTE LOVE!
Shawn