Being a successful coffee shop owner requires a lot of hard work and dedication on your part. However, we are all familiar with the old saying that a business is only as good as its worst employee. For this reason, business owners have implemented standard operating procedures (also known as SOPs) for their establishments. These procedures are a checklist that specifically outlines each aspect of the business, and details the duties of each employee working for your coffee shop. Standard operating procedures are a means to eliminate any confusion when it comes to what you expect from your employees, and they are expected to follow them to the letter.
The standard operating procedures for a coffee shop are:
Health and hygiene regulations
Equipment and machinery handling
Safety measures
Complying with food and safety regulations
Inventory management
Food and beverage preparation and presentation
Customer greeting
Answering the phone
Order taking and service
Cleanliness
Taking payments
Customer service
The purpose of this article is to provide you with an example of what the standard operating procedures of a coffee shop should include, and also to give a detailed description of each aspect of your coffee shop for your employees to follow. Feel free to download this checklist and use it as your own, or if you prefer, make adjustments to it to fit your business. I will also include a section on why your coffee shop should need a standard operating procedure manual, and why you should ensure that these procedures are followed.
What Are Standard Operating Procedures?
Before you can understand why your coffee shop needs a standard operating procedures manual or checklist, or before you can begin to write one, you must first understand what standard operating procedures are and what they involve. It helps to think of your standard operating procedures as the playbook of your business. You need your playbook to maintain the standards of your business, unify operations, minimize training time, and ensure that your operations yield the same results every time. Why is this important? Believe it or not, 86% of people who leave their jobs leave because they claim that their jobs have processes that are broken.
If you expect to hire and retain good employees, you must make sure that you have a set of procedures and processes in place to guarantee their success as well as the success of your coffee shop. In short, employees need to know what needs to be done, and they also need to know the most efficient way to get it done. This is why involving the right people when writing your standard operating procedures is essential if you expect your coffee shop to thrive amongst a sea of other shops. The best piece of advice I can give you regarding this is that you make it clear to potential employees that you expect things to be done by the book. (More advice on hiring employees for your coffee shop can be found here.)
Why Does My Coffee Shop Need a Standard Operating Procedures Manual?
Most businesses have a standard operating procedures manual that they issue to their employees upon hiring them. This system has been in place for quite some time and for good reason. Most business owners have a specific way that they like their daily operations to run. Standard operating procedures manuals ensure that the employees are made aware of the operating procedures and that they have detailed instructions on how to follow them. While this does not guarantee that every employee will follow the standard operating procedures to the letter, it does ensure that most employees will adhere to the guidelines and rules you have established.
Aside from establishing rules and regulations on how you want your business to be run, there is another glaring reason why each business should have standard operating procedures in place. These procedures will help to ensure the safety of your employees, as well as make sure that local and federal regulations, regarding food and beverages, and health and hygiene, are followed. If your employees failed to comply with these rules and regulations that have been put in place by both local and federal authorities, the results could be disastrous for your coffee shop. There could be serious injuries, financial penalties, and possibly having to close your business for a prolonged period.
How Do I Write a Standard Operating Procedures Checklist or Manual?
Writing a standard operating procedures checklist or manual can be a tedious process for any business owner. Let's face it. Nobody wants the responsibility of writing one of these things. They can be long and quite boring. However, we have already discussed a few of the reasons why having a standard operating procedures checklist or manual in place is essential to the success of your business as well as the safety of your employees. When it comes down to brass tacks, you are the business owner, and you are the sole person responsible for making sure that your operating procedures are followed. That means that it is primarily your responsibility to get it written.
Fortunately, the website Whale has broken down writing a standard operating procedure into a seven-step process. The steps of this process are as follows:
Involve the right people

Choose your toolkit

Get the procedure down

Create a resources section

Use the ultimate Standard Operating Procedures template

Focus on user experience

Improve and update your Standard Operating Procedures

Coffee Shop Standard Operating Procedure Checklist
Now that we have discussed a few of the reasons why it is imperative to have a standard operating procedures manual or checklist in your coffee shop, as well as how to write one, it's time for you to develop one of your own and implement it in your establishment. Here is an example of what a standard operating procedures checklist should look like:
Health and hygiene regulations
Employees should practice good personal hygiene and be well-groomed.

Make sure that hands are washed regularly.

Always wear gloves when handling food items.
Equipment and machinery handling
Always operate machinery per the manufacturer's instructions.

Make sure that equipment is kept clean and in proper working condition.

Do not operate machinery until you have been fully trained on the equipment.

Perform routine maintenance on the equipment per the manufacturer's instructions.

Clean the equipment at the end of each day.
Safety measures
Always remember that you are handling extremely hot beverages, and avoid burning yourself.

Tightly secure lids on cups to avoid burning the customer.

Wear an apron at all times while you are working.

Always be aware of your coworkers to avoid collisions.
Complying with food and safety regulations
Always wear gloves when you are handling food items.

Make sure that refrigerated items are kept cold.

Always keep utensils in the clean sink.
Inventory management
Inventory should be conducted every Wednesday.

Immediately report any shortages to your supervisor.

Supply trucks will be unloaded and stocked as soon as they arrive.
Food and beverage preparation and presentation
Food and beverages should be presented to the customer in a manner that is pleasing to the eye.

Never handle food items without gloves.

Do not touch the lid of the customer's cup with your bare hands.
Customer greeting
Be sure to always say "hello" when the customer walks into the shop.

Say "goodbye" and invite the customer to come back when they leave.
Answering the phone
Answer in a warm, friendly tone.

Mention the name of the coffee shop and your name.

Ask the caller how you can help them.

Thank them for calling upon completion of the call.
Order taking and service
Greet the customer in a friendly tone.

Give the customer your name and ask how you can help them.

Repeat the order to them to ensure accuracy.
Cleanliness
Sweep the sidewalks and the walkway of the coffee shop every morning and as needed during the day.

Clean the windows twice per week, on Monday and Thursday.

Clean the countertops three times a day, and spot clean as needed during the day.

Sweep and mop the floor every evening after closing the shop and the last customer leaves.

Clean the restrooms every evening at closing and check them every hour during the day.

Clean the equipment each evening after closing.

Clean the refrigerator every Tuesday and Saturday.
Taking payments
Inform the customer of the total pleasantly and clearly.

Allow the customer to hand you the money or swipe their card.

Hand the customer their receipt and their change and their receipt.

Thank the customer for their business and tell them to have a nice day.
Customer service
If an issue should arise with a customer, get a supervisor immediately.

If you are a manager, ask the customer how you can make it right.

If the customer is not satisfied, offer them a free beverage or a pastry.

Conclusion
Standard operating procedures are like a playbook for your coffee shop. They allow things to be done in the manner which you require while also ensuring that your employees are kept safe. As you can see, having a standard operating procedure for your coffee shop ensures that the daily operations of your business are done in a manner that is acceptable to you. Surprisingly, a good standard operating procedure will also allow you to weed out the bad employees while retaining the good ones. Perhaps the most important thing to remember when riding your standard operating procedure is that you need to keep it simple enough so your employees can follow it to the letter. My advice is to write and implement a standard operating procedure as soon as possible in your coffee shop. Trust me – you will thank me later!
Frequently Asked Questions
Could you write your standard operating procedures, or should you use a template?
Writing your standard operating procedures for your coffee shop will give you complete control over what you will allow in your shop, and what you won't allow. Hands-on owners prefer to write their standard operating procedures. On the other hand, there are also many templates and programs available to help you design a standard operating procedures checklist. Most business owners prefer to find a template and customize it to make it their own.
How much does it cost to build a coffee shop from the ground up?
Many variables can factor into the total cost of building a coffee shop from the ground up. For example, the type of machinery you purchase can make a significant difference in the cost of building your coffee shop. The size and the location of your coffee shop will also factor into the total cost. However, a sit-down coffee shop will generally cost somewhere between $200,000 and $375,000 to start. We go into further detail about the cost of starting a coffee shop in this article.
To learn more on how to start your own coffee shop checkout my startup documents here
Please note: This blog post is for educational purposes only and does not constitute legal advice. Please consult a legal expert to address your specific needs.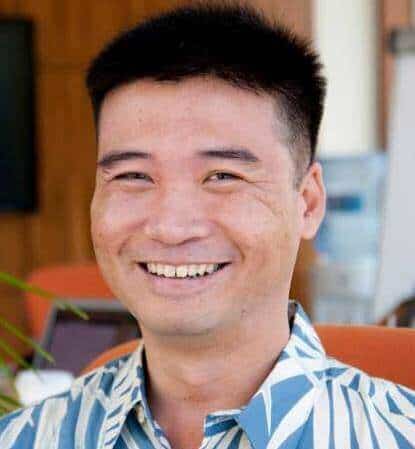 Hi! I'm Shawn Chun
My adventure in coffee began when I first launched my first coffee shop back in the early 2000s. I had to figure out so many things on my own and to make it worse within 2 years of opening two large corporate coffee chains moved in just blocks away from me!
As I saw smaller and even some larger coffee shops in the neighborhood slowly lose customers to these giant coffee chains and slowly close up shop, I knew that I had to start getting creative…or go out of business.
I (like you may be) knew the coffee industry well. I could make the best latte art around and the foam on my caps was the fluffiest you have ever seen. I even had the best state-of-the-art 2 group digital Nuova Simonelli machine money could buy. But I knew that these things alone would not be enough to lure customers away from the name brand established coffee shops.
Eventually, through lots of trial and error as well as perseverance and creativity I did find a way to not only survive but also thrive in the coffee/espresso industry even while those corporate coffee chains stayed put. During those years I learned to adapt and always faced new challenges. It was not always easy, however, in the end, I was the sole survivor independent coffee shop within a 10-mile radius of my location. Just two corporate coffee chains and I were left after that year. All told the corporate coffee chains took down over 15 small independent coffee shops and kiosks and I was the last one standing and thriving.
Along the years I meet others with the same passion for coffee and I quickly learned that it is not only "how good a barista is" that makes a coffee shop successful, but the business side of coffee as well.
Hence why I started this website you are on now. To provide the tools and resources for up and coming coffee shop owners to gain that vital insight and knowledge on how to start a coffee shop successfully.
Stick around, browse through my helpful blog and resources and enjoy your stay! With lots of LATTE LOVE!
Shawn