Opening a coffee shop can be a dream come true for the right coffee enthusiast.  If you have decided that you are ready to pursue your passion and open a coffee shop, you are probably looking for the next step to transfer your dream into a reality.  This is the part where the dreaming becomes less enthusiast and more practical.  The next step is to start calculating the actual financial cost to launch your coffee shop entrepreneur dream into reality.
So, how much does it cost to open a coffee shop?  The answer: it depends. That's probably not the answer you are looking for, but if you scour Google for an answer, you will see the most common results indicate $20,000 – $250,000.  How can you possibly determine your investment cost to start your coffee shop based on such a wide startup cost potential? Well, the reason for the range is multi-faceted.  It is, to some degree, dependent on your location. States and towns have their own fees, and the real estate market varies wildly from state to state. A coffee shop can be anything from a small kiosk to a large franchise. The size of the coffee shop you plan to open will be drive the startup costs significantly.
In order to better understand what it costs to startup a coffee shop, let's break down the essential requirements for your startup.
The first step, and the most inclusive process, is to define your business plan and what your coffee shop will need.
What purchases are involved in the coffee shop startup costs? 
To determine what you will need to purchase before starting your coffee shop, look at the breakdown of what owning a coffee shop can mean. The variety of culinary options for restaurant entrepreneurs in today's market is amazing. Thanks to Food Network and celebrity chefs, owning a restaurant of any kind has become an idealistic job. Street food carts and food trucks are becoming wildly popular. Along this same line, a coffee kiosk or café truck may be the right choice. This option is smaller than a full coffee shop cafe and its potential portability means that the coffee shop owner can find customer traffic. In this booming world of food trucks, a cafe on wheels may be just the right option for some people, and its startup costs are somewhat less than those of owning a brick and mortar establishment. For others, though, the traditional and stable coffee shop is the dream choice.  The variety of establishment options means that the costs for opening a coffee shop are, to some degree, within your power to control.
Read about the requirements for starting a coffee shop here.

So, what are the costs to start up a coffee shop?  
To answer this question, consider your start up requirements:
Define your coffee shop location. This can drive your startup cost expectations significantly.  If your coffee startup is mobile, you will need a delivery method such as a kiosk or a truck. This can cost $10,000 for a kiosk, upwards to $35,000 for an equipped catering truck.  If your business is a more permanent location, your lease or purchase price will vary by location.

 

Some people choose to purchase a commercial building, while others lease commercial space.  The location is important.

 

While the cost to lease in more popular areas like malls is more expensive, these areas are more likely to see customer traffic than more remote coffee shop locations.
Coffee Equipment. Commercial grade equipment allows you to accommodate the volume of brewing coffee for the masses.  Some examples of necessary equipment include coffee pots, grinders, and specialty coffee machines.

 

A commercial coffee grinder will cost $500-$800, and you will likely need at least two, to allow for both caffeinated and decaffeinated coffee options. Each commercially brewing coffee pot costs $500, and you will need more than one for the same reasons.

 

If you are serving flavored coffee beans or various roast options, you will need a coffee pot for each, and potentially carafes for ensuring the right temperature control.  For specialty coffee orders, an espresso machine is necessary.

 

An espresso machine costs between $5,000-$7,000.

 

While this is a much larger expense than coffee pots or grinders, the espresso machine is necessary to compete with the specialty coffee options at the larger coffee franchises.
Product costs. This is what you intend to sell.  In order to sell coffee, one must have coffee to sell.  You will need coffee, cups, stirrers, sugar, cream, milk, etcetera, and etcetera.  This cost is fully dependent on the volume and variety your coffee shop intends to sell.  
Licenses and fees. Each town and state will have its own requirements.  Common fees include a business license, resale license or seller's permit, and health permits for food handling and employees.  Depending on your state and your business plan, expect your licenses and fees to cost anywhere between $150-$8,000.

 

Insurance.

 

All companies need insurance.

 

Commercial insurance is a necessary fee, and you will need proper coverage before you begin selling anything.
Staff costs. You will need help to make your business run.  Whether it be servers, or bookkeepers, or managers, remember to calculate wages and also the costs of benefits for your staff.  This includes workers compensation insurance. The cost of your staff will vary based on the size of your company and your business plan.
As you can see, the costs to start up a coffee shop vary significantly and have many variables that affect the associated costs. This is not necessarily bad news, though. With such a wide range, building a coffee shop plan to fit your budget only requires flexibility and planning.
But how do you determine exactly how much you need to start your coffee shop?

Calculate your coffee startup budget.
Every business venture goes from idea to execution with the development of a business plan. A coffee shop is a business that will generate revenue. This means that the costs to start your company will be recouped through sales. When defining what is necessary to start a coffee shop, remember that refining the details means establishing a calculation to recover the startup costs through a successful business. A successful company will make more money in sales and revenue than it spends on both startup costs and operational costs. Your plan should include a way to make more money than you are spending.
A coffee shop has the potential to succeed financially. Three-quarters of American adults drink coffee. Many Americans drink coffee daily. This means that finding customers is not difficult for a coffee shop owner. Competition, however, may be an issue. Seventy percent of the nation's coffee sales come from the top five coffee shop operators. This means that franchises such as Dunkin' Donuts or Starbucks will see the most customer traffic, and seven out of every ten coffee drinkers is frequenting a franchise.  This does not mean that smaller coffee chains are incapable of competing with the coffee giants, but understanding the competition helps to anticipate potential sale volume.  The gross margin of a coffee shop is 85%.  This means for every $100 spent of coffee products, the coffee shop owner keeps $85 after the product is sold. But if you are going to compete with companies that see 70% of the customer business within your industry, you will need to make sure that your company brings something special to the table. For some, that means a specialty niche. For others, the competition is addressed through delivering exceptional customer service and quality. With such strong competition, it's important to ensure that all investments to a startup coffee shop are necessary and have the potential for return. You are in control of how much you are willing to invest in the startup coffee shop, and you can control the costs associated through proper planning.

More Information
A well-defined business plan will help you to establish what startup costs are necessary. Projecting the sales of your coffee shop based on your business plan helps you to determine how much coffee you would need to sell to recovery the investment needed to start the coffee shop. A smaller business will require less investment and less equipment, but its sale potential is also less. This means your costs may take longer to recover. A bigger investment may have the potential for more sales and greater revenue, but with coffee giants holding the market share of coffee sales, a company star up will need to lean heavily on work of mouth, marketing, and superior service and quality.   
To start up a coffee shop, you have to determine how much money you can invest in this venture. Small coffee shop investments lead to small reward through restricted revenue potential; however, the risk is also small. A bigger shop has the potential to reach more customers and therefore generate more revenue, but if the company fails to out-perform its competition, then the risk of failure is higher.
Controlling costs, including the startup costs, is key to success. Do not overreach. If you are planning on throwing your retirement savings into your coffee start up dream, make sure that your costs are well planned, and that you have plans for recovering your investment. The profit for net sales of a coffee shop is 2.5%. If your company yields 100,000 in sales, you profit is $250,000.  That also means, though, that if your company yields 10,000 in sales, your profit is $25,000.  
If you opened a coffee shop with the expected startup cost of $250,000, your shop would need to sell $100,000 in coffee sales in order to recover that investment cost. For the sake of ease, consider the sale price of a cup of coffee at your coffee shop is $2.50 per cup. You would need to sell 40,000 cups of coffee to recover the $250,000 startup investment cost. That would be 109 cups of coffee per day.
If you live in a small town, and you are not likely to sell 109 cups of coffee every day, then perhaps a smaller investment would be more likely to succeed. However, if you are in a city, and your $250,000 investment means your coffee shop is in an area of high customer traffic, then a larger investment would have greater chance of successful recovery of the start up investment costs.  
The costs to start a coffee shop vary so significantly that it becomes difficult to provide a simple, direct answer. However, with the use of a well-defined business plan and the right amount of investment, coffee shops can be profitable establishments.
Frequently Asked Questions
Is owning a coffee shop a profitable business?
Coffee shops can be profitable. Think about the cost of espresso compared to the cost of a cup of coffee. Many companies charge $4.00 or more for a specialty espresso drink while charging $2.50 for a regular cup of coffee.
What else can I do to increase the potential success rate of my coffee shop?
Marketing and location are important. If you try to open a coffee shop in the middle of a residential area, few people are going to see the shop or go to the shop. However, a well publicized and visible coffee shop can increase the likelihood of success.
With the major franchises taking 70% of the customers, how can I make my coffee shop more visible and successful?
Location, again, is important.  But if you provide all the same accommodations of a large chain, such as drive thrus, and also provide superior service and a superior product, your product may sell itself. If not, market your company and yourself through advertising and visibility. Attend that chamber of commerce meeting, be a face within the community your coffee shop is serving.  The saying, "If you build it, they will come," is only half of the story. People have to know your business is there and that it's worth the while to be a patron. Word of mouth is a strong player, especially in an age of Google guides and Yelp. Be reputable.
● Coffee Kiosk Price: http://cart-king.com/ez-kiosks-layout/
● Used Food trucks: Ebay.com
● Equipment costs: Webstaurantstore.com
● License costs: https://upserve.com/restaurant-insider/restaurant-licenses-permits-need-start-restaurant/
● Coffee shop statistics: http://www.sbdcnet.org/small-business-research-reports/coffee-shop-2012
If you are interested in learning about how to start your own coffee shop, check out our free guide here.
Please note: This blog post is for educational purposes only and does not constitute legal advice. Please consult a legal expert to address your specific needs.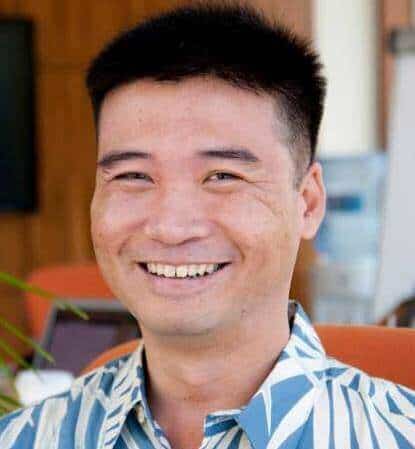 Hi! I'm Shawn Chun
My adventure in coffee began when I first launched my first coffee shop back in the early 2000s. I had to figure out so many things on my own and to make it worse within 2 years of opening two large corporate coffee chains moved in just blocks away from me!
As I saw smaller and even some larger coffee shops in the neighborhood slowly lose customers to these giant coffee chains and slowly close up shop, I knew that I had to start getting creative…or go out of business.
I (like you may be) knew the coffee industry well. I could make the best latte art around and the foam on my caps was the fluffiest you have ever seen. I even had the best state-of-the-art 2 group digital Nuova Simonelli machine money could buy. But I knew that these things alone would not be enough to lure customers away from the name brand established coffee shops.
Eventually, through lots of trial and error as well as perseverance and creativity I did find a way to not only survive but also thrive in the coffee/espresso industry even while those corporate coffee chains stayed put. During those years I learned to adapt and always faced new challenges. It was not always easy, however, in the end, I was the sole survivor independent coffee shop within a 10-mile radius of my location. Just two corporate coffee chains and I were left after that year. All told the corporate coffee chains took down over 15 small independent coffee shops and kiosks and I was the last one standing and thriving.
Along the years I meet others with the same passion for coffee and I quickly learned that it is not only "how good a barista is" that makes a coffee shop successful, but the business side of coffee as well.
Hence why I started this website you are on now. To provide the tools and resources for up and coming coffee shop owners to gain that vital insight and knowledge on how to start a coffee shop successfully.
Stick around, browse through my helpful blog and resources and enjoy your stay! With lots of LATTE LOVE!
Shawn