Important elements to consider in the design of a coffee shop include storefront appearance, signage, lighting, and choice of furniture, whereas an ideal location for any new coffee house business should entirely be based on visibility, accessibility and neighborhood competition.
How to Attract Customers and Keep Them Coming Back
A harmonious mix of storefront design, signage, lighting, furniture and the optimal location will draw customers to your coffee shop and will make them want to return to spend their money there again and again, ensuring success for your new business. Other, more intangible elements may go into their decision-making, of course – do they feel welcome in your coffee shop? Is the staff friendly, professional and knowledgeable? Are customers able to get in and out as efficiently as they wish? – but the design of the coffee shop itself and the ease with which customers are able access it are both critical in attracting them initially and in retaining their business.
Store location – good or bad – can make or break your business.
Arguably the most critical component to the success of a coffee house is its location. Your coffee shop should be visible, accessible, and in an area with regular pedestrian and/or car traffic. As for competitors, take note if there are there any other coffee shops in the area, and if so, are they successful? Does the neighborhood warrant an additional coffee shop? Don't forget that a premium location might – will probably – carry a price tag that is also "premium." It's important to consider the cost of the space you're considering renting and to make a determination, up front, as to whether or not the expense is worth it to you. If the location plays a big enough role in the success or failure of your business, you may be more than willing to devote a larger than usual portion of your revenue to that, but keep in mind that spending an inordinate amount of money on rent may possibly – and adversely – affect other aspects of your business, including the quality of your product. These are some of the most important questions to ask yourself as you ponder the location of your future coffee shop.
First impressions are everything!
From the street or the sidewalk, your coffee house needs to be easily identifiable and branded as such. Signage should be clear, simple and appealing, and the style of the place – contemporary, quaint and homey, artsy…. – should shine through in the layout and look of your storefront. An easily accessible doorway is important, as are clean windows that give a clear view to the inside. Any tables, chairs, or benches should be well-situated and easy to reach. Is the coffee shop child- or pet-friendly? Upscale? Do you want it to have more of a hipster kind of vibe? A customer should be able to understand the concept of the coffee house when they view it from the sidewalk or street.
The important role of a unique, well-defined style.
For many, the style of a coffee shop – the true personality of the place – is what captures their attention and creates warm feelings that make them want to eat, drink and socialize there. A customer should be able to look around and know, immediately, what the culture is, and feel welcomed. As a business owner it's important to know, what is your target demographic? – whom are you trying to attract? Are you focused on commuters, or shoppers, or millennials? Perhaps a more affluent clientele with above-average incomes? A pleasing mix of color scheme and décor – lighting, fixtures, artwork, even utilitarian items such as garbage bins and areas for condiments and accessories – should complement the style of the furnishing to create a specific mood and ambiance.
Storefront Signage: Advertising Your Product and Your Brand
Signage that is clear, with a design that is in sync with the feel of the coffee shop, needs to be working properly (a poorly lit or partially burned out sign will appeal to no one and may even turn off some customers) and look like it belongs in the overall style of the place. Depending on the décor, there is a variety of signage materials that you might consider.
Wood signage, either hanging or standing, functional or custom cut or printed, lends a warm and sometimes rustic charm to your coffee shop.
Metal signage can add to your store's windows and the furnishings inside, adding a contemporary or vintage feel.
Signage that is painted on or applied, including vinyl window decals, are typically easy to install and switch out, and are very easily customized.
Electric or illuminated signs advertise your business all day long, and possibly all night as well. Eye-catching and impactful, they add a positive visual element to your storefront design that is hard to beat – as long as they are in good working condition (see note above).
To learn more about elements you should have in your coffee shop advertisements, click here. 

Bringing Your Coffee House to Life: The Critical Use of Proper Lighting
Sometimes the consideration of lighting in the design of a coffee shop is more of an afterthought than anything else, but don't let it be, because when you think about it, what tends to bring a room to life when you enter? Often, it's the lighting! Considering the enormous range of lamps, overhead lighting, light bulbs, etc. that are available nowadays, you will find that the process of selecting light fixtures will be well worth the time and research you put into it. As you strive to provide a specific type of environment for your customers, the use of proper lighting turns out to be a critical component of your overall design.
The proper lighting – LED lighting, for instance – within display cabinets, on shelves and countertops, and in refrigerated spaces makes food and other items stand out more. You want your customers to browse, and to be able to easily see everything there is for purchase.
Floor lamps, spreading a light that is warm, yet not overpoweringly bright, are often placed beside comfortable lounge chairs or sofas to create a relaxed and homey atmosphere. This type of lighting is ideal for conversation nooks.
Ambient – or background – lighting is used to help customers relax, unwind and de-stress. This overall background lighting can be used to create an impression of greater space – wider walls, or higher ceilings, for instance – or to diffuse surface-directed lighting such as table or floor lamps.
Table lamps should spread enough bright light to allow customers to comfortably read or use electronic devices.
Other types of lighting – pendants, wall sconces, diffused lighting – can be used to tie together all your other design components, both in look/style and in brightness or tone of the light.
Above all else, lighting in a coffee house needs to be functional; if it is so dim that your customers cannot see what they are eating or drinking, or so harsh that clients are turned away by its brightness, then this is something that needs further consideration.
Form & Function: Complementing Your Coffee House Style with the Right Furniture
The style of furniture that you select for your coffee house and the way in which you choose to arrange it should be based on the habits and preferences of your potential customers. Is your goal to create a peaceful environment where customers are welcome – encouraged, even – to sit and relax over a cup of coffee or tea? Or, is your clientele likely to be professionals or others with busy lives and little interest in spending time actually sitting down to enjoy a beverage or snack? Perhaps your coffee shop is close to a university, where your future customers – mostly students – want a place to study, socialize and just hang out. If you're designing a drive-thru, or a "to-go" type of shop, then minimal – or no – furniture might be the way to go. Your furniture design plans will entirely depend on who your clients are, and what kind of an atmosphere they seek.
A coffee house should have a combination of tables, chairs, sofas, perhaps, and occasionally an outdoor seating area, location and weather permitting. It's no use filling your precious space with entirely functional tables and chairs, for instance, if non-working moms and seniors – customers with more "free" time than normal – are your future customers. Conversely, you'd be entirely missing the mark by filling your space up with a number of bulky, comfy lounge chairs if you're anticipating a crowd of college students or young, working professionals.
Once you've established who your clientele is likely to be, the process of selecting furniture should be fairly straightforward. 
For a relaxed atmosphere, designed for customers who want to feel at home, more than anything – able to read a book, chat with a friend, or spend time on their phones or laptops – a combination of upholstered or leather chairs, sofas, small tables, and cozy lamps might create that ideal environment. Lounge chairs and/or sofas arranged in small, intimate groups will encourage clients to sit and socialize, while occasional throw rugs, lanterns, plants or pieces of artwork might add touches of personality and warmth to these areas.
A more contemporary type of furniture design – standard tables and chairs, often with USB ports and seating for 2, 4 or even more – is geared toward customers who are interested in connectivity, functionality and, quite simply, having a space to work. Wooden or metal chairs that can easily be moved around and cleaned off are great choices here, as are traditional tables that can be rearranged as necessary. 
A mix of outdoor tables, chairs and fixtures will add valuable seating space and an additional source of revenue to your business. An outside space may be perfect for metal or wooden tables and chairs, umbrellas, and a patio heater or two… or, the area might be better suited to lounge-type seating and an outdoor fireplace or firepit. Adding a few outdoor tables, at the very least, is a great way to add one more seating option for your customers. On a fresh spring morning or warm summer evening, they will thank you.

   
Frequently Asked Questions
What about background music? What type of music is right for a coffee shop?
The choice of music will depend entirely on the design of the coffee shop and where it is located. Coffee house playlists are widely available, but when you make your music selection, keep in mind the style of your business and the atmosphere that you wish to create. 
Is it smart to consider a recycling program? Does sustainability have anything to do with customer loyalty?
A coffee house that recycles – plastic, glass, paper, aluminum, coffee grounds – will not only benefit the environment but will attract individuals who are interested in sustainability as well. Not everyone cares, unfortunately, but many customers will appreciate your efforts and reward you with their continued business.
Other than the use of signage and overall design, are there other ways of branding a coffee house?
Once you've developed a wonderful logo, use that logo wherever you have the opportunity to, including on napkins, disposable cups, plates and food wrappers; staff aprons and clothing; and items for purchase such as glass or ceramic coffee cups, boxes or bags of coffee, tea and other food items, tumblers and thermoses. 
What are some other creative ways to enhance the interior design of a coffee shop?
The addition of some interesting, beautiful artwork – paintings, sculptures, perhaps an eye-catching mural – is often used to bring out the personality of a business. Plants or flowers in vases or pots, on tables, on the wall or at floor level can also add some colorful visual interest. Check out Pinterest for some more great interior décor ideas.
Wanna learn more about how to start your very own coffee shop? Just click here for more information.
Please note: This blog post is for educational purposes only and does not constitute legal advice. Please consult a legal expert to address your specific needs.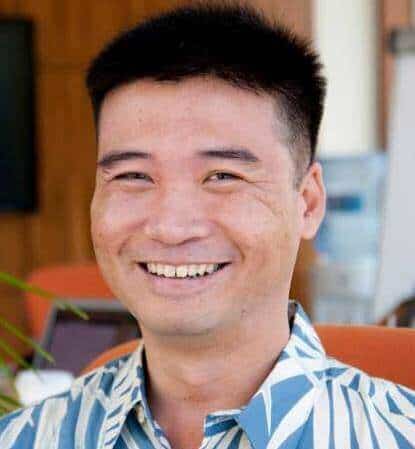 Hi! I'm Shawn Chun
My adventure in coffee began when I first launched my first coffee shop back in the early 2000s. I had to figure out so many things on my own and to make it worse within 2 years of opening two large corporate coffee chains moved in just blocks away from me!
As I saw smaller and even some larger coffee shops in the neighborhood slowly lose customers to these giant coffee chains and slowly close up shop, I knew that I had to start getting creative…or go out of business.
I (like you may be) knew the coffee industry well. I could make the best latte art around and the foam on my caps was the fluffiest you have ever seen. I even had the best state-of-the-art 2 group digital Nuova Simonelli machine money could buy. But I knew that these things alone would not be enough to lure customers away from the name brand established coffee shops.
Eventually, through lots of trial and error as well as perseverance and creativity I did find a way to not only survive but also thrive in the coffee/espresso industry even while those corporate coffee chains stayed put. During those years I learned to adapt and always faced new challenges. It was not always easy, however, in the end, I was the sole survivor independent coffee shop within a 10-mile radius of my location. Just two corporate coffee chains and I were left after that year. All told the corporate coffee chains took down over 15 small independent coffee shops and kiosks and I was the last one standing and thriving.
Along the years I meet others with the same passion for coffee and I quickly learned that it is not only "how good a barista is" that makes a coffee shop successful, but the business side of coffee as well.
Hence why I started this website you are on now. To provide the tools and resources for up and coming coffee shop owners to gain that vital insight and knowledge on how to start a coffee shop successfully.
Stick around, browse through my helpful blog and resources and enjoy your stay! With lots of LATTE LOVE!
Shawn