Whether it is for birthdays, holidays, a thank you, or just because, those trying to find a gift for somebody may struggle to find the right one. Also, they may wonder whether there are good options at a low budget—more specifically one for a coffee lover that is under $20.
Fortunately, there are many options of gifts for coffee lovers, including those that can be delivered right to the purchaser's doorstep. Here are a few of the most popular, affordable, and high-quality gifts that can be found on Amazon:
Starbucks Dark Roast Ground Coffee
Aerolatte Cappuccino Stencil Set
Double Coffee Measuring Spoons
Brewista Professional Cupping Spoon
The New Rules of Coffee: A Modern Guide for Everyone
Craft Coffee: A Manual: Brewing a Better Cup at Home
Bosmarlin Coffee Cup and Saucer
Coffee Guide Print
Bones Coffee Company—Cookies N Dreams Whole Bean Coffee
Door County Coffee Sampler Pack
2-Pound Subtle Earth Organic Coffee
Flavored Coffee Pods Variety Pack
Coffee Mug Warmer
For those who enjoy the full-bodied flavor of dark coffee, this is an excellent, simple option to gift. Although it is from a big brand company, both those just starting to explore their interest and coffee connoisseurs can enjoy this product. The coffee grounds work with a French press, cold brew, and automatic coffee maker (such as Keurig). The item costs $9.35.
Many reviews have noted that it is not bitter and has a good flavor. They have also mentioned that the coffee is excellent, especially for the price it is at.
For those who have always wanted to do cappuccino art but may not be a professional barista, these stencils allow them to make creative art while having fun. Several design options are available in this set, and it is wonderful for holidays and special events (and any time they want to spoil themselves a little). Some of the patterns include a leaf, heart, swirl, snowflake, and flower. The set costs $7.49.
Many reviews mention how they are durable and fit well with the rim of most cups and mugs. However, they have also mentioned that it takes practice and patience to do the designs properly. One reviewer mentioned that the stencil set works in a dishwasher, but only when it is used with cold water.
A cupping spoon is an excellent way for coffee lover to sample their creations, especially if they enjoy experimenting with new types of coffee. This one in particular is designed to last—it is made with stainless steel and is scratch-resistant. Although the spoon is slightly heavy, it is also surprisingly durable. The cupping spoon costs $9.95.
Essentially, cupping is a process where someone takes a spoonful of prepared coffee, pours it into another spoon, and then tastes it. This is a good way to check not only quality but also flavor. Because of this, coffee experimenters who do cupping can learn about different flavorings of coffee and develop a more refined palette.
Offering both Kindle and hard copy options, this book is perfect for those who want a deeper understanding of coffee and/or are just starting to make their own. Along with mentioning some basic coffee-making methods, the book discusses how coffee is produced and dispels some common myths. This book costs $8.99 for the Kindle version and $11.55 for the hardcover.
Many reviews mention that the book is a quick read and an overview of coffee, so if the giftee already knows quite a bit about coffee, this may not be the greatest option. However, it does have engaging illustrations and an easy-to-read style.
If the coffee lover is more strongly interested in making coffee and requires more detail, this book is the perfect solution. Again, it is available with both Kindle and hard copy. Along with discussing the processes needed for certain recipes, the book mentions how much various coffee preparations cost and how long they will take. It was considered a top food and drink book by Food Network in 2017. This item costs $14.99 for the Kindle and $19.34 for the hardcover version.
The reviews state that the book is more comprehensive than the previous one, diving into the scientific background of coffee, reasons why different coffee tastes differently, and how to operate different types of coffee-making equipment. At the same time, it is easy to read. However, unlike the other one, it does not have any illustrations, which may or may not be fine for the giftee.
This double spoon setup is designed specifically to make measurements that are easy to put in coffee processors, such as a French press and canisters. This is because they are slimmer than a normal measuring spoon. Along with being stainless steel, the measuring spoons are dishwasher-safe. When using the spoons, the individual can choose between a one- and two-tablespoon measurement. The scoop costs $8.99.
Reviews have mentioned how the spoons are volatile, also working for other beverages such as smoothies and tea. They also say that the spoons are highly durable. Finally, they have long-handled, so it is easy to reach into containers.
For those who enjoy the varying flavors of coffee but do not have the time to prepare from scratch, this is a perfect gift. The flavors contain Amaretto, Caramel, Hazelnut, Irish Cream, and Vanilla. Also, the product is allergen friendly—more specifically, Kosher, Vegan, Gluten-Free, and Dairy-Free. Finally, the product supports bee colonies and is made with recycled, biodegradable packaging. This item costs $13.49.
The reviews have noted that the bottles are fairly small, which makes sense since they are just samples. However, this is perfect as a gift since the coffee lover can determine which flavors they like best. Also, an overwhelming majority noted that the flavors are surprisingly high quality, and they enjoyed each one.
Suitable for both cold and hot coffee, this cup and saucer set is dishwasher and microwave safe. The designers have the user's experience in mind, creating the cup to be held comfortably and providing four different color options. It is also highly durable, and the cup and saucer cost $10.99.
People in the review section have mentioned that although the cup itself is well-designed, the packaging is not as durable. However, it is very unique and cute, which makes it a perfect gift to deliver to friends. To make up for the packaging, the customer service for this company is highly interactive and willing to replace cups and saucers that were broken during delivery.
These filters offer the user unique coffee through a simple technique. A great way for beginners to make their coffee at home and learn about different flavors. Vietnamese-style coffee, excellent quality. Filters with condensed milk. Different flavor options and quantities available, a great option for the starter to see if giftee would like to buy larger packs. The filters cost $14.99.
Many people find that it works well for travel and accommodates a variety of coffee brewers. Also, the product has a natural, rich taste without being overly sweet.
Offering a high-quality print that can be hung as a poster, this guide is a fun, informative decoration. Along with involving a creative concept, the guide can inform coffee lovers of different coffee types, along with giving them goals of which ones to try. It has a simple display and design, which heightens its appeal. The design and print cost $14.99.
Purchasers note that the product works well not only for their own homes but also as gifts for friends. The prints are high quality. (As a side note, however, they do not include a frame—a cost that may need to be considered.)
Yes, the giftee maybe a coffee connoisseur, but that does not necessarily mean they do not like a fun gift. With a strong cookie flavor, this product offers a unique experience. Typically, it does best with cold brew. Also, it is vegan and keto-friendly. The package costs $17.99.
Many reviews have noted that the coffee has a very strong, potent flavor. A few have mentioned that they prefer the company's other flavors, including Strawberry Cheesecake (certainly another fun potential option!).
Offering twelve 1.5-ounce packets, this is a wonderful option for those wanting to explore different coffee options. Each packet makes about one 10-cop pot of coffee. It is perfect for drip coffee brewers and does not require any measuring. In total, the package costs $19.99.
The reviews have noted a strong variety of packages and good quality in all of them. They have also found that the packets work well for cold coffee. However, a few found the flavor weak. To deal with the issue, some recommend using half the amount of water shown on the packaging.
For those who prefer organic coffee that can be brewed straight from the beans, this is a wonderful and affordable option. It works well for them to experiment with a variety of flavoring options made from scratch (great with the cupping spoon!). The coffee has low acidity and is sourced from Honduras. Each bag costs $18.99.
Although there was a phase in late 2018 where reviewers found the quality to decline, it appears that the quality is excellent once again. They have mentioned that the flavor is high quality and it decreases potential stomach pain since the product uses fresh beans.
Perhaps the giftee would prefer a quick, on-the-go option over a slow brew. If this is the case, there are wonderful options! This variety pack offers 30 unique flavors that are compatible with Keurig brewers. The package costs $19.86.
Since the flavors are randomly selected, some reviewers found that their boxes had a lot of similar flavors (however, there were no duplicates). Even then, a lot of the people enjoyed the flavors themselves.
If the coffee enthusiast also happens to spend a lot of time doing desk work, this is a
wonderful gift option. Keeping the coffee at 131 degrees F (55 degrees Celsius), it has an automatic on and off function to prevent overheating, and it is perfectly safe to use on a desk surface. The company recommends using a flat-bottomed, thin-walled cup for the best results. It also warns never to use plastic cups for safety reasons. The mug warmer costs $14.99.
Reviews have shown that the purchasers are grateful for the automatic on and off function, which ensures safety even if the user forgets to turn it off. However, this feature has not worked for some users. Also, the cup used for this product needs to have a flat bottom for any decent results. Some mentioned that it did not keep their coffee warm enough, likely for this reason.
Tips to Buy the Perfect Gift
After looking at these products, one may wonder how to tell which ones are the best match. Fortunately, this is a fairly simple process—but it does require a balance among quality, price, and knowledge of the giftee.
Quality
Since the giftee is a coffee enthusiast, they can certainly tell between high quality and decent or even poor quality. The gift should make them feel special, so taking that extra moment to research and determine which products are best will be far worth it.
Price
Price is certainly an aspect to consider. Along with the fact that the purchaser likely has a budget, wasting money on something the giftee does not even like can be disappointing. Because of this, the buyer should not consider the most expensive, highly-rated product on the market, but rather what makes that specific giftee happy.
Knowledge
This leads to the most important aspect—knowledge of the giftee. The purpose of purchasing a gift is not to give someone useless junk, but rather to provide something that is customized just to them.
To do this properly, the giver should consider things that the giftee wants or needs. Knowing that they like coffee is an excellent first step! However, the purchaser should also consider other aspects, such as what the giftee has shown to need in the past. Also, the buyer can incorporate creativity and humor to show the giftee that the gift is specifically made for them. For example, they may write a humorous note and put it inside a coffee cup, or they may provide fresh coffee grounds and a how-to book to start the giftee on their desired journey of making coffee on their own (this can still be under $20 total!).
Frequently Asked Questions
When is the best time to order my gift for the coffee lover?
To ensure the item comes on the correct day, purchasers should provide a good amount of wiggle room. For example, they should order the item at least two weeks away from the event if the item will be delivered in five days. This way, delays in the delivery do not cause an issue, and the purchaser can return the item and find a new one should it be unsuitable. Quicker delivery methods, such as Amazon Prime, may bring the order in one day.
Can I send my gift to the recipient without them knowing how much I spent?
In short, yes. Amazon has a gift option, where the purchaser can provide a note to the giftee rather than having a receipt with the price. However, this option will provide a return script. Alternatively, purchasers can order the item to their door, repackage it, and then deliver it to the giftee.
To learn more on how to start your own coffee shop checkout my startup documents here
Please note: This blog post is for educational purposes only and does not constitute legal advice. Please consult a legal expert to address your specific needs.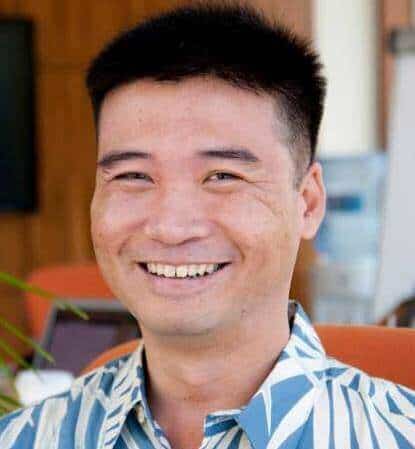 Hi! I'm Shawn Chun
My adventure in coffee began when I first launched my first coffee shop back in the early 2000s. I had to figure out so many things on my own and to make it worse within 2 years of opening two large corporate coffee chains moved in just blocks away from me!
As I saw smaller and even some larger coffee shops in the neighborhood slowly lose customers to these giant coffee chains and slowly close up shop, I knew that I had to start getting creative…or go out of business.
I (like you may be) knew the coffee industry well. I could make the best latte art around and the foam on my caps was the fluffiest you have ever seen. I even had the best state-of-the-art 2 group digital Nuova Simonelli machine money could buy. But I knew that these things alone would not be enough to lure customers away from the name brand established coffee shops.
Eventually, through lots of trial and error as well as perseverance and creativity I did find a way to not only survive but also thrive in the coffee/espresso industry even while those corporate coffee chains stayed put. During those years I learned to adapt and always faced new challenges. It was not always easy, however, in the end, I was the sole survivor independent coffee shop within a 10-mile radius of my location. Just two corporate coffee chains and I were left after that year. All told the corporate coffee chains took down over 15 small independent coffee shops and kiosks and I was the last one standing and thriving.
Along the years I meet others with the same passion for coffee and I quickly learned that it is not only "how good a barista is" that makes a coffee shop successful, but the business side of coffee as well.
Hence why I started this website you are on now. To provide the tools and resources for up and coming coffee shop owners to gain that vital insight and knowledge on how to start a coffee shop successfully.
Stick around, browse through my helpful blog and resources and enjoy your stay! With lots of LATTE LOVE!
Shawn