If you are an aspiring business owner and want to open a drive-thru coffee shop, consider the start-up capital you will need to get your venture started. Between purchasing equipment to make coffee and food and possibly tables and chairs (if you have a dine-in section as well), it takes a large investment to make this dream happen.
A small drive-through coffee shop may cost between $25,000 and $60,000 of startup capital. Medium drive-through coffee shops cost around $80,000 and $150,000 to get started. A large drive-through coffee shop can cost between $150,000 and $300,000 to set up.
Coffee Shops Are a Growing Industry
According to worldwide experts, about 2.5 billion cups of coffee are purchased daily. The ready-to-drink market is expected to grow 67% over the next few years. Getting into the drive-thru coffee shop business can be profitable due to this rise in demand.
No matter the size of the drive-thru coffee shop you are attempting to open, you must create a competitive business plan that shows how you will cover the total startup capital required.
3 Factors for Allocating your Startup Capital
Seek assistance from the Small Business Association (SBA) if you are having trouble procuring enough capital for your drive-thru coffee shop startup. The SBA was created to assist small businesses independent of the federal government and can assist you with obtaining funding for your small business. They are located in every state. If you have an organized business plan, you could receive small business grants to help you get started.
Another option would be your local bank. If you have a commendable credit history and a thorough business plan, you can apply for small business loans from local banks to help you out as well. Try to shoot for more grants than loans so that you will have to pay back less money in the long run once your coffee shop is started.
Initial Cost / Startup Cost
Keep in mind that the initial set-up costs vary significantly depending on the location, size, and equipment needed to start the coffee shop.
Startup costs include primary equipment such as getting a standard espresso machine, which costs around $12,000. Many coffee shops roast their own beans for the highest quality brew for their customers. Hence, an industrial espresso machine could be $10,000 or more.
If you have interior space for a dine-in portion of your drive-thru coffee shop, consider the number of tables and chairs you would need to furnish the shop. Coffee art, your menu display, promotional chalkboards, and food display cases also factor into your initial cost of opening a coffee shop.
Recurrent /Fixed Expenditure
Recurrent expenditure is one of the fixed expenses that almost all businesses incur regularly. For example, rent payments should not exceed 15% of the total sales. Salary for you, managers, and baristas factor into recurrent expenditure to keep you and your employees happily compensated. Insurance and other related costs are incurred monthly.
Most recurrent costs do not change over a short period, so it is important that you plan for these costs because you must pay them even if sales are lacking in the current month.
Other Variable Costs
Variable costs fluctuate with the level of output which a business produces. They depend on the number of units of each ingredient you use in the food or drinks you sell. For example, the amount of milk and the amount of sugar each play a part in the cost of a cup of coffee you sell.
Calculate an average of how much it costs per ingredient to make a cup of coffee and your other menu items to see your variable cost of goods sold for that month based on your sales.
To offset your fluctuating variable costs, host different promotions throughout the month to keep customers interested. Promote your new cappuccino flavor you are testing. Hand out small samples of your mid-range priced coffee to increase your sales on that specific brew.
To learn about other foods you can sell in a drive-thru coffee shop, click here. 
5 Factors to Consider When Setting Up Your Coffee Shop
  Financial expenses:
Estimate all your coffee shop equipment expenses and look for startup capital sources whether your own investment, SBA grants, or donations from family, friends, and future patrons.
  Location:
Remember to place your coffee shop in a high traffic area near a local school, college, university, hospital, or shopping center to get the most foot traffic to your coffee shop.
  Shop Space:
Be sure the shop is spacious and can be meticulously organized whenever you experience long lines during meal rushes.
  Regular Supply:
Partner with vendors and suppliers to receive coffee cups, coffee beans, milk, sugar, and more to keep your coffee shop up and running. Analyze your sales to be sure you are getting enough ingredients to make the proper amount of food and drinks your customers like the most.
Advertisement:
Look into free and paid advertising options to balance out how you build your brand awareness. Publish promotions in a local newspaper or community magazine (paid advertising). Post on Facebook and Instagram (free advertising) so family, friends, and patrons can pass around information about your upcoming promotions.
3 Coffee Shop Startup Recommendations
As a new coffee shop business owner, follow these recommendations to start small and prosper considerably as you build your brand.
Start Small
Start out with a small coffee shop drive-thru before expanding to a medium or large sized drive-thru business. Get your feet wet by starting small, so that you do not overwhelm yourself by taking on too much work at once.
Once you have operated a small coffee shop for 1-3 years, expand your current shop's drive-thru capabilities or open another shop the next size up if you have enough capital.
Purchase Only High-Quality Equipment
Avoid skimping on quality by purchasing the lowest priced industrial coffee equipment just to save on startup costs. Compare prices and features of all the coffee machines you are planning to purchase. The machines with the highest quality operating standards and manufacturer warranties will hold up better than the equipment that lacks in these features.
Social Media is your BFF!
Social media is always going to be a go-to resource when advertising opening day and ongoing promotions at your coffee shop. It can be even used to start up a discussion or host a contest to keep it interesting for your patrons.
Set up a Facebook, Instagram, and LinkedIn. Have either yourself or a Social Media Manager keep your social accounts up to date with the same posts on each one to streamline your brand's image on social media. Keep up with answering customer questions. Chime in with the conversation as well to make your business look interactive and seem caring about their clients.
Conclusion
The financial capacity for setting up your coffee shop matters the most. Starting off with more than enough startup capital helps you to be prepared for the small business curveballs that could come your way in the future. Get ready to fulfill your dream of a being a full-time coffee shop owner!
Frequently Asked Questions
How much do I have to invest in opening a coffee shop?
This will depend on your one-time costs and recurrent costs. Your one-time costs will be for coffee machine equipment that may only need replacing every few years or repaired as needed. Analyze all your options before making a coffee equipment purchase.

Rent, salaries, and utilities will depend on the area in which you are opening your coffee shop. Research the Bureau of Labor Statistics to decide a fair salary for Barista Team Leaders, Baristas, Managers, and Assistant Managers.
What is the secret of setting up a successful coffee shop?
There is no exact secret to a setting up a successful coffee shop. However, you can maintain a competitive edge with coffee shops in your area by following these tips.

● Find a niche that no other coffee shop is doing with their menu and pursue that.

● Create a loyalty program that encourages customers to visit your coffee shop more often.

● Change your promotions at least once a week to keep it fresh and exciting for loyal patrons and new guests.

● Keep the menu simple. This helps keep your preparation streamlined and less stressful for your employees.

● Feature a monthly special whether it is a new item you want to test out or a sale price on a popular food or drink item.

What time do coffee shops open and when do they close?
A standard coffee shop opens within the hours of 5am – 3pm daily, usually running throughout the week on an average of 10 hours per day. The hours of operation for your coffee shop is up to you!
To learn more on how to start your own coffee shop checkout my startup documents here
Please note: This blog post is for educational purposes only and does not constitute legal advice. Please consult a legal expert to address your specific needs.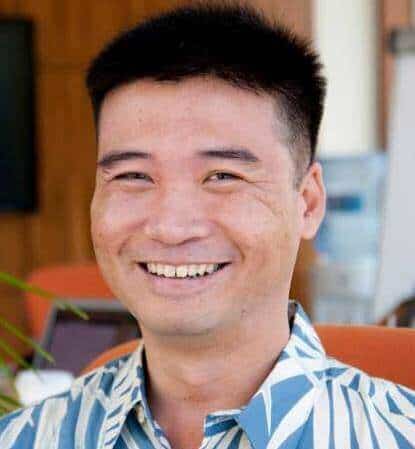 Hi! I'm Shawn Chun
My adventure in coffee began when I first launched my first coffee shop back in the early 2000s. I had to figure out so many things on my own and to make it worse within 2 years of opening two large corporate coffee chains moved in just blocks away from me!
As I saw smaller and even some larger coffee shops in the neighborhood slowly lose customers to these giant coffee chains and slowly close up shop, I knew that I had to start getting creative…or go out of business.
I (like you may be) knew the coffee industry well. I could make the best latte art around and the foam on my caps was the fluffiest you have ever seen. I even had the best state-of-the-art 2 group digital Nuova Simonelli machine money could buy. But I knew that these things alone would not be enough to lure customers away from the name brand established coffee shops.
Eventually, through lots of trial and error as well as perseverance and creativity I did find a way to not only survive but also thrive in the coffee/espresso industry even while those corporate coffee chains stayed put. During those years I learned to adapt and always faced new challenges. It was not always easy, however, in the end, I was the sole survivor independent coffee shop within a 10-mile radius of my location. Just two corporate coffee chains and I were left after that year. All told the corporate coffee chains took down over 15 small independent coffee shops and kiosks and I was the last one standing and thriving.
Along the years I meet others with the same passion for coffee and I quickly learned that it is not only "how good a barista is" that makes a coffee shop successful, but the business side of coffee as well.
Hence why I started this website you are on now. To provide the tools and resources for up and coming coffee shop owners to gain that vital insight and knowledge on how to start a coffee shop successfully.
Stick around, browse through my helpful blog and resources and enjoy your stay! With lots of LATTE LOVE!
Shawn