By starting a coffee shop, you will be entrusting managers and employees to help run your establishment. You will want to pay an equitable wage to your Coffee Shop Manager for the leadership and managerial work that they perform for your business.
According to Comparably, the average salary in the United States that a Coffee Shop Manager makes is about $30,155 per year. This equates to about $579.90 per week and about $14.50 per hour for a manager who works a full-time schedule.
Salaries in different cities and states will depend on the popularity of coffee shops in the area and the overall economy for each location.
What Salary Should I Provide to My Coffee Shop Manager?
Of course, the salary you choose to give to the Coffee Shop Manager in charge of your coffee shop in your absence is completely up to you. Base your overall salary for the Coffee Shop Manager position based on:
Sales in the overall coffee shop.
The number of expenses you have to spend to run your business.
Your labor budget.
The national salary average and local salary average.
The candidate's personal managerial experience.
The candidate's knowledge of coffee shop operations.
Which States in the US Offer the Best Coffee Shop Manager Salaries?
If you open a coffee shop in San Francisco, the local salary average for a Coffee Shop Manager is $44,774 per year. That yearly salary equates to about $861 per week and $21.52 per hour on a full-time schedule. San Francisco's local salary is 48% above the United States national average of $30,155.
San Francisco is the 3rd top city in the United States, that Coffee Shop Managers have a higher quality of life-based on their salary earned.
If you open a coffee shop in Washington, the local salary average is $39,702. That yearly salary equates to about $763.50 per week and $19.08 per hour on a full-time schedule. Washington's local salary is 32% above the United States national average of $30,155.
Washington is the 2nd top city in the United States as to where Coffee Shop Managers have a higher quality of life-based on the salary earned.
What If I Am Opening My Coffee Shop In a Different State Other Than Washington and San Francisco?
You can still find qualifying managers to help run your coffee shop even if the national (or local) salary average is a bit lower than San Francisco and Washington.
Start by looking up your state's average. You can visit salary.com to find out your state's local median salary and then go from there in deciding what wage to pay your Coffee Shop Manager.
Type in Coffee Shop Manager into the search bar and go to the "Coffee Shop Manager" position page. Then, you can narrow down your state's salary by choosing the specific location in the United States in which you will be opening up your coffee shop. If you do not see the city and state combination in the list provided, select the closest city to your city of operation.
You can even customize the salary based on the number of years of experience that you want your Manager to have before onboarding with your coffee shop. Customize the salary further by choosing what degree you wish for your Manager to have before you hire him or her in your coffee shop.
What Education Should a Coffee Shop Manager Hold?
To be a manager, it takes leadership skills and managerial skills that may not always need a degree. When hiring your Coffee Shop Manager, be open to a variety of candidates with different degrees such as high school diploma, GED, Associate's degree, or Bachelor's degree.
If a candidate has a high school diploma, but he or she has been a Barista or Shift Lead at another coffee shop for the last 3-5 years, consider giving him or her a chance at moving up in the industry and becoming a Manager at your coffee shop.
If a candidate has an Associate's degree in Business Management or another related business field and maybe managerial experience in a different industry, you can:
Ask him or her in the interview how they would use their prior managerial experience to run your coffee shop.
Inquire about how their personal managerial experience is much like the managerial experience that he or she may have if hired at your coffee shop.
Give the candidate scenarios on how they would handle different managerial situations that could happen at your coffee shop.
Of course, the more education that a candidate holds means you should give them a little more salary-wise to compensate for their increased education background.
How Many Years of Experience Should a Coffee Shop Manager Hold?
A reputable Coffee Shop Manager would hold 1-3 years of experience in a coffee shop or have that same number of years in managerial experience in a different field.
You would want to be sure that whomever you hire to be your Coffee Shop Manager has these qualities no matter the number of years of experience he or she holds:
Leadership qualities are befitting of a manager.
Responsible.
Thorough.
Precise.
Thoughtful.
Professional.
Polite.
Careful.
Kind and considerate.
Can easily multi-task and solve multiple problems at once in the coffee shop.
Be able to follow up with Baristas and Shift Leads to verify that:
All supplies are well stocked to make coffee drinks and pastries.
There aren't any customer disputes.
All tasks are completed at the open and close of the day.
Can properly conduct interviews of new Baristas when the Owner is not present.
Interact with workers and customers in a professional and courteous manner to communicate expectations (workers) and problem-solving during a dispute (customers).
Check out more salary insights HERE.
Which Salary Calculator Should I Use?
When finalizing your decision on what salary to give your Coffee Shop Manager, consider using a salary calculator.
You can go to calculator.net and use their salary calculator. There, you can type in your desired salary per hour or per year by choosing from the provided prompts. Choose how many vacation days you will give your Coffee Shop Manager per year, how many days per week the Manager will work, and how many days off there will be for holidays.
Once you input this information and submit it, you will get an adjusted hourly wage and yearly income in which you can inform your Manager that he or she will be receiving based on those provided statistics.
For example, if you go by the national average of $30,155 salary per year with five holidays off, ten vacation days per year, and working five days per week on a 40-hour schedule, the Manager will receive:
$14.51 per hour.
$115.98 per day.
$580 per week.
$30,155 per year.
Of course, these are the net payments in which your Manager will receive before state and federal taxes are deducted from the paycheck.
You can have your Manager visit the take-home paycheck calculator to find out a closer estimate of their weekly or bi-weekly take-home pay. This will depend on local and federal taxes taken out on paychecks in your state.
How Should I Go About Hiring a Coffee Shop Manager?
Hire your Coffee Shop Manager by:
They are posting ads in newspaper classifieds and local online classifieds for people to come in and fill out paper applications.
Placing an ad on a job recruiter website such as SnagAJob, Craigslist, or Indeed to get a higher number of online candidates quickly.
Once you have enough candidates to apply, have you and your team narrow it down to 5-10 candidates to interview them.
Conduct the interviews within the time slots you have available during a workweek.
Conference with your team once all interviews have been conducted and come to a final decision on the candidate that will be chosen.
Contact the chosen candidate to offer the job. If he or she accepts the job, then training can begin.
If he or she declines the job offer for whatever reason, you can then contact the next best candidate on your list to offer him or her the job and so on.
Frequently Asked Questions
What if, down the line, my Coffee Shop Manager comes and asks me for a raise?
If your Coffee Shop Manager comes and asks for a raise, you can conduct an evaluation of their performance in their managerial position. Be sure to analyze the sales and expenses before deciding the raise in which you will provide so that you do not hurt your business by giving too high of a raise. If you cannot provide a raise at the time which your Manager desires, let him or her know that you can both discuss it and give a specific date on when.
Since I will be hiring employees, what do I have to do to be within federal tax mandates?
Since you will be hiring employees, you must apply for an Employer Identification Number (EIN) on irs.gov so that your Managers and Baristas can fill out their taxes properly.
To learn more on how to start your own coffee shop checkout my startup documents here
Please note: This blog post is for educational purposes only and does not constitute legal advice. Please consult a legal expert to address your specific needs.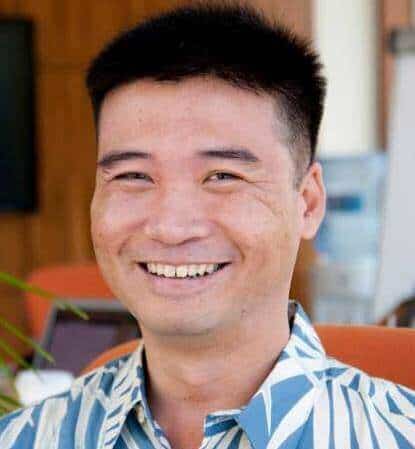 Hi! I'm Shawn Chun
My adventure in coffee began when I first launched my first coffee shop back in the early 2000s. I had to figure out so many things on my own and to make it worse within 2 years of opening two large corporate coffee chains moved in just blocks away from me!
As I saw smaller and even some larger coffee shops in the neighborhood slowly lose customers to these giant coffee chains and slowly close up shop, I knew that I had to start getting creative…or go out of business.
I (like you may be) knew the coffee industry well. I could make the best latte art around and the foam on my caps was the fluffiest you have ever seen. I even had the best state-of-the-art 2 group digital Nuova Simonelli machine money could buy. But I knew that these things alone would not be enough to lure customers away from the name brand established coffee shops.
Eventually, through lots of trial and error as well as perseverance and creativity I did find a way to not only survive but also thrive in the coffee/espresso industry even while those corporate coffee chains stayed put. During those years I learned to adapt and always faced new challenges. It was not always easy, however, in the end, I was the sole survivor independent coffee shop within a 10-mile radius of my location. Just two corporate coffee chains and I were left after that year. All told the corporate coffee chains took down over 15 small independent coffee shops and kiosks and I was the last one standing and thriving.
Along the years I meet others with the same passion for coffee and I quickly learned that it is not only "how good a barista is" that makes a coffee shop successful, but the business side of coffee as well.
Hence why I started this website you are on now. To provide the tools and resources for up and coming coffee shop owners to gain that vital insight and knowledge on how to start a coffee shop successfully.
Stick around, browse through my helpful blog and resources and enjoy your stay! With lots of LATTE LOVE!
Shawn