There was once a time where 50-cent coffee from Dunkin Donuts was the highlight of anyone's morning. Then Starbucks rolled in and people balked at the $3 price before giving in and shelling out money for what they considered a luxury, premium cup of coffee. Nowadays, that penchant for luxury coffee lives on, though not through big brands anymore. More and more people are driven towards indie coffee companies that take care to craft perfect cups of coffee, and it all starts with the manager in the back room.
A coffee shop manager can be paid anywhere from $62,000 to $87,000 a year according to minimum wage laws in their area as well as their level of responsibility. Here are the five things that can affect the starting salary of a coffee shop manager:
Location
Experience
Responsibility
Company size
Happiness
America's popularity of craft indie coffee has seen a rise in small business coffee companies that take pride in their quality beans and peak brew. Those coffee shops are part of our morning routine, the thing that gets us out of bed and keeps us productive at work. We're grateful for their efficiency and their hard work. So when you start a coffee shop, you might be wondering what role your employees will expect a manager to play, and how much to budget for such an important position.
Location
Did you know the average coffee shop manager in America in 2020 makes $71,590? That might be pennies for you if you live in a large coastal city like New York City or San Francisco. That might be a suspiciously good living if you're working in a small, rural coffee shop.
That's why it's important to understand the geography around you. Understanding your location is a good benchmark when you're trying to figure out what a proper salary will look like. Not only can you take into account cost-of-living wages and minimum wage, you can also see how many coffee shops that fit a similar niche as you exist in the same space. The more there are, the less value your specific coffee shop holds.
Online companies like ZipRecruiter, Glassdoor and Salary.com harbor large databases of geographic, monetary and business information they pull from to help users understand the salary range of people in their industry at any given location.
According to Glassdoor, the average base pay for a coffee shop manager in San Francisco is just over $35,000. In Macon, Georgia (where the perfect cup of coffee is hiding –– I spent a week there and have missed it since) the average salary for a coffee shop manager is $27,000.
Math time: If San Francisco's minimum wage is around $15.60 an hour (as of May 2020; it rises every year or so), anybody you employ would have to work some odd 2,244 hours a year to make $35,000. If you divide that number of hours by the number of weeks in a year, 52, a coffee shop manager will have to work roughly 43 to 44 hours a week, assuming they are there every week.
That's a pretty basic comparison to help you see how much more money a coffee shop manager will need to make just to be legal in whatever city or county it's coffee shop is operating in. But there are plenty of other factors that can raise that salary level.
Experience
Your coffee shop needs to be a well-oiled machine in order to cope with the flood of orders that come in during rush hour, all while mitigating the potential chaos of lack of pastries or a broken machine. And if you have never worked at a coffee shop before, it might be hard for you to predict ahead of time some of the bumps in the road.
Enter an experienced coffee shop manager. A coffee shop manager who has worked at the front of a coffee shop and who also has experience at the back of the house, managing spreadsheets about inventory and profit, can help the company foresee any issues ahead as the coffee shop continues to grow, or even find inventive ways to help you cut costs.
Most coffee shop managers are expected to work at the front of the house for some part of the day –– usually the morning shift. That means they have to already have a working knowledge of the espresso machine and how to make the coffees on the menu. And if a situation arises where none of the employees can work a certain shift block, it will be up to your manager to take on that task.
Responsibility
You will have to determine how much responsibility the manager will take on. Will they be able to pick up a couple shifts at the front of the house, making coffee and warming pastries? Can they spend their time cleaning up at the end of the day?
Most managers will at least be responsible for keeping track of and scheduling shifts of their employees. This itself can be a hard task, as most employees will be available on a part-time basis and might require some deserved flexibility in their schedules.
A manager may also have to keep track of inventory and order new supplies as they run out, as well as hire, onboard and train new staff. It's important to staff your coffee shop during training days in case a new hire takes a little extra time to understand the process, and it's equally important to have a manager that is a people's person who can train them patiently.
Lastly, and most importantly, a manager should be looking to the future at all times, and finding ways to improve or enhance the coffee shop experience for their employees and their customers. This might mean collaborating with the coffee shop owner to brainstorm new ideas, like adding seasonal coffee drinks or experimenting with a new food menu.
Think about what you are capable of taking on and what tasks you think is worth hiring a coffee shop manager for. This will help you set the value of a coffee shop manager within the company and determine what the pay for that position should be.
Company size
If a coffee shop manager will be scheduling shifts for multiple different employees, or if they are onboarding really talented baristas, it shows they are taking time to find the right talent and accommodate them every day. If your manager is also in charge of hiring and firing employees, keeping track of payroll, or screening potential hires, the size of the company will greatly impact how many duties they have per hour, and they should be compensated as such.
As a company grows, so too do the needs of the employees and their subsequent conflicts. A good manager will do their best to keep everyone happy while preserving the bottom line of the company.
It is not unusual for a coffee shop manager to ask for raises as the number of employees they manage grows. Be prepared to talk to your manager about how they are dealing with the growing pains of a company that's expanding.
Happiness
If you are serious about running a thriving business in the coffee industry, it's important to invest in the best talent you can afford and listen to the needs of your employees.
If you have found the perfect candidate for your coffee shop manager, you want to make sure that person isn't going to be bought out by a different coffee company. That means coming up with a salary valuation that is both competitive and fair to you and your potential hire.
Talk to your candidate about what they think a fair compensation is, and compare it to the market rate and what your budget is.
The happiness of your employees should not be overlooked –– they, ultimately, are the lifeblood of your coffee shop. They see the customers everyday, they deal with complaints and offer great customer service (hopefully) and they represent your company every day. Compensating them satisfactorily will go a long way in ensuring the success of your company.
Think you would be happier as a coffee shop owner? Check out this article!
Frequently Asked Questions
What is the difference between an owner and a manager?
That is entirely up to you. You may focus on big picture concepts like growth and establishing new storefronts, and you might ask your manager to handle the odds and ends of business day by day. As coffee shops grow and add locations to their roster, they hire managers who are their point person of contact for their specific store. You might ask your manager to take on more barista duties than back-of-the-house duties. Whatever it may be, make it clear to your applicants what you expect out of them.
How should I pay a manager if I can fill some of the managerial duties, but not all of them?
Pinpoint what skill sets you are missing that are critical to running a coffee shop and hire for those needs specifically. A lot of coffee shop owners prefer to manage inventory and profit, but hire shift supervisors who can work at the front of the house and manage day-to-day dealings at the coffee shop. You can look at the market rate in your area for other coffee shop job duties like "shift manager".
To learn more on how to start your own coffee shop checkout my startup documents here
Please note: This blog post is for educational purposes only and does not constitute legal advice. Please consult a legal expert to address your specific needs.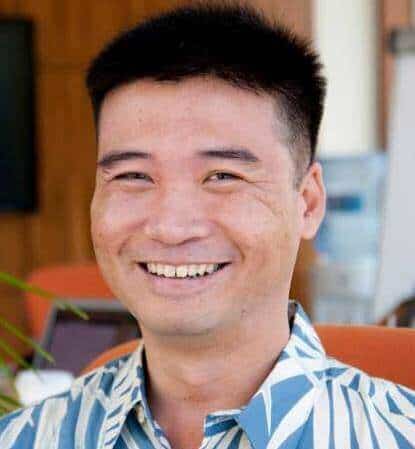 Hi! I'm Shawn Chun
My adventure in coffee began when I first launched my first coffee shop back in the early 2000s. I had to figure out so many things on my own and to make it worse within 2 years of opening two large corporate coffee chains moved in just blocks away from me!
As I saw smaller and even some larger coffee shops in the neighborhood slowly lose customers to these giant coffee chains and slowly close up shop, I knew that I had to start getting creative…or go out of business.
I (like you may be) knew the coffee industry well. I could make the best latte art around and the foam on my caps was the fluffiest you have ever seen. I even had the best state-of-the-art 2 group digital Nuova Simonelli machine money could buy. But I knew that these things alone would not be enough to lure customers away from the name brand established coffee shops.
Eventually, through lots of trial and error as well as perseverance and creativity I did find a way to not only survive but also thrive in the coffee/espresso industry even while those corporate coffee chains stayed put. During those years I learned to adapt and always faced new challenges. It was not always easy, however, in the end, I was the sole survivor independent coffee shop within a 10-mile radius of my location. Just two corporate coffee chains and I were left after that year. All told the corporate coffee chains took down over 15 small independent coffee shops and kiosks and I was the last one standing and thriving.
Along the years I meet others with the same passion for coffee and I quickly learned that it is not only "how good a barista is" that makes a coffee shop successful, but the business side of coffee as well.
Hence why I started this website you are on now. To provide the tools and resources for up and coming coffee shop owners to gain that vital insight and knowledge on how to start a coffee shop successfully.
Stick around, browse through my helpful blog and resources and enjoy your stay! With lots of LATTE LOVE!
Shawn