Coffee is more than just a beloved beverage; it's a culture, a ritual, and a way of life for many people around the world. If you've ever dreamed of starting your coffee brand, you're not alone. But before you dive headfirst into the world of coffee entrepreneurship, it's crucial to understand the costs involved.
Starting a coffee brand requires careful planning and costs include market research, branding, sourcing quality beans, roasting equipment, production facility setup, packaging, marketing, distribution, staffing, and more. The overall cost may start anywhere from a few dollars to hundreds of thousands.
In this article, I will explore the various factors that contribute to the overall cost of starting a coffee brand, from sourcing high-quality beans to establishing a great business.
Market Research and Planning (Cost: Variable)
Market research begins with studying the coffee industry as a whole. You need to analyze its current state, growth potential, and any emerging trends. This will provide you with a comprehensive overview of the market landscape, allowing you to identify opportunities and potential challenges. Additionally, examining the industry's historical data and projections can help you understand its trajectory and make informed predictions.
Identifying your target market is another crucial aspect of market research. Understanding who your potential customers are, their preferences, and their buying behavior will guide your branding, product development, and marketing strategies. You can gather demographic information, conduct surveys, or even observe consumer behavior in coffee shops to gain insights into their needs and desires.
Evaluating the competitive landscape is equally important. By analyzing existing coffee brands, both local and global, you can identify their strengths, weaknesses, and unique selling points. This analysis will enable you to position your coffee brand effectively, differentiating it from the competition. It's important to assess the pricing strategies, product offerings, marketing tactics, and customer experience of your competitors to find your niche in the market.
The costs associated with market research can vary depending on the scope and depth of analysis required. It's important to consider your budget and allocate funds accordingly. While conducting market research may involve some upfront expenses, it is an investment that can save you from costly mistakes and help you make informed decisions throughout the journey of starting your coffee brand.
Read more about: Cost to Open a Coffee Shop: Unlocking the Costs
Brand Development (Cost: $5,000 – $50,000)
This stage goes beyond just selling a product; it's about establishing a unique identity that resonates with your target audience. Building a brand involves several key elements, including developing a brand identity, designing a logo, crafting attractive packaging, and creating a compelling brand story.
Developing a brand identity is the foundation of your coffee brand. It involves defining your brand's personality, values, and mission. This step helps you differentiate yourself from competitors and connect with your target market on a deeper level. Understanding your brand's identity will guide all other branding decisions and strategies moving forward.
Designing a logo is an essential aspect of brand creation. Your logo serves as the visual representation of your brand and should be carefully crafted to reflect your brand's identity and values. Hiring a professional graphic designer or branding agency can ensure that your logo is visually appealing, memorable, and aligned with your overall brand vision. The cost of logo design can vary depending on the expertise and reputation of the designer or agency.
Packaging design is crucial in the coffee industry, as it plays a significant role in catching the consumer's attention. Well-designed packaging can communicate your brand's story and quality, making it a key factor in attracting customers. The cost of packaging design depends on various factors, such as the complexity of the design, materials used, and whether you work with a professional packaging designer or opt for cost-effective alternatives.
Establishing a unique brand story is another important aspect of creating a coffee brand. Your brand story helps consumers connect with your brand emotionally and understand the values and passion behind it. It should communicate the origin of your coffee, the sourcing process, and any other unique aspects that set your brand apart. Crafting a compelling brand story can be done in-house or with the assistance of a copywriter or marketing agency, and the costs can vary accordingly.
Coffee Beans and Roasting Equipment (Cost: $10,000 – $100,000)
When starting a coffee brand, sourcing high-quality coffee beans is undoubtedly one of the most crucial aspects of the business. The cost of coffee beans can vary depending on various factors, including origin, quality, and quantity.
The origin of the coffee beans plays a significant role in determining their cost. Different regions around the world produce coffee beans with distinct flavors and characteristics, and each origin comes with its price range.
For example, specialty coffee beans sourced from renowned coffee-growing regions like Ethiopia, Colombia, or Costa Rica tend to be more expensive due to their unique profiles and higher demand in the market. On the other hand, beans from lesser-known origins may be more affordable but still offer exceptional quality.
The quality of the coffee beans is another factor that influences the cost. Specialty-grade coffee beans, which are meticulously grown, harvested, and processed, often command higher prices due to their exceptional flavor profiles and strict quality control measures.
The quantity of beans required for your coffee brand also affects the overall cost. As the scale of operations increases, the volume of beans needed to meet the demand grows as well. Buying coffee beans in larger quantities can often result in cost savings, as bulk purchasing may come with discounted prices. However, it's important to strike a balance between quantity and freshness, ensuring that you don't overstock and compromise the quality of your beans.
In addition to sourcing coffee beans, investing in suitable roasting equipment is necessary for producing consistent and high-quality coffee. Commercial roasters and grinders are designed to handle larger volumes and provide precise control over the roasting process.
The cost of roasting equipment can vary significantly based on factors such as capacity, level of automation, and additional features. Small-scale roasters are suitable for micro-roasteries or coffee shops and may have a lower price range, while larger, fully automated roasting systems for larger production volumes can be more expensive.
Production Facility Setup (Cost: $5,000 – $50,000)
The first consideration is finding the appropriate space for your production facility. This could involve leasing a commercial space or even purchasing a property, depending on your long-term plans and financial resources. The cost of acquiring the space will depend on factors such as location, size, and market demand. It's essential to assess the space requirements for your equipment, storage, and future expansion needs when selecting a suitable facility.
Once you have secured the space, obtaining the necessary permits and licenses is crucial to ensure compliance with local regulations. The cost of permits can vary depending on the region and the specific requirements for operating a coffee production facility. It's important to research and understand the regulatory landscape to budget for these expenses accordingly.
Renovations and modifications to the facility may be required to meet the specific needs of a coffee production operation. This could involve building a dedicated roasting area, installing ventilation systems to handle smoke and odors, creating storage spaces for green and roasted coffee beans, and setting up quality control areas. The cost of renovations will depend on the extent of modifications needed and any specialized equipment or infrastructure required.
Installing the necessary infrastructure is another aspect to consider. This includes setting up water supply lines, plumbing, electrical systems, and potentially gas lines for coffee roasters. Costs for infrastructure installation will depend on the existing conditions of the facility and the complexity of the required systems. It's important to engage professionals, such as contractors and electricians, to ensure the infrastructure is installed safely and meets industry standards.
In addition to the initial setup costs, ongoing expenses such as utilities, maintenance, and insurance should also be considered. These costs will vary based on the size of the facility, the equipment being used, and the local market rates for services.
It's important to approach the establishment of a production facility with careful planning and budgeting. Conduct thorough research to understand the local regulations, seek professional guidance when necessary, and account for all the associated costs in your financial projections. By doing so, you can ensure that your production facility is well-equipped, compliant, and capable of meeting the demands of your coffee brand.
Read more about: Cost to Open a Coffee Shop: Price Points and Pounds of Coffee
Packaging and Labeling (Cost: $2,000 – $20,000)
When it comes to packaging materials, the quality and type of bags you choose can significantly impact the cost. Options range from basic, generic coffee bags to specialty bags with features like one-way valves for freshness preservation. The cost will depend on the size, material, and additional features of the bags. Specialty or customized bags tend to be more expensive but can add a unique touch to your brand presentation.
Labels are another important component of coffee packaging. They provide crucial information about your product, such as the brand name, roast profile, origin, and brewing instructions. The cost of labels can vary based on factors like size, design complexity, and the printing method used. Custom-designed labels with high-quality printing techniques may be more expensive, but they can enhance the overall appeal of your packaging and reinforce your brand identity.
Seals are often used to ensure the freshness and integrity of the coffee inside the packaging. These can range from simple adhesive stickers to more elaborate heat-sealed or zip-lock closures. The cost of seals will depend on the type, material, and customization options. While basic adhesive stickers may be more cost-effective, investing in higher-quality seals can provide added value and enhance the perceived quality of your product.
It's important to note that packaging requirements go beyond aesthetics. Legal regulations surrounding food labeling should also be considered. Depending on the jurisdiction, you may be required to include specific information on your coffee packaging, such as ingredient lists, nutritional information, allergen warnings, and country of origin. Compliance with these regulations is crucial and may involve additional costs, such as graphic design services to ensure accurate and compliant labels.
Marketing and Promotion (Cost: Variable)
When your coffee brand is prepared to make its debut in the market, it's crucial to implement effective marketing and promotion strategies to generate awareness and attract customers. The costs associated with marketing will vary depending on the chosen strategies, which may include social media advertising, influencer collaborations, print media campaigns, or participation in trade shows. It's essential to allocate your marketing budget wisely, keeping it flexible and adaptable to the ever-changing market conditions.
Social media advertising has emerged as a powerful tool for reaching a wide audience. Platforms such as Facebook, Instagram, and Twitter offer various advertising options, including sponsored posts, targeted ads, and influencer partnerships. The cost of social media advertising can range from affordable to more substantial investments, depending on factors such as the size of your target audience, the duration of your campaign, and the chosen ad format. Allocating a portion of your marketing budget to social media advertising can greatly enhance brand visibility and engage potential customers.
Collaborating with influencers or coffee enthusiasts who have a significant following can also be an effective strategy to promote your brand. Influencers can showcase your coffee products, share their experiences, and provide honest reviews, potentially reaching a broader audience.
The cost of influencer collaborations can vary based on the influencer's reach, engagement rates, and the scope of the partnership. Some influencers may charge a fee, while others may be open to product exchanges or sponsored content, making it important to select the right influencers based on your target audience and budget.
Traditional marketing methods, such as print media campaigns, can still be valuable in reaching specific demographics. Advertising in coffee magazines, local newspapers, or lifestyle publications can help target niche audiences who are passionate about coffee.
The costs of print media advertising will depend on factors such as the publication's circulation, ad size, and placement. It's important to assess the reach and relevance of the publication to ensure you are targeting the right audience and maximizing your return on investment.
Participating in coffee trade shows and industry events provides an excellent opportunity to showcase your brand to industry professionals, coffee enthusiasts, and potential wholesale partners.
Costs associated with trade shows include booth rental fees, exhibition design, promotional materials, and travel expenses. While trade shows can be more expensive, they offer a valuable platform for networking, gaining exposure, and establishing partnerships within the coffee industry.
Distribution and Sales Channels (Cost: Variable)
Establishing distribution channels is a crucial step in effectively reaching your target audience with your coffee brand. You have several options for distribution, including selling directly to consumers through your coffee shops or online platforms, as well as partnering with local cafes, restaurants, or retailers.
The costs associated with distribution and sales channels will depend on various factors, including rent, transportation, e-commerce platforms, and any necessary partnerships or agreements.
Selling directly to consumers through your coffee shops provides you with greater control over the customer experience and brand presentation. However, it also comes with costs such as rent, utilities, staff wages, and inventory management.
The expenses will vary depending on the location and size of the coffee shop, as well as the level of amenities and equipment you choose to incorporate. It's important to carefully consider the rent and operational costs associated with owning and operating a coffee shop and to conduct a thorough financial analysis before committing to this distribution channel.
Another option is selling your coffee brand through online platforms. This allows you to reach a wider audience and eliminates the need for a physical storefront. Costs associated with the online distribution include e-commerce platform fees, website development and maintenance, shipping and packaging materials, and marketing to drive traffic to your online store. It's essential to select a reliable e-commerce platform that aligns with your budget and offers the necessary features for a seamless online shopping experience.
Partnering with local cafes, restaurants, or retailers can also be an effective distribution strategy. This allows you to leverage existing customer traffic and tap into established customer bases.
The costs associated with this approach include establishing relationships with potential partners, negotiating agreements or contracts, and potentially providing marketing materials or incentives to encourage sales. It's important to carefully evaluate potential partners based on their alignment with your brand values, target audience, and distribution capabilities.
In addition to the direct costs of distribution channels, it's crucial to consider the indirect costs associated with inventory management, logistics, and order fulfillment. These costs can include transportation, warehousing, and inventory tracking systems. Depending on the scale of your operations and the volume of sales, outsourcing these functions to third-party logistics providers may be a cost-effective solution.
Read more about:
Staffing and Training (Cost: Variable)
Running a great coffee brand necessitates assembling a team of skilled individuals who share a passion for coffee and excel in providing exceptional customer service. Staffing costs form a significant part of the overall expenses and encompass salaries, training programs, benefits, and potentially hiring specialized roles such as roasters or baristas.
The extent of staffing costs depends on the scale of your operation and the level of expertise required to maintain the quality and consistency of your coffee products.
Salaries constitute a significant portion of staffing costs. The amount you allocate for salaries will depend on factors such as the number of employees, their roles and responsibilities, and the prevailing wage rates in your region. Skilled positions such as head roasters or experienced baristas may command higher salaries due to their expertise and contribution to the coffee brand's growth.
Training is a crucial aspect of developing a competent team that can uphold your brand's standards. Costs associated with training encompass both initial onboarding programs and ongoing skill development initiatives. Investing in comprehensive training ensures that your staff is equipped with the necessary knowledge and skills to deliver an exceptional customer experience, consistently prepare high-quality coffee, and maintain hygiene and safety standards.
Benefits, such as health insurance, retirement plans, and paid time off, are an integral part of attracting and retaining talented individuals. Providing competitive benefits can contribute to employee satisfaction and loyalty. The costs associated with benefits will depend on the specific offerings and the number of employees eligible for such benefits.
In certain cases, specialized roles like roasters or baristas with advanced skills may be necessary for maintaining the quality and uniqueness of your coffee brand. Hiring individuals with expertise in these areas can enhance the overall coffee experience for your customers. The costs associated with hiring specialized roles will depend on factors such as market demand, the level of expertise required, and industry standards.
Summary
Starting a coffee brand is an exciting venture, but it requires careful planning and financial investment. While the costs mentioned above provide a rough estimate, it's important to note that every coffee brand is unique, and costs can vary significantly depending on individual circumstances.
Remember to conduct thorough research, seek professional advice when needed, and continuously adapt your business strategy to navigate the dynamic coffee market effectively. With dedication, passion, and a well-executed plan, you can turn your coffee dream into a thriving brand that delights coffee enthusiasts around the world.
Frequently Asked Questions
Q: Do I need prior experience in the coffee industry to start a coffee brand?
A: While prior experience in the coffee industry can be beneficial, it is not a requirement. 
Q: How can I source high-quality coffee beans for my brand?
A: Sourcing high-quality coffee beans involves building relationships with coffee growers, cooperatives, or specialty coffee importers.
Q: What are some effective marketing strategies for promoting a coffee brand?
A: Effective marketing strategies for promoting a coffee brand can include social media advertising, influencer collaborations, engaging content creation, participation in trade shows, local events, and partnerships with cafes or retailers.
To learn more on how to start your own coffee shop, check out my startup documents here.
Disclaimer: The information provided by StartMyCoffeeShop.com ("The Site") is for general informational purposes only. All information on the Site is provided in good faith. However, we make no representation or warranty of any kind, express or implied, regarding the accuracy, adequacy, validity, reliability, availability, or completeness of any information on the Site. Under no circumstance shall we have any liability to you for any loss or damage of any kind incurred as a result of the use of the Site or Reliance on any information provided on the Site. Your use of the Site and reliance on any information on the Site is solely at your own risk. This blog post is for educational purposes only and does not constitute legal advice. Please consult a legal expert to address your specific needs. Terms and Conditions. (https://startmycoffeeshop.com/terms-and-conditions/)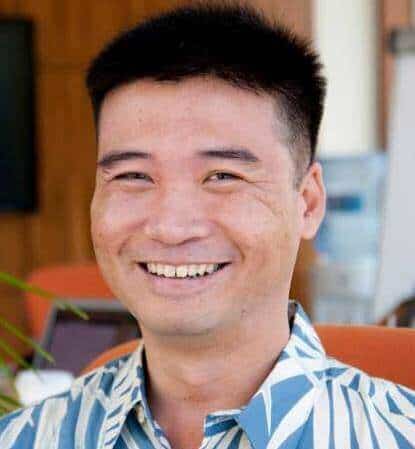 Hi! I'm Shawn Chun
My adventure in coffee began when I first launched my first coffee shop back in the early 2000s. I had to figure out so many things on my own and to make it worse within 2 years of opening two large corporate coffee chains moved in just blocks away from me!
As I saw smaller and even some larger coffee shops in the neighborhood slowly lose customers to these giant coffee chains and slowly close up shop, I knew that I had to start getting creative…or go out of business.
I (like you may be) knew the coffee industry well. I could make the best latte art around and the foam on my caps was the fluffiest you have ever seen. I even had the best state-of-the-art 2 group digital Nuova Simonelli machine money could buy. But I knew that these things alone would not be enough to lure customers away from the name brand established coffee shops.
Eventually, through lots of trial and error as well as perseverance and creativity I did find a way to not only survive but also thrive in the coffee/espresso industry even while those corporate coffee chains stayed put. During those years I learned to adapt and always faced new challenges. It was not always easy, however, in the end, I was the sole survivor independent coffee shop within a 10-mile radius of my location. Just two corporate coffee chains and I were left after that year. All told the corporate coffee chains took down over 15 small independent coffee shops and kiosks and I was the last one standing and thriving.
Along the years I meet others with the same passion for coffee and I quickly learned that it is not only "how good a barista is" that makes a coffee shop successful, but the business side of coffee as well.
Hence why I started this website you are on now. To provide the tools and resources for up and coming coffee shop owners to gain that vital insight and knowledge on how to start a coffee shop successfully.
Stick around, browse through my helpful blog and resources and enjoy your stay! With lots of LATTE LOVE!
Shawn