There is much profit to be made in a coffee shop, so it's no question that so many are searching to make it big with their independent coffee shop. But there are details that you must narrow down, including how much inventory your coffee shop should have. When it comes down to it, it means crunching some numbers. 
While it varies, a small independent coffee shop can expect to sell about 250 cups of coffee per day, meaning your coffee shop needs enough inventory to serve 1,500 cups per week. Because it is not all drip coffee, your coffee shop will need coffee beans, espresso, cups, sleeves, lids, napkins, flavorings, milk and dairy substitutes, tea, and hot chocolate to cater to all your different customers. 
Determining your inventory all comes down to customer preference, but there are also ways to include it in your budget. Read on to find out more about how you can budget for that inventory and how you can better prepare for your shop's needs. 
Terminology You Should Know
If you're just starting out with your coffee shop or have never considering creating a business before, there are terms that you should know before you proceed. They may seem complicated, but once you know their meaning, it's easy to determine your potential budget.
The average ticket price is when you take all your receipts from a particular time period (a day, week, month, year, etc.) add them up, and divide it by the total number of transactions. This number is the average amount of money spent per customer at your shop, and can help you determine just how much people expect to pay when they come into your shop. 
Your gross revenue is the total of costs of goods sold. Essentially, it is the profit you make without subtracting your expenses—the total amount of money you make in a certain time period. 
Your receipt totals are just how much each customer pays on a single receipt. 
10 Useful Tips For Promoting Your Cafe
Determining Your Budget
Before you start considering how much inventory you should have at your coffee shop, you first need to determine how much you can spend. While creating your budget is something that should be done during the business plan creation process, there are certain things you can start considering when putting together your inventory. 
Your inventory doesn't just mean your beans and your syrups. Inventory also includes cups, lids, sleeves, and all the ways your customers can customize your items. In most cases, your consumable supplies—coffee beans, milk, dairy substitutes, napkins, paper cups, lids, straws, and more—should be no more than 35 percent of your budget. 
Note that your building costs, equipment costs, marketing, and payroll aren't included in this budget yet. All this information should also be considered when putting together your budget, and can also impact your inventory. Consider doing it all at once to better maximize your time and your planning process. 
For a better breakdown for your budget, you should be considering the following:
Rent and Building costs: 15 percent of your projected sales
Equipment costs: these vary by how much you want to spend, but can be high on the initial investment end. 
Marketing costs: five percent of your projected sales
Payroll and Legal fees: 35 percent of your projected sales
Continued investment: ten percent of your projected sales
Coffee Shop Employee Dress Guide: How Should Your Coffee Shop Employees Dress?
What's in your inventory?
Breaking it down, here are the list of items you'll need to create the most basic of coffee drinks:
Coffee beans
Espresso beans
Cups, sleeves, and lids
Syrups
Milk and dairy substitutes
Ice
Tea and hot chocolate
What's vital and hasn't been included? Water. Because this is a utility, this is actually included in the cost of your rent or building. 
But how can you determine how much inventory you need? It all comes down to popularity and checking those customer receipts. If you're looking at the average sales of about 250 cups sold per day, you need to break down exactly what is being sold. Are they purchasing iced coffee drinks, which use a different cup than the hot coffee drinks? What number of people are getting dairy substitutes rather than milk? Are your espresso drinks more popular than your drip coffee? Determining your actual inventory needs comes from you and what your business is known for, so make sure you collect that data to the best of your ability and involve your employees in collecting that information. 
Not sure where to start? Stocking up isn't a bad idea—as long as you don't stock up too much. Overstocking is how you lose profit and good product, so maximizing taking that inventory is one of the best ways to make sure you don't over or understock your coffee shop.
The Good and The Bad of Using a Cleaning Service for Your Coffee Shop
How to Maximize Profit Through Streamlining Inventory
There is a way to make sure your inventory is all being used in a timely manner, effectively saving you money. Taking stock doesn't have to be complicated, and there are even ways to make it that much easier for you in the long run.
Create a stocking system or use a computerized system. While a high tech system may be out of budget, you can still create a stocking system that works for you and your employees. Make sure that you train your employees in the proper way of stocking that you established, and make sure all purchase orders and sales data are recorded to help speed up the inventory and purchasing process.
Stay consistent. Whatever system you choose, make sure that you're sticking to consistency and train your employees in the proper way of doing things. 
Optimize your layout. Creating a simple and easy restocking system can be something as simple as reorganizing your stock room. See what works best for your employees before you do this. 
Take notes. Doing your inventory regularly and taking down good information can help you understand what is selling and what isn't. Not only is good inventory helpful for you to know exactly when to purchase more supplies—it can also help you to determine what menu items can be cut and which ones you should publicize more. 
Review your menu. While most coffee shops and menus review their menu annually, make sure this coincides with a review of your inventory. Like mentioned above, your inventory can show you what is selling and what isn't. Making sure you continually review your menu means you're providing the best and most popular products to your customers—all while streamlining your inventory.
When it comes down to determining your inventory, it all depends on your shop. While you can spend 35 percent of your budget on your inventory, make sure you have enough to sell about 250 cups of coffee per day. If you find yourself needing something that isn't on this inventory list, feel free to branch out—as an independent coffee shop owner, you have the ultimate power to make the decisions in your business. Inventory isn't just about saving money or being streamlined, it's about providing the very best products to your customers. Find out what they like, find out what they want, and provide it. Your profit will come as your customers find happiness in your business—and they'll just keep coming back. 
How To Best Name Your Coffee Shop With 10 Examples
Frequently Asked Questions
How much can a coffee shop make in a year?
Working as a standalone, independent coffee shop, expected annual gross revenue is about $500,000. This number depends on the average receipt being $7, and serving about 250 customers per day for six days a week, every week of the year. Expenses, though, mean that you're technically only making about $10,000 in profit for the first four years. When you pay off the initial investment, though, you should be making about twelve percent profit margin, or $60,000 annually. 
What factors decide on how much money I can make with my coffee shop?
There are many outside factors that you cannot control within your coffee shop, and some that you can. Firstly, your business location can change how much profit you make. If you are close to another popular coffee shop chain, you may not make as much profit. If you decide to create something small, like a food truck, you may not experience as much traffic as if you owned a franchise or an independent coffee shop. Your menu prices and choice can also affect your bottom line. 
What is the average markup on a coffee drink?
In most cases, businesses are charging $4 for a drink that costs $1 to make. While this number may seem high, it's actually the industry standard, and continues to increase based on the cost of supplies. 
Where can I find the money to start my own coffee shop?
If you're looking to start your own coffee shop, there are ways to get the proper investments, including bank or credit union loans, personal funds, loans from friends and family, or searching for potential investors. Collaborating with a legal advisor is best when deciding which route to take, as each one has considerable risk. 
To learn more on how to start your own coffee shop checkout my startup documents here
Please note: This blog post is for educational purposes only and does not constitute legal advice. Please consult a legal expert to address your specific needs.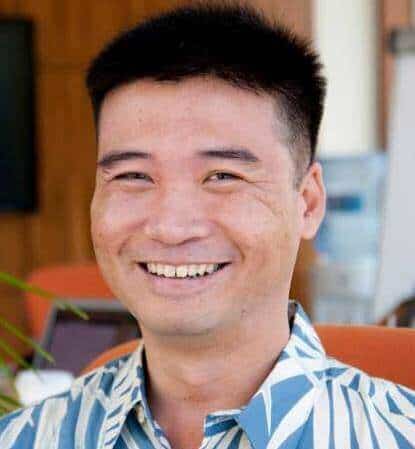 Hi! I'm Shawn Chun
My adventure in coffee began when I first launched my first coffee shop back in the early 2000s. I had to figure out so many things on my own and to make it worse within 2 years of opening two large corporate coffee chains moved in just blocks away from me!
As I saw smaller and even some larger coffee shops in the neighborhood slowly lose customers to these giant coffee chains and slowly close up shop, I knew that I had to start getting creative…or go out of business.
I (like you may be) knew the coffee industry well. I could make the best latte art around and the foam on my caps was the fluffiest you have ever seen. I even had the best state-of-the-art 2 group digital Nuova Simonelli machine money could buy. But I knew that these things alone would not be enough to lure customers away from the name brand established coffee shops.
Eventually, through lots of trial and error as well as perseverance and creativity I did find a way to not only survive but also thrive in the coffee/espresso industry even while those corporate coffee chains stayed put. During those years I learned to adapt and always faced new challenges. It was not always easy, however, in the end, I was the sole survivor independent coffee shop within a 10-mile radius of my location. Just two corporate coffee chains and I were left after that year. All told the corporate coffee chains took down over 15 small independent coffee shops and kiosks and I was the last one standing and thriving.
Along the years I meet others with the same passion for coffee and I quickly learned that it is not only "how good a barista is" that makes a coffee shop successful, but the business side of coffee as well.
Hence why I started this website you are on now. To provide the tools and resources for up and coming coffee shop owners to gain that vital insight and knowledge on how to start a coffee shop successfully.
Stick around, browse through my helpful blog and resources and enjoy your stay! With lots of LATTE LOVE!
Shawn