Owning your own coffee shop can be rewarding in and of itself—it's not just about the coffee, but about the community, what you can bring to it, and the focus on the individual customer. But there can be times when you find that you need to change up your coffee shop menu, and while you don't want to do it every week, there is a time frame in which you should focus. 
Changing your coffee shop menu should occur between once and four times a year, depending on your reasoning for making the change. If it is due to food costs or items not selling, consider making that change quarterly. If you simply want to update your menu, you can do it annually. 
Changing your menu is entirely up to you, as the business owner, but certain things can dictate when you make that change. Read on to find out more about when you should change it, why, and what should not factor into when you change. 
When should I change my menu?
This is a question you'll find yourself asking, but in reality, it's entirely up to you as the business owner. Many coffee shops and restaurants will follow that "annually" rule, but if you find yourself wanting to do it quarterly to go with the seasons, that's widely accepted, too. If you start to do it quarterly and find it's just too much work, consider doing it twice a year. Regardless of when you change your menu, it should be your decision. 
Sometimes, making that decision to change your menu is dependent on the reasons why you want to change your menu. If you find yourself facing the issues below, you may be looking at a making a menu change in the near future. 
The Good and The Bad of Using a Cleaning Service for Your Coffee Shop
Why should I change my menu?
There are many reasons why you should change your menu, and while not all of them are good or easy to navigate, they are still necessary. Even if you feel forced to change your menu, there are ways to go about it that can bring in your customers. Your bottom line is the most important, along with pleasing your customers, and sometimes it's impossible to do both—try to split the difference when you're considering your coffee shop menu.
Food costs increase and fluctuate. 
Even with a coffee shop, you'll find that cost of food items will fluctuate. Whether it's your coffee beans or your milk products, you never know what costs will shift and where you need to make cuts in order to make your budget. One way to make this easier on yourself is by continually researching food costs throughout the year. Many will say check it twice a year, but with how often prices shift, consider doing it quarterly. 
Items aren't selling. 
You'll find that even though you like an item on your menu, customers may not. Don't think you have to keep that item on your menu now. Feel free to shift your menu based on customer perception—is there a particular drink that people are asking for custom made that you don't have on your menu? Consider adding it. It'll make those customers feel seen, and your baristas will have an easier time making it if they know it's on the list.
You need to increase prices. 
While inflation can hit at any time, we are familiar with how increases in costs can affect every part of our lives. One way to mitigate the potential cost increase you need to make is to revamp your menu altogether. It's not to hide the cost increases—in fact, you should make sure you inform your customers of that change rather than simply change it—but it is to help add additional value to your coffee shop as a result. This cost increase can also reflect labor costs—again, if you're increasing worker pay, you may retain and gain even more customers due to your focus on your employees. More customers are apt to continue their purchases if they feel that price increase is reflected in better quality items. 
You want to give your customers something new.
While this is the least pressing of the options, it's definitely the most fun. If you want to give your customers something new and exciting to try, then it's time to change up your menu—and don't be afraid to add those new things! Your regulars will be happy to see the update, and it can potentially bring in new customers in the meantime. 
You are keeping up with the latest food trends.
Especially with coffee shops, it's easy to find out how different items are trending. We all know about the pumpkin spice latte in the fall and the peppermint lattes in the winter—so how can you incorporate those into your menu? If you find yourself wanting to stay on top of the trends, it may be time to shift your menu towards a more seasonal one. 
What items should always be on my coffee shop menu?
Whether you're shifting due to costs or due to the seasons, there are items you should always have on your menu. All coffee shops need to have their type of drip coffee—the type you can make at home, but better. Espresso is necessary to make many of the specialty drinks, so you must have that on your menu. Lattes, iced coffees, and your frappe drinks are all necessary, as that is what many customers would expect at a chain coffee shop, so you should include those in your menu as well. For those who do not drink coffee, consider selling teas, Italian sodas, or hot chocolates. While baked goods aren't necessary for your coffee shop, they can increase your profit margins. 
How To Best Name Your Coffee Shop With 10 Examples
What should not factor into changing my coffee shop menu?
The main factor that should not be considered is emotion and unsolicited opinion. If you're just starting out, many people will give you their opinion on your menu and your business decisions, making you start to second guess yourself. Don't listen to them, even if they are your friends, family, or investors.
The best way to make these decisions? Consider the data. Look at the last few months—typically about six—and consider your sales reports. What are your top menu items, and what items do not sell? After you find that data, talk to a focus group—and not your friends and family!—to get more answers and opinions. You may find that it's not about the creation of the item, but where it's placed on the menu or even how it's written on that menu. With that same group, you can also present new potential items for them to sample. Make sure the majority of them agree before making any major decisions. 
You should also not compare yourself to other coffee shops or restaurants when considering the shift. You are your own business, and you make your own business decisions. One important thing not to do is change it too often. If you find yourself wanting to change your menu too often, consider creating a specials board where you can rotate different menu items in a feature. Otherwise, focus on shifting your menu overall between once and four times a year. Don't confuse your customers, but give them a reason to keep coming back. 
How Much Inventory Your Coffee Shop Should Have
Frequently Asked Questions
How much money can you make in a coffee shop?
The average coffee shop takes in $7 per order and serves about 250 customers per day, six days a week. Within a year, you can make about $500,000 in annual gross revenue. One important thing to remember, though, is that there was a significant investment at the start of your coffee shop—after paying off all those expenses, you can expect to make a profit of about $10,000 annually. Once your equipment is paid off, the average coffee shop makes about $60,000 annually.  
How do I attract new customers to my coffee shop?
Attracting customers to your coffee shop can be easy—update your menu, add takeaway items like donuts or bagels, offer discounts or promotions, and make your shop stand out. Create marketing campaigns that appeal to all generations, and make sure you use physical marketing on top of social media and web marketing. Try to work with a delivery platform to make it even easier to order your products. 
How do I create a physical menu for my coffee shop?
While it depends on your décor and your business model, the easiest way to create a coffee shop menu is to use a board. Use your coffee shop décor and lean into it, making sure your board complements your style. Make sure it is consistent with your branding and it is readable—especially if it is handwritten. Make sure that your customers have all the information they need in order to make an informed decision on what they want to order from your coffee shop like the price, the ingredients, and potential sizes.
To learn more on how to start your own coffee shop checkout my startup documents here
Please note: This blog post is for educational purposes only and does not constitute legal advice. Please consult a legal expert to address your specific needs.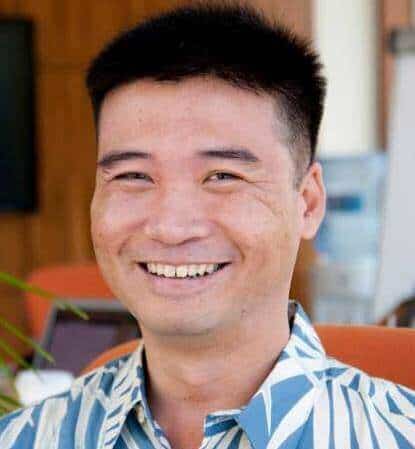 Hi! I'm Shawn Chun
My adventure in coffee began when I first launched my first coffee shop back in the early 2000s. I had to figure out so many things on my own and to make it worse within 2 years of opening two large corporate coffee chains moved in just blocks away from me!
As I saw smaller and even some larger coffee shops in the neighborhood slowly lose customers to these giant coffee chains and slowly close up shop, I knew that I had to start getting creative…or go out of business.
I (like you may be) knew the coffee industry well. I could make the best latte art around and the foam on my caps was the fluffiest you have ever seen. I even had the best state-of-the-art 2 group digital Nuova Simonelli machine money could buy. But I knew that these things alone would not be enough to lure customers away from the name brand established coffee shops.
Eventually, through lots of trial and error as well as perseverance and creativity I did find a way to not only survive but also thrive in the coffee/espresso industry even while those corporate coffee chains stayed put. During those years I learned to adapt and always faced new challenges. It was not always easy, however, in the end, I was the sole survivor independent coffee shop within a 10-mile radius of my location. Just two corporate coffee chains and I were left after that year. All told the corporate coffee chains took down over 15 small independent coffee shops and kiosks and I was the last one standing and thriving.
Along the years I meet others with the same passion for coffee and I quickly learned that it is not only "how good a barista is" that makes a coffee shop successful, but the business side of coffee as well.
Hence why I started this website you are on now. To provide the tools and resources for up and coming coffee shop owners to gain that vital insight and knowledge on how to start a coffee shop successfully.
Stick around, browse through my helpful blog and resources and enjoy your stay! With lots of LATTE LOVE!
Shawn