An old Turkish proverb declares: "Coffee should be dark as hell, strong as death, and sweet as love".  This bold statement perfectly encapsulates the qualities of traditional Turkish coffee: dark, strong, and sweet.  To make and serve Turkish coffee is to take part in a rich and valuable cultural tradition.  
You can best make Turkish coffee by first understanding what Turkish coffee is, the history of Turkish coffee, and the cultural significance of this beverage.  You can make and serve the authentic Turkish coffee by following step-by-step instructions with a simple list of ingredients.  
What is Turkish Coffee?
Turkish coffee is a unique method of coffee preparation, unfiltered and brewed by boiling very finely ground coffee beans over an open flame.  Many people mistakenly assume that Turkish coffee is a special type of coffee bean.  Rather, any type of coffee bean can be used to make Turkish coffee, although Arabica beans are generally considered the best.  
One of the most important parts of the brewing process is grounding the coffee beans very finely.  Traditionally, Turkish coffee is ground using a manual coffee mill.  However, if you have access to a commercial grade electric grinder, you will get the powdered sugar consistency you'll need to make the best Turkish coffee.  Alternatively, you can buy coffee already ground to the proper consistency from many Middle Eastern or Mediterranean grocery stores.  
Turkish coffee has a bold and slightly bittersweet flavor.  The coffee is condensed, similar to espresso, and because it is unfiltered, the coffee grounds in the cup create a thick and slightly gritty texture.  Turkish coffee is very aromatic, with a spicy, nut-like smell.  
The History of Turkish Coffee
The Turkish coffee brewing method goes back hundreds of years, with origins in the mid-16th century.  There are a few stories as to how coffee was introduced, but a widely accepted theory is that an Ottoman governor stationed in Yemen tried coffee and loved it.  
This governor then introduced coffee to Sultan Suleiman the Magnificent, ruler of the Ottoman Empire, in what is now Turkey.  The coffee was a hit with the Sultan and the upper classes, and became an essential part of their lives.  In fact, the Sultan would invite his most trusted advisors to have coffee with him and discuss important matters.
Eventually, Turkish coffee's popularity trickled down to the rest of the population and became commonplace.  Coffee houses, similar to today's coffee shops, opened all over Turkey.  To this day, these coffee houses serve not just as a spot to drink a strong cup of coffee, but as a place for people to gather and chat, to share ideas and discuss social issues.
How To Open A Cafe With A Limited Budget
Turkish Coffee Culture 
In 2013, the United Nations Educational, Scientific, and Cultural Organization recognized the importance of Turkish coffee culture by naming it to their Intangible Cultural Heritage list. 
Today, Turkish coffee still holds as much cultural significance.  Another old coffee proverb says:"A cup of Turkish coffee is remembered for 40 years".  This saying, which was first recorded in the early 1800s, is a nod to the friendships and bonds that are formed by enjoying coffee with another person.  As this proverb demonstrates, Turkish coffee is more than a drink.  In fact, Turkish coffee holds an important place in holidays, ceremonies, and celebrations.  
The ritual of preparing and serving Turkish coffee is a cultural practice that is passed down through generations.  A child growing up in a Turkish household naturally learns how to make and serve Turkish coffee from a very young age.  The ritual of drinking Turkish coffee in a private home is similar to that of a coffee house—importance is placed on the gathering and conversing over a cup of coffee.
Ingredients and Items Needed to Make Turkish Coffee
Yield: 2 Servings
Prep Time: 5 minutes
Cook Time: 10 minutes
Total Time: 15 minutes
The basic ingredients to best make Turkish coffee are:
3 Turkish coffee-sized cups* of cold water (about 1 1/2 cups of water each, so 4 1/2 cups total)
2 heaping tablespoons of very finely ground coffee beans, such as Arabica or Robusto beans
Sugar, as desired
Ground cinnamon or cardamom, as desired
Turkish coffee pot, called a "Cezve"
*Turkish coffee cups are traditionally very small coffee cups, so the measurement is based on the size of the cup you are using.  
Instructions for Making the Best Turkish Coffee
Place the sugar, water, and finely ground coffee in metal Turkish coffee pot, or Cezve 
Stir mixture with a small spoon until just combined, then immediately place pot on the stovetop
Slowly bring coffee mixture to a boil over medium heat. Depending on your stove, this will only take about 3-4 minutes
During this time, watch the coffee carefully. As it warms, you'll see a dark foam begin to form.  Right before the coffee reaches a boil, use a small spoon to transfer some of the foam into two Turkish coffee cups
As soon as the coffee begins to boil, pour half of the coffee into the cups on top of the foam.  Make sure to pour very slowly so the foam rises to the top 
Return the pot to stovetop and boil the remaining coffee for an additional 15 seconds
Remove the pot from the stovetop and pour the coffee into the cups, filling them to the brim
Add desired spices 
Serve alongside water and a sweet treat
How To Use An Expresso Machine For The Best Coffee
How to Serve Turkish coffee
Turkish coffee is often served in the morning, directly after breakfast.  The coffee is served along with a cold or room temperature glass of water.  Sips of water will cleanse the drinker's palate so they can best enjoy the flavor of their coffee.  
Traditionally, the youngest daughter in the household prepares the Turkish coffee for guests.  First, she begins by greeting everyone and asking how they like their coffee prepared—meaning, how much sugar, if any, they desire.  She then makes the coffee and serves the guests, beginning with the eldest person in the room.  Serving the eldest individual in the room first is a sign of respect, and this custom must not be overlooked.  
In addition to providing a glass of water for each coffee drinker, Turkish coffee is usually served with something sweet.  Turkish delight, a traditional Turkish candy, often accompanies the coffee.  If you can't find Turkish delight, chocolate is always a great alternative. 
After you have finished your coffee, don't be surprised if someone in the room offers to tell your fortune!  Because the coffee is unfiltered, coffee grounds remain at the bottom of each cup.  Fortune-telling by reading the patterns made by the leftover coffee grounds is a common practice, one that is also passed down over generations.  
When you've finished your coffee, you turn your cup upside down and let it cool down before someone else "reads" your cup and tells your fortune.  
Turkish Coffee Recipe Variations
While the basic Turkish coffee recipe is water, finely ground coffee, and sugar, you can experiment with different variations.  Trying changing up the water to coffee ratio to achieve a stronger or weaker coffee flavor.  Adjust the sweetness by adding more or less sugar.  
For a hint of spice, add a dash of ground cardamom or cinnamon to the foamy top of the coffee.  Traditionally, milk or cream is not used in Turkish coffee, but feel free to experiment with this option.
Express Exspressos? How Long It Should Take To Serve A Customer Coffee
Frequently Asked Questions
What is the difference between Turkish coffee and regular coffee or espresso?
The main difference between Turkish coffee and regular coffee or espresso is that the coffee beans used for Turkish coffee need to be ground very finely, until they reach the consistency of powdered sugar.  
In addition, Turkish coffee is unfiltered, meaning that the coffee grounds are poured into the cup and settle to the bottom.  This makes the Turkish coffee much more caffeinated, and people often only drink one small cup.  Also, sugar is not added to the coffee at the table, but added during the coffee brewing process.
How can you make Turkish coffee without a Turkish coffee pot?
While a Turkish coffee pot, or Cezve, is an essential item in most Turkish homes, you can make Turkish coffee using any small saucepan or pot.  The Cezve has a unique shape which may help create more foam and concentration than using a regular saucepan or pot.  If you wish to purchase a traditional Cezve, you can find many options online.
How can I make Turkish coffee with different amounts of sugar for different people?
You can make Turkish coffee with different amounts of sugar for multiple drinkers, even without using multiple saucepans or pots.  Simply follow the instructions above, but on  the second pour, fill the cups only for the people who want their coffee unsweetened.  Then, spoon the desired amount of sugar into the pot, bring to a boil again, and pour the second half for the guests who want a sweeter cup of Turkish coffee.
To learn more on how to start your own coffee shop checkout my startup documents here
Please note: This blog post is for educational purposes only and does not constitute legal advice. Please consult a legal expert to address your specific needs.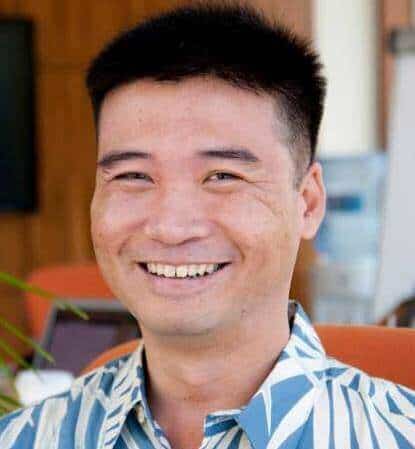 Hi! I'm Shawn Chun
My adventure in coffee began when I first launched my first coffee shop back in the early 2000s. I had to figure out so many things on my own and to make it worse within 2 years of opening two large corporate coffee chains moved in just blocks away from me!
As I saw smaller and even some larger coffee shops in the neighborhood slowly lose customers to these giant coffee chains and slowly close up shop, I knew that I had to start getting creative…or go out of business.
I (like you may be) knew the coffee industry well. I could make the best latte art around and the foam on my caps was the fluffiest you have ever seen. I even had the best state-of-the-art 2 group digital Nuova Simonelli machine money could buy. But I knew that these things alone would not be enough to lure customers away from the name brand established coffee shops.
Eventually, through lots of trial and error as well as perseverance and creativity I did find a way to not only survive but also thrive in the coffee/espresso industry even while those corporate coffee chains stayed put. During those years I learned to adapt and always faced new challenges. It was not always easy, however, in the end, I was the sole survivor independent coffee shop within a 10-mile radius of my location. Just two corporate coffee chains and I were left after that year. All told the corporate coffee chains took down over 15 small independent coffee shops and kiosks and I was the last one standing and thriving.
Along the years I meet others with the same passion for coffee and I quickly learned that it is not only "how good a barista is" that makes a coffee shop successful, but the business side of coffee as well.
Hence why I started this website you are on now. To provide the tools and resources for up and coming coffee shop owners to gain that vital insight and knowledge on how to start a coffee shop successfully.
Stick around, browse through my helpful blog and resources and enjoy your stay! With lots of LATTE LOVE!
Shawn