You've discovered your passion and you're ready to open your coffee shop. And now we are led to the age-old question—what would be a great name for this coffee shop?
A great name for a coffee shop is unique and catchy while also being easy to pronounce, easy to spell, and easy to remember. The name of your business matters as much as the product you offer. And, the name you choose for your coffee shop can be a make-or-break factor in your success.
With that being said, how do you choose a name? Let's talk about some factors that can help with your decision.
Factors to Consider When Choosing a Name for Your Business
Your coffee shop is a reflection of yourself. You need a name that shows your customers what makes your coffee shop a must-try place. And, this name needs to get their attention.
A name should mean something. And, it should be personal. Yet not so personal that no one gets it. Your coffee shop's name needs to be catchy and clever. And it needs to stick in the minds of people who walk by and draw people in. But not so creative that they don't know what your business offers. 
Yikes. Choosing a name sounds overwhelming! Relax and take a deep breath—it's much easier than it sounds.
Where do you begin when brainstorming the name for your coffee shop? Some of these categories may be helpful when you are trying to zero in on a theme.
Your story: What are the reasons you chose to open this coffee shop? Were there particular obstacles or inspirations that impacted this choice?
Yourself: What do you value? What aspects of your upbringing are reflected in your coffee shop? Who is your favorite artist? musician? author?
Feelings: What emotions do you want to bring out in your customers? Do you want them to leave feeling energized after a delicious jolt of caffeine? Do you prefer your coffee shop to be a comfortable place to catch up with friends? Or, do you want to give them a quiet nook for work or study?
Other Nearby Coffee Shops: What are the names of some other coffee shops in the area? How can you make the name you choose one that stands out among your local competitors?
The name you choose is a reflection of your vision for your business. It's the first impression potential customers get to see. And first impressions have a strong, lasting impact on how your shop is perceived.
Once you have narrowed down the message you want to share and chosen the image you wish to portray, it's time to think about the nitty-gritty. Let's talk about the more specific nuts and bolts of planning a name.
How To Start A Non-Profit Coffee House
Why the Length of Your Coffee Shop's Name Matters
Short and simple is best when it comes to a great name. And, as a rule, a good name is three words or less. And, to go even further, fewer than four syllables would be ideal.
But, why does this matter?
You want your name on the tip of everyone's tongue and at the forefront of their mind. A name needs to be catchy and easy to remember. Think about a place you visit that has a long, unusual name. Maybe that name is difficult to pronounce. Do you use that tricky name, or do you have something you call that shop instead?
Nicknames are great. But they don't translate into a Google search. Keep your name short, simple, and user-friendly.
A short name is easy to remember. Easy when someone wants to tell their friends about your delicious beverages. Easy when they need directions to your shop.
So, keep it short and simple. Take advantage of a brief, catchy title to get the attention of consumers and bring them through your doors.
Keep It Short and Simple. But, Be Creative.
Yes. A short name is good. But short doesn't have to mean boring.
A great name will catch someone's interest. Interest will draw new customers in. And, new customers become loyal long-term patrons.
You have so many directions to go with a name, too. Maybe a silly pun, a reference to your cozy atmosphere, the burst of energy your coffee gives, or your signature specialty–choose a name that reflects the unique qualities your shop has to offer.
10 Useful Tips For Promoting Your Cafe
Additional Thoughts to Consider When Finalizing the Name of Your Coffee Shop
As we mentioned earlier, your name needs to make sense to your patrons. Humor is only funny if people understand it. If that little inside joke or the cute way your child pronounced "coffee" don't make their meaning clear, that thirsty customer will walk right past your door.
Additionally, if the spelling or pronunciation is tricky, you could easily get lost in the shuffle.
A name needs to fit with your industry as well. Your coffee may be "strong bodied" and you want that idea reflected in your establishment's name. But, "strong-bodied" won't bring in customers if it results in your shop appearing in an online search for a gym.
A name also needs to stand the test of time. Think about the slang words you used as a child. 
Many of those no longer have the same meaning, if they are even used at all. The hit movie from 1977 means little to today's millennials. A great name connects with your target customer regardless of their age.
Pay attention to the other businesses near your shop, whether they sell coffee, cars, furniture, or tattoos. Names that are too similar only bring confusion. And, that type of confusion is not good for any new business. A great name will separate you from your competition and provide brand recognition that keeps existing customers coming back and beckons new patrons inside your doors.
And, very importantly, you need to be sure this name isn't already trademarked by another company. You can go online to check with the U.S. Patent and Trademark Office. (USPTO) Simply type in the name you are considering to find out if it is already registered.
Coffee Shop Employee Dress Guide: How Should Your Coffee Shop Employees Dress?
And the Winners Are…
Alright already. We've talked about HOW to choose a name. But what are ten great names?
Yes. What qualifies as great is a matter of opinion. And, while you may prefer a creative, catchy name, the owner of a neighboring café might lean toward a more bookish option.
But, personal preferences aside, great names do have some qualities in common. And, certain standards do apply when trying to get consumer attention.
You've waited long enough. According to 99BusinessIdeas ten great names are:
Smooth Brew
Hug a Mug Café
Steaming Cups
Bite and Beans
Brewed Awakenings
Urban Library
Coffee Time
Steaming Mugs
Caffeine Café
Coffee Cove
As you can see, these names are as individualized as the cafe they belong to. But they fit the pattern mentioned above. They present the image of their business in a short, simple manner.
These names, like any great name, embody the style and atmosphere of their particular coffee shop in an eye-catching, memorable way.
There is no one-size-fits-all approach for choosing a name for your coffee house. And, why should there be? Your coffee shop, along with its name, reflects the unique style and flavor that you proudly share with your customers.
The Good and The Bad of Using a Cleaning Service for Your Coffee Shop
Frequently Asked Questions
What are my options if I can't think of a name myself?
You can find a business name generator online. There are several free options available. These name generators provide choices based on keywords and other details you suggest.
If you would like a more personal approach, you can employ the help of a company naming/branding agency. An agency will have a broad range of costs, depending on the services you require. A brand agency can help with your website, logo, and other brand-related issues in addition to finding a name.
What are some unique ideas for logos?
Your logo, like your shop's name, should reflect your unique style. And, with competition so fierce, a unique logo can help you stand out. 
Rather than go with the traditional image of a mug of coffee, try thinking outside the box. Your logo could feature a mascot that represents your company. Or, you may choose an abstract design that incorporates your company name in its art.
You want a logo that makes a statement. But, it's important to keep your design somewhat timeless. Changing a logo and rebranding a business is no small task.
Should I trademark my business name?
Having your name taken by a competitor leads to confusion and possibly even legal troubles. A trademark can help protect your name. But it is a complex process that can take well over a year to complete.
A trademark is a good idea if you plan to expand your business across multiple states, internationally, or if you plan to provide goods online. But, according to Legal Zoom, if you plan to keep it small, with just one or two brick-and-mortar locations, registering the business with your state and creating an L.L.C. may be enough.
To learn more on how to start your own coffee shop checkout my startup documents here
Please note: This blog post is for educational purposes only and does not constitute legal advice. Please consult a legal expert to address your specific needs.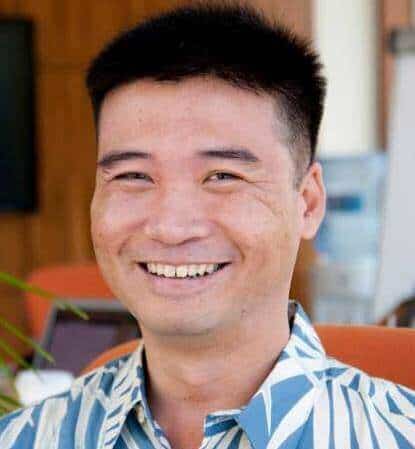 Hi! I'm Shawn Chun
My adventure in coffee began when I first launched my first coffee shop back in the early 2000s. I had to figure out so many things on my own and to make it worse within 2 years of opening two large corporate coffee chains moved in just blocks away from me!
As I saw smaller and even some larger coffee shops in the neighborhood slowly lose customers to these giant coffee chains and slowly close up shop, I knew that I had to start getting creative…or go out of business.
I (like you may be) knew the coffee industry well. I could make the best latte art around and the foam on my caps was the fluffiest you have ever seen. I even had the best state-of-the-art 2 group digital Nuova Simonelli machine money could buy. But I knew that these things alone would not be enough to lure customers away from the name brand established coffee shops.
Eventually, through lots of trial and error as well as perseverance and creativity I did find a way to not only survive but also thrive in the coffee/espresso industry even while those corporate coffee chains stayed put. During those years I learned to adapt and always faced new challenges. It was not always easy, however, in the end, I was the sole survivor independent coffee shop within a 10-mile radius of my location. Just two corporate coffee chains and I were left after that year. All told the corporate coffee chains took down over 15 small independent coffee shops and kiosks and I was the last one standing and thriving.
Along the years I meet others with the same passion for coffee and I quickly learned that it is not only "how good a barista is" that makes a coffee shop successful, but the business side of coffee as well.
Hence why I started this website you are on now. To provide the tools and resources for up and coming coffee shop owners to gain that vital insight and knowledge on how to start a coffee shop successfully.
Stick around, browse through my helpful blog and resources and enjoy your stay! With lots of LATTE LOVE!
Shawn