Coffee shops have become vital parts of their communities. They have become a favorite spot for friends to gather and socialize over a delicious cup of coffee. While there are well over 36,000 coffee shops open in the United States, I'm sure that you and your friends have one specific shop where you like to meet. Have you ever stopped to wonder about the thought process that went into choosing your favorite coffee shop's location?
When choosing the ideal location for their coffee shop, you should look for a location where the shop would be highly visible. The amount of rent you will pay for your coffee shop also plays a key role in choosing its location as well as the condition of the building. The location must also have sufficient space to house all of the equipment and furnishings needed to run a successful coffee shop, with an optimal layout for your Baristas to be productive.
In this article, we are going to examine the five most important factors in picking the perfect location for a coffee shop. These factors include choosing where your shop will be highly visible; the amount of rent you will pay for your space; the condition of the building where you want to set up shop; the amount of space that a building has to house all of your equipment, and the layout of the space which will allow your employees to be efficient and productive.
Is Your Spot Highly Visible?
Established coffee shops have the luxury of their patrons already knowing exactly where they are located. However, if you are starting a new coffee shop, you must ensure that people know where to find
you. Choosing a location that is highly visible to all kinds of traffic is a vital element in making your coffee shop a success. For this reason, I suggest choosing a location that is in a particularly busy section of your city or town.
There is a reason why buildings are located on some of the busiest corners of your specific area. Of course, this is because they are highly visible. However, there is another reason that choosing a great location can be essential to your coffee shop's success. According to the website jll.com, choosing an optimal location also plays a key role in attracting and maintaining employees. One of the most important factors to potential employees when they are deciding where they want to work is the location of the job. Therefore, the perfect location is optimal for both your employees and your customers. In turn, this is also great for you.
How Much Is The Rent?
Your coffee shop's rent or mortgage is one of the highest operating expenses your business will incur. Staying within the amount of your budget allocated for rent is imperative in determining whether your coffee shop will be successful. There is going to be a little give-and-take when deciding on which building suits the needs of your coffee shop because the highest amount of rent is usually found in the busiest areas.
It's no secret that the key to success for many businesses is because of their location. If you want to be in a prime location, expect your rent to be significantly higher than in less desirable areas. According to the Houston Chronicle, the amount you should pay in rent is decided by calculating your gross revenue and allocating five to ten percent of it for your rent. Some business owners may allocate up to 15 percent of their gross revenue for their rent expenses, but staying within the five to ten percent range is where business owners are often most comfortable.
Is The Building In Good Shape?
Normally, most business owners allocate a small section of their budgeted operating expenses for building maintenance and repair. Nevertheless, this expense is a particularly small part of your coffee shop's budget and is usually associated with owning the building where your shop is established. If you are renting your space, there may be a clause in your lease that specifies if you are responsible for any repairs to the building. This makes the condition of the building where you want to open your shop a vital element in choosing the perfect location.
Business owners often become enamored with the potential location of their business, which may make them blind to the building's condition. To avoid this issue, I would suggest having a contractor survey the building for any potential problems which could arise. A good contractor should be able to spot many of the potential problems which could arise in the building you choose to open your coffee shop. There are telltale signs to look for in a building, and most contractors have an eye for being able to spot many of these issues.
Does The Space Have Enough Room For Your Equipment?
Without the right equipment, your coffee shop will not be able to run smoothly and efficiently. You will need to choose a location that has sufficient space for all of the equipment necessary to run your shop. Many coffee shops choose to operate with industrial-sized equipment, depending on how busy the shop is. If the shop chooses to serve a wide variety of coffee beverages, it also means that the shop must have a wide variety of equipment on hand.
You will need the following equipment to open a coffee shop:
two grinders
drip coffee makers
a quality espresso machine
a water filtration system
coffee serving devices
refrigerators and freezers
storage solutions
sinks and a dishwasher
something to cook your food
a security system
a POS system
This makes the amount of space available for all of your equipment one of the highest priorities when choosing your location. Your coffee shop should also have enough space to see all of your customers comfortably while maintaining a cozy atmosphere. There is a fine line between having just the right amount of space and not having enough space to operate.
Can Your Baristas Be Efficient At This Location?
Ergonomics is one of the most important contributors to the success of a business. This is the study of how productive and efficient your employees are in their working environment. One of the top priorities in your coffee shop should be getting your customers served as quickly as possible. Your Baristas need to be able to perform any job tasks productively and efficiently. The layout of the building where you want to open your coffee shop is going to be significantly important if you expect your employees to be at their best.
Coffee shops tend to thrive on the productivity of their employees. Your coffee shop employees will have to have the ability to multitask, as well as being able to work in a team environment. They are also going to need adequate space in which they can do what is expected of them, without interfering with other employees. Make sure that your space has enough room to accommodate your needs as well as the needs of your employees.
Check out our tips for running a successful coffee shop HERE.
Conclusion
If being a successful coffee shop owner is in your plans, the location where you choose to open it is going to be the most important factor in determining if your business is successful. You are going to need to form a specific strategy in choosing the perfect location, which includes the five key elements we mentioned above. These elements include whether or not your shop is in a prime location; the amount of rent you will have to pay for your building; the condition of the building where you are going to open up shop; whether or not the building has sufficient space to house all of your necessary equipment, and if your employees are going to have enough room to be efficient and productive in the space.
Once you have taken all of these factors into account, I do not doubt that you are going to be able to find the perfect location in which to open your shop. With a little ingenuity and some critical thinking, I am confident that you will be able to find a location that suits all of your coffee shop's needs. Now, it's time to put your plan into action and find that perfect location for the coffee shop that will undoubtedly become the spot of choice for many of your future customers.
Frequently Asked Questions
How much does it cost to open a small, sit-down coffee shop?
There are many different types of coffee shops you can choose to open. For instance, one of the decisions you will have to make is if you want to open an independent coffee shop or if you want to buy into an existing franchise. If you choose to open an independent sit-down coffee shop, you can't expect your startup cost to be between $200,000 and $375,000, according to Investopedia. These costs include purchasing or renting a building as well as buying all of the necessary furnishings and equipment for your coffee shop.
Should I start an independent coffee shop, or should I consider buying into an existing franchise?
Starting an independent coffee shop will require a lot of hard work and dedication, but the satisfaction of knowing that your coffee shop is exactly how you envisioned it is quite rewarding. Buying into an existing franchise eliminates a lot of the decisions that you would have to make by establishing an independent coffee shop. There is no one-size-fits-all answer to this question. If you want to see immediate dividends on your investment, buying into a franchise would be the right decision. If you want your coffee shop to be a reflection of you, starting an independent coffee shop is the right choice.
To learn more on how to start your own coffee shop checkout my startup documents here
Please note: This blog post is for educational purposes only and does not constitute legal advice. Please consult a legal expert to address your specific needs.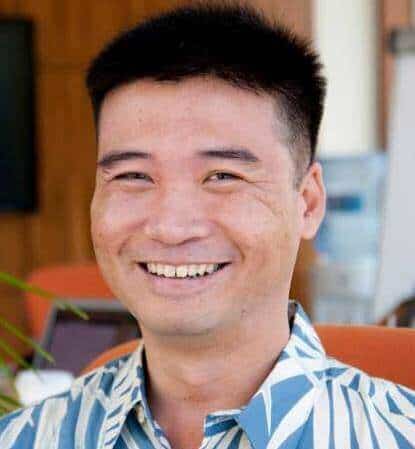 Hi! I'm Shawn Chun
My adventure in coffee began when I first launched my first coffee shop back in the early 2000s. I had to figure out so many things on my own and to make it worse within 2 years of opening two large corporate coffee chains moved in just blocks away from me!
As I saw smaller and even some larger coffee shops in the neighborhood slowly lose customers to these giant coffee chains and slowly close up shop, I knew that I had to start getting creative…or go out of business.
I (like you may be) knew the coffee industry well. I could make the best latte art around and the foam on my caps was the fluffiest you have ever seen. I even had the best state-of-the-art 2 group digital Nuova Simonelli machine money could buy. But I knew that these things alone would not be enough to lure customers away from the name brand established coffee shops.
Eventually, through lots of trial and error as well as perseverance and creativity I did find a way to not only survive but also thrive in the coffee/espresso industry even while those corporate coffee chains stayed put. During those years I learned to adapt and always faced new challenges. It was not always easy, however, in the end, I was the sole survivor independent coffee shop within a 10-mile radius of my location. Just two corporate coffee chains and I were left after that year. All told the corporate coffee chains took down over 15 small independent coffee shops and kiosks and I was the last one standing and thriving.
Along the years I meet others with the same passion for coffee and I quickly learned that it is not only "how good a barista is" that makes a coffee shop successful, but the business side of coffee as well.
Hence why I started this website you are on now. To provide the tools and resources for up and coming coffee shop owners to gain that vital insight and knowledge on how to start a coffee shop successfully.
Stick around, browse through my helpful blog and resources and enjoy your stay! With lots of LATTE LOVE!
Shawn