Your coffee shop counter says a lot about your coffee shop. Not only does it play a huge role in making coffee shops stand out, the huge slab of countertop is the center around which your coffee shop functions.
Your coffee counter material needs to be durable, functional, aesthetically-pleasing and cost-effective. Below, we have gone through the best countertop materials and weighed the pros and cons of each based on those four requirements.
The coffee counter the dividing line between the employees and the customers –– in the back are baristas fiddling around with industrial-grade espresso machines and blenders, while at the front are customers reading the menu and ordering drinks. The right countertop will anchor your coffee shop and allow you the freedom of engaging with your customer without worrying about cramped spaces, mess or disorganization.
Plastic Laminate
While a coffee bar countertop is arguably the design piece you should invest the most time, money and thought into, you do not want to go breaking the bank for a coffee shop counter. While flipping through the costs of engineered stone, and ceramic tile, you might notice they are extremely expensive and require probably more upkeep than you're willing to spend your time on.
Pros:
You might have heard of plastic laminate, or the popularly known brand name Formica, and you might have seen it in older homes built in the 70s and 80s that haven't been flipped or remodeled yet. Real estate agents aren't advertising plastic laminate countertops, and they get a bad rap. But they're popular for a reason: they are easily the most affordable countertop material you can think of, premade in ready-to-install sheets.
They're also extremely durable and resilient, and plastic laminate has come a long way from their popularity peak in the mid century. They're also the most customizable option –– you can even make them look like real stone. Besides, customers who are ordering a quick drink before walking away are probably not spending a lot of time at the counter.
Cons:
Your countertop is going to see a lot of action. Splashes of hot coffee, dents from the heavy espresso machinery and toaster ovens, and food stains are just a few of the things your coffee counter needs to stand up to, and plastic laminate can warp or break down over time from the wear and tear.
If you're running low on cash upfront, consider making your countertop partially plastic laminate –– perhaps where the pastries are displayed or where the cash register is.
That being said, if your countertop also doubles as bar space for your guests, or if customers are going to spend a lot of time touching it, or if it's just not the proper aesthetic for you, you might want to look into wood, granite or concrete countertop bars.
Concrete
Concrete has become the trendy choice for industrial spaces in the last few years. New apartment buildings boast exposed concrete columns in their listings, and even home kitchens and bathrooms are seeing more concrete countertops in their spaces.
Pros:
They're luxurious, unique and make a statement, which might sound like the perfect thing for your coffee bar if you're going for a smooth, cool industrial look. The earthiness of the stone also makes it scratch- and heat-resistant, so it will remain intact.
If you're going for concrete, take full advantage of it and perhaps extend your countertop to a bar setting for your customers. If there's a time to appreciate texture, it's with a smooth, long slab of concrete.
There's also room for customization. Concrete mixes come in a variety of blues, greys and reds. You can go for a clay terracotta color or a dark natural blue slab. Even the variety of greys are endless, and you can pick a light or dark one depending on your coffee shop's aesthetic.
You could even engrave or imprint something into wet cement before it dries, like your coffee company's logo.
Cons:
But concrete is extremely expensive. It has to be professionally installed, so if you were hoping to save some money on DIY-ing it, you're out of luck. The reason for this is partly because pour-in-place concrete countertops often aren't cured properly, and will curl on the sides or fill with bubbles, making them unstable. It also needs to be sealed properly to make it food safe.
It will be even more expensive if you decide to fix an undermount sink or a countertop nitro coffee dispenser, because that will require you to hire someone to cut through the concrete. And if you ever choose to rearrange your bar, you're doubling those expenses.
Stone
There are two types of countertop stone you will find at any hardware store: natural stone and engineered stone. Think of it like comparing hardwood to laminate wood planks. Natural stones are some version of granite, marble or limestone, while engineered stone is usually a version of quartz.
If you go through the process of getting natural stone, you will receive a slab cut from a stone deep in the recesses of the Earth. Engineered stone, on the other hand, grinds up these stone crystals with different resins and and colors to look like natural stone slabs.
Pros:
Stone is a very neutral material and easily works with any kind of space –– marble and granite, especially, are ubiquitous in any home and fit most coffee shop aesthetic designs while providing striking designs embedded into the glossy finish.
Not only that, stone is incredibly durable. You would have to work overtime to crack or break a stone countertop slab that was once sitting thousands of miles under the Earth's surface. This is also why it's heat resistant, and can hold up to piping hot steamers or the underbelly of a thoroughly used toaster oven.
Cons:
The high cost of a stone countertop might not be worth it unless you're expecting customers and baristas to interact a lot with the actual countertop. Not only is it one of the most expensive countertop materials out there, it also takes a lot to maintain it.
Natural marble, for instance, is soft and can show knife patterns if you cut a sandwich directly on it. Acidic foods may also break it down over time. Natural stone needs to be resealed periodically, which can disrupt workflow in a coffee shop where time is of the essence and every square inch of space matters.
And while many engineered stone options don't need to be resealed, it's still an extremely expensive slab of counter.
Wood
Wood, like concrete, is another beautiful and trendy option many cafes are leaning towards. You might have seen some live edge wood countertops –– countertops where the wood's natural edge is preserved instead of being cut into a straight line –– at coffee shops. In fact, you might see wood in more homes as homeowners look to butcher's block –– once reserved for deli counters –– for their island countertops as an affordable and unique option.
Wood provides a warmth and earthiness to a home that most countertop materials just can't achieve, which is why many coffee shops are opting for it.
Pros:
Wood is the most sustainable option you can go for, especially if you go down the route of reclaimed wood. And if you ever decide to re-update your coffee shop with a new slab, recycling wood countertops is easy.
Variance in wood colors and grains can provide a unique touch as well. Depending on your coffee shop, you can go for a reliable blond maple wood or a dark, oaky plank.
Popular studies have shown wood cutting boards to be much more safer than plastic cutting boards, which is why they're so common in households. They're also less likely to damage your knives than a stone countertop wood.
Lastly, wood countertops are also heat-resistant –– perfect for coffee shops.
Cons:
You will most likely need to hire a professional to properly seal your wood countertop. A wooden slab will degrade fast and dramatically if not sealed properly.
As time goes on, your wooden countertop may show some wear of the bustling coffee shop through scratches and stains. It might be necessary to re-sand your top and stain and seal the wood every now and then.
To prolong refinishing your countertop, you may have to treat it with mineral oil every now and then. A quick wipedown every couple of weeks should do the trick, but you're still prolonging the inevitable.
Steel
Yet another trendy option for industrial styles is a steel countertop. The smooth, cool grey finish of stainless steel rivals that of a concrete countertop for a fraction of the price, and you can get it in a satin, textured or matte finish depending on what you're looking for.
Pros:
Like wood, stainless steel is environmentally friendly. Most stainless steel products are made out of 60% recycled steel gathered from old scraps. The nonporous material is easy to clean and won't need any sort of stain or seal to make it food safe.
You might think a metal countertop will rust easily, especially when it's so close to liquids. Stainless steel countertops are pretty durable, and can hold up to rust, heat and stains.
Cons: 
Once again, we will recommend professional installation, partly because of the complicated process. To stop steel from clanging anytime something is dropped on it, the underside is reinforced with a wood backing to soak up that sound.
It also scratches easily and leaves fingerprint smudges. It's really not that bad, as long as you wipe it down with a microfiber cloth periodically, but if it bothers you, consider a different option.
For more ideas for design and how different elements play into your design, check out this article!
Frequently Asked Questions
Why is investing in a coffee countertop so important ?
Think about what you need your countertop to do: It needs to display pastries and snacks for your customers, have a spot for customers and employees to perform transactions, act as part of your "kitchen" for making shots of espresso, washing or steaming cups and frothing milk. It will also need a station for your customer to pick up their order.

And more importantly, all these different aspects need to flow into one another in an organized manner.
How can I utilize the counters to the best of their abilities?
Take advantage of the under storage. In a coffee shop, you might not have a lot of room in the back to hold on to a ton of inventory. Keep your cups, lids, pastries and a few small fridges below the counter in organized shelves. This will keep your coffee shop organized and flowing smoothly with relatively few hiccups.
How can I customize my coffee shop countertop?
Think about adding different fixtures to your coffee shop. With a bit of plumbing work, you can add a fixed-counter milk frother, water and milk dispenser and steamer to your countertop. Having these permanently fixed to your counter frees up space elsewhere in your already-crammed behind-the-bar workspace and helps with flow.
To learn more on how to start your own coffee shop checkout my startup documents here
Please note: This blog post is for educational purposes only and does not constitute legal advice. Please consult a legal expert to address your specific needs.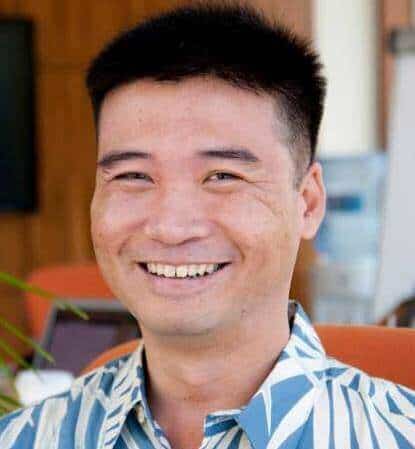 Hi! I'm Shawn Chun
My adventure in coffee began when I first launched my first coffee shop back in the early 2000s. I had to figure out so many things on my own and to make it worse within 2 years of opening two large corporate coffee chains moved in just blocks away from me!
As I saw smaller and even some larger coffee shops in the neighborhood slowly lose customers to these giant coffee chains and slowly close up shop, I knew that I had to start getting creative…or go out of business.
I (like you may be) knew the coffee industry well. I could make the best latte art around and the foam on my caps was the fluffiest you have ever seen. I even had the best state-of-the-art 2 group digital Nuova Simonelli machine money could buy. But I knew that these things alone would not be enough to lure customers away from the name brand established coffee shops.
Eventually, through lots of trial and error as well as perseverance and creativity I did find a way to not only survive but also thrive in the coffee/espresso industry even while those corporate coffee chains stayed put. During those years I learned to adapt and always faced new challenges. It was not always easy, however, in the end, I was the sole survivor independent coffee shop within a 10-mile radius of my location. Just two corporate coffee chains and I were left after that year. All told the corporate coffee chains took down over 15 small independent coffee shops and kiosks and I was the last one standing and thriving.
Along the years I meet others with the same passion for coffee and I quickly learned that it is not only "how good a barista is" that makes a coffee shop successful, but the business side of coffee as well.
Hence why I started this website you are on now. To provide the tools and resources for up and coming coffee shop owners to gain that vital insight and knowledge on how to start a coffee shop successfully.
Stick around, browse through my helpful blog and resources and enjoy your stay! With lots of LATTE LOVE!
Shawn