Coffee shops are becoming an integral part of everyday life. They provide the benefit of a quick meal on top of fulfilling an aesthetic need. They have evolved from little cafes you seek out in the morning for a dose of caffeine into full-service bakeries frequented all hours. Opening a coffee shop is a smart business choice, but you might need a loan to do so.
To get a loan to open a coffee shop you will need to decide on a business model, create a well-thought-out business plan, and find the best loan option for your specific needs. Keep your eyes open for non-debt-based opportunities that can share the funding burden.
This can appear a daunting task, but when you break it down into easy to achieve steps you will find yourself so much closer to your goal. Read on to learn what is expected from each step and discover your best loan options.
What to Do Before Applying for a Loan
The moment the idea to open a coffee shop pops into your head you should be planning out your entire business strategy. Keep in mind that not all coffee shops look the same, and you will need to work out a few specific details before you start looking into your loan options.
Do you want to start your own business, or would you be open to buying a franchise?
There are several reasons to do either of these, but the choice really can affect the sort of capital you will need to begin.
Opening a franchise allows you to start your own business with the advantage of an already established entity. Franchises will give you the rights to their name, product, and brand, which can instantly draw in plenty of customers. You start with a brand and business model that is already established, but you lose out on some major things.
If you open a franchise typically the franchisor will have control of certain business decisions. It is different for every franchise, but expect them to be involved in approving the location of your business, setting the standards of design, and choosing which products your location will offer.
A few popular coffee shop franchises: Dunkin Donuts, Tim Hortons, and Scooter's Coffee. You cannot buy a Starbucks franchise, but you can purchase Starbucks licensing once you have an established coffee shop. Franchises can run you anywhere from $300,000 to over $1,000,000.
Decide What You Will Sell (and How)
Coffee shops are no longer expected to sell only coffee, and you will have to figure out which niche your business will fit into. To determine your startup costs you should determine what your menu will look like, what machinery you will need to create those treats, and what your stor
efront will look like.
Sit-down Coffee Shop: This can be a great personal place to offer treats and free wifi to draw in college students and remote workers. It will run you $200,000 to $375,000.
Large Drive Through: This is great for areas that get a lot of commuters. People heading off to work need their coffee in their hands as quickly as possible. These typically cost $80,000 to $200,000.
Small Kiosk: A small coffee cart can be an extremely lucrative opportunity because of its low cost and easy relocation. Kiosks can cost anywhere from $25,000-$75,000.
These are only a few examples with a few general figures. Once you pin down your exact plan you will get a better idea of what your business plan will look like.
Create a Business Plan
This topic warrants its article, but writing up a business plan is going to be a key step in securing a business loan. This can only happen after you have decided what your business will look like, but the general outline of a business plan remains the same.
Executive Summary: This explains what exactly your business is and why you believe it will be successful.
Description: Here you lay out a basic description of why it is necessary, who you will provide service to and any current (or future) problems your business solves.
Market Analysis: Make sure you do research on the industry outlook for coffee shops and include that information here along with your target market and competition.
Organization and Management: Let them know that your business will be in good hands. Note any legal structure here.
Services and Products
Marketing and Sale: While you can't explain every future campaign, you should explain how you will draw in customers and make sure they return.
Funding Request: Because this is likely the entire point of your business plan you should be thorough. Explain how much funding you anticipate needing, along with:

The terms of the loan (Amount, length of time)
How funds will be used
Future financial plans (like how you will pay off the loan)

Financial Projections: These should be done in addition to the funding request, but they do influence any lender's decision. Convince them you will be stable and successful.
Appendix: Here you include any additional information that was requested or anything that can improve your request. Make sure you add any legal documents (patents, permits, contracts) here.
Once you write up your business plan you should be comfortable discussing it with other people. This is the perfect time to start looking for funding: you are still excited about it, and all the knowledge is fresh and organized.
Avoiding Debt
The most low-risk way to secure funding for a new business is to keep your requests local. If you are comfortable with it, you can fund all (or part) of your venture with your savings. You can also look to friends and family for assistance, seek out an investor, or even look into crowdfunding opportunities.
Funding Options:
Personal Wealth
Using your savings can keep you out of debt and give you more control over any business decisions, but it is a high-risk option. This is a better option if you are not putting all your faith into your business, especially if you are pulling funds from retirement accounts.
You can leverage funds in retirement accounts to start a new business, and because this is technically a rollover you should not be penalized. You can use a Rollover for Business Startups provider to properly set up a business account and avoid penalties.
Benetrends is a popular and reputable option for this. They charge a one-time setup fee and then a monthly service fee. Their only requirement is that you have an eligible account—401(k), 403(b), Traditional IRA, Thrift Savings Plan, Simplified Employee Pension, or Keogh—with at least $50,000 in it.
Friends and Family
Accepting help from friends and family can also reduce your interest costs, but this can be a difficult avenue to venture down. Just because they have a personal connection to you does not mean you should forego any business planning. You owe it to them more to prove that your idea is well thought out and profitable.
If your family is hesitant to loan you money because it can be hard to ensure you will pay it back you can set up a formal loan agreement through a company like Loan back. You can also offer them a partnership if that is something both of you are comfortable with.
Crowdfunding
Crowdfunding has grown in popularity throughout the years, and it is an especially great option if you have a new product to offer. As a coffee shop you will need to come up with something to incentivize crowdfunders to invest, but this is a low-risk option because you maintain control. As long as they get their investment gift you have no obligation to repay them.
Some examples of perks you can offer:
Discounted items
Rewards program
Merchandise
Business-specific gifts (i.e. coffee gift basket)
Special recognition

Compromise Option
If you have a strong business plan you can try to find an investor. This can be an easy way to get funding without acquiring debt, but you will likely lose some ownership of your company and share decision-making. Investors will have a reason to want you to succeed, and they can give some good advice.
Investors typically focus on high-growth companies, so it can be hard to lock one in without an astounding business plan or novel idea. Investors will also take higher risks, and they will be in it for the long haul. If you are comfortable with these things then you can start looking for one.
Finding an Investor
Some keywords to look for might be "angel investor" or "venture capital firm". You can also look to established businesses in your area that have adequate funds and local knowledge. When looking at Venture Capital Firms you should look at their Investment to Exit ratio, which is the amount they invest in for every exit. The higher the ratio the better.
Sharing Your Business Plan
When sharing a business plan with a potential investor you should make sure it focuses on the industry, the geographic area of your business, and what stage you are currently at. While a traditional business plan might highlight all the safety nooks of your business, a business plan for an investor might do better if it highlights any high-risk schemes that can pay off for them.
Due Diligence Review
If they are interested the investor will likely put your proposal under review. They will double check your business plan and speak to anyone and everyone they can to get a good idea of who you are and how well your business can perform, including any employees or customers you may have had in prior business adventures.
You should perform your review on the investor, checking into businesses and individuals they have worked with within the past.
Working Out Terms
Once you agree to work together you will set up the terms of your agreement. Some things that are standard at this point include:
An investor expecting to be actively involved
Funds coming in rounds
Setting up milestones
Different Types of Loans
Unfortunately, not everyone has access to these options. In most cases, startups will be looking into loans to secure funding for their business.
Short Term Business Loans
Short-term business loans are a good option for those who do not have much time to show in the business. They can carry higher interest rates because of the higher risk, and your repayment terms may be deduced to a matter of months, but this can be a good place to start if you don't look great on paper.
Lendio is a popular online marketplace that matches applicants with business loans and allows you to compare. Most loans run a term of 1-3 years, but the requirements vary after that regarding your time in business and credit score.
Personal Loans
If business loans are unattainable you can go after a personal loan, as long as the agreements of the loan allow you to use funds for business. They do have a lower borrowing limit, so you may have only $50,000 to work with, but that can get you started.
Personal loans do require you to have good personal credit, but they do not need any business credit or credentials. Many personal loans on LendingPoint can be used for business loans. They typically have a longer period of repayment.
Startup Loans
Generally, Startup loans are limited to businesses with fewer than six months in operation, and they have no time in business requirements. They are, after all, curated to funding startups. They will likely look at your personal credit history and any personal history that can give them an idea of who you are, including job history and education.
Startup loans can be harder to obtain because lenders are gambling on an idea. It isn't as straightforward as looking at your already present income and coming up with numbers from there. You can increase your chances of obtaining a loan by putting maximum effort into your business plan and presentation.
Small Business Administration (SBA) Loans
SBA loans can be hard to obtain, but they are what you are looking for if you want an option to fund your business from the ground up. These loans are usually issued by small banks, but the US Small Business Administration guarantees up to 85% of the loan. You can obtain up to $5.5 million financed over up to 25 years, and the rates are unbeatable.
To qualify for SBA loans, you typically need strong credit (680+) and a good business presence, but they offer a variety of options to fit every need and stage.
SBA 7(a): The most flexible and popular.
SBA504/CDC Loan: A good option for buying a building.
SBA Microloans: Great for smaller amounts, and easier to obtain. These loans are often awarded to businesses that impact their communities and are run by women or veterans.
It can take quite a bit of effort to obtain an SBA loan, so make sure you give yourself a head start.
Supplemental Funding
On top of your initial startup loan, it is a good idea to look into your options to supplement the loan regularly. These can help you improve your initial business plan, expand your business, and receive advanced funds if necessary.
They are not essential to funding the opening of your coffee shop, but you should already be exploring and planning for these options at the same point.
Vendor Financing
Vendor financing is typically offered to you through your POS provider, so you should make sure your choice for a POS system offers to finance. Shopify, Square, and PayPal are popular options that offer this.
Depending on the vendor, they may offer you financing before you even think to apply. Either way, they work the same. You get a loan of a certain amount, and instead of paying it back with a specific schedule, they deduct a portion of your sales every day until the loan is paid off. The entire process is very "out of sight".
Short Term Line of Credit
Even if you don't think you need it, opening up a line of credit can be useful should you ever run into an emergency. Usually, you will have to pay back the principal more quickly than a traditional loan, and interest rates and fees can be higher than other loans, but the money will be available when you need it.
Having a line of credit can hold space until you have enough income to set up emergency savings for your business, and it can even save your business in its infancy. It would be a horrible thing to lose a vital piece of machinery and be unable to replace it.
Grants
Grants are an amazing way to get funds to expand your business because you are not required to pay them back. Because of this, they do not typically go to fund the establishment of a business, but plenty of grants are out there to help you once you have a presence.
To beat out any competition you should have a well-established business and plan. You need will need to thoroughly explain how the grant money will be used and how it can help your business, so make sure you have adequate time to do research and prepare documents.
Look for grants through federal government sites, state and local government, universities, and non-profits. It is perfectly fine for you to ask the grant office as long as you keep the conversation professional and respectful.
More loan tips HERE.
Conclusion
It might seem like a monumental task, but getting a loan to open a coffee shop is just a necessary step in reaching your dream. If the entire process appears too much, break it down into actionable steps that you can take to move forward. It is much easier to get through the feat when you have milestones you can complete and celebrate.
Stick to your plan and do not sign on for anything you are uncomfortable with. The good news is that there are plenty of opportunities out there for you if you are looking. You do not need to settle for a bad time or back yourself into a corner just to get funding. Go into the endeavor with both enthusiasm and patience.
After you have applied to any applicable loans be patient. It might take a moment to hear back, but you can use this time to improve your business knowledge and even look into other funding opportunities. Opening a new business is not a get-rich-quick adventure, but it is well worth your time, effort, and patience.
Frequently Asked Questions
Should I write my business plan or hire someone to do it?
Because you will be the one presenting your business plan you should be as involved in the writing process as possible. That being said, you should also hire a consultant to help you write an impeccable plan. It operates more on a scale of involvement than a "should I or should I not" basis.
What do I do if I get a loan but it isn't enough?
You can adjust your plans to fit the loan or try to secure multiple avenues of funding. Ideally, you would get the important stuff done first, whatever you need to start making an income, and then add frills as you go on. Sometimes you just need to get your foot in the door.
What should I do if I am unable to get any funding at all?
This does not mean you should give up on your dream but reevaluate. Ask lenders to share their reasoning for denying you, and use their feedback to improve your business plan and personal appearance. Try to bring up your credit score (if need be) or get involved with other business ventures. Bring on a partner if that is something you are comfortable with.
To learn more on how to start your own coffee shop checkout my startup documents here
Please note: This blog post is for educational purposes only and does not constitute legal advice. Please consult a legal expert to address your specific needs.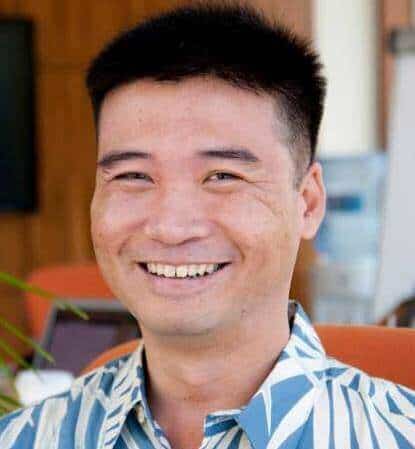 Hi! I'm Shawn Chun
My adventure in coffee began when I first launched my first coffee shop back in the early 2000s. I had to figure out so many things on my own and to make it worse within 2 years of opening two large corporate coffee chains moved in just blocks away from me!
As I saw smaller and even some larger coffee shops in the neighborhood slowly lose customers to these giant coffee chains and slowly close up shop, I knew that I had to start getting creative…or go out of business.
I (like you may be) knew the coffee industry well. I could make the best latte art around and the foam on my caps was the fluffiest you have ever seen. I even had the best state-of-the-art 2 group digital Nuova Simonelli machine money could buy. But I knew that these things alone would not be enough to lure customers away from the name brand established coffee shops.
Eventually, through lots of trial and error as well as perseverance and creativity I did find a way to not only survive but also thrive in the coffee/espresso industry even while those corporate coffee chains stayed put. During those years I learned to adapt and always faced new challenges. It was not always easy, however, in the end, I was the sole survivor independent coffee shop within a 10-mile radius of my location. Just two corporate coffee chains and I were left after that year. All told the corporate coffee chains took down over 15 small independent coffee shops and kiosks and I was the last one standing and thriving.
Along the years I meet others with the same passion for coffee and I quickly learned that it is not only "how good a barista is" that makes a coffee shop successful, but the business side of coffee as well.
Hence why I started this website you are on now. To provide the tools and resources for up and coming coffee shop owners to gain that vital insight and knowledge on how to start a coffee shop successfully.
Stick around, browse through my helpful blog and resources and enjoy your stay! With lots of LATTE LOVE!
Shawn