Opening a coffee shop can be a dream come true for many coffee enthusiasts who are business minded. However, like any business venture, opening up a coffee shop requires careful planning and execution to ensure its success.
To open a coffee shop, you need a solid business plan to find the right location, hire great staff, craft a unique menu, purchase equipment, and implement a marketing strategy. You also need to obtain permits and licenses to legally operate your coffee shop.
From finding the right location to designing your space, there are several factors to consider when opening a coffee shop. In this article, I will go over the essential elements to take when opening up a coffee shop.
Develop a Business Plan
Before you jump into the exciting aspects of opening up a coffee shop, such as scouting locations and purchasing equipment, it is crucial to start with a well-crafted business plan. Your business plan serves as a blueprint for your coffee shop, outlining your vision, goals, target market, and financial projections.
Consider the following information when you are drafting your business plan.
Read more about: How Much Does it Cost to Open Coffee Shop: Unlocking the Price Tag
Concept: What type of coffee shop do you want to open? Will it be a specialty coffee shop, a café, or a coffee bar?
Target Market: Who is your target audience? Are you catering to students, professionals, or families?
Location: Where do you plan to open your coffee shop? Will it be in a busy downtown area or a suburban neighborhood?
Competition: Who are your competitors in the area, and how will you differentiate yourself from them?
Financial Projections: What are your expected startup costs, and what is your projected revenue? How long will it take to break even?
Find the Right Location
Finding the perfect location for your coffee shop is crucial to its success. The location you choose should be easily accessible, visible, and in a high-traffic area. The following considerations should be made when choosing a location:
Foot Traffic: When searching for a location for your coffee shop, foot traffic is a critical consideration. Aim to find a location with high foot traffic, such as a busy downtown area, near a university, or an office building. A high concentration of people means more potential customers, leading to increased sales and revenue.
Being visible in a high-traffic area can help attract new customers and build brand awareness. Ultimately, choosing a location with a high volume of foot traffic can be a strategic move to help drive the success of your coffee shop.
Accessibility: When selecting a location for your coffee shop, accessibility is one of the key elements you need to consider. Ensure that your location is easy to access by car, public transportation, or on foot. This will make it easier for customers to find your shop and increase foot traffic.
If your location is difficult to get to, potential customers may choose to go elsewhere, leading to lost sales and revenue. Consider factors such as parking availability, proximity to bus or train stations, and pedestrian traffic patterns. Choosing a location that is easily accessible will help to make your coffee shop more visible and appealing to potential customers.
Visibility: Visibility is a critical factor when choosing a location for your coffee shop. Look for a location that is visible from the street, with ample signage to draw attention to your shop. This will help to attract new customers and make it easier for people to find your business.
Consider the placement of your signage, including the size, font, and colors used. Make sure that your signage is clear, concise, and easy to read from a distance. A visible location with eye-catching signage can help to establish your coffee shop as a go-to destination for coffee lovers in the area.
Rent: When choosing a location for your coffee shop, the cost of rent is an essential consideration. It is important to assess whether the rent cost fits within your budget, as high rent can eat into your profits.
Research the average rent cost in the area to get an idea of what to expect, and compare different locations to find the best deal. Keep in mind that a location with a higher rent cost may be worth the investment if it offers better visibility, foot traffic, and potential for increased sales. Ultimately, finding a location with affordable rent is a key component of setting your coffee shop up for the long run.
Read more about: How Much Does it Cost to Open a Coffee Stand: What to Expect Financially?
Obtain Licenses and Permits
Before opening your coffee shop, it is essential to obtain the necessary licenses and permits from your local government. The permits and licenses required can vary depending on your location but may include a food service permit, a health department permit, and a business license.
To avoid any delays or issues with opening your coffee shop, it's crucial to research the specific licenses and permits required in your area and obtain them in a timely manner. Failure to obtain the required licenses and permits can result in fines or legal issues down the line.
Additionally, make sure to comply with all health and safety regulations set by your local government. This may include regular health inspections, food safety training for staff, and proper sanitation procedures. By obtaining the necessary licenses and permits and complying with regulations, you can ensure a smooth and successful opening for your coffee shop.
Choose Your Equipment and Supplies
Once you have secured a location, it is time to choose your equipment and supplies. Here are some essential items you will need for your coffee shop:
Espresso Machine: The espresso machine is the heart of your coffee shop. It's essential to choose a reliable, high-quality machine that can handle your daily volume.
Coffee Grinder: A coffee grinder is crucial to ensure that your coffee is fresh and flavorful. Choose a high-quality grinder that can handle your daily volume.
Brewing Equipment: Depending on your coffee shop's concept, you may need additional brewing equipment, such as pour-over brewers, French presses, or drip coffee makers.
Supplies: You will also need to purchase supplies such as coffee beans, milk, syrups, cups, lids, and napkins.
Design Your Space
The design of your coffee shop plays a significant role in attracting and retaining customers. Your space should be inviting, and comfortable, and reflect your coffee shop's concept. Here are some design elements to consider:
Layout: The layout of your coffee shop should be functional and conducive to the flow of traffic. Make sure your customers can easily navigate your space and find what they need.
Lighting: Choose lighting that creates a warm and welcoming atmosphere. Use a combination of natural light and artificial lighting to create the right ambiance.
Furniture: Choose comfortable and functional furniture that fits your coffee shop's concept. Consider the type of seating, tables, and décor that will appeal to your target market.
Colors: Choose colors that reflect your coffee shop's concept and create a warm and inviting atmosphere.
Branding: Incorporate your coffee shop's branding into the design of your space, such as logos, signage, and menus.
Read more about: How Much Does it Cost to Own a Coffee Shop: Exploring the Costs Involved
Hire Staff
The staff you hire is a crucial component of the success of your coffee shop. It is essential to hire experienced and friendly baristas who can provide excellent customer service and create high-quality coffee beverages. Look for candidates with a passion for coffee and a positive attitude that can help create a welcoming atmosphere for customers.
To ensure that your staff can provide the best service possible, make sure to provide them with proper training. This includes training on coffee making, customer service, and safety and sanitation procedures. Proper training will help your staff create consistent and high-quality beverages, as well as ensure the safety and cleanliness of your coffee shop.
Make sure to provide your staff with competitive compensation and benefits. This can help to attract and retain top talent, and can also help to motivate your staff to provide excellent service. Consider offering benefits like health insurance, paid time off, and a retirement plan.
A wise business move that might result in greater client loyalty and improved sales is investing in your staff. Helpful staff can help your coffee business build a good reputation and become a local favorite.
Create Your Menu
Crafting a menu that reflects your coffee shop's concept and target market must be one of your priorities. Your menu should offer a variety of coffee beverages, including classics like espresso, cappuccino, and latte, as well as more unique options like cold brew or pour-over coffee. Consider offering tea and other beverages like smoothies or juices to appeal to a broader customer base.
Also, consider offering food items like pastries, sandwiches, or salads. This can help to boost sales and attract customers who are looking for a quick bite to eat with their coffee. Make sure to price your items competitively while still ensuring a profit. Research pricing in your local market to determine appropriate pricing for your offerings.
Market Your Coffee Shop
Marketing is essential to attracting and retaining customers. Here are some ways to market your coffee shop:
Social Media: Use social media platforms such as Facebook, Instagram, and Twitter to promote your coffee shop, share photos, and engage with customers.
Local Listings: List your coffee shop on local business directories such as Yelp, Google My Business, and Tripadvisor.
Events: Host events such as live music or open mic nights to attract customers and create a community atmosphere.
Loyalty Programs: Offer loyalty programs or discounts to customers who frequent your coffee shop.
Word of Mouth: Encourage your customers to spread the word about your coffee shop by providing excellent customer service and high-quality coffee beverages.
Summary
Opening up a coffee shop requires careful planning, execution, and attention to detail. By developing a solid business plan, finding the right location, obtaining the necessary licenses and permits, choosing the right equipment and supplies, designing your space, hiring staff, creating your menu, and marketing your coffee shop, you can set your coffee shop up for success. With dedication, hard work, and a love for coffee, you can turn your dream of owning a coffee shop into a reality.
Frequently Asked Questions
Q: Do I need a degree in business to open a coffee shop?
A: No, a degree in business is not required to open a coffee shop. However, it can be beneficial to have some knowledge in areas such as accounting, marketing, and management.
Q: How much does it cost to open a coffee shop?
A: The cost of opening a coffee shop can vary depending on factors such as location, size, equipment, and supplies. It can range from fifty thousand dollars to two hundred thousand dollars.
Q: What kind of permits and licenses do I need to open a coffee shop?
A: You may need a business license, food service license, health permit, and building permit, depending on your location and local regulations.
To learn more on how to start your own coffee shop, check out my startup documents here.
Disclaimer: The information provided by StartMyCoffeeShop.com ("The Site") is for general informational purposes only. All information on the Site is provided in good faith. However, we make no representation or warranty of any kind, express or implied, regarding the accuracy, adequacy, validity, reliability, availability, or completeness of any information on the Site. Under no circumstance shall we have any liability to you for any loss or damage of any kind incurred as a result of the use of the Site or Reliance on any information provided on the Site. Your use of the Site and reliance on any information on the Site is solely at your own risk. This blog post is for educational purposes only and does not constitute legal advice. Please consult a legal expert to address your specific needs. Terms and Conditions. (https://startmycoffeeshop.com/terms-and-conditions/)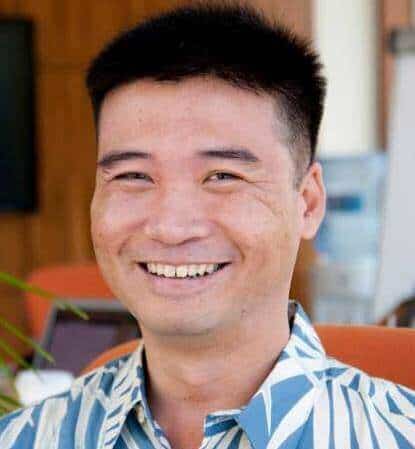 Hi! I'm Shawn Chun
My adventure in coffee began when I first launched my first coffee shop back in the early 2000s. I had to figure out so many things on my own and to make it worse within 2 years of opening two large corporate coffee chains moved in just blocks away from me!
As I saw smaller and even some larger coffee shops in the neighborhood slowly lose customers to these giant coffee chains and slowly close up shop, I knew that I had to start getting creative…or go out of business.
I (like you may be) knew the coffee industry well. I could make the best latte art around and the foam on my caps was the fluffiest you have ever seen. I even had the best state-of-the-art 2 group digital Nuova Simonelli machine money could buy. But I knew that these things alone would not be enough to lure customers away from the name brand established coffee shops.
Eventually, through lots of trial and error as well as perseverance and creativity I did find a way to not only survive but also thrive in the coffee/espresso industry even while those corporate coffee chains stayed put. During those years I learned to adapt and always faced new challenges. It was not always easy, however, in the end, I was the sole survivor independent coffee shop within a 10-mile radius of my location. Just two corporate coffee chains and I were left after that year. All told the corporate coffee chains took down over 15 small independent coffee shops and kiosks and I was the last one standing and thriving.
Along the years I meet others with the same passion for coffee and I quickly learned that it is not only "how good a barista is" that makes a coffee shop successful, but the business side of coffee as well.
Hence why I started this website you are on now. To provide the tools and resources for up and coming coffee shop owners to gain that vital insight and knowledge on how to start a coffee shop successfully.
Stick around, browse through my helpful blog and resources and enjoy your stay! With lots of LATTE LOVE!
Shawn