Are you an entrepreneur looking for a new business venture or a coffee lover with a dream of operating a coffee shop? Although it requires careful planning and preparation, opening a coffee shop can be a rewarding business. From developing your concept to employing staff, I will walk you through the process of launching a coffee shop in this article.
Key steps in starting a coffee shop are choosing the right location, designing your space, developing a brand identity, hiring employees, setting up a POS system, developing a marketing strategy, and managing inventory. It is also important to have a passion for coffee and a willingness to learn. Start-up costs can vary widely, but it is recommended to have at least $80,000 to $250,000 available.
Brewing good coffee is just the beginning when it comes to owning a coffee shop. To succeed, you must have a comprehensive business plan that includes financial backing and a clear brand vision. You will also need to manage employees, inventory, and marketing efforts while providing a memorable customer experience. Keep these factors in mind as you embark on your coffee shop journey and be successful in the future!
Planning Stage
Having a plan is essential to the success of any business, and a coffee shop is no exception. Identifying your goals and objectives should be the first step in developing your plan. After that, create a practical budget for your coffee business, taking into consideration costs like rent, furnishings, supplies, and marketing.
Conduct Market Research
If you are planning to open a coffee shop, conducting market research is the first step you need to consider. Knowing your competition, customer base, and what kind of coffee they prefer can help you create a successful business plan.
By researching other coffee shops in your area, you can identify any gaps in the market that you can fill. For instance, if no one is offering vegan options or specialty brews, you can differentiate your business by offering those. Finding out the types of customers other coffee shops attract can help you tailor your coffee shop to your desired audience. 
Read more about: How Much Does it Cost to Open Coffee Shop: Unlocking the Price Tag
Create a Business Plan
Making a business plan is the next stage in developing your coffee shop after performing market research. Your business goals, financial predictions, marketing approach, and the target market should all be included in this plan.
Your business plan should also include details on the products and services you plan to offer. And be sure to also include a detailed analysis of the competition, as well as any potential challenges you may face in the market.
Choose a Location
Choosing the right location for your coffee shop is critical to its success. An easily accessible location with high foot traffic is ideal. The goal is to attract customers who are passing by or in the area for work or school. Look for places with a lot of offices, schools, or residential communities while evaluating suitable locations.
Make sure the rent and utilities are reasonable and within your budget, and be aware of any zoning rules that might have an impact on your ability to run your business in a specific location. Taking the time to choose the right location can make a significant impact on your coffee shop's profitability and overall success.
Obtain Licenses and Permits
Obtaining the proper licenses and permits is crucial before operating your coffee business. This is an important step that will make sure you abide by all local laws and offer a secure environment for your customers.
Failing to obtain the appropriate permits can lead to hefty fines or even the closure of your business. Therefore, it is important to contact your local government to learn about the specific requirements for your area. Make sure to complete all necessary paperwork and obtain all relevant permits before opening your coffee shop to avoid any potential legal issues.
Create a Brand Identity
The brand identity of your coffee business is what sets you apart from your competitors. Keep in my that your brand identity is the key to standing out from the crowd. It encompasses everything from your company's logo and color palette to menu design and the overall atmosphere of your shop.
As a result, it is important to devote time and money to creating a distinctive and consistent brand identity. Consider hiring a professional designer who can help you create a visually appealing and memorable brand
A well-designed brand can attract customers and can create a loyal following. Keep in mind that your brand identity should be an accurate reflection of your coffee shop's values and mission statement.
Building and Designing Your Coffee Shop
After completing the planning stage for your coffee shop, it's time to start building and designing your space. This is your chance to get creative and make your vision a reality. Consider factors like layout, decor, and atmosphere to create a welcoming and unique experience for your customers.
Choose Your Equipment
Investing in high-quality equipment is essential to ensuring your coffee shop's success. From espresso machines and grinders to brewing equipment, every piece of equipment should be carefully selected to ensure the best quality coffee.
Additionally, you will need to consider the type of furniture, tableware, and décor that will best reflect your brand identity. Purchasing durable and comfortable furniture will create a welcoming atmosphere for your customers. Lastly, do not forget to factor in the costs of maintenance and repairs to keep your equipment running smoothly.
Read more about: How Much Does it Cost to Open a Coffee Stand: What to Expect Financially?
Hire Contractors and Builders
Hiring contractors and builders is a critical step in opening a coffee shop. Look for experienced professionals who can help you navigate the construction and renovation process. Consider factors such as cost, quality, and reputation when selecting contractors and builders, and be sure to communicate clearly with them throughout the project.
Design Your Space
Your coffee shop's atmosphere can have a big impact on how your customers feel about it. Consider the tone and vibe you want to convey and how you may do so through design.
The right lighting can create the right atmosphere, and inviting seating options can soothe your customers. Never undervalue the ability of accessories to create a cozy and welcoming ambiance, such as artwork and plants.
Implement Your Brand Identity
After designing your coffee shop, it's essential to implement your brand identity to create a unique experience for customers. This includes the design of your logo, menu, employee uniforms, packaging, and other visual elements. Consistency is key, so ensure that every aspect of your coffee shop aligns with your brand identity.
Operations Stage
After completing the construction and design of your coffee shop, the real work begins. Hiring the right employees is key to providing excellent customer service and keeping your business running smoothly.
Developing a menu that aligns with your brand and caters to your customers' tastes is also important. Implementing a POS system will help you manage transactions and track sales. Finally, managing inventory is essential to ensuring that you always have the supplies you need to serve your customers. Stay focused and organized to ensure a successful operation.
Hire Employees
In the coffee industry, both the quality of your coffee and the level of customer service you offer play a vital role. Look for candidates who are enthusiastic about both coffee and providing excellent customer service when hiring staff for your coffee business. They should have a thorough knowledge of the brewing process and be able to give consumers top-notch service.
In addition to selecting the best candidates, it is important to give them thorough training. By doing so, you can be confident that they can prepare and serve coffee according to your standards and that they are aware of all the goods and services your coffee shop has to offer. By investing in your employees and their training, you are investing in the success of your business.
Read more about: How Much Does it Cost to Open a Coffee Shop: The Price of Passion
Set Up Your Point of Sale System
A high-quality point of sale (POS) system is crucial for any coffee shop. Look for a system that is user-friendly, reliable, and can handle transactions quickly to ensure a smooth operation. Consider features such as inventory management, employee scheduling, and customer loyalty programs.
Train your employees to use the POS system effectively to provide quick and efficient service. Regularly update and maintain the system to prevent any technical issues that could disrupt your business.
Develop a Marketing Strategy
Marketing is a key element to attract customers to your coffee shop. Along with serving great coffee, developing an effective marketing strategy is vital. 
Social media, email marketing, and local advertising are great ways to reach potential customers. Hosting events and partnering with other local businesses can also help increase visibility and attract customers. Experiment with different marketing channels to see what works best for your coffee shop.
Manage Inventory
Managing inventory is a vital part of running a successful coffee shop. It's important to keep track of all supplies, including coffee, milk, and other items, to ensure that you never run out of stock. Developing an efficient system for ordering supplies and storing inventory can help minimize waste and reduce costs.
Consider using inventory management software to track your stock levels and make reordering easier. Lastly, regularly review your inventory management process to identify areas for improvement and ensure that you're optimizing your operations.
Summary
Opening a coffee shop needs careful planning and execution, but for those who are enthusiastic about coffee and customer service, it can be a satisfying and successful endeavor. You can build a coffee shop that distinguishes out from the competition and gives your clients a warm and delightful experience by following the instructions provided in this tutorial.
Remember to focus on the key aspects of opening a coffee shop and don't forget to keep your customers' needs and preferences in mind every step of the way. With the right approach and a lot of hard work, you can turn your dream of owning a coffee shop into a reality. So take the first step and start planning today!
Frequently Asked Questions
Q: How much money do I need to open a coffee shop?
A: Start-up costs for opening a coffee shop can vary widely based on factors such as location, size, equipment, and inventory. Typically, it is recommended to have at least $80,000 to $250,000 available.
Q: Do I need to have prior experience in the coffee industry to open a coffee shop?
A: Opening a coffee shop does not require prior knowledge of the coffee industry, though it can be helpful. However, it's important to have a love for coffee and an open mind to new things.
Q: How do I choose a name for my coffee shop?
A: When choosing a name for your coffee shop, consider your brand identity, target audience, and location. Your name should be memorable, easy to pronounce, and reflect the overall vibe of your coffee shop.
To learn more on how to start your own coffee shop, check out my startup documents here.
Disclaimer: The information provided by StartMyCoffeeShop.com ("The Site") is for general informational purposes only. All information on the Site is provided in good faith. However, we make no representation or warranty of any kind, express or implied, regarding the accuracy, adequacy, validity, reliability, availability, or completeness of any information on the Site. Under no circumstance shall we have any liability to you for any loss or damage of any kind incurred as a result of the use of the Site or Reliance on any information provided on the Site. Your use of the Site and reliance on any information on the Site is solely at your own risk. This blog post is for educational purposes only and does not constitute legal advice. Please consult a legal expert to address your specific needs. Terms and Conditions. (https://startmycoffeeshop.com/terms-and-conditions/)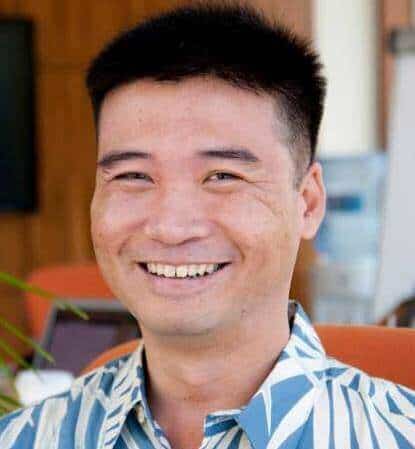 Hi! I'm Shawn Chun
My adventure in coffee began when I first launched my first coffee shop back in the early 2000s. I had to figure out so many things on my own and to make it worse within 2 years of opening two large corporate coffee chains moved in just blocks away from me!
As I saw smaller and even some larger coffee shops in the neighborhood slowly lose customers to these giant coffee chains and slowly close up shop, I knew that I had to start getting creative…or go out of business.
I (like you may be) knew the coffee industry well. I could make the best latte art around and the foam on my caps was the fluffiest you have ever seen. I even had the best state-of-the-art 2 group digital Nuova Simonelli machine money could buy. But I knew that these things alone would not be enough to lure customers away from the name brand established coffee shops.
Eventually, through lots of trial and error as well as perseverance and creativity I did find a way to not only survive but also thrive in the coffee/espresso industry even while those corporate coffee chains stayed put. During those years I learned to adapt and always faced new challenges. It was not always easy, however, in the end, I was the sole survivor independent coffee shop within a 10-mile radius of my location. Just two corporate coffee chains and I were left after that year. All told the corporate coffee chains took down over 15 small independent coffee shops and kiosks and I was the last one standing and thriving.
Along the years I meet others with the same passion for coffee and I quickly learned that it is not only "how good a barista is" that makes a coffee shop successful, but the business side of coffee as well.
Hence why I started this website you are on now. To provide the tools and resources for up and coming coffee shop owners to gain that vital insight and knowledge on how to start a coffee shop successfully.
Stick around, browse through my helpful blog and resources and enjoy your stay! With lots of LATTE LOVE!
Shawn