As a coffee shop owner, you'll have many decisions to make along the way which either propel your business forward or cause it to slowly become stagnant. One of these choices being whether or not to serve food and, to an extent, where to source it from.
Entailed in the following are the five current and rising trends in foodservice at coffee shops.
Locally sourced staples

Avant-garde additions

Artisan Confections

New wave health trends

DIY
In preparation for discussing each of the items listed above, allow me to first discuss the "why" behind choosing to serve food at your coffee shop. Initially, it's a good idea to get your footing with your new business and merely focus on the task at hand; making the best cup of coffee and creating happy, repeat guests. Once you've settled in and established your brand it's time to start upping your game with additional offerings and more reasons for your customers to continue to patronize your coffee shop. 
The evolution of your business model is the biggest reason to begin incorporating food items into your rotation of offerings. Some places can survive on selling coffee alone, but why make it harder than it has to be? 
Making your establishment a one-stop-shop for coffee and breakfast or an afternoon pick-me-up and a quick bite makes it that much more attractive to a wider clientele pool. A wider variety of offerings, a sustainable amount based on the size of your business, captures more business and makes you more money. It's as simple as that.
Locally Sourced Staples
With the local foods trend now a full-blown movement, it would be remiss not to include this on the
list let alone talk about it first and foremost. So, what is the local food movement, to begin with, you ask? Well, at its core, it is utilizing locally grown produce and animal products as the main source for producing what food items that you are selling in a retail setting. 
For you, as a coffee shop owner, this means something a bit more refined. You would be seeking out local artisans and producers to collaborate within a wholesale sense to stock your coffee shop for retail sales. In the most straightforward approach, seeking out the local pastry and baked goods producers is the most logical place to start as they make the most sense in regards to foods that pair with coffee. These can include anything from cookie and cake bakeries to bread and bagel shops. Make sure to have a variety of items and a list of 2-3 producers that are willing to work within your needs and budget to make the most out of these partnerships. 
Why is this both an easy and important place to start? To answer the first part of that question is simple. It is easy to start with partnerships with other local businesses because they are your neighbors. They are right down the street or even right next door so, logistically speaking, partnering with them makes sense. They also most likely have brand recognition of their own which you can use to build upon in your respect. 
These partnerships are important because they are mutually beneficial to your community. Strengthening other local businesses that are complementary to (directly related to but not competitive with your line of business) your business is a win-win for everyone. You both enjoy increased sales and exposure and your clientele enjoys the freshest, highest quality products possible.
Avante-Garde Additions
What once was a category populated by trends such as adding different lactose-free kinds of milk and flavored syrups to your coffee served alongside everything spiced, well everything, is now dominated by a new genre of drink additives and culinary creations. Now let's narrow down that broad range of items to the most popular, booming, and controversial addition to that category: cannabis. 
Cannabis has come a long way from its use as a high-schoolers high of choice and grown into a multi-billion dollar wellness industry. Just as the coffee shops of Amsterdam have done in the past, there's no reason why you shouldn't capitalize on this rising trend and stake your claim to a piece of this pie…or brownie. 
There are a variety of different products that are applicable for retail sales in a coffee shop setting that doesn't include selling actual cannabis itself. Creative minds have been going above and beyond in producing new and interesting infused items from protein and energy bars to spreads to be served with bagels or other baked goods. Incorporating these items at a walking pace, though, with CBD products first will allow you to dip your toes in the water without getting too ahead of yourself. 
Adding CBD oil to coffee drinks has gone on the rise in recent years as a new way to mellow out the coffee jitters and increase the value of your cup of coffee. On average, just adding CBD oil to a coffee drink allows you to double the price from what it would be without the addition.
Though there is a high reward margin for obtaining and selling cannabis edibles and additives at your coffee shop, sourcing these items is the tricky part. First, depending on what state you are operating in, you may have to obtain a special permit or register with the local authorities to even have the ability to foray into this sector of business. Next, you will need to find a licensed producer of the items you are looking for. 
A business that legally obtains the raw product and produces tried and tested pre-packaged edibles which apply to your business model may be a bit of a challenge, so, take your time and do your homework. 
Artisan Confections
We have already touched on locally sourced baked goods, but another artisan producer is knocking on the door in the small-batch retail business; chocolate. With only 480 producers of specialty chocolate producers recognized worldwide, this small pool of artisans is slowly but surely making a splash in the confections market which can be capitalized upon by small businesses such as yours. Why is this? This is because, with so few producers, the supply is not there to satisfy larger retailers making these items perfect for smaller sellers such as yourself. Not to mention that the nature of the chocolate business is in direct connection with that of the coffee business in regards to the struggles with fair trade sourcing. 
On top of selling a value-driven product, as artisan chocolate is, adding these products to your shelves is also a great marketing technique in that patron of a small coffee shop are probably patronizing your business for some of the same moral-driven reasons that would bring them to buy that chocolate. 
New Wave Health Trends
At this point, it is safe to say that the nation's health kick is here to stay and has impacted every sector of business including, you guessed it, coffee shops. This is something to take into consideration when deciding not only the food menu but also the drink menu that you'd like to put into place at your coffee shop. Not only will you need to be prepared with sugar substitutes and lactose-free milk options, but also alternative drink options to coffee. These include anything from matcha offerings to pre-packaged protein shakes made daily by your baristas. 
Drink options aside, let's talk about some of the ways that your coffee shop can get creative with healthier food offerings. Below is a list of potential options that appeal to the health-conscious consumer.
Artisan Toasts – With the most recognizable health craze being the avocado toast this is a hard trend to pass up on as there are so many easily-made health-driven options here.
Vegetable Breads – Vegetable breads are making a splash in the health food world because they are adding loads of flavor in addition to nutrients and protein.
Alternative Bagels – Everyone loves a bagel with their morning coffee, but some new ingredient twists are boosting the nutritional value of these carb-loaded favorites.

 

Egg Muffins – Skip the bread altogether and bake your eggs in muffin pans for an easy grab-and-go option that's high in protein and low in carbs.
Check out some unique food you can offer at your coffee shop HERE.
Do It Yourself
This may be an ambitious move for you as a new business owner, but with some thought and good logistical planning, running a small food operation out of your coffee shop can pay dividends. This way, you can have total control over what is going into the foods that you are serving and can change your offerings as frequently as you'd like in response to your guest's interests and feedback. Even if you didn't plan to offer food in your initial business model, with a few small equipment acquisitions and certifications you can begin serving applicable food accompaniments with a low overhead cost to you. 
Frequently Asked Questions
What are some small pieces of equipment that you can get to begin making your food at your coffee shop?
Merely with the addition of a panini press and a toaster oven you can begin making handheld hot foods without going through a major remodel to accommodate larger cooking equipment.
How do you find other local businesses to partner with?
You can search your local business registry for specific types of business that you are looking to partner with. Taking to social media is also a great outlet that offers you even more direct information on the businesses that you are researching.
How can you make an informed decision on what foods will do well at your location?
Research what other food businesses are around your location that is successful. Either partner with them directly or create your offerings that fall into similar categories. Offering comment cards to your guests is also another great way to get direct feedback from the people that are patronizing your coffee shop regularly.
To learn more on how to start your own coffee shop checkout my startup documents here
Please note: This blog post is for educational purposes only and does not constitute legal advice. Please consult a legal expert to address your specific needs.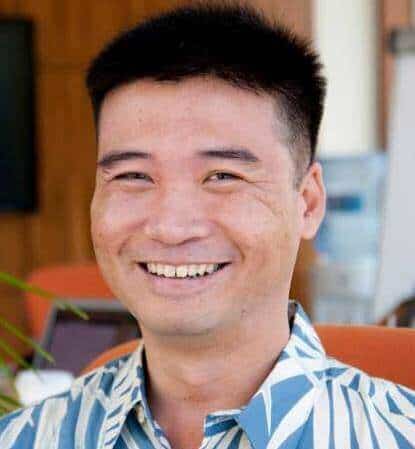 Hi! I'm Shawn Chun
My adventure in coffee began when I first launched my first coffee shop back in the early 2000s. I had to figure out so many things on my own and to make it worse within 2 years of opening two large corporate coffee chains moved in just blocks away from me!
As I saw smaller and even some larger coffee shops in the neighborhood slowly lose customers to these giant coffee chains and slowly close up shop, I knew that I had to start getting creative…or go out of business.
I (like you may be) knew the coffee industry well. I could make the best latte art around and the foam on my caps was the fluffiest you have ever seen. I even had the best state-of-the-art 2 group digital Nuova Simonelli machine money could buy. But I knew that these things alone would not be enough to lure customers away from the name brand established coffee shops.
Eventually, through lots of trial and error as well as perseverance and creativity I did find a way to not only survive but also thrive in the coffee/espresso industry even while those corporate coffee chains stayed put. During those years I learned to adapt and always faced new challenges. It was not always easy, however, in the end, I was the sole survivor independent coffee shop within a 10-mile radius of my location. Just two corporate coffee chains and I were left after that year. All told the corporate coffee chains took down over 15 small independent coffee shops and kiosks and I was the last one standing and thriving.
Along the years I meet others with the same passion for coffee and I quickly learned that it is not only "how good a barista is" that makes a coffee shop successful, but the business side of coffee as well.
Hence why I started this website you are on now. To provide the tools and resources for up and coming coffee shop owners to gain that vital insight and knowledge on how to start a coffee shop successfully.
Stick around, browse through my helpful blog and resources and enjoy your stay! With lots of LATTE LOVE!
Shawn