If the quality of your day depends on your morning cup of coffee, you're far from alone.  Over 1 billion people worldwide drink coffee every day.  Of these, an estimated 150 million Americans consume the beverage daily.  That's 50% of the American population! 
These statistics might be enough to convince you to finally start that coffee shop you've always wanted, but before you begin dreaming of a cozy corner cafe or a zippy coffee drive-thru, you need to understand the process of starting a coffee business.  These 10 steps will help guide you on your way to starting a profitable coffee business.  
How To Start a Coffee Business in 10 Steps
Determine What Type of Coffee Business is Best for You
Create a Coffee Shop Business Plan
Source Your Coffee Beans
Establish Your Menu 
Find the Best Location for Your Coffee Business
Secure Your Funding
Learn Regulations and Laws
Order Your Equipment
Establish Your Online Presence
Hire an Amazing Team
Determine What Type of Coffee Business is Best for You
First, you will need to do research and determine what type of coffee business is right for you.  Should you start a coffee shop from scratch, buy an existing coffee business, or join a coffee shop franchise?  There are advantages and disadvantages to each approach, and thorough research and planning will help you figure out what is best for your unique situation.  
Starting from scratch allows you to build your unique brand and determine your target market.  You might also avoid the poor reputation or financial debt from a previous owner.  However, this approach also takes a lot of planning, time, and diligence.  
Buying an existing coffee business is another option.  An existing business already has an established brand and customer base.  In addition, you likely won't need to build out your space or purchase your own coffee equipment.  However, when considering this option you also need to make sure you are buying a profitable company and not a failing business.  Reputation also matters
Joining a coffee shop franchise is great for those entrepreneurs looking for a business model with proven success.  Purchasing a franchise offers less risk, because you're basically paying for a "turn-key" business:  a detailed business plan, training and support, and an already established brand.  If you value the freedom to make your own choices, however, then a franchise may not be the best option for your coffee business.
How To Open A Cafe With A Limited Budget
Create A Coffee Shop Business Plan
Once you've decided on the type of coffee business you want to start, the next step is to create a detailed business plan. A business plan can be structured a variety of ways, but should include several key details, such as: your concept, vision or mission statement, and financials.  
Your coffee business plan should also include your menu items and the estimated timeline for opening your shop.  Basically, a business plan is a way to organize your research and ideas, and is also something an investor or bank loan officer might want to see.  Having a detailed plan will help with organization and save you time and money.  For example, a common mistake many coffee entrepreneurs make is underestimating costs, but your business plan should include all the research you've done on possible expenses.   
You don't need experience or any extra training to write your business plan, and it doesn't need to be overwhelming.  In fact, there are many coffee business plan templates online to help you get started.  
Source Your Coffee Beans
One of the most important decisions you will make when opening a coffee business is deciding where to get your coffee beans.  You'll want to have the best testing coffee possible!  Even if you have other menu items, the coffee is main attraction.  
Explore several wholesale roasters in your area.  Partnering with a local roaster is a great way to show your support for another business in your community, and your customers may already recognize the brand.  Some local roasters will offer coffee training for your baristas, which is valuable support.  
Establish Your Menu
Your coffee shop menu is an integral part of your business concept.  Planning your menu will help you understand your equipment needs and could play a role in the physical location of your business.  Here is where you'll need to understand what your customers want, so putting a lot of thought into your target customer and their needs is essential.   
Avoid making the mistake of trying to offer everything any customer could possibly desire.  Instead, put your effort into the quality of your menu items.  Having three varieties of irresistible, buttery scones is much better than having several dozen varieties of mediocre pastries!  
How To Use An Expresso Machine For The Best Coffee
Determine the Best Location for your Coffee Business
The best location for your coffee business largely depends on several variables.  Often, the determining factor is your budget.  You'll also need to consider your target demographic and whether your location will reach this customer base.  In addition, your location must be easily accessible and visible to customers.   
When deciding on a location, you should also research the competition—other coffee shops, cafes, or restaurants that serve coffee.  If your chosen location has plenty of competition, how can you make your business stand out?  
Secure Funding for Your Coffee Business
The cost of starting a coffee business varies and is truly dependent upon a few key factors, including: your concept (i.e. full coffee house vs. drive-thru), your location, real estate markets, and labor costs.  You need to research and consider all of these factors before deciding what types of funding you'll need to start a coffee business. 
When you understand the costs associated with starting your business, (and put them into your business plan) it is time to consider your funding sources. Funding can come in the form of your personal savings, personal or business loans, or contributions from co-owners and investors.  Many new business owners choose a combination of funding sources.
Learn Regulations and Laws
Part of deciding your coffee shop's location comes down to knowing the requirements for your specific area.  For example, certain regulations, taxes, and even health and building codes change depending on your location.  Your city or county will be able to provide you with specific details, so contact them early on in your planning and research process.  
Express Exspressos? How Long It Should Take To Serve A Customer Coffee
Order Your Equipment
You should decide on your coffee business equipment after you've decided on a menu.  Understanding what you'll need to purchase for your unique business is essential.  If you've bought an existing coffee business, you may be able to negotiate the inclusion of your needed coffee shop equipment into the total purchase price.  
If you are starting your business from scratch, however, you'll obviously need to order your equipment.  In addition to the coffee equipment, consider the other supplies and related items needed for your particular space.  You can access a basic coffee equipment list here to help you get started.
Establish Your Online Presence
Having an online presence is an important part of starting a coffee business, so you'll need to create a website to share basic details, such as your company's location, business hours, and menu.  In addition, your website is the spot to share your mission and promote your brand.  
Having active social media accounts for your coffee business is another fun way to advance your brand, in addition to cultivating connection with your customer base and sharing news or upcoming events and promotions.
Hire An Amazing Team
As an owner, expect to be very involved with the daily operations of your business.  However, one way to alleviate some of the pressure is hiring and training a great team of reliable employees.  
Even if you have a beautiful space and offer high quality coffee, your customers will remember a poor interaction with your staff.   Search for candidates with strong customer service skills, a willingness to learn, and friendly, upbeat attitudes.  These managers and baristas represent your brand, so proper training is essential.  
How To Best Make Turkish Coffee
Frequently Asked Questions
How much does it cost to start a coffee business?
The total cost of starting a coffee business depends on a large number of variables, include the type of coffee shop.  The start up costs for coffee shops with seating range anywhere from $30,000-$300,000, while coffee carts/kiosks and mobile coffee truck business costs range $50,000-$105,000. 
Is a coffee business profitable?
Coffee businesses can be more profitable than other restaurants, because coffee sells at a higher profit margin than other foods.  Also, the operational costs of running a coffee business tend to be lower than other types of businesses.  
How do I attract more customers to my coffee shop?
Attract new customers to your coffee shop through social media outreach, such as setting up a business page on Facebook or posting enticing pictures on Instagram.  If your location allows, set up an eye-catching sign to attract passersby.  Encourage customer retention by offering loyalty cards and running special promotions.
To learn more on how to start your own coffee shop checkout my startup documents here
Please note: This blog post is for educational purposes only and does not constitute legal advice. Please consult a legal expert to address your specific needs.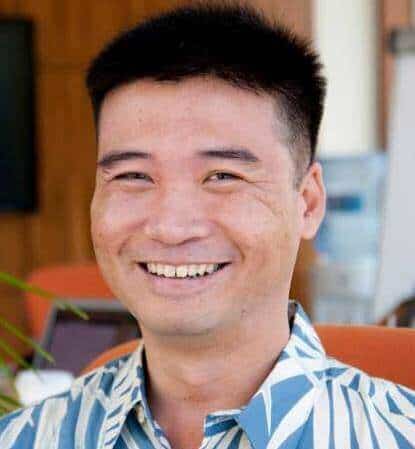 Hi! I'm Shawn Chun
My adventure in coffee began when I first launched my first coffee shop back in the early 2000s. I had to figure out so many things on my own and to make it worse within 2 years of opening two large corporate coffee chains moved in just blocks away from me!
As I saw smaller and even some larger coffee shops in the neighborhood slowly lose customers to these giant coffee chains and slowly close up shop, I knew that I had to start getting creative…or go out of business.
I (like you may be) knew the coffee industry well. I could make the best latte art around and the foam on my caps was the fluffiest you have ever seen. I even had the best state-of-the-art 2 group digital Nuova Simonelli machine money could buy. But I knew that these things alone would not be enough to lure customers away from the name brand established coffee shops.
Eventually, through lots of trial and error as well as perseverance and creativity I did find a way to not only survive but also thrive in the coffee/espresso industry even while those corporate coffee chains stayed put. During those years I learned to adapt and always faced new challenges. It was not always easy, however, in the end, I was the sole survivor independent coffee shop within a 10-mile radius of my location. Just two corporate coffee chains and I were left after that year. All told the corporate coffee chains took down over 15 small independent coffee shops and kiosks and I was the last one standing and thriving.
Along the years I meet others with the same passion for coffee and I quickly learned that it is not only "how good a barista is" that makes a coffee shop successful, but the business side of coffee as well.
Hence why I started this website you are on now. To provide the tools and resources for up and coming coffee shop owners to gain that vital insight and knowledge on how to start a coffee shop successfully.
Stick around, browse through my helpful blog and resources and enjoy your stay! With lots of LATTE LOVE!
Shawn