Starting a business from your home is not all that uncommon. Some people start in-home daycare centers, while some people have turned their kitchens into bakeries, selling tasty treats like cookies, cakes, and pies from their homes. According to 99 Firms, there are 31.7 million home businesses open in the United States. This begs the question, "Can you start a coffee shop from home? "
Several factors come into play when opening a coffee shop in your home, such as zoning laws as well as the location of your home. To open a coffee shop from home, follow these steps:
Find out if your area is zoned for business

Get all required licenses and permits

Have the fire department inspect your property

Make sure you comply with your local sign ordinances
Zoning Laws and Restrictions
Many neighborhoods and subdivisions have restrictions placed on what kind of business can be conducted in that particular area. According to Start My Coffee Shop, the first step to opening a coffee shop from your home is to make sure that your neighborhood is zoned for conducting commercial business. Because the Municipal Planning and Development Department is responsible for making the zoning laws in the different areas of your city or town, they can provide you with pertinent information regarding the applicable zoning laws where you want to start your coffee shop.
The Small Business Administration website states that neighborhoods are usually zoned for either residential or commercial use. Zoning ordinances are generally put into place to restrict or entirely ban specific kinds of businesses from operating in an area. Zoning ordinances can still apply even to home-based businesses, although there may be fewer restrictions involved. These ordinances are usually controlled on a local level by the Department of City Planning.
Besides checking with the appropriate departments, another effective way for you to determine if your area is zoned for business is to see if the previous property owners were running an in-home business from your location. If the previous owners had an in-home business located on the property, the area should still be zoned for business. However, you may still want to look into this because zoning laws do occasionally change. Because of this, you are consulting an attorney might also be a viable option in finding out whether or not your neighborhood or subdivision is currently zoned for commercial business.
The website NOLO states that a large number of municipalities allow for the operation of small, non-polluting businesses in residential areas. Of course, this stipulation is conditional, provided that the home-based businesses do not disturb or negatively impact any neighbors.
Business Licenses and Permits
When you are opening a business from your home, there are many different licenses and permits which you will be required to have. Of course, some of these licenses and permits are contingent on the type of in-home business that you own. According to the website Investopedia, here are five licenses and permits that home businesses may be required to obtain:
General business license
Professional license
Health and safety permits
Sign permit
Sales tax license
General Business License
According to 99 Firms, it takes approximately four days to start a home business. However, you still must procure all of the forms that are necessary for you to get any licenses or permits you and your business will be required to have. The general business license is the first license that you will need to obtain to start conducting business. This is the license that grants you legal permission to engage in business within a specific jurisdiction and can be obtained by visiting your local tax office.
There is generally a cost associated with acquiring your general business license, which will vary from state to state. The cost of this license falls within the $25 to $50 range. Once you have filled out all of the necessary paperwork, paid your fee, and gotten your business license, it must be prominently displayed where it is visible to the public, according to the website Free Advice. This also applies to any other licenses or permits required for your business.
Professional License
Although some coffee shops are required to acquire a professional license, one is not required for you to own a home-based coffee shop. Professional licenses are usually reserved for certain types of home-based businesses, such as daycare centers, financial advisors, tax preparers, attorneys, and hairstylists. State or federal professional licensing can be obtained by either going to your state's business office or your state's official website to obtain a list of all occupations that will require you to get a professional license.
Health and Safety Permits
Because your in-home coffee shop is in the business of packaging and the retail selling of food and beverages, you will have to get an environmental permit and a permit from the health department to engage in business. To find out if this pertains to your business, you can check with your state's health department and also with the Environmental Protection Agency (EPA).
Determining whether or not your in-home coffee shop needs a health permit can be a somewhat confusing task. Luckily, The Balance Small Business has done its due diligence in eliminating some of this confusion. A few of the businesses which are going to require you to have a health permit include:
Beverage vendors such as distilleries or craft brewers
Food trucks
Street vendors
Restaurants
Food vendors at flea markets and farmers markets
Believe it or not, some businesses serve food and beverages that are not required to get a health permit. Although it is usually a good idea to have a health permit, some of the businesses which do not require you to obtain a health permit are:
Sellers of hot beverages where no processing is required
Sellers of pre-packaged or minimally packaged foods
Sellers of dry ready-to-drink beverages like coffee or tea
Running a home-based coffee shop does not require you to have a health permit, although you may want to consider acquiring one for the peace of mind of your customers. Making sure that your customers are comfortable is always good business.
Learn more about permits HERE.
Sign Permit
If you are opening an in-home coffee shop, you will probably want to be able to advertise your business by putting a sign on your lawn. This is why having a working knowledge of the sign ordinances in your location will work to your advantage. Most cities and towns have sign ordinances, which dictate the size, type, and location of business signs. Whether or not you will be able to have lighting on your sign is also governed by these ordinances.
Many homeowners associations, condos, and apartment complexes have restrictions on commercial use of signs in addition to city or county laws. It is important to refer to your lease or rental agreement to determine what is allowed if you live in an apartment or a condo. If you live in a house, check with your deed or your home owner's association agreement to see what is permissible. While a catchy sign may indeed attract customers to your home-based coffee shop, it could end up costing you in fees and penalties, or even your home.
Sales Tax License and EIN
In many states, the sales tax license is included with your general business license. However, you should check with your state office to ensure that it is included, as it is a criminal violation to operate a home-based business without a sales tax license in many states. You should be informed of whether your general business license includes your sales tax license when you fill out the pertinent forms to get your license.
According to the website Dream A Latte, you are also going to have to secure a federal tax number, which is called your Employer Identification Number (EIN). This number is used to identify the current legal structure of your business. To put things in perspective, you can think of the Employer Identification Number as a social security number for your business. While you can get your sales tax license from the state in which you reside, you must get your EIN from the Department of Revenue.
Fire Department Inspection
If you have any customers entering your home to conduct business, it is quite common for the Fire department to inspect your property. By running a home-based coffee shop and allowing your customers to enter your home to purchase their coffee, this inspection will be required for you to conduct business. These inspections will determine if your home is a safe place for you and your customers to conduct business, as well as determining the maximum capacity of people allowed in your business at one time.
Fire safety is also an important aspect of the inspection that will be conducted by the fire department. This is especially significant, as a fire takes place every 63 seconds in the United States, according to the news website Telgian. Included below are a few of the essential items that will be on the inspector's checklist:
Different ways that fires could start within the structure
What are safety systems in places, such as smoke alarms, fire extinguishers, and sprinkler systems?
Ensure these systems are regularly maintained and in good working order, including documentation of maintenance
Check the systems that assist with egresses, such as lighted exit signs and exit doors, to make sure they function properly
Make sure emergency personnel have easy, immediate access
Maintaining a Healthy Balance
When you are running a business from your home, it can be hard to separate your work life from your personal life. Most people have the luxury of having a barrier between their work and their homes. Unfortunately, this is not the case if you are running a home-based business. However, there are a few tips I can provide you that may help in being able to find a healthy balance between your profession and your life.
The first and possibly most helpful tip that I can offer for maintaining a healthy balance between your work life and your private life is to keep your work hours separate from your personal hours. This may seem like a simple task, but when you work out of your home, you have to set specific hours of operation and stay firm in those hours. One recommendation that I have found particularly helpful in keeping your work and home life separate is to set aside one hour before normal business hours and one hour after normal business hours, in which you will answer the phone. Any time that does not fall between these parameters is off-limits.
Another suggestion that I can offer to you to have a healthy balance between work and private time is to leave your work at work. Now, I understand that this may be a bit harder to accomplish if you work from home. However, it is not impossible. The key to a healthy balance when working from home is to set boundaries and to stick with them. If you are always at work (since you live there), you tend to keep working subconsciously. What helps is to leave for a bit and go to the gym or talk a walk. Basically, get away from the environment to recharge and refresh. Many people who work from home also try things like yoga or meditation. No matter how much you may enjoy your work, the important thing is to "unplug" your mind from work and think of other things to bring you back in balance.
Conclusion
While it may not take a particularly long time to start a home-based coffee shop, there are a few key steps that you must take to open for business. The first step you need to take is to check to see if your neighborhood, subdivision, or area is zoned for business. Your second step should be to obtain all of the necessary licenses and permits required for you to open a home-based business.
These licenses and permits include a general business license; a professional license, if necessary, health and safety permits; signage permits and lighting ordinances, and your Employer Identification Number and sales tax license. Finally, you will need your local fire department to inspect the premises to ensure that your home is a safe place in which you can conduct business. Once you have completed these steps, the only thing that's left is for you to order your supplies and start serving up piping hot coffee to your customers.
Frequently Asked Questions
What are the most popular types of coffee beverages served in coffee shops?
Coffee shops around the world are known for the amazing selection of beverages they serve. Whatever your tastes may be, there is sure to be something you will enjoy. However, the following are the five most popular coffee beverages served in coffee shops.

Cappuccino
Latte
Americano
Espresso
Caffè mocha

What is the most popular brand of coffee sold in the United States? If there is one thing we are not short on in America, it would be the vast selection of coffee available to purchase. According to Statista, the most popular brand of coffee sold in the United States is Folgers, amassing slightly more than $1 billion in annual sales. That's approximately double the amount of coffee that its closest competitor, Starbucks, sells annually. Maxwell House is a distant third, with $424 million in yearly sales.
How much does it cost to open a coffee shop?
When you are opening a coffee shop, you will find that your costs may vary significantly based on the needs of the individual opening the shop. However, Investopedia has provided a list of the average costs associated with opening a coffee shop. They are based on the size of the shop you want to open:

Sit-down coffee shops – between $200,000 and $375,000
Large drive-through shops – between $80,000 and $200,000
Small kiosks – between $25,000 and $75,000
Franchised sit-down coffee shops – up to $673,700.
Licensed brand-name stores – approximately $315,000
To learn more on how to start your own coffee shop checkout my startup documents here
Please note: This blog post is for educational purposes only and does not constitute legal advice. Please consult a legal expert to address your specific needs.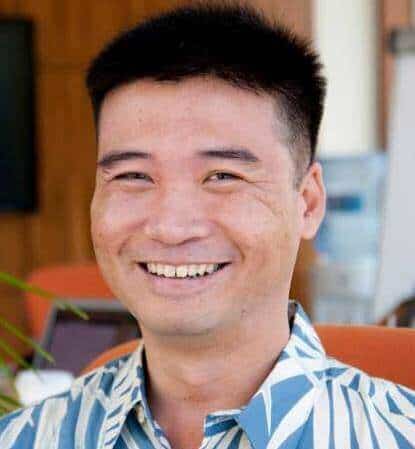 Hi! I'm Shawn Chun
My adventure in coffee began when I first launched my first coffee shop back in the early 2000s. I had to figure out so many things on my own and to make it worse within 2 years of opening two large corporate coffee chains moved in just blocks away from me!
As I saw smaller and even some larger coffee shops in the neighborhood slowly lose customers to these giant coffee chains and slowly close up shop, I knew that I had to start getting creative…or go out of business.
I (like you may be) knew the coffee industry well. I could make the best latte art around and the foam on my caps was the fluffiest you have ever seen. I even had the best state-of-the-art 2 group digital Nuova Simonelli machine money could buy. But I knew that these things alone would not be enough to lure customers away from the name brand established coffee shops.
Eventually, through lots of trial and error as well as perseverance and creativity I did find a way to not only survive but also thrive in the coffee/espresso industry even while those corporate coffee chains stayed put. During those years I learned to adapt and always faced new challenges. It was not always easy, however, in the end, I was the sole survivor independent coffee shop within a 10-mile radius of my location. Just two corporate coffee chains and I were left after that year. All told the corporate coffee chains took down over 15 small independent coffee shops and kiosks and I was the last one standing and thriving.
Along the years I meet others with the same passion for coffee and I quickly learned that it is not only "how good a barista is" that makes a coffee shop successful, but the business side of coffee as well.
Hence why I started this website you are on now. To provide the tools and resources for up and coming coffee shop owners to gain that vital insight and knowledge on how to start a coffee shop successfully.
Stick around, browse through my helpful blog and resources and enjoy your stay! With lots of LATTE LOVE!
Shawn