Are you passionate about coffee and dream of owning your own coffee shop? Though it requires careful preparation and execution, opening a coffee shop can be a satisfying yet challenging venture.
A start-up coffee shop business plan has an executive summary, company description, market analysis, marketing and sales strategy, financial projections, and management team. It also has information about the products you will serve.
This article will provide you with the factors that you need to know how to start a coffee shop business plan. Let's get started!
What Is A Business Plan?
If you are planning to open a coffee shop, don't overlook the importance of creating a business plan. This document will help you define your business goals, strategies, and financial projections. By laying the groundwork before you start, you'll be better prepared to navigate the challenges and opportunities of entrepreneurship. So, take the time to create a solid coffee shop business plan.
Here's what you need to include:
Executive Summary
Your coffee shop business plan should include an executive summary, which serves as an introduction to your plan. This section should provide a concise overview of your business, including your mission statement, the products and services you offer, and your financial projections.
The executive summary is a critical element of your plan as it's often the first thing investors or lenders will read. Therefore, it's essential to make it compelling and informative. By crafting a clear and concise executive summary, you'll be better positioned to capture the attention of potential investors and demonstrate the viability of your coffee shop business. 
Read more about: How to Make a Business Plan for Coffee: Conquering the Coffee Industry
Company Description
In your coffee shop business plan, the Company Overview section is where you introduce your business. This section should include essential details such as your company's history, location, and legal structure. You'll want to describe the founding of your business, its growth over time, and any significant milestones you've achieved. You'll want to provide details about your coffee shop's location, including any advantages or disadvantages of the area.
Finally, you'll need to outline your business's legal structure, such as whether it's a sole proprietorship, partnership, LLC, or corporation. By including these key details in your company overview, you'll paint a clear picture of your business and its unique qualities, setting the stage for the rest of your coffee shop business plan.
Market Analysis
Market research is a critical component of any coffee shop business plan. By conducting a thorough analysis of your target audience and competitors, you'll be better equipped to develop effective marketing and sales strategies. In this section of your plan, you should include a SWOT analysis that identifies your business's strengths, weaknesses, opportunities, and threats.
You should also carry out a competitive analysis to learn more about the advantages and disadvantages of your rivals. You'll be able to create methods that set your coffee business apart from competitors by doing this. Take the time to do it well because a well-done market research section can make all the difference in the performance of your organization.
Products and Services
Your coffee shop business plan should include a section dedicated to your products and services. This section should provide a comprehensive overview of your menu, including pricing and suppliers. By describing your products and services in detail, you'll give potential investors a clear understanding of what sets your coffee shop apart from others in the market.
Include any information on special products or services you may offer as well as any collaborations with regional vendors that advance the sustainability objectives of your company. You can show your company's dedication to quality and uniqueness by giving a comprehensive description of your goods and services.
Marketing and Sales Strategy
The marketing and sales strategy you outline in your coffee shop business plan should explain how you intend to draw in and keep customers. Depending on the preferences of your target group, this may encompass social media marketing, loyalty programs, promotional events, and other strategies. Your company may stand out in a crowded market and experience sustained growth with the aid of a strong marketing and sales plan.
Financial Projections
Financial projections are a critical element of any coffee shop business plan. Projected income statements, balance sheets, and cash flow statements should all be included in this section. By providing detailed financial projections, you'll demonstrate to potential investors that you've thought through the financial implications of your business plan.
It's essential to ensure your financial projections are realistic and based on thorough research and analysis. A well-executed financial projection section can set your business up for long-term business exposure.
Read more about: How to Make a Business Plan for a Coffee Shop: Navigating the Business Plan Journey
Management Team
The management team at your coffee shop is essential to the longevity of your company. A part of your coffee shop business plan devoted to your employees, outlining their backgrounds and qualifications, should be included. They should highlight their leadership abilities, industry experience, and any other relevant expertise in this part.
It's critical to emphasize how each team member's special set of skills helps your company succeed. Investors want to know that your team has the skills and experience to carry out your business plan and to address any obstacles that may develop.
Additionally, a good management group may foster ties with suppliers, increase client attraction and retention, and improve employee morale. Make sure to draw attention to the accomplishments of your team and any noteworthy accomplishments that show their leadership and knowledge.
Funding Request
You must include a fundraising request in your business plan if you want to get money for your coffee shop venture. This part has to include a thorough analysis of the financing you need and how it will be used. Your financing proposal should be specific and supported by a compelling case.
Include all relevant supporting documentation, such as financial accounts, market research findings, and legal records. This will make investors more aware of the potential dangers and benefits of funding your company. You can receive the funds you require to open your coffee shop by writing a strong financing request.
Location
Choosing the right location is crucial when starting a coffee shop. Look for a spot that is easily accessible and visible to your target audience to increase foot traffic. A good location can help attract more customers.
Some factors to consider include:
Foot traffic: The more foot traffic your location receives, the more potential customers you'll have.
Competition: Are there other coffee shops in the area? If so, how will you differentiate yourself?
Rent: Can you afford the rent for the location?
Zoning: Make sure the location is zoned for a coffee shop.
Equipment and Supplies
You'll need to spend money on supplies and equipment once you've found a place for your coffee shop. You'll also want to stock up on supplies. Consider investing in long-lasting equipment and supplies that will enable you to offer exceptional customer service.
Here's a list of essential items:
Espresso machine
Coffee grinder
Refrigerator
Freezer
Oven
Cups and saucers
Utensils
Point-of-sale system
Hiring Staff
To ensure the continued running of your coffee shop, hiring the right staff is crucial. Look for passionate individuals about coffee and customer service, and provide thorough training to ensure they have the skills to excel in their roles. Remember that your staff will be the face of your business and can make or break the customer experience.
Some positions you may need to fill include:
Barista
Baker
Cashier
Manager
Read more about: How to Get into Coffee: A Journey into the World of Coffee
Menu Development
When it comes to running a coffee shop, your menu is one of the most critical components. It's essential to offer a variety of drinks and snacks to cater to different tastes and preferences. Consider including a mix of classic and unique beverages, such as lattes, cappuccinos, and flavored specialty drinks.
Ensure that a variety of options, such as vegan and gluten-free options, are available for people with dietary limitations. You should think about rotating your offerings to keep people coming back, as well as adding seasonal specials to keep your menu unique and new.
To make sure your menu items are attractive and competitive in the market, don't forget to take price into account. You can cultivate a following of repeat customers and distinguish your coffee shop from the competition with a thoughtfully prepared menu.
Permits and Licenses
To legally operate your coffee shop, you must obtain the necessary permits and licenses from your local government. Be sure to research and comply with all regulations and requirements in your area.
Some common permits and licenses include:
Food service permit
Health department inspection
Business License
Zoning permit
Marketing Your Coffee Shop
To effectively market your coffee shop, consider a variety of strategies, such as social media marketing, email campaigns, and local advertising. Creating a strong brand identity through logos, colors, and overall aesthetics can also help attract customers.
Here are some marketing strategies to consider:
Social media platforms like Instagram and Facebook are powerful marketing tools for coffee shops. You can use these platforms to share photos of your drinks and food, announce promotions and events, and engage with your customers.
Email marketing is another effective way to stay in touch with your customers and keep them informed about your business. Consider offering a monthly newsletter with updates, special offers, and exclusive discounts.
You can also create a mobile app or loyalty card to track customer rewards. In addition to encouraging repeat business, loyalty programs can also help you collect valuable customer data and feedback. Make sure to promote your loyalty program on social media and in-store to maximize its effectiveness. Don't forget to regularly review and adjust your schedule to ensure it's meeting your goals and resonating with your customers.
Engaging with your local community is an excellent way to create brand recognition and support for your coffee shop. You can sponsor local events, such as charity fundraisers or school events, or host your own promotional events. Partnering with other local businesses can also be a great way to increase exposure and drive traffic to your shop.
Consider collaborating with a nearby bakery to offer a pastry and coffee combo or teaming up with a nearby gym to offer discounts for a post-workout coffee. Additionally, supporting local causes and initiatives can help establish your coffee shop as a community-minded business.
Summary
Starting a coffee shop can be an exciting and fulfilling venture, but it requires careful planning and execution. By considering the following factors, you'll be well on your way to creating an excellent coffee shop business plan. Location is vital, and your menu and marketing strategy will be critical to attracting and retaining customers. Good luck!
Frequently Asked Questions
Question: Do I need prior experience to start a coffee shop?
Answer: While prior experience in the coffee industry can be helpful, it's not a requirement. However, it's important to do your research and be willing to learn as you go.
Question: What are the most popular coffee shop menu items?
Answer: Some popular coffee shop menu items include espresso drinks, drip coffee, pastries, sandwiches, and smoothies.
Question: What permits and licenses do I need to open a coffee shop?
Answer: You'll need permits and licenses like a food service permit, health department inspection, business license, and zoning permit.
To learn more on how to start your own coffee shop, check out my startup documents here.
Disclaimer: The information provided by StartMyCoffeeShop.com ("The Site") is for general informational purposes only. All information on the Site is provided in good faith. However, we make no representation or warranty of any kind, express or implied, regarding the accuracy, adequacy, validity, reliability, availability, or completeness of any information on the Site. Under no circumstance shall we have any liability to you for any loss or damage of any kind incurred as a result of the use of the Site or Reliance on any information provided on the Site. Your use of the Site and reliance on any information on the Site is solely at your own risk. This blog post is for educational purposes only and does not constitute legal advice. Please consult a legal expert to address your specific needs. Terms and Conditions. (https://startmycoffeeshop.com/terms-and-conditions/)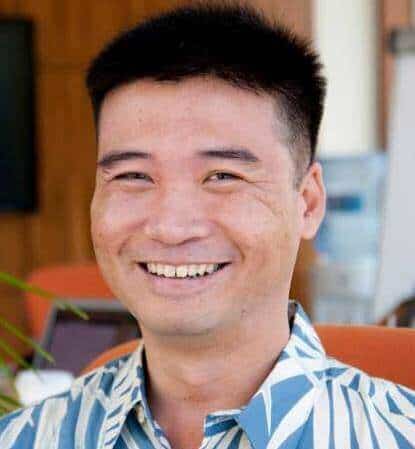 Hi! I'm Shawn Chun
My adventure in coffee began when I first launched my first coffee shop back in the early 2000s. I had to figure out so many things on my own and to make it worse within 2 years of opening two large corporate coffee chains moved in just blocks away from me!
As I saw smaller and even some larger coffee shops in the neighborhood slowly lose customers to these giant coffee chains and slowly close up shop, I knew that I had to start getting creative…or go out of business.
I (like you may be) knew the coffee industry well. I could make the best latte art around and the foam on my caps was the fluffiest you have ever seen. I even had the best state-of-the-art 2 group digital Nuova Simonelli machine money could buy. But I knew that these things alone would not be enough to lure customers away from the name brand established coffee shops.
Eventually, through lots of trial and error as well as perseverance and creativity I did find a way to not only survive but also thrive in the coffee/espresso industry even while those corporate coffee chains stayed put. During those years I learned to adapt and always faced new challenges. It was not always easy, however, in the end, I was the sole survivor independent coffee shop within a 10-mile radius of my location. Just two corporate coffee chains and I were left after that year. All told the corporate coffee chains took down over 15 small independent coffee shops and kiosks and I was the last one standing and thriving.
Along the years I meet others with the same passion for coffee and I quickly learned that it is not only "how good a barista is" that makes a coffee shop successful, but the business side of coffee as well.
Hence why I started this website you are on now. To provide the tools and resources for up and coming coffee shop owners to gain that vital insight and knowledge on how to start a coffee shop successfully.
Stick around, browse through my helpful blog and resources and enjoy your stay! With lots of LATTE LOVE!
Shawn