If you love coffee and have always dreamed of running your own business, starting a coffee shop might be the perfect opportunity for you. However, starting any business can be challenging, especially when it comes to navigating the complexities of the coffee industry. In this article, I will provide you with the things necessary to start your own coffee shop business.
Starting a coffee shop business requires through market research, a solid business plan, securing funding, choosing the right location, and providing excellent customer service. Starting a coffee shop business is indeed an exciting venture, but it requires careful planning and execution.
Many people now include coffee as an everyday drink in their daily schedules. Specialty coffee shops have elevated the coffee culture by giving patrons an unforgettable experience. These coffee shops provide more than just a standard cup of coffee. They also offer a social and cultural experience.
A coffee shop can prosper and develop into a cherished local business that serves as a gathering place for the community. And below are the things you need to keep in mind if ever you decide to start your own coffee shop business.
Conduct Market Research
Market research is one of the first things anyone needs to consider when starting a coffee shop business. By conducting thorough research, you can gain valuable insights into your target market, competition, and industry trends.
It's important to consider factors such as the demographics of the area, income levels, and consumer preferences when choosing the location for your coffee shop. Understanding your potential customer's needs and preferences can help you create a unique coffee shop experience that stands out from the competition.
Furthermore, analyzing industry trends can help you stay ahead of the curve and make informed decisions. This information will also be invaluable when creating your business plan, determining your pricing strategy, and making marketing decisions. Ultimately, taking the time to conduct comprehensive market research can help you set your coffee shop business up for success.
Read more about: How to Get into Coffee: A Journey into the World of Coffee
Develop a Business Plan
Any new business, including a coffee shop, must first create a business plan. You may describe your objectives, strategy, and financial projections with the aid of a well-organized business plan. It also enables you to recognize potential challenges and create emergency plans to deal with them.
It is essential to include information in your coffee shop business plan, such as your mission statement, marketing strategy, financial forecasts, and management structure. An in-depth review of your target market, competitors, and branding tactics should be part of your marketing plan.
Financial predictions should include information about your expected costs, income, and cash flow. A thorough list of job descriptions for staff employees should be part of a well-organized management plan. You can stay focused, responsible, and organized while you start and expand your coffee shop business by having a strong business plan in place.
Obtain Funding
Starting a coffee shop requires a significant commitment of cash. You'll need to have an in-depth understanding of the start-up expenses as a prospective business owner. You will require funding to pay for costs like rent, furnishings, supplies, and employee compensation.
Personal savings, loans, grants, and investors are a few of the various funding alternatives. Small business founders frequently obtain money from personal savings. You can use loans from financial institutions to pay for bigger bills. Government and commercial groups often offer grants, but these are frequently very competitive.
Lastly, you may be able to secure financial assistance from investors in exchange for a share of their company. Each funding possibility must be carefully investigated and taken into account in order to choose the one that is most appropriate for your coffee shop business.
Choose a Location
The location you select will either make or break your coffee shop. It's essential that you select a location with a lot of foot traffic, excellent visibility, and simple access for clients. In addition, take into account nearby rivals and parking alternatives.
The demographics of the area must also be understood if you want to be sure that your target market is there. As an example, it's important to pick a location where there is a market for baked goods and specialty coffee drinks if you intend to sell these products.
The location needs to be close to a college campus or in a commercial area where your target market may easily access it. Take the time to research and visit potential locations before making a final decision. A well-chosen location can help your coffee shop thrive and grow.
Read more about: How To Do A Coffee Shop Business Plan: Start Strong, Finish Stronger
Secure Necessary Permits and Licenses
Opening a coffee shop entails obtaining several permits and licenses, such as health permits, food service permits, and business licenses. Before launching your coffee shop, research the specific requirements in your area and obtain all necessary documentation. Failing to obtain the required permits and licenses can result in hefty fines or even the closure of your coffee shop.
It's essential to adhere to all regulations to ensure the safety and health of your customers and employees. Additionally, ensure that your coffee shop complies with building codes and zoning regulations. You can contact your local government to learn more about the permits and licenses required in your area. Taking care of the necessary paperwork and permits before launching your coffee shop will save you time and stress in the long run.
Purchase Equipment and Supplies
It costs money to start a coffee shop since you need to buy supplies and equipment. This includes cups, coffee beans, milk, sugar, and other kitchenware in addition to coffee makers, grinders, refrigerators, and other kitchen appliances. Instead of buying new, think about leasing or buying used to reduce costs
Additionally, you might want to think about buying superior coffee beans and other supplies from regional vendors. To avoid malfunctions and guarantee the consistency of your coffee quality, it is necessary to make sure that your equipment is well-maintained and routinely repaired.
To assist you in managing your inventory and sales, think about investing in a point-of-sale system. You can provide excellent customer service in a well-stocked and equipped coffee shop, which will also help you control costs and increase revenue.
Hire Staff
Hiring the right staff is crucial to the success of your coffee shop business. Look for individuals who share your passion for coffee and have a friendly and outgoing personality. Properly train your employees on how to make high-quality coffee, manage inventory, operate the cash register, and provide excellent customer service.
Consider offering incentives such as health insurance, paid time off, and opportunities for growth and advancement to attract and retain the best talent. Creating a positive work environment can also help foster a sense of community and increase employee satisfaction. By investing in your staff, you can create a team that is dedicated to providing the best possible experience for your customers, and ultimately, helping your coffee shop thrive.
Read more about: How to do a Business Plan for a Coffee Shop: An Aromatic Ambitions
Develop a Menu
When you are creating the menu for your coffee shop, it is important to keep your brand and target customers in mind. Offering a variety of coffee drinks like lattes, cappuccinos, and drip coffee can attract a wider range of customers. Consider expanding your menu with foods like sandwiches, salads, and pastries to increase sales and give customers more options.
Don't forget to keep your menu fresh and exciting with seasonal promotions and upgrades. Keeping your menu up-to-date and appealing can help ensure that customers keep coming back for more.
Set Prices
Setting the right price for your coffee and food items is an important factor to consider. It is important to consider your cost of goods sold, including coffee beans, milk, and food ingredients, and your overhead expenses such as rent and salaries. You also need to take into account the prices of your competitors and your target market's purchasing power.
Research different pricing strategies such as cost-plus pricing, value-based pricing, or penetration pricing to help you determine the best approach. Experiment with different price points and monitor sales and customer feedback to find the optimal pricing strategy. 
Remember to periodically review and adjust your prices to stay competitive and profitable. By finding the right pricing strategy, you can ensure that your coffee shop offers good value to your customers while also covering your costs.
Market Your Coffee Shop
To bring in customers, marketing your coffee shop plays a vital role. Promote your business through social media, local ads, and word-of-mouth. Consider organizing events like live music, open mic nights, and art exhibitions to attract a diverse audience.
Create a Positive Customer Experience
It's a must to train your workers to be warm and approachable as well as to deliver first-rate customer service. It's crucial to create a welcoming environment with comfy furniture, music, and artwork.
Free Wi-Fi can draw customers who require a workstation, and stocking your coffee shop with a selection of board games, novels, and magazines can turn it into a relaxing hangout. By getting to know your regulars' names, their preferred beverages, and their customary orders, you may further customize your customer service.
Monitor and Adjust Your Business Plan
Keeping an eye on important performance metrics like sales, costs, and customer feedback is important for the continued operation of your coffee shop business. Analyze these indicators and make the necessary adjustments to your business plan.
Maintain a pulse on market trends and be prepared to adjust your menu, marketing plan, and customer experience. You may find areas for development and implement adjustments that will ensure the success of your coffee shop by paying attention to consumer input. Making wise judgments and staying on top of your business requires constant attention to your KPIs.
Summary
Starting a coffee shop requires careful planning, hard work, and dedication. However, with the right strategy and execution, it can be a rewarding and profitable business venture. Remember to conduct thorough market research, develop a solid business plan, secure funding, choose the right location, and create a positive customer experience. Stay focused on your goals and monitor your progress regularly to ensure the success of your coffee shop.
Frequently Asked Questions
Q: What qualifications do I need to start a coffee shop business?
A: While no specific qualifications are necessary for starting a coffee shop business, having prior food service industry experience or a business degree can provide valuable knowledge and skills. These skills can be useful in managing the challenges of operating a coffee shop.
Q: How long does it take to start a coffee shop business?
A: The timeline for starting a coffee shop business varies depending on factors such as obtaining necessary permits and licenses, securing funding, and purchasing equipment. It can take anywhere from a few months to a year or more.
Q: What are some common challenges faced by coffee shop owners?
A: Competition, inventory management, and customer retention are among the common challenges that coffee shop owners may encounter. Successfully navigating these hurdles requires planning, execution, and a commitment to providing exceptional customer service.
To learn more on how to start your own coffee shop, check out my startup documents here.
Disclaimer: The information provided by StartMyCoffeeShop.com ("The Site") is for general informational purposes only. All information on the Site is provided in good faith. However, we make no representation or warranty of any kind, express or implied, regarding the accuracy, adequacy, validity, reliability, availability, or completeness of any information on the Site. Under no circumstance shall we have any liability to you for any loss or damage of any kind incurred as a result of the use of the Site or Reliance on any information provided on the Site. Your use of the Site and reliance on any information on the Site is solely at your own risk. This blog post is for educational purposes only and does not constitute legal advice. Please consult a legal expert to address your specific needs. Terms and Conditions. (https://startmycoffeeshop.com/terms-and-conditions/)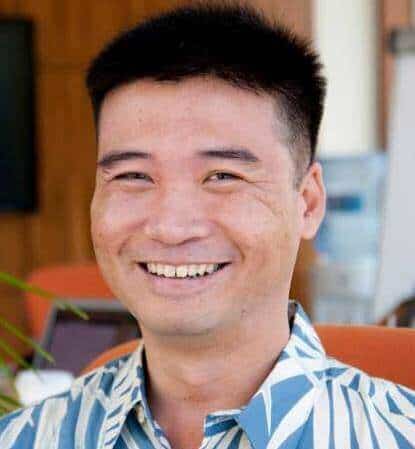 Hi! I'm Shawn Chun
My adventure in coffee began when I first launched my first coffee shop back in the early 2000s. I had to figure out so many things on my own and to make it worse within 2 years of opening two large corporate coffee chains moved in just blocks away from me!
As I saw smaller and even some larger coffee shops in the neighborhood slowly lose customers to these giant coffee chains and slowly close up shop, I knew that I had to start getting creative…or go out of business.
I (like you may be) knew the coffee industry well. I could make the best latte art around and the foam on my caps was the fluffiest you have ever seen. I even had the best state-of-the-art 2 group digital Nuova Simonelli machine money could buy. But I knew that these things alone would not be enough to lure customers away from the name brand established coffee shops.
Eventually, through lots of trial and error as well as perseverance and creativity I did find a way to not only survive but also thrive in the coffee/espresso industry even while those corporate coffee chains stayed put. During those years I learned to adapt and always faced new challenges. It was not always easy, however, in the end, I was the sole survivor independent coffee shop within a 10-mile radius of my location. Just two corporate coffee chains and I were left after that year. All told the corporate coffee chains took down over 15 small independent coffee shops and kiosks and I was the last one standing and thriving.
Along the years I meet others with the same passion for coffee and I quickly learned that it is not only "how good a barista is" that makes a coffee shop successful, but the business side of coffee as well.
Hence why I started this website you are on now. To provide the tools and resources for up and coming coffee shop owners to gain that vital insight and knowledge on how to start a coffee shop successfully.
Stick around, browse through my helpful blog and resources and enjoy your stay! With lots of LATTE LOVE!
Shawn