Do you want to start your coffee shop in Canada? If this has been a dream of yours since you were a teenager or just something you're looking into, this article is for you. All the information that you will need is presented here, in a simple, step by step format.
Let's take a look at the following steps to learn how to open a coffee shop in Canada.
Learn the business concept.

Figure out whether you will buy an existing coffee shop or start from scratch.

Prepare a business plan.

Choose a charming name.

Choose a business structure.

Register the business and adhere to legal guidelines.
Just like with any other business, starting a coffee shop in Canada must follow certain legal proceedings. These laws can be quite different even from one block to another so it's important to be well versed on what is needed of your location legally. It would be very appropriate if you know what is required of you by the government in order to be safe and avoid any problems and losses due to ignorance and negligence. Put your worries aside; we've got your back.
The Business Concept
Starting and running a successful coffee shop in Canada can be relatively easy if you've done your research. The first step is to come up with a good business concept. A business concept is a document that includes a rough draft of everything you can think of for your future company. What is your budget? What neighborhood will you be in? Will you roast your own beans or have a roaster as one of your many vendors? I believe the more detailed the business concept is, the better. You will feel less stressed in the long run having the majority of your plan laid out (or typed rather) right in front of you and whoever needs to see your business concept. Speaking of that, your business concept goes beyond your eyes. Your potentially future investors will need to see it, some landlords will require it if you're renting a space and previously mentioned vendors may even want to look to see if you're the type of business they'd like to partner with. Coffee businesses are just like heaven on earth. Think of the sweet smell of brewed coffee, beautiful groups of teenagers chatting in one corner, and the cozy overall atmosphere. Besides, it is one of the most profitable businesses.
Answer This: Buy an Existing Coffee Shop or Start from Scratch?
When starting a coffee shop, you can either buy an already existing shop, which depending on the shop could be considered franchising, or you could start from scratch if having an independent shop is more your jam. Buying an already existing one means you'll have some customers to start with who will already be familiar with the shop itself and the brand, while when starting from scratch you will need to establish a customer base.
One tip to survive opening a new shop is needing to do is to market yourself. This could mean visiting competitor shops in the area. You can visit them and observe everything about the interior and exterior of the shop. Take note of what they offer on their menu and the prices. I even suggest trying several of the options on the menu to get a better idea of quality and possible vendors. However, bear in mind that the customers you're looking for are coffee lovers who are in another shop already. How are you going to win them to your new shop? You need to think of a way that makes your coffee shop stand out, whether that's location or maybe unique flavor options or something as simple as you have a really photographable location. It may sound silly but this day in age, when people take photos of their lattes and put the geotag of your shop, hey that's free marketing and you can't get much better than that.
Prepare a Business Plan
Developing a good and successful business plan is essential and one of the most crucial steps in the world of entrepreneurship. Coming up with a good business plan requires commitment. You can browse through various tutorials to be sure you're on the right track. You can also follow this guide from the government of Canada.
A good business plan should include a human resource plan and business strategy covering your past, present, and future. It should also include market research and strategy, financial forecast (expected cash flow, sales, loses, and profits) and operational plans like day to day operations, physical facility, and information technology.

Choose a Charming Name
When starting a new business in Canada, you need to make sure you choose a winning name. The name you choose will have a serious impact on your business. There are two things to keep in mind when choosing a name, namely the legal elements and its marketing potential. The name should be unique, easy to pronounce, and related to what your business offers. If you have problems coming up with a good business name, you can seek advice from experts.
Choose a Business Structure/Ownership
There are four types of business structures to choose from: partnership, sole proprietorship, co-operative, and corporation. Go for the one that you feel suits you best. Just to shade some lights on these structures: in a sole proprietorship, you are the primary decision-maker and you have full control over everything in your business with unlimited liability.
In a partnership, you have to team with one person or more and share the cost in rations, management, and profit. The liability is unlimited.
In a co-operative, members own and control their business with limited liability, while a corporation is a type of business ownership where the business is a legal entity, very expensive to start, and the liability is limited, though regulations are very strict.

Registering the Business and Adhere to Legal Guidelines
Registering a business name is one of the legal requirements if you want to start and run a business in Canada. To be on the safe side, it's good to follow all the legal procedures. You should check whether you really have to register your business name or not.
Look for the right location.
Get a License
It's good to get a license before you start off, though it is not mandatory. You can check this on your city's website or get this information over the phone if they don't have one. After getting your license, you can proceed to register for goods and services tax or harmonized sales tax.
Register for Provincial Sales Tax
There are some provinces that have not harmonized their taxes with the federal goods and services. If you intend to start a coffee shop in such provinces, you'll have to register for this in order to collect and remit the right provincial tax. You'll have to register as a collector of provincial sales tax if you reside in Saskatchewan, British Columbia, or Manitoba. Consequently, you'll have to register for the Quebec sales tax if you reside in Quebec.
Final Steps
The last legal procedure that you should follow is to insure your coffee business. After completing all the legal procedures, it's now time to purchase all the necessary equipment and hire the right employees who will help you run your business successfully. Give your employees the best training. Finally, you'll have to advertise your business to bring in more customers but keep in mind that loyalty is very important for a successful business. Think of how you're going to withstand the competition and try your best to be the only one in town with unique quality services.

Frequently Asked Questions
How do you start a coffee shop business plan?
Before you begin writing, do both of the following:
● Find a coffee shop business plan template.
● Sample coffee and pastries at local coffee shops that will end up being your competition.

As you start to write, consider the following.

● What are your projected sales for 1 year, 5 years, and 10 years?
● What percentage increase do you want to see on a year-to-year basis? Incorporate that in the sales projection segment of your business plan.
● What are your startup costs? These include monthly rent, equipment costs, supplies cost, and etcetera.
● What is the mission and vision for your coffee shop business?
● What kind of marketing and advertising campaigns will you offer?

How do you open a coffee shop and a bakery?

As you plan for this, be sure to factor in everything you will need to produce, package, and display the bakery items in your coffee shop. Once you have figured out your cost of goods for coffee, do the same for the bakery items. Consider these questions when adding a bakery to your coffee shop:

● What pastries and treats do you want to offer?
● How many display cases will you need?
● Will you offer samples to guests? How will you do it? Perhaps, you can have a special sample item of the day as a promotion for a new product or to get a slow-moving product more popular.
● How much of each pastry and treat do you want to bake per day?
● How will you factor the kids involved with bakery items you have to throw away at the end of the day?
To learn more on how to start your own coffee shop checkout my startup documents here
Please note: This blog post is for educational purposes only and does not constitute legal advice. Please consult a legal expert to address your specific needs.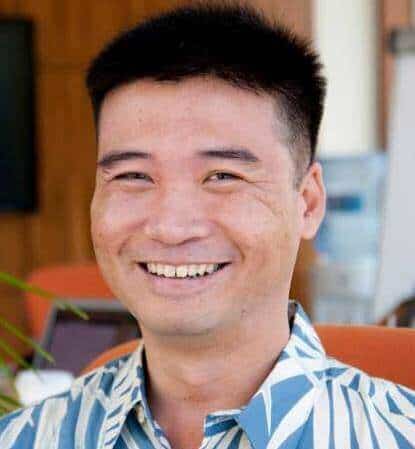 Hi! I'm Shawn Chun
My adventure in coffee began when I first launched my first coffee shop back in the early 2000s. I had to figure out so many things on my own and to make it worse within 2 years of opening two large corporate coffee chains moved in just blocks away from me!
As I saw smaller and even some larger coffee shops in the neighborhood slowly lose customers to these giant coffee chains and slowly close up shop, I knew that I had to start getting creative…or go out of business.
I (like you may be) knew the coffee industry well. I could make the best latte art around and the foam on my caps was the fluffiest you have ever seen. I even had the best state-of-the-art 2 group digital Nuova Simonelli machine money could buy. But I knew that these things alone would not be enough to lure customers away from the name brand established coffee shops.
Eventually, through lots of trial and error as well as perseverance and creativity I did find a way to not only survive but also thrive in the coffee/espresso industry even while those corporate coffee chains stayed put. During those years I learned to adapt and always faced new challenges. It was not always easy, however, in the end, I was the sole survivor independent coffee shop within a 10-mile radius of my location. Just two corporate coffee chains and I were left after that year. All told the corporate coffee chains took down over 15 small independent coffee shops and kiosks and I was the last one standing and thriving.
Along the years I meet others with the same passion for coffee and I quickly learned that it is not only "how good a barista is" that makes a coffee shop successful, but the business side of coffee as well.
Hence why I started this website you are on now. To provide the tools and resources for up and coming coffee shop owners to gain that vital insight and knowledge on how to start a coffee shop successfully.
Stick around, browse through my helpful blog and resources and enjoy your stay! With lots of LATTE LOVE!
Shawn