Is the best part of waking up great coffee in your cup? Do you have a zest for freshly roasted beans, coffee grinders, percolators, and all things brewed? Would you like to turn your passion for caffeine and all things coffee into a business? Owning and operating a coffee truck business may be the career path for you!
To start a coffee truck business first, you will need to create a business plan and establish a budget. Next, you will need to register your business with the appropriate offices, as established by your city/state. You will also need to obtain a license for your business. Following licensing and registration, you will need to purchase and retrofit your mobile coffee truck. Make sure that you have done product research, location scouting and gather all the materials you will need for your mobile coffee shop. Once you've knocked those things off the list, it's time to hire employees and begin marketing. To finish it off, start your engine and get busy slinging freshly brewed coffee!
If starting your own coffee truck business is something you can foresee in your future, then this article has been written with you in mind. Don't let your cup grow cold; let's get going!
Business plans and budgets? How to start the wheels on your coffee truck business rolling!
Having a business plan set in place for your coffee truck business is one of the most important and strategic tools you can have as an entrepreneur. A strong business plan will help you focus on the specific steps necessary for your business ideas to be successful and help you set and achieve short-term objectives that lead to long-term goals. As Benjamin Franklin so eloquently said, "If you fail to plan, you are planning to fail."
Part of a solid business plan will include establishing a budget for your mobile coffee shop, including startup costs associated with the truck itself, licensing, registration, stocking product, marketing, and so on. In that budget, you will also need to be sure to consider other factors that will impact your business, like recurring costs, including fuel costs, vehicle/equipment maintenance, materials/supplies costs, insurance, and staff pay.
Creating and implementing a concrete business plan involves a lot of thought but does not have to be over-complicated. At the core, your coffee truck business plan should identify where you are now (financially speaking), where you would like to be in the future, and how you intend to get there. Writing a solid business plan will not guarantee success in your coffee truck business, but it can go a long way in reducing the odds of complete failure.
It can be worth its weight in gold to work with either an accountant or an individual who specializes in creating strategic business plans and budgets. Creating a relationship with a professional who can assist you with tax returns, payroll, and other financial aspects of your coffee truck business is a huge benefit (especially when you're dealing with the IRS!) that can benefit you greatly early on in your business venture.
I've got a rock-solid business plan, now what?
The next step to brewing the perfect cup o' joe on the road is to register and obtain licensing for your mobile coffee shop. Registering your business is what makes your truck from the back-alley deals to the main street legal and official. Business licensing requirements will vary from state to state, so be sure to check that you are following the route as set forth by your area.
Just as registering your business is important, licensing your coffee truck business is imperative. Serving any type of food or beverage requires specific licensing (which is determined by your state) and is an integral part of operating your business legally. Failing to secure the appropriate licensing will result in a host of issues (well beyond burnt beans and errant coffee grounds).
Fortunately, business registrations and foodservice licenses are fairly inexpensive and pretty easy to get your hands on.
Business plan 🗹 Budget 🗹 Registration and licensing 🗹
What's next?
You've got a solid business plan, know your budget, registered your coffee truck business, obtained food and beverage safety licensing, and now it's time for the fun part–purchasing your wheels!
Keep in mind that this is the face of your business and the vessel that will house your entire operation. Not only should your mobile coffee shop look sharp and feel great, but it also has to function as a brick-and-mortar standard coffee house. To take charge and rival your competitors, you need to be certain that you're offering the same quality of product despite your physical limitations.
Carefully consider the layout of your coffee truck interior, which will depend on the types of drinks you will be offering to your customers and if you will be offering food in addition to drinks.
If your menu includes drinks with espresso, like lattes or macchiatos, you will definitely need an espresso machine. Drip coffee? You're going to require enough industrial-sized coffee makers to keep pace with client numbers. Smoothies and frozen blended coffees? That's going to require space for heavy-duty blenders.
Stick to your budget and business plan when deciding on the vehicle to house your mobile coffee shop. Remember, you don't have to start big to be big!
Have truck, will travel! It's time to curb-check research and development!
It's doubtful that you're diving into a coffee truck business without any knowledge of all things beans and brewed. If you're already a coffee snob, you're one step ahead. If you're not, it's time to do a bit of research (and even if you are, learning something new never hurt anyone).
Check out the latest technology and techniques that will give you the perfect pour. Seek out coffee roasters who produce quality, flavorful beans. Perfect the tried-and-true standard coffee drink recipes, and then put your twist on them.
Have beans, will brew. What's next on the list?
Once you've secured your wheels and done a bit of R&D, it's time to switch gears and focus on the materials that will be required for your mobile coffee shop.
Your coffee truck will require the same products and materials as a regular, brick and mortar coffee shop. You will likely need the following:
Bean grinders for both espresso and regular drip coffee beans
High-quality coffee beans
Coffee mix-ins: creams, sugar, flavored syrups, sugar alternatives, and so on
Disposable cups, lids, and stir sticks
Point of sale (POS) system and a means of accepting payment
Any other equipment you may need that coincides with your menu
Once you have secured your essentials, it's time to keep rolling on!
Stocked, locked, and loaded! Is it time to showcase my latte skills yet?
You're almost there! You have the wheels, all the necessary equipment, and materials, but you're still missing something, right? Employees!
The size and set-up of your coffee truck will ultimately determine the number of employees you'll need. Unlike a standard coffee shop, your mobile business won't require a large number to staff it adequately. On average, most food trucks employ a mere 2-5 people in total.
Fewer staff members don't make the search easier. Because you will have fewer employees, it's very important to seek out dedicated members who can share in your vision.
I've done everything, can I open shop now?
One of the final steps to opening your mobile coffee shop is to begin marketing your new business.
Utilize popular social media platforms like Twitter and Facebook to get your business buzzing, engage with your future customers, and establish your brand. Get to know other local business owners, establish a strong community connection, and spread the word about the new guy rolling into town.
Be sure to begin your marketing campaigns in advance of your official opening. You'll definitely want to drum up some excitement for your grand opening!
Is this paid parking? How to choose the best location for your coffee truck business.
You wouldn't run blindly into the woods, would you? Of course not. Setting up for success with your mobile coffee shop isn't done blindly either. When scoping out prime parking, there are a few things you should keep in mind:
Have you got space? You'll not only need ample room for your coffee truck but for your customers as well. Untapped clientele won't stop near a location that seems to be unsafe or overcrowded. Make sure that your location will yield enough room for customers to form a line without impeding traffic.
Can you see me now? Customers need to SEE you. Will the location(s) you are considering allow for clients to easily spot your truck, or will you blend in with the background noise? Consider where car and foot traffic will approach and try to make sure that you create a safe line of sight around you.
Easy street? You'll want to make sure that your location makes it easy for your customers to reach you, as well as have the ability to park nearby safely.
Remember, where you park is just as important as the coffee you serve.
Learn more about coffee trucks HERE.
Start your engines; it's time to open your coffee truck business!
Make your dreams a reality and put the pedal to the metal. With a coffee truck business, you won't have to be burdened with the realities that come with an actual storefront and can truly focus on what matters the most: a great cup of coffee!
Frequently Asked Questions
How much does it cost to start a coffee truck business?
The cost of starting a mobile coffee shop will depend on many different factors, from the cost of the truck to retrofitting it for food service to equipment needed, and can vary from $15,000 to $120,000.
Is a coffee truck business profitable?
Your coffee truck business can be profitable. Lower startup and operational costs will allow for a faster turn-around on your initial investment (which are things you should cover in your business plan!) and allow for you to earn a profit faster than with a traditional coffee house business.
To learn more on how to start your own coffee shop checkout my startup documents here
Please note: This blog post is for educational purposes only and does not constitute legal advice. Please consult a legal expert to address your specific needs.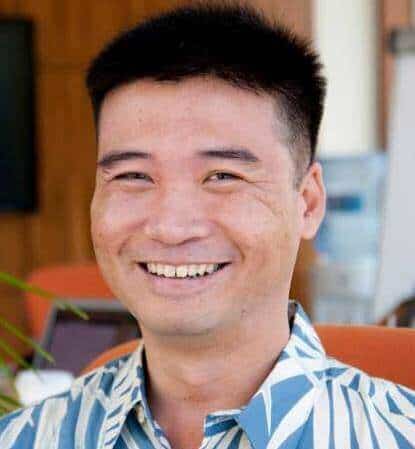 Hi! I'm Shawn Chun
My adventure in coffee began when I first launched my first coffee shop back in the early 2000s. I had to figure out so many things on my own and to make it worse within 2 years of opening two large corporate coffee chains moved in just blocks away from me!
As I saw smaller and even some larger coffee shops in the neighborhood slowly lose customers to these giant coffee chains and slowly close up shop, I knew that I had to start getting creative…or go out of business.
I (like you may be) knew the coffee industry well. I could make the best latte art around and the foam on my caps was the fluffiest you have ever seen. I even had the best state-of-the-art 2 group digital Nuova Simonelli machine money could buy. But I knew that these things alone would not be enough to lure customers away from the name brand established coffee shops.
Eventually, through lots of trial and error as well as perseverance and creativity I did find a way to not only survive but also thrive in the coffee/espresso industry even while those corporate coffee chains stayed put. During those years I learned to adapt and always faced new challenges. It was not always easy, however, in the end, I was the sole survivor independent coffee shop within a 10-mile radius of my location. Just two corporate coffee chains and I were left after that year. All told the corporate coffee chains took down over 15 small independent coffee shops and kiosks and I was the last one standing and thriving.
Along the years I meet others with the same passion for coffee and I quickly learned that it is not only "how good a barista is" that makes a coffee shop successful, but the business side of coffee as well.
Hence why I started this website you are on now. To provide the tools and resources for up and coming coffee shop owners to gain that vital insight and knowledge on how to start a coffee shop successfully.
Stick around, browse through my helpful blog and resources and enjoy your stay! With lots of LATTE LOVE!
Shawn