More and more coffee lovers are choosing to start pop-up coffee shops. They're the answer to entrepreneurs who might not have a lot of upfront cash to invest into their business ideas, and baristas can focus more on the quality of their coffee instead of worrying about rent or customer demographics. There's a strong history of success for pop-up coffee shops in big cities, where customers have followed their favorite cafés from location to location to even online retail.
To open a pop-up coffee shop, you'll need to determine five important benchmarks that can make or break your coffee shop: location, design, permits, equipment and marketing.
Below is an easy guide to help you make the right decisions for your pop-up coffee shop.
Have a goal
Why are you choosing a pop-up coffee shop? The goal of opening a new enterprise isn't just to open it, it's to do something with it. Pop-up coffee shops are successful if you want to do four things:
Drive sales from a digitally native business to offline and in-person
Create brand awareness around your product and put a human face to it
Get rid of old inventory
Test new markets and demographics for future sales strategies or for a permanent coffee shop
Think about what your long term goals for the coffee shop are. Do you sell coffee beans and supplies on an e-store and want to reach customers offline? Are you testing the waters for a bigger enterprise down the road and want to collect data from your consumers though a pop-up?
Having a goal will help you answer questions as you go further down the list into creating a successful pop-up coffee shop. This will create the right experience for your customer and will help you get the results you need in a limited time and space.
Pick a location
You're in luck! Pop-ups rarely get sucked into long-term rent leases, so you won't have to put down a hefty sum of cash just to find a place for your pop-up coffee shop to exist.
However, since you're short on time, you want to pick a place that is as efficient as possible to support your business goals. While online shopping is gaining more popularity, direct-to-consumer marketing via a storefront has much more success in turning one-time customers into repeat customers both on- and offline.
You can look into a traditional storefront, or take a more innovative and creative approach through a kiosk inside a mall, co-op or market, a mobile store or food truck. Regardless, you want to think about who your customer base is and how to best tap into it. You want to be where the most foot traffic is and where you will find the most repeat customers. This is often near big businesses for weekday commuters or in shopping centers for the weekend crowd.
Nearby retailers will help you get a glimpse of the crowd you'll get. See what products or services they offer and think about if their clientele would be likely to pop into your establishment for a quick drink.
A smaller, temporary space is a good thing in the long run for people looking to open pop-ups. You can save money and focus more on your product: a good cup of coffee.
Make sure you ask your rental property's management company what is included in the cost of the property –– they may already include Internet, utilities and insurance, which you need to take into account for your budget.
Design for a temporary space
The best part about running a pop-up coffee shop is you don't have to create an elaborate, cozy coffee house that can fit 20 to 30 people and serve every type of coffee and pastry under the sun. There's no need to hire a contractor, architect and builders to build out some big retail location with industrial pipe chairs and reclaimed wooden tables.
You also probably couldn't even if you wanted to –– if you're working with a short lease, you need to be able to put up and dismantle your furnishings and fixtures without leaving many scratches on the walls. But if you're a new business trying to attract customers, your shop needs to look clean, professional and attractive.
Talk to the management team on your leasing form about what creative control you can exercise. Some do allow tenants to paint the walls and drill some holes, as long as said tenants don't do any major damage to the wood floors or try to completely overhaul the layout of the space.
From there, you need to balance quality with effectiveness. A pop-up store doesn't need overly expensive chairs and tables that can't be moved around, but they do need good quality, flexible furniture pieces that can translate easily from venue to venue. This is also a good time to think about if your establishment will need to establish its own WiFi connection or if it can share one with other retailers.
Something you shouldn't skimp on? Lighting. Whether you're planning on a kiosk where people can take their coffee to go, or you're setting up in a small retail space where people can sit and chat, lighting says a lot about your business. Lighting is also the cheapest way to create a sophisticated, welcoming and coby ambiance, which can save you a bit more cash on interior design.
Check out this article for more information on picking a location and designing your coffee shop.
Acquire permits
Depending on your region, the kind of business you are in (mobile coffee truck, a traditional retail space, a business within a co-cop or a market) and the kind of goods you provide, you will need to acquire some permits and licenses to sell coffee and other goods like paninis and soups or alcohol, which more pop-ups are selling to maintain relevance around the clock expand to a wider customer base.
The best way to figure out what you need is to talk to a real estate agent and handle your permits well before your coffee shop starts. First impressions are a must for pop-ups; coffee shops are competing for the same audiences and a smooth customer experience is premium. If you can't sell certain products that were advertised because your permits haven't arrived yet, it can sullen the first day of opening and have long-term impacts on the business.
Buy the right equipment
Think about what you want your coffee shop to be. Is it a one-stop shop for busy commuters on the go who are popping in and out for a quick drink? Buy equipment that will improve your efficiency and will churn out products at a pace fast enough for the early morning crowd.
Are you servicing customers who appreciate a perfectly crafted pour over coffee delicately brewed from shade-grown beans? Buy food scales and Chemex filters to bring your customers the elevated, high-brow drip coffee they deserve.
Don't be afraid to think outside the box. As a pop-up, you can experiment with different ways people can have a coffee experience by making your orders extremely customizable or providing a unique product most people can't find elsewhere. Think about some of the big coffee companies in the world and how they brand themselves. Starbucks customers have memorized their orders, reciting the size in Italian and asking for "light ice" or "double pumps" of syrup. Creating your own unique coffee experience can make you stand out from your competitors.
Whichever way you choose to go, investing in the right equipment will take you far in achieving your goals for your pop-up store.
If you want to learn more about equipment needed to start a coffee shop, check out this article!
Market your business
You should start marketing your business before you even open yours doors to the public. Think about what a previously empty storefront will look like to potential customers who walk by it everyday. The "for lease" sign now abandoned, replaced by one that promises a new business coming soon.
Use your time pre-opening to start generating buzz around what your new business will be. Talk to surrounding retailers and introduce yourself –– next time they talk to a customer they might drop a line. And don't forget to introduce yourself to community groups on Facebook, Meetup, Nextdoor and other social media sites. This is a great way to generate organic interest in a new business at the fraction of the cost.
Part of marketing also means creating brand insignias, like branded coffee sleeves or napkins. Make sure you keep in touch with your customers and make sure they know how to find you when your pop up moves, becomes permanent or turns into an online store.
In Summary:
Determine your goal
Find a good location
Design your space
Acquire the necessary permits
Purchase proper equipment
And market your pop-up coffee shop
Frequently Asked Questions
What are the benefits of a pop-up coffee shop over a regular store front?
Not only are you less bogged down by long-term rent leases, you can actually move your store around and test different locations to find the customer base that best fits your business model. The money you save on rent can go towards creating a better coffee experience for your customers.
What's the difference between a pop-up coffee shop and a coffee kiosk?
Many people often confuse pop-up coffee shops with coffee kiosks. A pop-up can be a kiosk, but a coffee kiosk isn't necessarily a pop-up every single time. Plenty of permanent coffee businesses choose to set up in a kiosk because it's efficient and economical, but traditional storefronts are perfectly acceptable outlets for a pop-up coffee shop. Don't feel like you have to limit yourself to a small kiosk unless that's what you envision to be best for your brand.
How can I make my pop-up coffee shop successful?
Once you've got your coffee shop set up, the most important factor is getting to know your customers. Create a name for yourself on the first day of opening and your customers will consider your coffee shop to be a boutique experience and stick with you when your coffee shop hops around.
To learn more on how to start your own coffee shop checkout my startup documents here
Please note: This blog post is for educational purposes only and does not constitute legal advice. Please consult a legal expert to address your specific needs.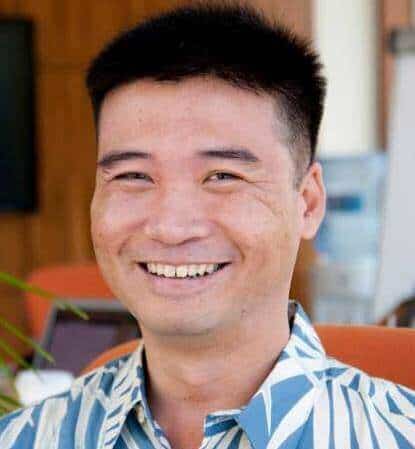 Hi! I'm Shawn Chun
My adventure in coffee began when I first launched my first coffee shop back in the early 2000s. I had to figure out so many things on my own and to make it worse within 2 years of opening two large corporate coffee chains moved in just blocks away from me!
As I saw smaller and even some larger coffee shops in the neighborhood slowly lose customers to these giant coffee chains and slowly close up shop, I knew that I had to start getting creative…or go out of business.
I (like you may be) knew the coffee industry well. I could make the best latte art around and the foam on my caps was the fluffiest you have ever seen. I even had the best state-of-the-art 2 group digital Nuova Simonelli machine money could buy. But I knew that these things alone would not be enough to lure customers away from the name brand established coffee shops.
Eventually, through lots of trial and error as well as perseverance and creativity I did find a way to not only survive but also thrive in the coffee/espresso industry even while those corporate coffee chains stayed put. During those years I learned to adapt and always faced new challenges. It was not always easy, however, in the end, I was the sole survivor independent coffee shop within a 10-mile radius of my location. Just two corporate coffee chains and I were left after that year. All told the corporate coffee chains took down over 15 small independent coffee shops and kiosks and I was the last one standing and thriving.
Along the years I meet others with the same passion for coffee and I quickly learned that it is not only "how good a barista is" that makes a coffee shop successful, but the business side of coffee as well.
Hence why I started this website you are on now. To provide the tools and resources for up and coming coffee shop owners to gain that vital insight and knowledge on how to start a coffee shop successfully.
Stick around, browse through my helpful blog and resources and enjoy your stay! With lots of LATTE LOVE!
Shawn