Before you make any serious moves towards starting your coffee shop, it is vital that you have a compelling business model. Anyone who you want onboard on to invest in, work for, or assist in this project in any way will have to be convinced from this model that you have a solid plan. This document needs to establish your authority and preparedness for starting your brand new cafe. I realize that it may seem a bit overwhelming as there is a lot of information to be accounted for. Rather than being an intimidating task, though, think of assembling this document as the first step in setting your business up for success, and make it something that you are proud of showing others. A business model is a valuable tool for you going forward to help you keep organized since all of the most vital information is in one place. So if you are serious about opening your dream coffee shop, don't hesitate to begin constructing your business model now!
To get you started, this list contains the basic information that every coffee shop business model needs to contain, which are:
Executive Summary
Overview of the Industry
Ownership
Marketing Plan
Your Product
Operations
Finances
Appendix with Additional Information
Let's go a little more in-depth about what these sections should include.

Executive Summary
Your executive summary needs to be a very basic outline of everything else that will be included in this document, so even though it will appear as the first item it should be written last. This summary is essential because depending on who you are showing this document to, it might be the only part they read, so it should tell them everything that they need to know about the business. This will include the mission of your coffee shop, who you are personally and professionally as well as any other owners and managers, why you think you will be successful, how you will operate and what your basic financial situation is. This summary should be both optimistic and realistic. You want to give the impression that you are confident in the success of your startup without sounding too dreamy. This is not the place for in-depth analyses of the coffee shop market or long lists of statistics, it is just an overview of the most important details. For example, this could be a condensed version of your mission statement, acknowledgment of potential business or competition in the surrounding areas, and expected costs and revenue. Paint a realistic picture of the challenges and also the benefits of opening your particular shop.
Company
In this section, you get the opportunity to introduce yourself and your new coffee shop to the reader. Use this section to say who owns this company and what their role will be now and when the shop opens. How are you and your business partners experienced or qualified to launch this startup? Even more importantly, explain why you have decided to go into business in the first place. Don't be afraid to show how passionate you are in the project and why you're excited to get it running. You can even turn this background information into a story that chronicles your journey from having the idea for the company and what inspired you to how you actually got started.  Most people would much rather give money to someone pursuing their dream than someone who is just in it to make some extra cash. Also, take this time to write out your mission statement. Really define what the personality and character of the shop will be and how you want to engage with the community around it. What do you hope to accomplish by starting this business? Giving a clear sense of the store will make it that much more tangible even though it may only exist as a concept at this stage in time.

Overview of the Industry
It's essential that you have a thorough understanding of the industry you are entering and that investors know that you are familiar with it. That way you won't have any surprises about how much or little you end up making or the amount of time it takes to become profitable. You could have the plans for the Taj Mahal of coffee shops, but if your investors believe that it's not a viable industry than they will still be skeptical about getting involved. Prove that the industry can support you by providing detailed statistics about coffee sales in the area and in the country. Make note of nearby schools, offices, or high traffic areas that will bring business. It can also be a good idea to make note of the stats for the specific type of shop that you'll have (sit-down, specialty, etc) if you think that it will help with persuasion. Do not neglect to mention other, similar coffee shops nearby where you will be located. You might think that this information could hurt your case, but the omission of that information could be seen as a lack of transparency on your end. Do be sure to share how your business provides a unique experience that other nearby shops do not, if applicable.
Make a marketing plan
You can use information that you have already gathered for other sections to help you decide on a marketing strategy. The first step that you should take in planning your marketing strategy is identifying your target customer. If you are near offices or a school, then you can attempt to win business from workers on their commute or students on their way to or from class. But you should also be aware of potential competition. If there is already a coffee shop in the neighborhood, how will you stand out? This is also where you should plan out what you will use for advertising. Pinpointing social media profiles that you will use, what your website will look like, and what other ways you will get the word out. Will you hire a marketing consultant? If so, what will that cost, and how will it pay off? This is also a good place to talk about your strategy for pricing and how that will help you make sales. Compare your prices to that of the competition, or else explain how your pricing is rationalized because of the quality of your product.

Product
Speaking of product, talk about the most important aspect of the business, the coffee! At the most basic level, this section will say what the food and drinks are that you will serve. For coffee, name the roaster or roasters you are considering to supply coffee beans as well as the espresso machine you will purchase to prepare it. Also pinpoint bakeries, grocers, and other suppliers for whatever food you'll provide and why they are the best choice for your business. What other measures are you planning to take to deliver the best possible product? Are you committing to using only fresh, local ingredients? Will you have high standards for the level of skill that each of your baristas reaches before they can serve coffee at your shop? You will provide more detail later in the finances section, but provide some information about the prices of your food and drink as well.
This is also a space to talk about the atmosphere which is just as much a part of the product as the physical items for sale. Being able to provide a great space for your customers whether they are stopping by for something to go or setting up to work for several hours is key to any shop that customers want to return to. 
Operations
This section requires a little more thinking ahead than you have probably done so far. First, tackle the easy parts. Identify owners, managers, and anyone else who is in leadership. You can also explain the facilities you will have available to you and how they will allow you to provide your products. Give an idea of the general layout of the kitchen and the back of the shop, and the seating and counter in the front of the shop and explain the effectiveness of the setup. From there, decide on how many employees you will have and name any that you are already planning on hiring. What will their daily responsibilities will be? How many of them will be on staff at a time during open hours? Account for how time and space will be used effectively in your shop – time is money and you would be surprised how much any inefficiencies may cause obstacles to the smooth running of the shop. On the more tedious end of things, have an understanding of utilities and their costs, trash and recycling pickup, cleaning or maintenance schedules, and other seemingly small details that contribute to the overall function of any business.

Finances
This may be the most time-consuming part of the business model, but it is also incredibly important. Whether it be attracting investors, applying for a loan, or hiring upper-level employees, you need to prove that you know where your money will come from and exactly where it will go. Given this detailed account, partners and banks can rest easy knowing that you will use any investments appropriately. Use this section to set a realistic profit margin goal and strategize on how to meet it. Even though it is early in the life of your startup, and it is impossible to account for every dollar, estimate the costs of rent, equipment, and ingredients and how much these will cost each month to the best of your ability. These numbers will likely change or become more specific in the future, but for now, a projection is fine. The account of your financial situation that you provide here may be the single most important way that you prove your legitimacy. Don't forget to keep updating this section as you go. It is crucial that you keep the information in this portion of the model up to date after spending or acquisitions so that you are continuing to share accurate information.
Appendix
The appendix is a bit of a catch-all for the supporting documents that your reference in the previous sections. This may include copies of forms, leases, or other legal papers. It could also include maps of the neighborhood or a layout of how the store will look when it is set up. If there is anything you can use to back up what you have already told investors, go ahead and add it to the appendix. A business model is all about your ability to account for any aspect of your startup and prove that you will not let anything fall through the cracks, so as much as it is relevant, let the documentation you provide be evidence of that.
Frequently Asked Questions
What else could I include in my business model?
Visuals are always a great way to create more interest and make raw information less bland. This may come in the form of photos, graphic representations or charts.
Something like a drawing of what the shop will look like once it is in business can make it seem more real and tangible.
How long should my business model be?
You should try to keep your business model detailed while being relatively brief. Obviously, it is important to include all information that is relevant, but the reader shouldn't have to sift through page after page to find what they are looking for.
What else should I prepare for potential investors?
If you can, prepare your website with as much information as possible while you are working on your business plans so that you will appear if they search for you on the internet. Also, show them any references you have and your resume so that they know you are legitimate.
To learn more on how to start your own coffee shop checkout my startup documents here
Please note: This blog post is for educational purposes only and does not constitute legal advice. Please consult a legal expert to address your specific needs.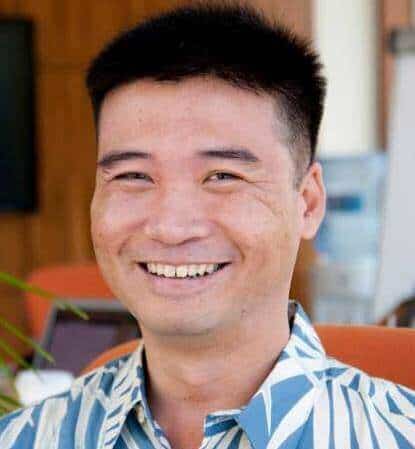 Hi! I'm Shawn Chun
My adventure in coffee began when I first launched my first coffee shop back in the early 2000s. I had to figure out so many things on my own and to make it worse within 2 years of opening two large corporate coffee chains moved in just blocks away from me!
As I saw smaller and even some larger coffee shops in the neighborhood slowly lose customers to these giant coffee chains and slowly close up shop, I knew that I had to start getting creative…or go out of business.
I (like you may be) knew the coffee industry well. I could make the best latte art around and the foam on my caps was the fluffiest you have ever seen. I even had the best state-of-the-art 2 group digital Nuova Simonelli machine money could buy. But I knew that these things alone would not be enough to lure customers away from the name brand established coffee shops.
Eventually, through lots of trial and error as well as perseverance and creativity I did find a way to not only survive but also thrive in the coffee/espresso industry even while those corporate coffee chains stayed put. During those years I learned to adapt and always faced new challenges. It was not always easy, however, in the end, I was the sole survivor independent coffee shop within a 10-mile radius of my location. Just two corporate coffee chains and I were left after that year. All told the corporate coffee chains took down over 15 small independent coffee shops and kiosks and I was the last one standing and thriving.
Along the years I meet others with the same passion for coffee and I quickly learned that it is not only "how good a barista is" that makes a coffee shop successful, but the business side of coffee as well.
Hence why I started this website you are on now. To provide the tools and resources for up and coming coffee shop owners to gain that vital insight and knowledge on how to start a coffee shop successfully.
Stick around, browse through my helpful blog and resources and enjoy your stay! With lots of LATTE LOVE!
Shawn