So you've decided to open a coffee shop. Congratulations! Writing an executive summary is one of the most important parts of your business plan. Investors will want to know exactly what your purpose is and what your major points are when they read it. In this article we will go over how to write your coffee shop executive summary, in a way that benefits both you and potential investors in your business.
A coffee shop executive summary should include:
Minor competitive analysis (Comparing your coffee shop to others and why customers will choose you. Why you will succeed in your area.)
Your mission and vision (Write what inspires you most in your startup. Include your ambition.)
Your products and service (Add what is it that you're selling. Write if that item is specific to your shop alone.)
Sales strategy (Include how you are going to increase your sales. Don't leave out ways to make sure your customers come back. You will need to build positive rapport with them.)
Your owner / management team (Incorporate your successes in this area. Whoever is a part of your company already, write why they are key to your success.)
Your financial overview (Add any startup costs, your revenue and expenses and any other financial costs part of your business.)
Executive summaries are written last in a business plan but come first to introduce your plan. They should stick to a page in length.  Your full layout will vary based upon how large a scale the requirements are for your brand. An executive summary is just that, a summary. A lot of times this area is the one thing that investors are going by. They may not even read a full business plan. You'll really need to get in important points while you can. So, when you begin, you want to consciously keep in mind exactly what the purpose is of this condensed execution.
Purpose
Simply, a strong summary gets you in to meet with an investor, and a poorly written one does not get you anywhere. You want this section to as simple as possible cover what your business is about. I recommend having a younger school age child read it over and see if they can state your business purpose by this area alone. When you write, don't throw in cheesy adjectives and superlatives to try to superficially enhance your confidence. Confidence comes naturally if you believe in your brand. People will notice if you do not. Who will believe in you if you don't believe in you?
The purpose of this piece is not to claw for money. You just want to clarify your business ideas in a confident yet subtle and professional manner.  Let's go through the purpose of each part mentioned above and why they are important to this work.
Purpose: Competitive analysis
Competitive analysis provides an investor with the tools to skew your business value based on what has already been established. For example, if you want to start a company with no wifi next to a Starbucks, I would say that negatively impacts the value of your business. However, if your coffee shop sells coffee for half the price and equal the quality and also has a local vibe to it, maybe not! It's all in comparison and really seeing from both an investor and a consumer point of view.
Purpose: Mission and vision
Writing about your mission and vision should probably be the simplest part for you to write. Say, you start a business called "Latte Love." You may say that your vision is to "spread love one latte at a time." Maybe you write positive affirmations on each cup and play peaceful music in your shop. This is your vision. Your mission could be to deliver high quality coffee at a more affordable price. This is your mission. This is the part where the purpose is to really visualize your future in business and what you want to supply your consumers with each day you are in business.
Purpose: Goods and services
Include your services. Think about if you deliver at a fast and convenient pace for your customers, and incorporate the goods you are serving. Ask yourself specific questions like, 'What kinds of beans are you using to make your coffee?' This is important. Maybe you serve all vegan and vegetarian items, or all organic items. This would appeal to a specific market. You may serve breakfast items to start peoples day off with a smile and good vibes. You can sprinkle your inspiration into each sector of your service.I believe with this your ambition and confidence will shine through and show not only the facts on what you provide, but the motivation behind everything you do. Don't forget this personal and crucial touch.
Mistakes to avoid
Outsourcing the job
It's very easy these days to hire someone to write out your executive summary for you, but why would you do that? Your inner source of ambition is the creation of your business and hiring someone to write your summary for you is going to be noticeable. I personally think if you are unable to clarify the most relevant points of your startup yourself, maybe you're not ready to be in business. I would not recommend having someone else write this piece for you.
 Skipping formalities
You don't want a lengthy summary. Just saying that sounds ridiculous and obvious. Keep it to a page, at most. Make sure that you are using a professional, yet personal tone. I recommend using personal pronouns such as "we" and "our." You want to create that connection with an investor, I mean, this a potential associate!
You want to use language that is going to resonate with a targeted audience. It is very much okay to change this part a bit for different audiences. This requires a very focused approach. For example, the parameters and metrics of one investor doesn't match another potential investors criteria. You may try both out because you have the flexibility as a startup. You will have to do really focused research on your investors before submitting, this is important- it shows intent, and that you care.
Exaggeration, white lies
You don't want to inflate your credentials. This ties in to using superlatives and false confidence. Saying that you have ties to big name advisors or investors when you really met them once at a startup convention is not the way to go. Once these claims get disproven you lose all your credentials and there goes a potential investor.
Now, we have divulged into some specifics for your summary but remember this is still a high end overview of your plan. Leave out the nitty gritty.
Additional information
Here are some questions to ask yourself and include in your summary as a response.
What are your core strengths?
Did you have an "aha!" moment?
How are you running your management and team?
For some examples, you may say that your core strengths are your training capabilities. This connects both your core strengths with your team and management. Your "aha!" moment could have been, for example, when you were handed a smoothie with a positive affirmation on it. You had been looking for purpose behind a new coffee shop idea that you, as the owner, and your team have been planning for. You think, "aha!" and "Latte Love" and it's vision (spreading love one latte at a time), comes to life.
You want to add this to your summary, briefly. Add in your training capabilities and how you will succeed in delivering exponential service and how you will successfully train your team to do the same.
Need more information on starting a new coffee shop business? Check out this article!
Business financing
Last but very much not least, let's look over your total startup costs. You want to very clearly and concisely write what you will require financially. Numbers like your current source of funds, what you are planning to profit, or what you have profited thus far should be included.
I like to think of the show "Shark tank," where startup business ideas become presented for highly sought after and powerful investors. These investors ask profit, cost of product, total expense, percentage of company, etc. Now, you may not be leveraging the percentage of your company but being diligent and having this information on you, memorized, embedded in you will prepare you to write a successful summary and just to be more knowledgeable about your own business.
When writing your coffee shop executive summary, remember to be diligent and do not skip formalities. You have a professional voice, but don't forget that personal touch. Remember, this is your business. This is your executive summary. Be confident in this and take ownership of your responsibility. Always go into each subject with focused intent and purpose. Potential investors will recognize and respect this. If you execute your executive summary using the information in this article, you will succeed. This will then lead you well on your way to gaining vital investors and to finally- opening up that coffee shop.

Frequently Asked Questions
Do executive summaries have citations?
Generally, no. The full plan/report will have sources documented so you shouldn't have to worry about citing in your summarized version since you will have them in your full work.
Do you use acronyms in an executive summary?
No, but use common sense. If you decide to use an acronym in this part of your full report plan to spell them out in the body of your material.
Is a coffee shop profitable?
Yes, the average profit for a small cafe is approximately 2.5%, with larger cafes earning larger profit.
To learn more on how to start your own coffee shop checkout my startup documents here
Please note: This blog post is for educational purposes only and does not constitute legal advice. Please consult a legal expert to address your specific needs.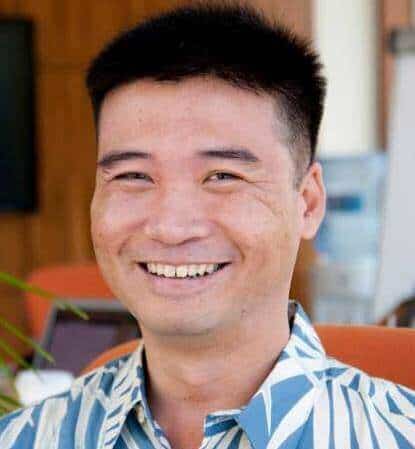 Hi! I'm Shawn Chun
My adventure in coffee began when I first launched my first coffee shop back in the early 2000s. I had to figure out so many things on my own and to make it worse within 2 years of opening two large corporate coffee chains moved in just blocks away from me!
As I saw smaller and even some larger coffee shops in the neighborhood slowly lose customers to these giant coffee chains and slowly close up shop, I knew that I had to start getting creative…or go out of business.
I (like you may be) knew the coffee industry well. I could make the best latte art around and the foam on my caps was the fluffiest you have ever seen. I even had the best state-of-the-art 2 group digital Nuova Simonelli machine money could buy. But I knew that these things alone would not be enough to lure customers away from the name brand established coffee shops.
Eventually, through lots of trial and error as well as perseverance and creativity I did find a way to not only survive but also thrive in the coffee/espresso industry even while those corporate coffee chains stayed put. During those years I learned to adapt and always faced new challenges. It was not always easy, however, in the end, I was the sole survivor independent coffee shop within a 10-mile radius of my location. Just two corporate coffee chains and I were left after that year. All told the corporate coffee chains took down over 15 small independent coffee shops and kiosks and I was the last one standing and thriving.
Along the years I meet others with the same passion for coffee and I quickly learned that it is not only "how good a barista is" that makes a coffee shop successful, but the business side of coffee as well.
Hence why I started this website you are on now. To provide the tools and resources for up and coming coffee shop owners to gain that vital insight and knowledge on how to start a coffee shop successfully.
Stick around, browse through my helpful blog and resources and enjoy your stay! With lots of LATTE LOVE!
Shawn