Opening a coffee shop can be an exciting venture for coffee enthusiasts and aspiring entrepreneurs. However, before embarking on this journey, it is crucial to develop a comprehensive business plan that considers both the financial aspects and the legal requirements associated with establishing a coffee shop.
When opening a coffee shop, ensure compliance with legal requirements by registering your business, obtaining permits and licenses, adhering to zoning regulations, and prioritizing food safety. Seek legal guidance to navigate the complexities and set your coffee shop up for a better place in the industry.
This article will guide you through the essential budget considerations and legal obligations that need to be addressed when opening a coffee shop.
Budgeting for Your Coffee Shop
Startup Costs:
Location: When starting a coffee shop, thorough research into potential locations is essential. Take into account factors such as lease or purchase costs, utility expenses, and renovation costs. Analyze the foot traffic and demographics of the area to ensure it aligns with your target market.
Consider the proximity to other businesses and amenities that can drive customer traffic. Choosing the right location can significantly impact the popularity of your coffee shop and should be a key consideration in your startup budget.
Equipment and Supplies: When planning your coffee shop, carefully assess the equipment and supplies you'll need. Consider the necessary coffee-making equipment such as espresso machines, grinders, and brewers, as well as furniture and fixtures like tables, chairs, and counters.
Estimate the quantity of inventory required, including coffee beans, cups, syrups, and other beverage ingredients. Ensure you have a comprehensive list to accurately budget for purchasing or leasing these items, as they are vital to the smooth operation of your coffee shop.
Licensing and Permits: When preparing to open a coffee shop, it's crucial to allocate funds for the acquisition of licenses, permits, and certifications. These may include food service permits, health department inspections, and other industry-specific requirements.
Research the legal obligations and regulations in your area to ensure compliance. Budgeting for these licensing and permit expenses is essential to ensure a smooth and legal operation of your coffee shop. Taking the necessary steps to obtain the proper documentation will give you peace of mind and avoid potential legal issues down the road.
Marketing and Promotion: To effectively promote your coffee shop, it is essential to allocate a dedicated budget for marketing initiatives. Consider both online and offline advertising channels, such as local publications, radio spots, and billboards. Capitalize on the power of social media platforms to engage with your target audience through engaging content and targeted campaigns.
Additionally, invest in eye-catching signage both inside and outside your shop to attract potential customers. A well-planned marketing budget will help raise awareness, drive foot traffic, and establish your coffee shop as a go-to destination for coffee lovers.
Read more about: How Much to Open a Coffee Shop: The Expenses You Can't Ignore
Operational Costs:
Rent and Utilities: When calculating the budget for your coffee shop, it's important to include the costs of rent or mortgage payments for your chosen location. Take into account the monthly financial obligations associated with leasing or owning the space.
Additionally, factor in utility expenses such as electricity, water, and internet. These ongoing costs are essential for the smooth operation of your coffee shop and should be carefully considered to ensure they fit within your overall budgetary plan.
Staffing: Staffing is a critical aspect of running a great coffee shop. Begin by assessing the number of employees you'll need to effectively operate the business, considering roles like baristas, cashiers, and managers. Allocate funds for their wages, benefits, and training costs, ensuring fair compensation that aligns with industry standards.
Factor in expenses such as payroll taxes, insurance, and any additional benefits you plan to offer, like healthcare or retirement plans. Investing in well-trained and motivated staff is essential for providing excellent customer service and maintaining the overall growth of your coffee shop.
Supplies and Inventory: To operate a coffee shop smoothly, it's important to factor in the costs of supplies and inventory. Consider expenses such as high-quality coffee beans, various types of milk, pastries, packaging materials, and cleaning supplies.
These items are essential for daily operations and customer satisfaction. Estimate the quantity of each item needed and research suppliers to determine accurate pricing. Including these costs in your budget ensures that you have a steady supply of necessary consumables to meet customer demands and maintain the quality of your offerings.
Maintenance and Repairs: Maintaining and keeping your coffee shop's equipment in good working order is vital for smooth operations. Allocate funds for regular maintenance services to prevent breakdowns and ensure equipment longevity.
Anticipate costs for repairs that may arise unexpectedly, such as fixing a malfunctioning espresso machine or replacing a broken refrigerator. It's also wise to budget for potential equipment upgrades to stay competitive and meet evolving industry standards. Provide consistent service, and extend the lifespan of your equipment, ultimately contributing to the improvement of your coffee shop by factoring in maintenance, repairs, and upgrades, you can minimize downtime.
Contingency Funds:
Unexpected Expenses: Allocate a portion of your budget for unforeseen costs or emergencies that may arise during the startup and operation phases.
Cash Flow: Consider maintaining sufficient working capital to cover initial operating expenses until the business becomes profitable.
Legal Requirements for Opening a Coffee Shop
Business Structure and Registration:
Legal Structure: Determine the appropriate legal structure for your coffee shop, such as a sole proprietorship, partnership, or limited liability company (LLC). Consult with an attorney or a business advisor to choose the most suitable option.
Business Name Registration: Check local regulations and register your coffee shop's name with the appropriate authorities, such as the state or county clerk's office.
Employer Identification Number (EIN): Obtain an EIN from the Internal Revenue Service (IRS) for tax purposes and to hire employees legally.
Permits and Licenses:
Business License: Obtain a general business license from the local government authorities. Additionally, check if your city or county requires a special license for food service establishments.
Health Department Permits: Comply with health department regulations by obtaining necessary permits related to food handling, sanitation, and safety.
Liquor License (if applicable): If you plan to serve alcohol in your coffee shop, research and secure the appropriate liquor license required by your jurisdiction.
Music License: If you intend to play copyrighted music in your establishment, obtain the necessary licenses from performance rights organizations, such as ASCAP or BMI.
Zoning and Building Codes:
Zoning Regulations: When selecting a location for your coffee shop, it is essential to confirm that the area is appropriately zoned for commercial use. Ensure compliance with local zoning ordinances to avoid legal complications and ensure the smooth operation of your business.
Building Codes and Permits: Before undertaking any renovations, construction, or modifications to your coffee shop space, it is important to obtain the necessary building permits and comply with building codes. Ensure that your renovations or modifications align with the regulations set by local authorities to maintain a safe and compliant environment. By adhering to building codes and securing the required permits, you can avoid potential legal issues and ensure the structural integrity of your coffee shop.
Read more about: How Much it Cost to Start a Coffee Shop: Evaluating the Financial Implications
Employment Regulations:
Employee Contracts: When hiring staff for your coffee shop, it is crucial to establish clear expectations by drafting employment contracts. These contracts should include details such as terms of employment, wages, benefits, working hours, and any other relevant provisions. By having written agreements in place, you ensure that both you and your employees have a clear understanding of the terms and conditions of employment, promoting transparency and a healthy working relationship.
Minimum Wage and Labor Laws: To ensure a fair and lawful work environment, it is important to familiarize yourself with the minimum wage and labor laws specific to your area. Adhere to regulations regarding working hours, breaks, overtime pay, and employee rights. By maintaining compliance, you can uphold fair labor practices and create a positive and respectful workplace for your employees.
Food Safety and Handling:
Food Service Permit: To legally operate your coffee shop, it is essential to obtain a food service permit from the local health department. This permit ensures that your premises meet food safety regulations through inspections and compliance measures.
Safe Food Handling: It is vital to teach your team in proper food handling procedures if you value the consumers' safety. This involves following hygienic procedures when preparing food and being mindful of allergens. You can maintain a clean atmosphere and reduce the danger of foodborne illnesses by offering extensive training, assuring the health of your cherished clients.
Insurance Coverage:
Liability Insurance: To safeguard your coffee shop from potential liability claims, it is crucial to secure comprehensive general liability insurance coverage. This insurance protection will help mitigate financial risks associated with accidents, injuries, property damage, or other incidents that may occur on your premises. By obtaining adequate liability insurance, you can ensure the long-term sustainability and security of your coffee shop.
Property Insurance: To safeguard your coffee shop's physical assets, it is essential to obtain property insurance. This insurance coverage protects your business property, including equipment, furniture, and inventory, from risks such as theft, damage, or unforeseen events. By insuring your assets, you can have peace of mind knowing that you are financially protected in case of any unfortunate incidents that may impact your coffee shop's property.
Workers' Compensation Insurance: Consider getting workers' compensation insurance if your coffee shop has employees. By paying for medical costs and giving reimbursement for lost income, this sort of coverage guarantees that your employees are safeguarded in the event of workplace accidents. Workers' compensation insurance aids in establishing a secure work environment and offers assistance to your staff financially in trying situations.
Summary
Navigate the legal landscape by determining the appropriate business structure, obtaining necessary permits and licenses, complying with zoning and building codes, and ensuring adherence to employment regulations and food safety standards. Seeking advice from professionals, such as attorneys or business advisors, can provide valuable guidance throughout the process.
By addressing these key aspects of budgeting and legal requirements, you will lay a solid foundation for your coffee shop, setting the stage for long-term growth and compliant operation.
Frequently Asked Questions
Question: What permits and licenses are required to open a coffee shop?
Answer: Opening a coffee shop typically requires a general business license, health department permits, and, if serving alcohol, a liquor license. Check if you need music licenses and comply with zoning and building codes.
Question: Do I need to register my coffee shop as a specific legal structure?
Answer: You'll need to determine a legal structure for your coffee shop, such as a sole proprietorship, partnership, or LLC. Consult with an attorney or business advisor to select the most suitable option based on your specific circumstances.
Question: What are the essential food safety requirements for a coffee shop?
Answer: To ensure food safety, you must obtain a food service permit, comply with health department regulations, and train your staff in proper food handling, sanitation practices, and allergen awareness.
To learn more on how to start your own coffee shop, check out my startup documents here.
Disclaimer: The information provided by StartMyCoffeeShop.com ("The Site") is for general informational purposes only. All information on the Site is provided in good faith. However, we make no representation or warranty of any kind, express or implied, regarding the accuracy, adequacy, validity, reliability, availability, or completeness of any information on the Site. Under no circumstance shall we have any liability to you for any loss or damage of any kind incurred as a result of the use of the Site or Reliance on any information provided on the Site. Your use of the Site and reliance on any information on the Site is solely at your own risk. This blog post is for educational purposes only and does not constitute legal advice. Please consult a legal expert to address your specific needs. Terms and Conditions. (https://startmycoffeeshop.com/terms-and-conditions/)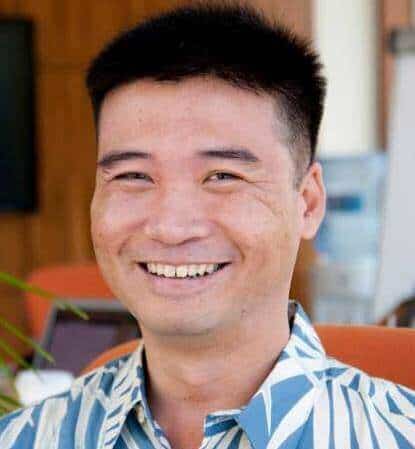 Hi! I'm Shawn Chun
My adventure in coffee began when I first launched my first coffee shop back in the early 2000s. I had to figure out so many things on my own and to make it worse within 2 years of opening two large corporate coffee chains moved in just blocks away from me!
As I saw smaller and even some larger coffee shops in the neighborhood slowly lose customers to these giant coffee chains and slowly close up shop, I knew that I had to start getting creative…or go out of business.
I (like you may be) knew the coffee industry well. I could make the best latte art around and the foam on my caps was the fluffiest you have ever seen. I even had the best state-of-the-art 2 group digital Nuova Simonelli machine money could buy. But I knew that these things alone would not be enough to lure customers away from the name brand established coffee shops.
Eventually, through lots of trial and error as well as perseverance and creativity I did find a way to not only survive but also thrive in the coffee/espresso industry even while those corporate coffee chains stayed put. During those years I learned to adapt and always faced new challenges. It was not always easy, however, in the end, I was the sole survivor independent coffee shop within a 10-mile radius of my location. Just two corporate coffee chains and I were left after that year. All told the corporate coffee chains took down over 15 small independent coffee shops and kiosks and I was the last one standing and thriving.
Along the years I meet others with the same passion for coffee and I quickly learned that it is not only "how good a barista is" that makes a coffee shop successful, but the business side of coffee as well.
Hence why I started this website you are on now. To provide the tools and resources for up and coming coffee shop owners to gain that vital insight and knowledge on how to start a coffee shop successfully.
Stick around, browse through my helpful blog and resources and enjoy your stay! With lots of LATTE LOVE!
Shawn