Coffee has become an integral part of our daily lives, with millions of people worldwide relying on their daily cup of joe to kickstart their mornings or provide a much-needed energy boost throughout the day. If you're passionate about coffee and have always dreamt of owning your own business, a low-cost coffee franchise might be the perfect opportunity for you.
A low-cost coffee franchise is a business opportunity that allows individuals to invest in a coffee shop with a smaller upfront investment compared to larger franchise brands. These franchises offer established brand recognition and ongoing support at an affordable price.
In this article, I will explore the world of low-cost coffee franchise opportunities, highlighting the benefits, potential challenges, and some popular options to consider.
Why Choose a Low-Cost Coffee Franchise?
Starting a business from scratch can be an intimidating endeavor, particularly for those with limited funds. However, low-cost coffee franchises offer a solution to this common hurdle. These opportunities provide aspiring entrepreneurs with a ready-made business model, established brand recognition, and ongoing support, all at an affordable price. By investing in a low-cost coffee franchise, individuals can minimize the risks associated with starting a new venture and leverage the expertise and growth of an established brand.
One of the primary benefits of a low-cost coffee franchise is the ready-made business model it offers. Rather than spending valuable time and resources on developing a business plan and operational strategies, franchisees can rely on a proven blueprint provided by the franchisor. This not only saves time but also increases the chances of growth by adopting a model that has already demonstrated profitability.
Established brand recognition is another advantage of low-cost coffee franchises. Building brand awareness from scratch can be a lengthy and costly process. However, by joining a franchise, entrepreneurs gain access to a brand that is already familiar to customers. This pre-existing recognition helps attract customers more easily, leading to a faster start and a potentially quicker return on investment.
Furthermore, low-cost coffee franchises provide ongoing support to their franchisees. This support can include comprehensive training programs covering various aspects of operating a coffee shop, such as product preparation, customer service, and marketing. Franchisors also offer guidance and assistance throughout the business journey, helping franchisees navigate challenges and capitalize on opportunities. This ongoing support system gives franchisees the confidence and resources they need to run their coffee shop greatly.
By investing in a low-cost coffee franchise, individuals can leverage the achievement and expertise of an established brand. Franchisors have already fine-tuned their operations, learned from their mistakes, and established best practices. Franchisees can benefit from this collective experience, avoiding common pitfalls and implementing strategies that have proven to be effective. This significantly reduces the learning curve and increases the likelihood of achieving profitability sooner.
Read more about: How to Start Your Own Coffee Brand: The Aroma of Entrepreneurship
Benefits of Low-Cost Coffee Franchises
Low-cost coffee franchises offer several advantages to entrepreneurs looking to start their businesses on a budget. Let's delve deeper into each benefit to understand why these opportunities are appealing to individuals with limited capital or those seeking a low-risk entry into the world of entrepreneurship.
Lower Initial Investment: One of the key attractions of low-cost coffee franchises is the smaller upfront investment required compared to larger, well-known brands. This accessibility makes it feasible for individuals with limited capital to enter the coffee industry and pursue their entrepreneurial dreams without breaking the bank. The reduced financial barrier enables more people to participate in the business world and explore their passion for coffee.
Established Brand and Reputation: Joining a coffee franchise grants you access to an already established brand and reputation that customers already know and trust. This advantage significantly reduces the time and effort required to build brand awareness and attract a customer base.
By leveraging the brand recognition of the franchise, you can hit the ground running and start generating revenue more quickly than if you were starting a coffee shop from scratch. The existing reputation of the franchise helps instill confidence in potential customers, increasing the likelihood of attracting loyal patrons.
Training and Support: Franchise opportunities often come with comprehensive training programs and ongoing support from the franchisor. Even if you don't have prior business experience, the franchisor will provide you with the necessary guidance and expertise to effectively operate your coffee shop.
The training programs cover various aspects, including product preparation, inventory management, customer service, and marketing strategies. This training equips franchisees with the skills and knowledge needed to deliver a consistent and high-quality coffee experience to customers.
The ongoing support ensures that you have access to assistance whenever you need it, allowing you to navigate challenges and make informed decisions.
Economies of Scale: Being part of a franchise network allows you to benefit from economies of scale. This means that when it comes to purchasing equipment, supplies, and ingredients, you can leverage the collective purchasing power of the franchise system.
By buying in bulk, the franchise can negotiate better prices, resulting in cost savings for individual franchisees. Lower costs for equipment, coffee beans, packaging materials, and other supplies contribute to higher profit margins and increased profitability. This advantage gives you a competitive edge by allowing you to offer quality products at competitive prices.
Popular Low-Cost Coffee Franchise Options
Low-cost coffee franchises offer a variety of business models to suit different budgets and preferences. Let's explore three popular options: mobile coffee carts, kiosk-based franchises, and coffee shops within co-working spaces.
Mobile Coffee Carts: Mobile coffee carts have become increasingly popular in recent years due to their flexibility and low startup costs. These carts provide entrepreneurs with the opportunity to bring their coffee directly to customers in various locations.
Whether it's setting up at local parks, office complexes, or community events, mobile coffee carts allow you to reach a wider customer base while keeping overhead expenses to a minimum. The mobility of these carts enables you to adapt to changing customer demands and target different markets as needed.
Read more about: How To Start A Coffee Stand: Key Elements To Consider
With the ability to brew and serve coffee on the go, you can establish a presence in areas where traditional coffee shops may not be viable. The low startup costs associated with mobile coffee carts make them an attractive option for aspiring entrepreneurs who want to enter the coffee industry without significant financial risk.
Kiosk-based Franchises: Kiosk-based coffee franchises operate in high-traffic areas such as shopping malls, airports, and train stations. These compact and self-contained units require less space and lower rental costs compared to full-fledged coffee shops.
Kiosks offer the advantage of being easily visible and accessible to potential customers, capturing their attention as they pass by. With a focus on efficiency and convenience, kiosk-based franchises can quickly serve customers who are in a hurry or looking for a quick caffeine boost.
By leveraging the foot traffic in these busy locations, entrepreneurs can tap into a steady stream of customers throughout the day. The reduced operational costs associated with kiosk-based franchises make them an appealing choice for individuals looking for a lower-risk investment opportunity in the coffee industry.
Coffee Shops within Co-working Spaces: The rise of the gig economy and the increasing popularity of co-working spaces have created a unique opportunity for coffee franchises. Some franchises have recognized this trend and established coffee shops within co-working environments.
These coffee shops cater to the needs of professionals working in the space, providing them with a convenient and comfortable place to grab a cup of coffee during their workday. By setting up co-working spaces, franchisees can benefit from the built-in customer base of freelancers, entrepreneurs, and remote workers who frequent these spaces.
The presence of a coffee shop enhances the overall experience for co-working members, creating a vibrant and collaborative environment. This model allows entrepreneurs to operate a coffee business with reduced rental costs and the advantage of a captive audience.
Challenges to Consider
While low-cost coffee franchises offer numerous advantages, it's important to be aware of the potential challenges that come with owning a franchise:
Brand Limitations: Franchise agreements often come with certain restrictions on operations, menu offerings, and marketing strategies. These limitations are in place to maintain consistency across all franchise locations and protect the brand's reputation.
It's crucial to carefully review and understand these limitations to ensure they align with your business goals and aspirations. While support and established brand recognition are valuable, it's essential to evaluate whether the franchise's guidelines align with your vision for the business.
Market Saturation: Depending on your location, you may encounter competition from existing coffee shops, both independent and franchised. Before investing in a low-cost coffee franchise, conduct thorough market research to assess the level of competition and identify gaps and opportunities within your target market.
Understanding the local coffee industry and consumer preferences will help you develop strategies to differentiate yourself from competitors. This could involve offering unique products, creating a distinctive atmosphere, or providing exceptional customer service to attract and retain customers.
Time and Effort: Running any business requires dedication and hard work, and owning a coffee franchise is no exception. Be prepared to invest significant time and effort into various aspects of the business, including day-to-day operations, customer service, and staff management.
While the franchise provides a ready-made business model and support, it's essential to actively manage and oversee the operations to ensure the progress of your franchise. This may involve long working hours, especially during peak periods, and a hands-on approach to maintaining quality and consistency.
By being aware of these challenges and preparing accordingly, you can navigate them effectively and increase your chances of improvement as a franchisee. Conducting thorough research, understanding the brand limitations, and being willing to put in the necessary time and effort will help you overcome these challenges and create a thriving coffee franchise business.
Read more about: How To Start A Coffee Shop With No Money: Essential Tips
Summary
Low-cost coffee franchises offer aspiring entrepreneurs a chance to enter the coffee industry with reduced financial risk. With lower initial investments, established brand recognition, and ongoing support, these opportunities can help turn your passion for coffee into a great business venture.
Remember to conduct thorough research, weigh the benefits and challenges, and choose a franchise that aligns with your goals and vision. So, grab that cup of coffee, take the leap, and start brewing greatness on a budget with a low-cost coffee franchise!
Frequently Asked Questions
Q: What are the benefits of a low-cost coffee franchise?
Low-cost coffee franchises provide aspiring entrepreneurs with several benefits, including a lower initial investment, access to an established brand and reputation, comprehensive training and support, and the advantage of economies of scale for purchasing equipment and supplies.
Q: What are some popular low-cost coffee franchise options?
Popular low-cost coffee franchise options include mobile coffee carts, kiosk-based franchises in high-traffic areas, and coffee shops within co-working spaces.
Q: What challenges should I consider before investing in a low-cost coffee franchise?
Some challenges to consider include brand limitations and restrictions set by the franchise, potential market saturation due to existing coffee shops, and the need for dedication and hard work in managing the day-to-day operations of the business.
To learn more on how to start your own coffee shop, check out my startup documents here.
Disclaimer: The information provided by StartMyCoffeeShop.com ("The Site") is for general informational purposes only. All information on the Site is provided in good faith. However, we make no representation or warranty of any kind, express or implied, regarding the accuracy, adequacy, validity, reliability, availability, or completeness of any information on the Site. Under no circumstance shall we have any liability to you for any loss or damage of any kind incurred as a result of the use of the Site or Reliance on any information provided on the Site. Your use of the Site and reliance on any information on the Site is solely at your own risk. This blog post is for educational purposes only and does not constitute legal advice. Please consult a legal expert to address your specific needs. Terms and Conditions. (https://startmycoffeeshop.com/terms-and-conditions/)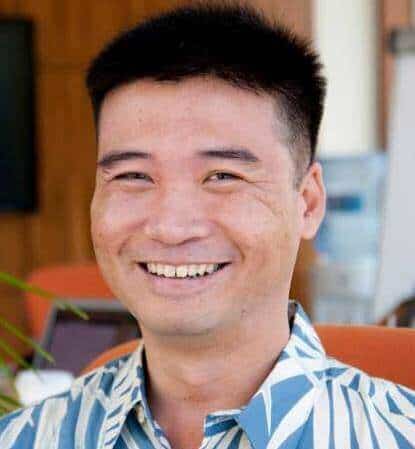 Hi! I'm Shawn Chun
My adventure in coffee began when I first launched my first coffee shop back in the early 2000s. I had to figure out so many things on my own and to make it worse within 2 years of opening two large corporate coffee chains moved in just blocks away from me!
As I saw smaller and even some larger coffee shops in the neighborhood slowly lose customers to these giant coffee chains and slowly close up shop, I knew that I had to start getting creative…or go out of business.
I (like you may be) knew the coffee industry well. I could make the best latte art around and the foam on my caps was the fluffiest you have ever seen. I even had the best state-of-the-art 2 group digital Nuova Simonelli machine money could buy. But I knew that these things alone would not be enough to lure customers away from the name brand established coffee shops.
Eventually, through lots of trial and error as well as perseverance and creativity I did find a way to not only survive but also thrive in the coffee/espresso industry even while those corporate coffee chains stayed put. During those years I learned to adapt and always faced new challenges. It was not always easy, however, in the end, I was the sole survivor independent coffee shop within a 10-mile radius of my location. Just two corporate coffee chains and I were left after that year. All told the corporate coffee chains took down over 15 small independent coffee shops and kiosks and I was the last one standing and thriving.
Along the years I meet others with the same passion for coffee and I quickly learned that it is not only "how good a barista is" that makes a coffee shop successful, but the business side of coffee as well.
Hence why I started this website you are on now. To provide the tools and resources for up and coming coffee shop owners to gain that vital insight and knowledge on how to start a coffee shop successfully.
Stick around, browse through my helpful blog and resources and enjoy your stay! With lots of LATTE LOVE!
Shawn