Starting a coffee shop is a dream for many coffee lovers out there. The thought of owning a cozy little coffee shop where people come to enjoy their morning coffee, catch up with friends, and relax after a long day at work sounds enticing.
Starting a coffee shop with no money is possible by incorporating SEO into your marketing strategy where you can attract more customers and grow your coffee shop's online presence. You can also consider borrowing from your friends and family, or other funding options like crowdfunding.
However, starting a coffee shop requires a significant amount of capital, and only some have the financial resources to invest in such a venture. But don't worry, starting a coffee shop with no money is not impossible. In this article, I will provide some tips on starting a coffee shop with no money.
Start With a Business Plan
Creating a solid business plan is one of the most crucial steps in starting a coffee shop. Your business plan is like a blueprint for your coffee shop that outlines your vision, goals, and strategies. By creating a comprehensive plan, you can identify the key areas you need to focus on and establish a clear direction for your business.
An overview of your coffee shop, your target market, your marketing approach, your financial predictions, and your startup expenditures should all be included in your business plan. This will enable you to estimate your startup costs and the time it will take to turn a profit
Additionally, a strong company strategy will simplify getting finance and draw in possible investors. In the end, putting time and effort into creating a strong business strategy will position your coffee shop for the long run in the coffee industry.
Read more about: How To Create a Business Plan For Coffee Shop: Setting The Stage
Choose the Right Location
Selecting the right location is vital for the success of your coffee shop. The perfect location should be easily accessible, and visible, and have a lot of foot traffic. Additionally, it should be situated in an area where your target market is likely to visit.
Look for available spaces such as a vacant storefront or a corner of a busy street. Negotiate a reasonable rent or consider sharing a space with another business to reduce overhead costs. Make sure to thoroughly research the area and its demographics to ensure that it aligns with your target market.
A prime location may come with a higher price tag, but it can also bring in more customers and increase revenue. On the other hand, a poorly chosen location could hinder your business's growth and profitability. Therefore, take the time to find the perfect spot for your coffee shop.
Utilize Free Marketing
Marketing plays a critical role in the success of any business, and your coffee shop is no exception. While traditional advertising methods can be costly, there are plenty of free marketing options available.
Focus on using social media platforms like Facebook and Instagram to promote your menu, specials, and events. Regularly update your followers with mouth-watering pictures and engaging captions.
Email marketing is another effective way to keep your customers in the loop about your latest offerings, and you can even offer exclusive discounts or freebies to your subscribers. Word-of-mouth marketing is also a powerful tool, so encourage your satisfied customers to spread the word about your coffee shop to their friends and family.
Finally, don't forget the importance of online reviews. Encourage your customers to leave a review and respond to them in a timely and professional manner. By utilizing these free marketing methods, you can attract new customers and build a loyal following for your coffee shop.
Get Creative With Your Menu
In the highly competitive coffee shop industry, having a unique and creative menu can set you apart from the rest. Offering a variety of coffee drinks, pastries, and snacks that are not commonly found in other coffee shops can entice customers to choose your shop over others. Consider using locally sourced and organic ingredients to appeal to health-conscious customers who are willing to pay a premium for quality ingredients.
By providing seasonal or limited edition specialty drinks, you can keep your menu engaging and new. To keep your consumers coming back for more, don't be scared to get inventive and try out new taste combinations. Finally, think about providing vegan, gluten-free, or other specialty options to accommodate a wider range of dietary requirements. You can draw in new consumers and keep your current ones pleased and satisfied by developing an original and cutting-edge menu.
Read more about: How to Create a Coffee Shop Business Plan: From Concept to Cappuccino
Partner With Other Businesses
Collaborating with other businesses can be a great way to expand your customer base and increase your brand's exposure. When seeking out potential partners, look for businesses that share your target audience and offer complementary products or services.
For instance, partnering with a bakery to offer their pastries in your coffee shop can be a win-win for both businesses. You can also team up with local artists to showcase their artwork in your coffee shop, providing them with a platform to display their work and adding a touch of creativity to your space. Offering promotions or discounts for customers who visit both businesses can be an effective way to incentivize them to try out your partner's offerings while also increasing your sales.
When partnering with other businesses, it's essential to establish clear expectations and goals upfront to ensure that the collaboration is mutually beneficial. A successful partnership can lead to increased brand recognition, new customer acquisition, and ultimately, more revenue for both businesses.
Start Small and Grow Gradually
Starting a coffee shop with no money may seem daunting, but with patience and persistence, it is possible. To begin, focus on building a strong foundation by starting small and gradually expanding as your business grows.
Consider offering a limited menu and operating with a small staff to keep your overhead costs low. As your customer base grows, you can expand your menu and hire additional staff to keep up with demand. It is important to keep a close eye on your finances and make adjustments as necessary to ensure your business remains profitable.
For instance, if a particular menu item isn't selling as well as you'd hoped, you may need to tweak the recipe or consider removing it altogether. Additionally, keep an eye out for opportunities to save money, such as buying used equipment or negotiating lower rent with your landlord. With dedication and a smart strategy, you can start and grow your coffee shop without breaking the bank.
Seek Funding and Grants
There are many possibilities available to you if you need more money to open your coffee business. Getting cash and grants from groups that assist small businesses is one alternative. Find regional agencies that provide loans, grants, or other types of financial aid. These groups could potentially offer you information and support to help you launch and expand your business.
Another choice is to think about crowdfunding, which enables you to collect money from lots of people online. You might also think about borrowing money from friends and relatives, but to prevent future disputes, it's crucial to have a clear payback schedule in place.
Before you seek funding from any source, it is important to have a solid business plan in place and a clear understanding of your financial needs. Be prepared to explain how the funding will be used and how it will benefit your business. With the right approach, you can secure the funding you need to get your coffee shop off the ground and running properly.
When it comes to marketing your coffee shop, search engine optimization (SEO) is an important aspect to consider. Search engine optimization (SEO) is the practice of making your website more search-engine friendly. By improving your SEO, you can attract more organic traffic to your website and increase your chances of converting visitors into customers.
Read more about: How to Create a Business Plan for Coffee Shops: A Cappuccino Capital
SEO Tips to Help You Market Your Coffee Shop Online
Conduct Keyword Research
Keyword research is the process of identifying the words and phrases that members of your target market use when searching online. By incorporating these keywords into your website's content, you can improve your chances of ranking for relevant searches. Use keyword research tools such as Google Keyword Planner or SEMrush to identify relevant keywords for your coffee shop.
Optimize your website's content
Once you have identified your target keywords, optimize your website's content to include them in a natural and meaningful way. Incorporate your keywords into your website's meta titles and descriptions, headers, and body content. Be sure to avoid overstuffing your content with keywords, as this can negatively impact your SEO.
Build High-Quality Backlinks
Backlinks are links pointing to your web page from other web pages. They are an important factor in determining your website's authority and ranking on SERPs. Create high-quality content that other websites will want to connect to in order to increase your backlink profile. Reach out to other websites in your industry and ask for backlinks or guest posts on their websites to build relationships and increase your exposure.
To Advertise Your Coffee Shop, Use Social Media
Social media platforms such as Facebook, Twitter, and Instagram are great channels to promote your coffee shop and engage with your audience. Share high-quality photos and videos of your coffee and food offerings, promote your events and promotions, and respond to customer inquiries and feedback. By maintaining an active and engaging social media presence, you can improve your brand's visibility and attract more customers.
Claim Your Google My Business Listing
You can control your company's online presence using Google My Business, a free tool. Accurate and current business information can be found by claiming your Google My Business listing. Included are your company's name, address, phone number, e-mail address, and operation hours.
By optimizing your Google My Business listing, you can improve your chances of appearing in local search results and attract more customers to your coffee shop.
Starting a coffee shop with no money is not easy, but it is possible. With a solid business plan, the right location, creative marketing strategies, a unique menu, and partnerships with other businesses, you can start your coffee shop without breaking the bank. Remember to start small and grow gradually, and seek funding and grants if needed.
Frequently Asked Questions
Is it possible to start a coffee shop with no money?
Yes, it is possible to start a coffee shop with no money by using creative funding options such as crowdfunding, seeking out investors, or borrowing from friends and family.
What are some creative ways to fund a coffee shop startup?
Creative ways to fund a coffee shop startup include seeking out investors, crowdfunding, applying for grants, borrowing from friends and family, or participating in business competitions.
How important is a business plan when starting a coffee shop?
A business plan is crucial when starting a coffee shop as it outlines the goals, strategies, and financial projections of the business. It can also be used to secure funding and attract investors.
To learn more on how to start your own coffee shop, check out my startup documents here.
Disclaimer: The information provided by StartMyCoffeeShop.com ("The Site") is for general informational purposes only. All information on the Site is provided in good faith. However, we make no representation or warranty of any kind, express or implied, regarding the accuracy, adequacy, validity, reliability, availability, or completeness of any information on the Site. Under no circumstance shall we have any liability to you for any loss or damage of any kind incurred as a result of the use of the Site or Reliance on any information provided on the Site. Your use of the Site and reliance on any information on the Site is solely at your own risk. This blog post is for educational purposes only and does not constitute legal advice. Please consult a legal expert to address your specific needs. Terms and Conditions. (https://startmycoffeeshop.com/terms-and-conditions/)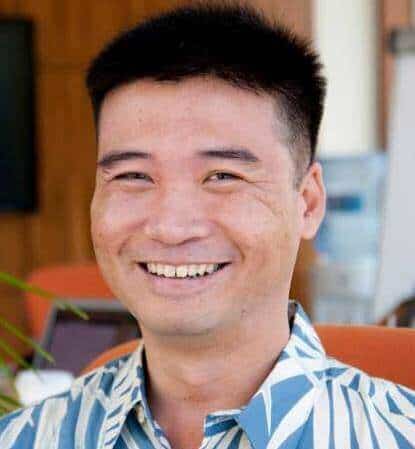 Hi! I'm Shawn Chun
My adventure in coffee began when I first launched my first coffee shop back in the early 2000s. I had to figure out so many things on my own and to make it worse within 2 years of opening two large corporate coffee chains moved in just blocks away from me!
As I saw smaller and even some larger coffee shops in the neighborhood slowly lose customers to these giant coffee chains and slowly close up shop, I knew that I had to start getting creative…or go out of business.
I (like you may be) knew the coffee industry well. I could make the best latte art around and the foam on my caps was the fluffiest you have ever seen. I even had the best state-of-the-art 2 group digital Nuova Simonelli machine money could buy. But I knew that these things alone would not be enough to lure customers away from the name brand established coffee shops.
Eventually, through lots of trial and error as well as perseverance and creativity I did find a way to not only survive but also thrive in the coffee/espresso industry even while those corporate coffee chains stayed put. During those years I learned to adapt and always faced new challenges. It was not always easy, however, in the end, I was the sole survivor independent coffee shop within a 10-mile radius of my location. Just two corporate coffee chains and I were left after that year. All told the corporate coffee chains took down over 15 small independent coffee shops and kiosks and I was the last one standing and thriving.
Along the years I meet others with the same passion for coffee and I quickly learned that it is not only "how good a barista is" that makes a coffee shop successful, but the business side of coffee as well.
Hence why I started this website you are on now. To provide the tools and resources for up and coming coffee shop owners to gain that vital insight and knowledge on how to start a coffee shop successfully.
Stick around, browse through my helpful blog and resources and enjoy your stay! With lots of LATTE LOVE!
Shawn