You opened your coffee shop because you wanted to share your specialty brew and delicious snacks with your customers. You'd love to spend more time out front interacting with your patrons but the day-to-day aspects of managing a business are so time-consuming. Budgets, bills, inventory—is there a program that can streamline some of these tasks and make your day more productive?
Margin Edge Management Software is a cloud-based system that helps you manage labor and inventory as well as streamline your finances. It can help you with budgeting, bill paying, analyzing your profits or losses, and much more. This software is unique because it is designed specifically for the food and beverage industry.
While that concept sounds very helpful, is it too good to be true? How does this program work? And what are people saying about it?
Margin Edge Management Software: How it Began
Margin Edge software is the brainchild of Bo Davis and Roy Phillips, two longtime friends, and restauranteurs with over 40 years of experience between them. They partnered with Brian Mills, a software developer and tech startup pro, to make their vision a reality and create this groundbreaking software.
Margin Edge operates with a dual mission—to help fellow restauranteurs run their shops more efficiently and also to give back to the community. Margin Edge supports several food banks in the D.C. area, sending both donations and volunteers. And, they sponsor children at an orphanage near their satellite office in Bangladesh. 
The premise of this software is to minimize the time spent manually inputting paperwork and provide more real-time data so you can run your café more efficiently and increase profitability. From the beginning, the software has evolved based on actual client feedback. Responding to the needs of restaurant and café owners is the "guiding light" that directs this company.
And, as shown by their 5.0 rating on Glassdoor, they value employees as much as they value their customers.
So, what exactly does this software do?
How To Start A Coffee Business In Ten Days
Margin Edge Software: What It Is
Margin Edge management software is a cloud-based program that integrates data from multiple departments within your enterprise. As a result, everything runs more efficiently—invoices get paid, inventory is tracked, sales are recorded, and profit/loss reports are available in real-time.
It is offered as a monthly subscription service with the option of paying annually at a 10% discount. While there is no free trial available, there are free demo videos that will give you a pretty clear overview of the application and its features.
Margin Edge Management Software: Getting Started
Getting started with Margin Edge software is easy. Once you sign up, just follow these three simple steps:
Link your POS system. Margin Edge supports over 60 POS systems and more are added regularly, so reach out to them if your system isn't one of them. This integrated POS program allows users to easily view their cost and sales data every day and make adjustments as needed.
Link your accounting system. Like the POS systems, Margin Edge continually adds more accounting partners. So, contact them if yours isn't listed. This streamlined accounting approach sends all sales and purchasing data to your accounting system automatically and pays invoices every night.
Start sending your invoices. You can send invoices electronically, through email, or even text a picture through the app. 
How To Train Your Café Staff To Upsell
 Margin Edge Management Software: What it Does
Yes. Having the chore of paying invoices taken off your plate is nice. But, does that justify the monthly cost? The fact is, Margin Edge software actually handles much more than paying the bills. The list of additional features is long, but here is a summary of some of the main factors:
Budget Tracking: You can set your budget based on either a fixed price or a percentage of sales, and you can easily break it down by category—food, drink, to-go cups, etc. The software will give you an accurate accounting of how well you are staying within your budget at any time.
Labor Analysis: You can analyze the cost of labor and filter by department, a specific employee, or job title to determine how to manage labor more efficiently.
Menu Analysis and Recipe Costing: Margin Edge software can analyze the profitability of your entire menu as well as specific recipes to help you update pricing to ensure maximum profitability.
Theoretical vs. Actual Usage: Reduce waste by keeping track of what you are buying because you think you'll use and compare it to what you are actually using and how much you are wasting.
Daily Profit and Loss Reports: Keep track of your sales and expenses daily to know how if your shop is operating at a surplus or if you'll need to tighten your belt a bit this month.
Price History: This feature can help you adjust your menu as needed to keep up with the changing times. It will break down vendor prices as they change so you can update your menu accordingly.
Sales Reports: You'll receive an email every night with that day's sales report. It will compare the numbers with previous weeks as well as previous years.
These are just some of the many features to help you streamline your business practices. And, it allows you to integrate the system among multiple locations. So, if you transfer goods between two coffee shops, for example, you can easily record this transfer and maintain accurate records for each café specifically.
Jack Daniels Brand Coffee Overview
Margin Edge Software: What People are Saying
Margin Edge management software is a very popular product. On most sites, it ranks between 4.5-5 stars, with very few negative comments. The most common positives are:
Ease of Use
Excellent Customer Service
Usefulness of Features
Good Value for the Money
People appreciate how easy Margin Edge software is to use and how well it simplified their accounting and record-keeping tasks. The nightly emails with sales and profit/loss reports were an added bonus.
With nearly a 5-star rating, the negative comments about this software were few and far between. Some remarked that the setup was a bit complicated or that getting used to the new technology took some time.
By and large, Margin Edge software users are happy with the product and plan to continue enjoying its features to manage their shops.
Margin Edge Software: Alternatives
There are quite a few alternatives to Margin Edge software. Many have similar accounting and invoicing features. And others have similar labor and inventory management aspects. Margin Edge, however, is the only software specific to the restaurant industry. And, it seems to be the most integrated and all-encompassing software package.
That being said, your management software needs to work for you and your coffee shop. So, comparing your options is a great idea. Here are some of the more popular alternatives to Margin Edge:
Cake POS: Cake software comes with a lower monthly price tag than Margin Edge. But it is a POS system, not a management system. Like Margin Edge, Cake allows users to view sales and labor reports in real-time. But you will need separate accounting software to handle invoices.
Oracle NetSuite: NetSuite is an all-in-one accounting software. Like Margin Edge, it is cloud-based and handles paying invoices as well as inventory management; it also can provide real-time financial reports. It does come at a higher monthly cost than Margin Edge. Reviewers claim that NetSuite is easier to use. However, NetSuite is designed for a business in general, not specifically for the restaurant industry.
Revel Systems: Revel is another cloud-based system. It offers front-end management programs that also include social media management. Sales reports and other financial data are readily available. While it is considerably less expensive than Margin Edge, it is not as comprehensive a program.
Epsos Now: Epsos Now is a cloud-based program geared toward small and mid-sized businesses. It offers many of the basic features that Margin Edge has, and at a lower price. But additional services come at an additional cost.
Whichever software you choose, your goal is the same—run your back office more efficiently so you can focus on what you love best—serving your customers more of your delicious beverages. Running a coffee shop is not without its challenges. The right management program will ease some of these challenges and allow you to enjoy your shop.
Jack Daniels Brand Coffee: Everything You Need To Know
Frequently Asked Questions
Is Margin Edge the right choice for a small coffee shop?
Margin Edge software may be cost-prohibitive for a small café. It may also be a more comprehensive software package with more data analytics than a small company needs. There are quite a few accounting software options that will still help you run your business more efficiently.
What should I look for in a
POS system
?
Like anything for your new coffee shop, cost is a big factor. But, beyond being affordable, you will need more out of your point-of-sale system. It is important to look for things like the system's ability to accept chip cards or contactless payment methods like Apple pay. A tipping feature is another nice touch!
To learn more on how to start your own coffee shop checkout my startup documents here
Please note: This blog post is for educational purposes only and does not constitute legal advice. Please consult a legal expert to address your specific needs.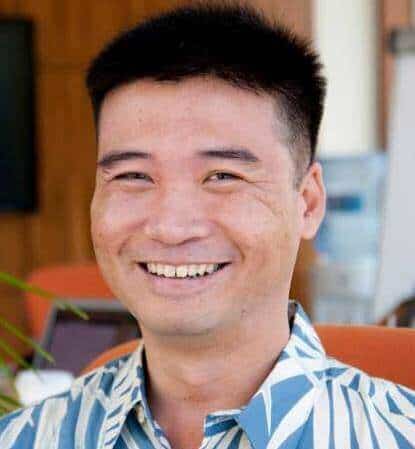 Hi! I'm Shawn Chun
My adventure in coffee began when I first launched my first coffee shop back in the early 2000s. I had to figure out so many things on my own and to make it worse within 2 years of opening two large corporate coffee chains moved in just blocks away from me!
As I saw smaller and even some larger coffee shops in the neighborhood slowly lose customers to these giant coffee chains and slowly close up shop, I knew that I had to start getting creative…or go out of business.
I (like you may be) knew the coffee industry well. I could make the best latte art around and the foam on my caps was the fluffiest you have ever seen. I even had the best state-of-the-art 2 group digital Nuova Simonelli machine money could buy. But I knew that these things alone would not be enough to lure customers away from the name brand established coffee shops.
Eventually, through lots of trial and error as well as perseverance and creativity I did find a way to not only survive but also thrive in the coffee/espresso industry even while those corporate coffee chains stayed put. During those years I learned to adapt and always faced new challenges. It was not always easy, however, in the end, I was the sole survivor independent coffee shop within a 10-mile radius of my location. Just two corporate coffee chains and I were left after that year. All told the corporate coffee chains took down over 15 small independent coffee shops and kiosks and I was the last one standing and thriving.
Along the years I meet others with the same passion for coffee and I quickly learned that it is not only "how good a barista is" that makes a coffee shop successful, but the business side of coffee as well.
Hence why I started this website you are on now. To provide the tools and resources for up and coming coffee shop owners to gain that vital insight and knowledge on how to start a coffee shop successfully.
Stick around, browse through my helpful blog and resources and enjoy your stay! With lots of LATTE LOVE!
Shawn