Opening a coffee shop can be an exciting venture for coffee enthusiasts and aspiring entrepreneurs alike. However, it's important to understand the various costs involved in this endeavor to ensure a sustainable business.
In this article, I will delve into the expenses associated with opening a coffee shop and provide you with a comprehensive guide to help you plan and budget effectively.
Location and Lease Costs
Securing a suitable location is undoubtedly one of the primary expenses to consider when opening a coffee shop. The cost of leasing a commercial space can vary significantly based on factors such as the city, neighborhood, and size of the property. It's important to keep in mind that popular and high-traffic areas often come with higher rental prices due to the potential customer base they offer.
However, the expenses associated with the location go beyond just the monthly rent. Consider the need for renovations or leasehold improvements to create an inviting ambiance for customers. These enhancements may include interior design, seating arrangements, lighting fixtures, and other elements that contribute to the overall atmosphere of the coffee shop.
Depending on the condition of the leased space, you might need to invest in remodeling, painting, flooring, or plumbing modifications to meet your specific requirements. These renovations can add a significant cost to your budget, so it's essential to carefully assess the condition of the space and determine the extent of improvements needed.
Creating a welcoming and comfortable environment is crucial in attracting and retaining customers. A well-designed and thoughtfully decorated coffee shop can enhance the overall experience for patrons, encouraging them to spend more time and money at your establishment.
When budgeting for the location and lease expenses, it's advisable to research the local market thoroughly, assess your target demographic, and determine the potential foot traffic in different areas.
Read more about: How to Make a Business Plan for Coffee: Conquering the Coffee Industry
Equipment and Furnishings
When considering the cost of equipment, it's important to account for both the initial investment and the ongoing maintenance expenses. Opting for high-quality equipment might entail a higher upfront cost but can result in better performance, durability, and longevity.
Cheaper alternatives may save money initially, but they could lead to frequent breakdowns and the need for costly repairs or replacements down the line. It's advisable to strike a balance between affordability and quality when selecting equipment for your coffee shop.
Additionally, keep in mind that certain equipment, such as espresso machines and grinders, may require regular maintenance and occasional repairs. Budgeting for routine servicing and having a contingency fund for unforeseen repairs is essential to ensure uninterrupted operations.
Another aspect to consider is the layout and design of your coffee shop. The furniture and fixtures, including tables, chairs, countertops, shelving, and lighting, contribute to the overall aesthetic and functionality of the space.
To make informed decisions about equipment and furnishings, it's recommended to research different suppliers, compare prices, and read reviews from other coffee shop owners. Consider seeking advice from industry professionals or consultants who can provide insights on the best equipment options for your specific needs and budget.
Licenses and Permits
The costs associated with licenses and permits should be carefully considered when budgeting for your coffee shop. These expenses may include fees for business licenses, health permits, food handling certifications, and, if applicable, liquor licenses.
The fees can vary depending on your location and the type of permits required. It's advisable to reach out to your local government agencies or consult a business attorney to understand the specific requirements and associated costs in your area.
Working with local authorities and professionals who specialize in business law can help ensure that you have all the necessary documentation in place. They can guide you through the process, help you complete the required forms accurately, and advise you on any additional requirements or inspections that may be needed. This can save you time, effort, and potential penalties in the long run.
Keep in mind that the licensing and permitting process may require some time, so it's advisable to factor in this timeframe when planning your coffee shop's opening. Starting the process early and allowing ample time for the applications and reviews can help you avoid unnecessary delays.
Remember, the regulations and licensing requirements can vary from one location to another, so it's crucial to do thorough research and seek professional guidance to navigate this aspect of opening a coffee shop effectively.
Staffing and Training
When planning to open a coffee shop, consider the number of employees you'll need to hire to ensure smooth operations. This may include baristas, kitchen staff, cashiers, and possibly other roles depending on the size and scope of your business.
When estimating your budget, it's important to factor in the wages, benefits, and training costs associated with your staff. Consider local labor market rates to determine competitive compensation packages that attract and retain skilled employees. Offering fair wages, healthcare benefits, and incentives can help build a motivated and dedicated team.
Training your staff is equally important. Invest in comprehensive training programs that cover not only coffee preparation techniques but also customer service skills and product knowledge. Well-trained employees will be better equipped to provide efficient and friendly service, ensuring customer satisfaction and repeat business.
Budgeting for ongoing staff development and training opportunities is also beneficial. Coffee trends, brewing techniques, and customer preferences evolve, so keeping your staff up to date with industry developments can give your coffee shop a competitive edge.
Additionally, remember to factor in labor laws and regulations when estimating your staffing costs. Consider expenses such as payroll taxes, insurance, and any other legally mandated benefits in your calculations.
Creating a positive and supportive work environment is crucial for staff morale and retention. Foster a culture of teamwork, provide regular feedback and recognition, and create opportunities for growth and advancement within your coffee shop.
Read more about: How to Make a Business Plan for a Coffee Shop: Navigating the Business Plan Journey
Coffee Beans and Supplies
High-quality coffee beans are the foundation upon which every great coffee shop is built. When planning to open your coffee shop, thorough research into various coffee bean suppliers is crucial. Consider factors such as the quality, origin, and pricing of the beans they offer. Comparing prices and tasting samples can help you make an informed decision that aligns with your desired flavor profiles and budget.
In addition to coffee beans, estimate the cost of other essential supplies such as syrups, milk, disposable cups, napkins, and stirrers. These items contribute to the overall customer experience and should be factored into your budget calculations. Building strong relationships with reliable suppliers can lead to better pricing options and ensure a consistent supply of high-quality ingredients.
Consider whether you will be purchasing directly from coffee farms or working with local distributors. Direct sourcing can provide you with more control over the quality and traceability of your coffee beans, but it may also require additional effort and logistical considerations. Distributors, on the other hand, can offer convenience and access to a wider range of products.
Remember to account for the fluctuating prices of coffee beans due to factors like supply and demand, harvest seasons, and market conditions. It's advisable to work closely with your suppliers to stay informed about any price fluctuations and explore ways to mitigate their impact on your budget.
Marketing and Branding
Promoting your coffee shop is essential to attract customers and establish your presence in the market. Allocating a budget for marketing activities is a wise investment that can yield significant returns. Consider various marketing channels and strategies to reach your target audience effectively.
Start by creating a professional and user-friendly website that showcases your coffee shop's unique offerings, ambiance, and contact information. Invest in a well-designed logo that represents your brand identity and resonates with your target market. Printing attractive menus and signage can help create a visually appealing and informative experience for customers.
Harness the power of digital marketing by leveraging social media platforms to engage with your audience. Utilize targeted advertising campaigns to reach potential customers in your local area. Social media is also a great platform for sharing updates, promotions, and engaging content that can generate buzz and attract new customers.
Consider implementing loyalty programs to reward repeat customers and encourage customer retention. These programs can include perks such as discounts, free beverages, or exclusive offers, fostering a sense of loyalty and incentivizing customers to choose your coffee shop over competitors.
Explore partnerships with neighboring businesses to increase foot traffic. For example, collaborating with a local bakery to offer joint promotions or cross-promoting each other's products can help expand your customer base and create a sense of community.
Regularly evaluate the progress of your marketing efforts and adjust your strategies as needed. Keep track of key performance indicators such as website traffic, social media engagement, and customer feedback to gauge the effectiveness of your marketing campaigns.
Utilities and Operational Expenses
Running a coffee shop entails various ongoing operational costs that should be accounted for in your budget. These include utilities like electricity, water, and gas, which are essential for running the equipment and maintaining a comfortable environment for customers.
Additionally, consider expenses related to insurance coverage to protect your business, accounting services to manage finances, point-of-sale systems for smooth transactions, Wi-Fi for customer convenience, music licensing to create the right ambiance, and regular maintenance to keep everything in working order. Budgeting for these recurring expenses is crucial to ensure the seamless and efficient day-to-day operations of your coffee shop.
Read more about: How to Get into Coffee: A Journey into the World of Coffee
Contingency Fund
Unforeseen expenses are an inevitable part of running any business, and it's prudent to be prepared for them. Setting aside a contingency fund is a wise financial practice to cover unexpected costs, emergencies, or temporary declines in revenue. This financial buffer can provide a safety net, ensuring that you have the resources to navigate any unforeseen challenges that may arise.
Whether it's unexpected repairs, equipment breakdowns, or fluctuations in market conditions, having a contingency fund can offer peace of mind and allow you to address these situations without significant disruptions to your coffee shop's operations. By planning and allocating funds for unforeseen expenses, you can protect your business from potential setbacks and maintain a strong financial foundation.
Summary
Opening a coffee shop requires careful planning and a realistic assessment of the costs involved. By considering all the aspects mentioned in this article, from location and equipment to licenses and marketing, you'll be well-prepared to create a thriving coffee shop business.
Remember to conduct thorough market research, create a comprehensive business plan, and seek guidance from industry experts or mentors. With the right strategy and financial preparation, you can embark on your coffee shop journey with confidence.
Frequently Asked Questions
1. What is the average cost of opening a coffee shop?
On average, you can expect to spend anywhere from $80,000 to $300,000 or more.
2. Do I need previous experience in the coffee industry to open a coffee shop?
It is not a strict requirement. With the right research, training, and dedicated team, you can learn the necessary skills to run a great coffee shop.
3. Are there any financing options available for opening a coffee shop?
Yes, there are various financing options you can explore, such as traditional bank loans, small business grants, crowdfunding, or even partnering with investors.
To learn more on how to start your own coffee shop, check out my startup documents here.
Disclaimer: The information provided by StartMyCoffeeShop.com ("The Site") is for general informational purposes only. All information on the Site is provided in good faith. However, we make no representation or warranty of any kind, express or implied, regarding the accuracy, adequacy, validity, reliability, availability, or completeness of any information on the Site. Under no circumstance shall we have any liability to you for any loss or damage of any kind incurred as a result of the use of the Site or Reliance on any information provided on the Site. Your use of the Site and reliance on any information on the Site is solely at your own risk. This blog post is for educational purposes only and does not constitute legal advice. Please consult a legal expert to address your specific needs. Terms and Conditions. (https://startmycoffeeshop.com/terms-and-conditions/)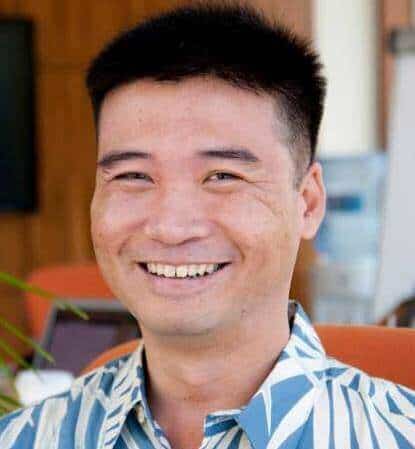 Hi! I'm Shawn Chun
My adventure in coffee began when I first launched my first coffee shop back in the early 2000s. I had to figure out so many things on my own and to make it worse within 2 years of opening two large corporate coffee chains moved in just blocks away from me!
As I saw smaller and even some larger coffee shops in the neighborhood slowly lose customers to these giant coffee chains and slowly close up shop, I knew that I had to start getting creative…or go out of business.
I (like you may be) knew the coffee industry well. I could make the best latte art around and the foam on my caps was the fluffiest you have ever seen. I even had the best state-of-the-art 2 group digital Nuova Simonelli machine money could buy. But I knew that these things alone would not be enough to lure customers away from the name brand established coffee shops.
Eventually, through lots of trial and error as well as perseverance and creativity I did find a way to not only survive but also thrive in the coffee/espresso industry even while those corporate coffee chains stayed put. During those years I learned to adapt and always faced new challenges. It was not always easy, however, in the end, I was the sole survivor independent coffee shop within a 10-mile radius of my location. Just two corporate coffee chains and I were left after that year. All told the corporate coffee chains took down over 15 small independent coffee shops and kiosks and I was the last one standing and thriving.
Along the years I meet others with the same passion for coffee and I quickly learned that it is not only "how good a barista is" that makes a coffee shop successful, but the business side of coffee as well.
Hence why I started this website you are on now. To provide the tools and resources for up and coming coffee shop owners to gain that vital insight and knowledge on how to start a coffee shop successfully.
Stick around, browse through my helpful blog and resources and enjoy your stay! With lots of LATTE LOVE!
Shawn